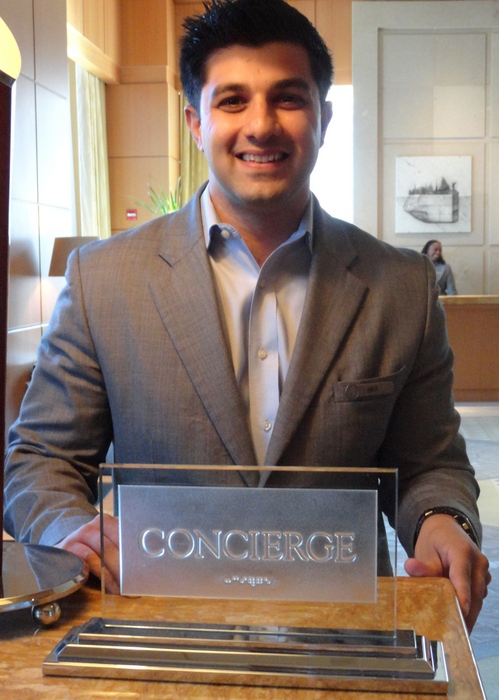 Many hotels grant guests unique stays, but a select few go a step further by offering over-the-top services. While some are bit excessive — even for our tastes — others provide distinct experiences for their individual guests' needs that can make a vacation that much more memorable.
For those visiting Miami, it's all about the party scene. Miami boasts one of the liveliest nightlife scenes in the country, and many top hotels in the area provide exclusive services for connecting guests to all the hottest places to see and be seen. But the Four Seasons Miami goes above and beyond, with an on-site nightlife expert who works around the clock to get his guests access to nearly any hotspot in the area, be it an event, party, or venue.
His work doesn't stop there, however. Ankur Lakhani can keep the party going well into the night, thanks to his long list of contacts and his commitment to giving guests the VIP treatment. While most hotels can help guests find tickets or tables around town, Lakhani gets you behind the velvet rope and into the after party. Lakhani knows why people come to Miami and stops at nothing to try to deliver a true "Magic City" experience. Check out our Q&A with Lakhani after the jump!
Q: What is your professional background?
A: I graduated from the University of Florida with a bachelor's in hospitality management. I did a lot of event planning in college. After college, I went right to the Four Seasons where I started as a general concierge, then went ahead and made my way to Nightlife Concierge.
Q: How did this service come to be at the Four Seasons Miami?
A: We're pretty much the only ones with this service title, but all Four Seasons, and actually most hotels, will have someone who works at night to provide these same services, even though it might not be called that. But with Miami it is a little different — a little more exclusive — rivaling New York or L.A. Because everything that's "in" changes so much and because there's such a high turnover, we want our guests to have someone who is always in the know and can get them into any club or find a table at any restaurant that they want.
Q: How do you stay connected to the Miami party scene?
A: To know the party scene, you really just have to go out yourself. There's no better way to figure out what's going on than to go to all the different spots, check them out on different nights, and keep updating your contacts. We're also a part of the Southern Florida Concierge Association, which allows us to connect with other concierges in the area, and keeps us informed on everything that's going on. Luckily I work for the Four Seasons. My job is much easier with that name on my business cards.
Q: What factors into setting up an evening out for them?
A: I definitely have some go-tos when I'm talking to guests, but nightlife is constantly changing in a place like Miami. So it's important to figure out elements like crowd size, music, size of the venue, an indoor or outdoor setting, the ambiance, the location, the dress. And all those things can be different night by night, so what's really hot Thursday, Friday, Saturday may not have the same scene on a Tuesday.
Q: What's your favorite spot to party in Miami?
A: I've gotten to try everything here for my job, so I've been to every venue 10 or so times during the week and on weekends. And, again, even more so than in New York and L.A. probably, it really depends on the time you go. One of my favorite places to recommend is Arkadia or LIV in at Fontainbleau Miami Beach, which has some of the best DJs in the world. David Grutman is the man behind both of those. We like to keep an eye on him, since he's really at the center of Miami's party scene.
Q: What kind of night would you set up for a high-powered celeb couple like (pre-pregnancy) Kim and Kanye?
A: It would start with private transportation to a trendier restaurant like Juvia or Bazaar at the SLS South Beach for some lighter food before they really start the night. From there, I would choose a spot in between for them to kill an hour or so before really hitting the town. I would probably have them go to a hotel bar, so again SLS or the Delano. After a few drinks to get the night started, I would send them to the actual venue, where they would get the VIP treatment.
Q: What kind of night would you plan the CEO of a Fortune 500 company?
A: That would be a more sophisticated evening, especially if they were entertaining clients. I would arrange dinner at somewhere trendy, but a little more subdued like Hakkasan, which has amazing Chinese food, like pecking duck. The dinner would be the centerpiece, so somewhere with a sommelier. Next would be after-dinner cocktails, and there are tons of options for that. I would clearly explain all the options so they know what the vibe of the bar would be, and then I would start making arrangements.
Q: Other than bar and club access, what other "nightlife" services could you provide?
A: There have been a few times when clubs have been so busy that my contacts have not been able to pick up their phones or respond to a text –- and that's the difficult thing about Miami. In cases like that, we've contacted Miami City Massage at the Betsy Hotel, which is one of the best spas in the city, to arrange night treatments on their 13th floor rooftop with moonlight massages and a glass of champagne. We also do a lot of boating through a company in South Beach because we can go out at any hour. Sometimes instead of getting a table at a night club or getting bottle service, we like to charter a 40-foot yacht, where you'll have cocktail service and for your own 40 or 50-person party cruising Biscayne Bay. We can even arrange for that boat to drop you off at a night club later in the night, and then we can arrange to pick you up in a stretch Hummer later in the night.
Q: What is it like consulting with the rich and powerful?
A: We consult with celebrities daily at a place like the Four Seasons. We get asked almost on a daily basis for some pretty outrageous requests. Because we have a celebrities coming through, they ask where in South Beach they can land their helicopters or if we can get them the iPhone 5 or whatever the new "thing" is. (laughs) We have a vendor who provides a lot of these needs, who's a former concierge herself, so she helps us make the impossible possible.
*Photo courtesy of the Four Seasons Miami
RELATED LINKS: