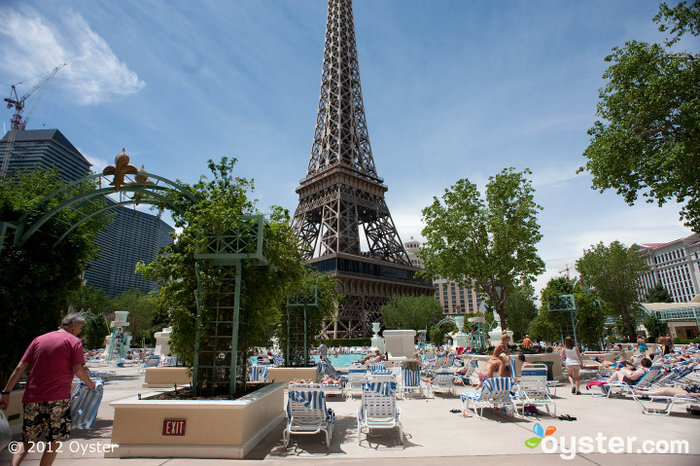 [js_single_hotel_rates_cta hotel="89351" /]
Revelers at the Paris Las Vegas clearly need whatever hangover medicine is being offered…or is it?
1. FACT OR FAKEOUT: An anesthesiologist is now offering cures for hangovers aboard a bus that cruises the Strip in Las Vegas on weekends.
2. FACT OF FAKEOUT: The W New York's Whiskey Blue Bar is now offering cocktail-flavored meatless burgers.
3. FACT OR FAKEOUT: The Algonquin is New York's oldest continually operating hotel.
4. FACT OR FAKEOUT: Hilton Hotels has joined in celebrating gay pride season by offering free Wi-Fi to LGBT guests.
5. FACT OR FAKEOUT: Lindsay Lohan has been banned from The Standard Hollywood for doing drugs in the hotel's nightclub.
Check out the answers after the jump!
1. FACT! The doctor on wheels has planned stops at Paris Las Vegas, the Bellagio and The Cosmopolitan of Las Vegas among other landmarks.
2. FAKEOUT! It's actually the other way round– The Whiskey Blue Bar has added Bacon and Eggs cocktails to the menu. Gross?
3. FACT! The Algonquin opened in 1902 and has been operating since. However, it is now closed for renovations until May 2012.
4. FACT! All Hilton Hotels offers free Wi-Fi and other perks to LGBT guests through the end of the year.
5. FAKEOUT! (Though we wouldn't be surprised if it was true). Lohan has been accused of attacking a woman at the club for talking to a male friend of hers, but she hasn't been banned. Yet.