When New York Fashion Week kicks off tomorrow, the city will be teeming with fashionistas from around the globe. Not that it isn't already, of course, but even more models, designers, and socialites will be packing the streets, restaurants, and front-row seats of New York City. While designers show off their Spring 2013 collections, fashion-lovers will be rockin' their Fall 2012 duds in all the hottest spots around town -- and you may just be one of them! We're sure a fashionista like you already has a good feel for what's hot and what's not, but trust us -- we've got some insider info -- and we know just where you'll want to be spending your time this NYFW. Whether you're looking to fit in a spa treatment or party the night away with the coolest kids in town, our ten tips on hotel hot spots for NYFW will keep you stylin'.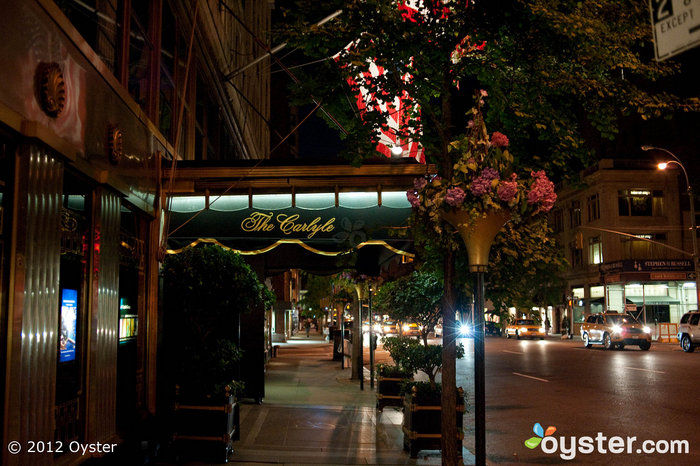 The Carlyle is a favorite of Victoria Beckham's when in town for Fashion Week festivities, and in happier times (at least happier for him), Tom Cruise and Katie Holmes hosted a tea party for Suri at the hotel. But even though The Carlyle is a known celebrity hangout and paps may be waiting outside, the staff will never whisper a peep on which famous guests may be staying in the rooms (employees follow a strict discretion policy). After all, the hotel has been the secret host to artists, presidents, and local and international celebrities since 1930: Even JFK and Marilyn Monroe trusted their trysts to its strict security. So if you want a chance of spotting some of the most private of celebs (LiLo — if she's even invited to any NYFW fetes — will probably be staying somewhere much more flashy, like The Standard), book a room or casually hang in the lobby of The Carlyle — you've got good odds for catching a glimpse of a famous face.
2. Best Hotel for Finding a Gorgeous RTR Dress: W New York
If you'd rather spend your cash on a fabulous hotel than a fabulous dress (we at Oyster certainly would), Rent the Runway comes to the rescue this Fashion Week. The hot and (relatively) new clothing-and-accessories rental website is opening four pop-up shops for the week's festivities at the W Union Square, the W Downtown, the W Times Square, and — perhaps our favorite — the W New York. Guests staying at one of the funky W hotels can visit the shops — where RTR stylists can assist you with all your fashion needs — and rent gowns right off the rack for their next NYFW event. Even non-guests can stop by and schedule a rental, with a 20% discount bonus! You can't beat that. Plus, staying at the W New York puts guests within easy reach of almost every major subway line, and the on-site boutique is a great outlet for some retail therapy.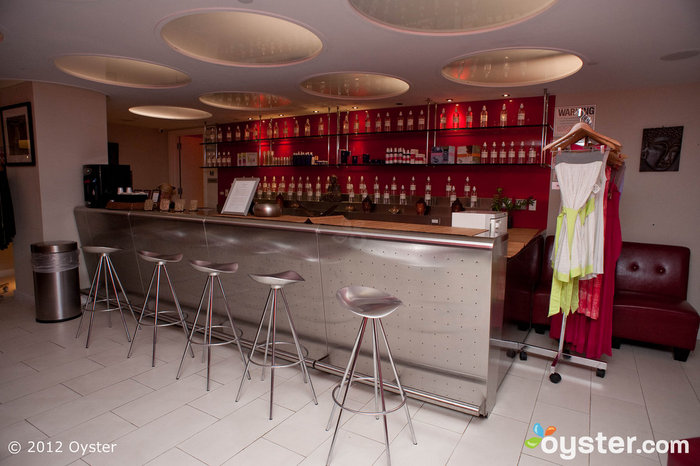 The 187-room Gansevoort Meatpacking may be known for its sexy rooftop pool, but its long list of amenities extends well beyond that, and includes a real gem: an on-site Exhale studio. A popular pilates-fusion company meets spa — with locations spanning from New York to L.A., and even Turks and Caicos — Exhale is a great way to work up a sweat before squeezing into your designer ensemble. For a more Zen-like experience to ease pre-show jitters, the studio also offers yoga classes. And with a fab location in the hip Meatpacking District, not only is this Gansevoort close to plenty of NYFW shows, pop-up shops, and parties, but it's just a short jog to the Highline and Hudson Park, where runners may prefer to work on their fitness.
4. Best Hotel for Happy Hour Schmoozing: The Empire Hotel
Sitting just across the street from the tents at Lincoln Center, the Empire Hotel is a solid choice for happy hour drinks simply for its location alone. Add in the hip rooftop bar, and its the perfect spot for schmoozing, socializing, and enjoying a cocktail after the day's shows. The Rooftop attracts plenty of young professionals nightly, and the scene becomes even more, well, scene-y during Fashion Week. Menu items include tasty signature cocktails such as the Empire Daiquiri and 63 Columbus (a crisp vodka cocktail with muddled cucumbers), as well as light bites ranging from tuna sliders to coconut shrimp. And the bar often mixes up some new "fashion-inspired" drinks during NYFW. But the best feature is not on the menu: Rather, it's the rooftop's sweeping views of Lincoln Center, the Upper West Side skyline, and the Hudson River. Raise your glass and drink it in!
5. Editor's Pick — Best Hotel for Being in the Know: Crosby Street Hotel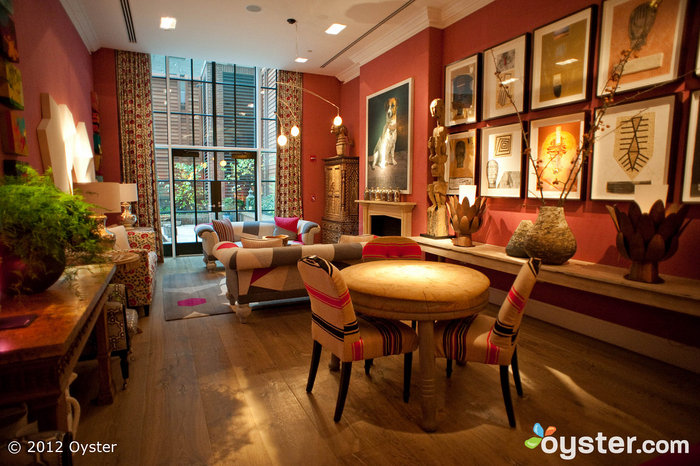 You know a hotel is gonna be fabulous and fashionable when a style editor calls it her downtown "home away from home." And those are just the words Jen Ford, Lucky magazine's Fashion News and Features Director, used when describing the chic Crosby Street Hotel. It's no wonder a style insider would love this boutique, located within walking distance (along cobblestone streets) of shops such as Marc Jacobs, Chanel, and Mulberry. The 86-room hotel offers spacious, impeccably furnished rooms to a sophisticated set who can afford the sky-high rates. And yet it manages to be both lavish and welcoming, especially at the restaurant — which serves a delicious brunch — and in the vibrant public spaces.
6. Best Hotel for Hunting for a New Outfit: 6 Columbus
Sure, the Columbus Circle area isn't as hip for NYFW-goers as, say, the Upper West Side or SoHo. But if you want tons of shops at your fingertips, it's a great choice. And of course, being close to Central Park always adds a special something to a trip to the Big Apple. 6 Columbus, the slightly more mellow sister property to SoHo's 60 Thompson, features 88 futuristic rooms with sleek style and high-end comforts like 400-count sheets and C.O. Bigelow bath products. But fashionistas will really love the hotel's location — just a 2-minute walk from not only the park but also Columbus Circle's Time Warner Center, home to dozens of shops and a handful of iconic restaurants and bars. Shoppers can visit the likes of J.Crew, Cole Haan, and L.K. Bennett — all without having to step outside. Plus, the complex will play host to several Fashion's Night Out events on September 6th, including champagne cocktails at the Porter House restaurant and makeovers at Aveda.
7. Best Hotel for Saving Some Green (After Splurging on That Outfit): Ace Hotel NY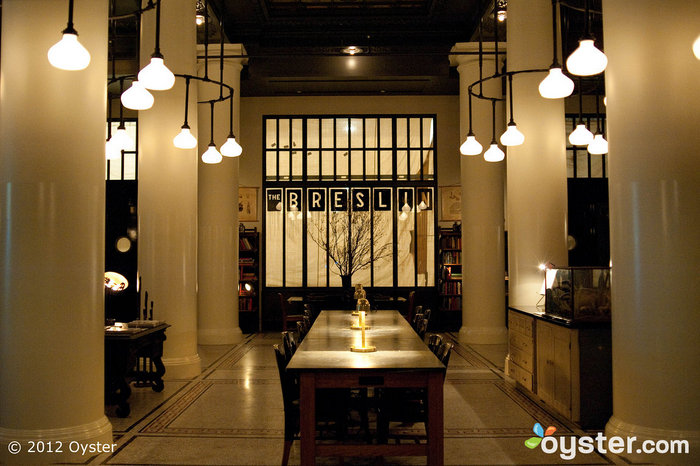 In the increasingly-chic Flatiron neighborhood, the Ace Hotel is the fourth outpost of a funky, Seattle-based mini-chain that offers guests cool — if not particularly upscale — rooms and a fun vibe at a reasonable price. The hotel's vintage-inspired design creates a warm, welcoming atmosphere (perfect for recovering from that chilly stare you got from Anna Wintour — don't worry, she does that to everyone), particularly in the lobby where guests — and even locals looking for a place to chill — catch up, check their e-mail, and read. But the real gem of the hotel is its Michelin-starred restaurant, the Breslin, which serves up delicious English-style gastropub fare in a cozy space with leather booths, distressed wood floors, and moss green walls. And it has Jen Ford's stamp of approval as her favorite hotel restaurant.
We love fashion as much as the next fashionista, but you've got to admit it can just wear (pun intended) a girl — or guy! — out. Choosing outfits, smiling for the paps, walking in stilettos — it can call for a little bit of detoxing and de-stressing. Of course, the city is filled with luxury hotels that offer some of the most gorgeous spas — with the most extensive treatment menus — in the world, but when we are in need of a little R&R, we like to head (right next door to our Oyster offices!) to the Trump SoHo. The hotel's bi-level spa offers a hammam (a rare find in the city), as well as numerous treatment rooms and indoor and outdoor relaxation lounges for when the weather is nice. Prices are sky-high — and go solar-system high during the weekends — but many would argue that the spa's signature massage is worth the $180. If you're willing to put down even more cash and book a room at the hotel, you can extend your Zen-like experience in the room's lavish bathroom, complete with a flat-screen TV, soaking tub, and separate shower. Rather not spend your life's savings? No worries! On Fashion's Night Out, the spa will be offering free treatments such as polish changes and blowouts. Just be prepared to get in line — behind us!
9. Best Hotel for Grabbing a Bite: Bryant Park Hotel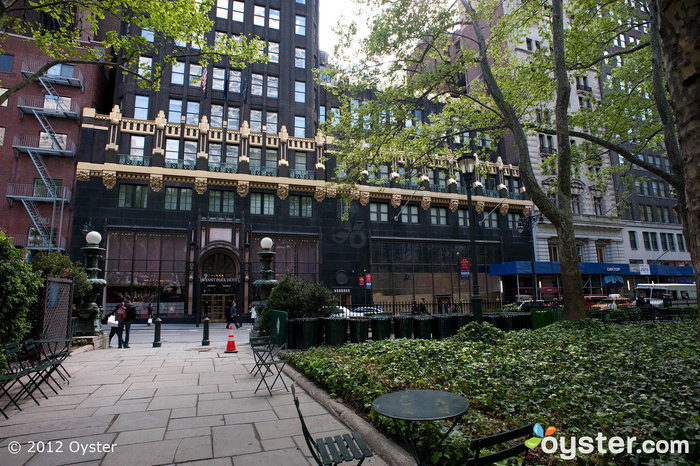 The Bryant Park Hotel should be on every fashionista's list regardless of whether you're hungry or not: It's central location — particularly well-placed for Fashion Week activities, as it overlooks the Bryant Park tents — and sexy vibe make it a great luxury pick for style mavens. But with an outpost of the famed — and sexy — Koi restaurant on site, it's also the ideal spot to grab a (healthy) bite between shows that won't throw off your svelte, sleek look. The Japanese restaurant serves up delicious fusion-style items such as rock shrimp ceviche and spiced short ribs, as well as an extensive sushi menu and fruity cocktails. Diners can grab a spot at the bar, in the main dining area, the lounge, or at the sushi bar. The Trump SoHo is taking a cue from this hip boutique hotel by installing its own Koi restaurant, set to open this fall.
10. Best Hotel for Partying All Night Long: The Jane Hotel
And finally — to cap off our list of ten hotels every fashionista should know about this NYFW — we give you the (arguably) most important of all: The hotel hot spot where you can party all night long. And bonus: with the coolest kids in town. The Jane Hotel is known as one of the coolest — and hardest to get into — bar-meets-nightclubs in all of Manhattan, and when Fashion Week is in full swing, it's even more poppin'. After all, it already seems to only let in models, and it's location in the West Village means it's an easy walk from some of the hottest boutiques in the city — such as DVF, Christian Louboutin, and Alexander McQueen, all of which are hosting open houses on Fashion's Night Out. Plus, if you're really a hot shot (or at least know one), you may be able to sneak up to the hotel's brand-new, members-only rooftop, with sweeping views of the Hudson. So put on your hottest outfit and get ready to slip the bouncer a $20 $100 — attending at party at The Jane is well-worth the bragging rights alone.
RELATED LINKS:
All products are independently selected by our writers and editors. If you buy something through our links, Oyster may earn an affiliate commission.