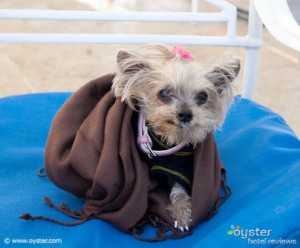 Some of the world's most pampered pooches will strut their stuff today at the Westminster Kennel Club dog show: Their teeth will be clean, their toenails trimmed, and their fur arranged just so. Anyone who's seen the Christopher Guest classic Best in Show knows that some pet people really love their pets, and will go to any lengths to keep them happy. And the current pet-friendly hotel trend means that it's never been easier to spoil your dog rotten on the road. Below, we've listed five of the most extravagant pet services we've encountered during our travels.
Pet room service menus: Pet room service menus are almost de rigueur at pet-friendly hotels these days, and many of them offer a lot more than your run-of-the-mill dog food. The inventiveness, and prices, of some of these gourmet treats caused us to raise an eyebrow — or, in the case of the $98 caviar at Raffles L'Ermitage, two eyebrows. Here is a selection of the most elaborate offerings:
Pet psychics: In Best in Show, the traumatized dog of Parker Posey's character, Meg Swan, could have used one of these. As far as we can tell, though, very few (or no) people actually take advantage of this service, offered as part of the Affinia hotels Jet Set Pets Program — but it's there if you want it. Catherine Ferguson, Ph.D., the "interspecies psychic" patronized by the New York City Affinia properties, can help you deal with misbehaving pets, learn about your pet's past lives, find out what your pet thinks of your relationship, and communicate with your deceased pets ($50 for a 20-minute phone consultation; $90 for a 60-minute in-person consultation).
Gourmet pet cakes: Whether it's your pet's birthday or you just want to treat her to something special, some pet-friendly hotels can provide pets with a gourmet cake or treat. Hotel Marlowe — our pick for the best pet-friendly hotel in Boston — can order your pet peanut butter-flavored cakes with cream-cheese frosting from the Polka Dog Bakery (round or heart-shaped, $22. Flavors and shapes are subject to change). A guest requests one about every six weeks, according to the hotel.
Doggie robes and towels: At the sleep-themed Benjamin hotel in New York — part of the pet-friendly Affinia chain — dogs receive plush bathrobes to use during their stay as part of the "Dream Dogs" program. At the Peninsula Beverly Hills, pets receive monogrammed towels.
Spa services: We've seen doggie massages, pedicures, and shampoos offered through a number of top pet-friendly hotels. The Muse provides in-room pedicures for a guest and her dog as part of the Hers and Furs package, and the Epic Hotel in Miami offers a pet "pawdicure" and shampoo service, as well as 90-minute massages for two human guests, as part of its Epic Pet Getaway package.
All products are independently selected by our writers and editors. If you buy something through our links, Oyster may earn an affiliate commission.