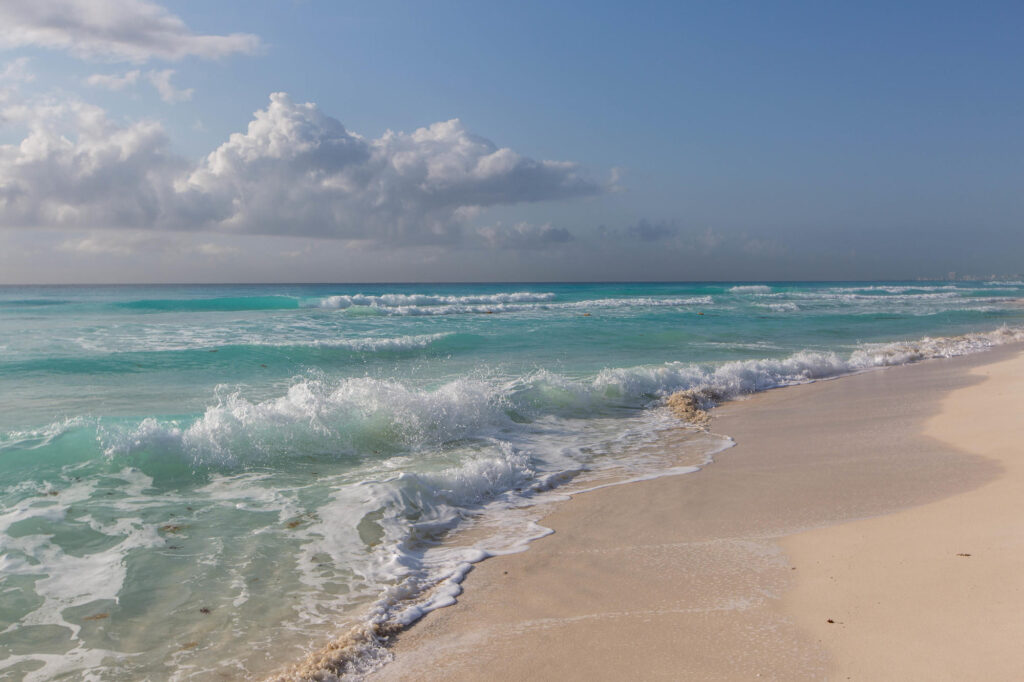 Beach at Panama Jack Resorts Cancun/Oyster
Can't decide between Cancun and Playa del Carmen? These two spots simultaneously seem similar and so different, making it a hard choice, especially for first-time travelers to the area. We're here to help because we want to make sure you know what you're getting into before you book your hotel, slather on the sunscreen, order that michelada, and hit the beach. Both Cancun and Playa (as it's known by locals) have a healthy party atmosphere, are soaked in English speakers and tons of tourists, boast gorgeous beaches, and offer access to natural excursions and plenty of day trips. In their category of travel, you can't go wrong with either destination, but in case you have some deal-breakers when choosing your ideal vacation spot, read on to find out which is better for you.
Traveling to Cancun and Playa del Carmen
If you're heading down to either Cancun or Playa del Carmen, flying into Cancun International Airport is your best bet. Flights are operated by most major airlines, though prices do fluctuate depending on the season.
Cancun: It's likely that Cancun became popular because of its sheer proximity to the airport. The Hotel Zone is a mere 10- to 15-minute cab ride from Cancun International Airport, meaning you catch the early flight and be on the beach within a few hours, depending where you're coming from. You can also reach Cancun from the popular cruise port of Cozumel, a particular favorite with the Carnival line, but you'll have to take the 25- to 40-minute ferry to Playa del Carmen and then catch a 60-minute ride north to Cancun. Once you are in Cancun, you'll have to take taxis to and from most places, even in the Hotel Zone.
Playa del Carmen: There's no airport directly in Playa del Carmen, but as mentioned, if you port in Cozumel, it's a quick ferry ride to Playa. (The ferry drops you off on the southern edge of the town, right near a Senor Frogs.) If you fly into Cancun International Airport, expect to take an overpriced taxi or shared shuttle to Playa del Carmen. Once in Playa, you can walk to most places in the main tourist area. To walk from one end to the other takes about 25 minutes at most, and cabs tend to charge a flat rate (in pesos) within the main area around 5th Avenue.
Beaches in Cancun and Playa del Carmen
Cancun and Playa del Carmen are known for their beaches — gorgeous and warm turquoise water, soft white sand, and saturated sunsets included. The water in both places is warm year-round and is clearer when less people are around and kicking up sand. The only downside is that the Riviera Maya is prone to seaweed washing up on the shores, often resting in big clumps right where you want to throw down a towel or take a stroll.
Cancun: Cancun boasts warm, clear water. The beaches here are also wider and better equipped, but the latter is only because they are practically all fronted by a hotel. That said, even though the beach is public, you'll likely have to spend some money on food or drink if you want to plop down in a chair or under an umbrella. The upside to this is that the sand will likely be maintained (i.e. free of seaweed), and you'll probably be close to a bar and bathroom. The best off-the-shore snorkeling in the Hotel Zone can be found on the southern side, but if you really want to see some action, it's best to book an excursion.
Playa del Carmen: Picking a beach in Playa can be like playing Russian roulette — if you don't know what you're doing. Like Cancun, all of Playa del Carmen's beaches are public, but unlike Cancun's tourist zone, there are several stretches of sand in Playa that are unequipped. That means no beds, no umbrellas, no bars, no lifeguard, and no bathroom. Unless you're staying directly on the beach and have access to facilities thanks to your hotel, you're going to have to pick a place and most likely pay to be there, if you want services. Given that the beaches are public, you should expect beach vendors and crowds, especially if you're staying in a hotel that's close to the city center. There are several beach clubs around Playa, all with different costs, but you can also find a beach bed at a bar like Senor Frogs at the southern edge of 5th Avenue. For reference, the beach is wider at the southern end, and there tends to be less seaweed here as well.
Food in Cancun and Playa del Carmen
Authentic Mexican food is fairly hard to find in either of these highly touristy destinations. Chances are, you'll recognize quite a few restaurant names, which can be comforting or disappointing, depending on what you're looking for. Even if you ask the staff at your hotel for an authentic local restaurant, they are likely to point you in the direction of a popular chain or westernized spot. Expect prices to be high, especially right off 5th Avenue in Playa and in the Hotel Zone.
Cancun: Chain restaurants like Outback Steakhouse, Bubba Gump Shrimp Company, Subway, Hooters, and other touristy establishments dot the side of the road here. In town, expect to find fast-food joints like Carl's Jr. and Pizza Hut, as well as some authentic local eats. Authentic spots include La Destileria, La Habichuela Sunset, and Hacienda El Mortero. If you're looking for a traditional, no-frills spot with low prices, wander into the small area behind the Aloft. Here, you'll be served tacos and beer on plastic lawn furniture. Note: If you're staying at an all-inclusive resort, most properties include breakfast and lunch buffets at least. Due to this, most local restaurants open for lunch around 2 p.m. and stay open until midnight.
Playa del Carmen: Food in Playa del Carmen also caters heavily to a tourist crowd. You can easily find chain restaurants, fast food, and westernized versions of international cuisine during your stay. Expect to pay the highest prices along 5th Avenue, while also having some of the lesser authentic meals. Most restaurants along this pedestrian strip have large menus posted outside and people aggressively trying to lure you inside. We recommend wandering a few blocks away from 5th Avenue to find the real gems, lower prices, and less touristy vibes. When it comes to dining, Playa del Carmen has a leg up on Cancun because it has a variety of options, fewer chains, and restaurants that can be reached within easy walking distance.
Safety in Cancun and Playa del Carmen
Traditionally, Mexico's Riviera Maya has been spared the travel warnings issued to other, less stable parts of the country. While you need to exercise caution no matter where you travel, both of these touristy towns fall on the safer side. There is no current travel warning for either area. Quintana Roo, which includes both Playa del Carmen and Cancun, currently has a Level 2 travel advisory, meaning travelers should exercise increased caution when visiting.
In addition to gun violence, the two areas have made headlines for tainted alcohol at a host of upscale, all-inclusive resorts. The counterfeit booze has led to several travelers falling ill. The United States warns visitors to be aware of tainted or counterfeit alcohol. "If you choose to drink alcohol, it is important to do so in moderation and to stop and seek medical attention if you begin to feel ill. There have been reports of individuals falling ill or blacking out after consuming unregulated alcohol," the State Department website reads. All that said, keep your wits about you and watch your surroundings.
Atmosphere in Cancun and Playa del Carmen
Cancun and Playa del Carmen are both tourist-heavy destinations that favor fun and sun over cultural immersion. Most travelers who visit either locale tend to stick to the touristy spots where access to authentic Mexican culture can be slim to none. Instead, you'll find chain restaurants and bars, as well as international brands in the shops. Plus, expect to hear a lot more English than Spanish and to be surrounded by lots of folks from the U.S. This doesn't mean that there is no culture to be found, but you will have to know where to go to uncover it.
Cancun: Cancun attracts everyone from families with younger children to partiers in search of a good time. Here, you can expect to find a bizarre, but harmonious, collection of kid-friendly hotels and restaurants alongside loud bars, nightclubs, and flea markets. If you are looking to drink, tan, and get wild with other spring breakers, head down during March or April, and stay in a value or mid-range hotel. If that doesn't sound like your scene, plan to hit up the area when school is in session, and stay in more expensive hotels, like the Marriott Cancun Resort or The Ritz-Carlton. If you're searching for a taste of local culture, you'll have to skip the Hotel Zone entirely and try your luck in town, but beware, as it can be a little more sketchy around there.
Playa del Carmen: Playa's vibe is a little older and a little less family-oriented than that of Cancun. Here, spring breakers are replaced with adventurous travelers, well-established expats, and out-of-college couples and singles. Families that visit tend to have adult-aged kids. However, don't make the mistake of thinking this place doesn't party. Several night clubs and bars, an EDM music festival, and the walkable grid-like layout make it lively. Overall, Playa del Carmen is for travelers who want a little more than the beach and booze to fill their days.
Weather in Cancun and Playa del Carmen
Since Cancun and Playa del Carmen are so close, their climate is similar: hot, humid, and not without a rainy hurricane season. Weather may vary slightly, but since the two destinations are only about 30 minutes apart, it won't be that way for long. Storms and weather patterns that hit will usually pass through both areas, so you can lay back and relax knowing that you didn't pick the bad beach getaway. The best time to visit is during the October shoulder season, when it's still warm, most likely clear of hurricane season, and the peak season tourists haven't started filtering in yet. March is also a good month to visit weather-wise, but if you aren't looking for a spring break-style party, skip this time of year.
Activities in Cancun and Playa del Carmen
To the untrained eye, it may seem like Cancun and Playa del Carmen have similar activities on offer, but this is actually not the case.
Cancun: While Cancun's Hotel Zone may seem jam-packed with stuff to do, it's actually a bit of a mirage. In fact, there's not many ways to spend your days or nights aside from eating, drinking, light shopping, and beaching. Cancun does have some shopping at upscale malls like La Isla and Luxury Avenue. Most people book excursions and activities at their hotel or from one of the many excursion companies on the Hotel Zone peninsula. It's also easy (though expensive) to arrange transportation to the nearby theme parks like Xel-Ha. In addition, folks can take a cab to the ferry port, which offers day trips to Cozumel or Isla Mujeres (located eight miles off the coast). Another popular day trip is Chichen Itza. This former capital city of the Mayan civilization is two hours west of Cancun. There's also a small set of Mayan buildings right downtown in Cancun. For more itinerary inspiration, check out our list of the best Cancun excursions as well as the most unexpected day trips from Cancun.
Playa del Carmen: Since Playa del Carmen is set up much more like a beach town, expect to find a lot of action along the main streets, including restaurants and bars, local and designer shops, beach clubs, and entertainment venues. The variety of these spots is much higher here than in Cancun. Beyond the beach, shops, and restaurants, you'll also find excursions with tour operators. Unlike Cancun, the main area is set up like a grid and everything is close together, making it mostly walkable (or a very cheap cab ride from place to place).
Nightlife in Cancun and Playa del Carmen
Nightlife in both spots is mostly focused on bars and clubs. Expect all ages going all night. If drinking and dancing aren't enough, both Cancun and Playa del Carmen have ultra-popular clubs, like Coco Bongo, that serve up live performances with your cocktails. There's also a small selection of LGBT-friendly options in both towns, though several in Playa closed in February 2017.
Cancun: There's no shortage of places to party in Cancun, specifically in the Hotel Zone. However, unless you are on an organized bar crawl, the long lines and open bar policies may make it difficult to soak in more than one or two spots a night. Popular bars with a year-round spring break vibe include Carlos 'n Charlie's and Senor Frogs, while nightclubs like the underground Dady'O, popular Mandala, and The City keep it bumping with DJs and live music until the wee hours of the morning. Nightclubs tend to sell open-bar bracelets, which allow everyone to pay one price to enter the club and drink all night, while bottle service (for an extra fee) is encouraged. Cancun also offers bar-hopping tours, which bring visitors to several nightclubs in one night.
Playa del Carmen: While Playa offers many of the same nightlife options as Cancun (Coco Bongo, Mandala, and Senor Frogs, included), there are many more bar options here. Plus, it's easier to bar hop thanks to the grid layout. A higher concentration of bars also means more options for live music. Mamita's Beach Club regularly hosts music festivals like the BPM Festival and the Riviera Maya Jazz Festival. There are also numerous casual beach bars with drink specials and open-air seating. If you don't want to wait until nighttime to start the party, hit up Coralina Daylight Club, where you'll find DJs, drinks, dancing, and even a stripper pole in the middle of the pool.
This 450-room luxury all-inclusive is set in the heart of a private resort community to the north of Cancun. Modern, luxurious rooms are huge and have big whirlpool tubs; all have balconies and some have ocean views. Certain categories have swim-up access or private plunge pools. All the features expected for this caliber of resort are here, including seven pools, nine restaurants, 11 bars, and a high-end spa.
The Royal Hideaway Playacar is a member of exclusive hospitality consortium Leading Hotels of the World, and as such is one of the most luxurious properties in the area. It features upscale rooms with high-end amenities, a full-service spa with great treatments, several pools, and the best food around. The beautiful grounds, overall sophisticated vibe, adults-only policy, and beautiful beachfront location a short drive from shopping on Playa's Fifth Avenue make it one of the most attractive options for couples in Playacar.
Looking to reduce your carbon footprint and stay green while traveling? On your next trip to Mexico, be kind to our Earth with Mama Kuleana's reef safe sunscreen.
NOW WATCH: 7 Things You Need to Know Before Going to Mexico
You'll Also Like:
All products are independently selected by our writers and editors. If you buy something through our links, Oyster may earn an affiliate commission.