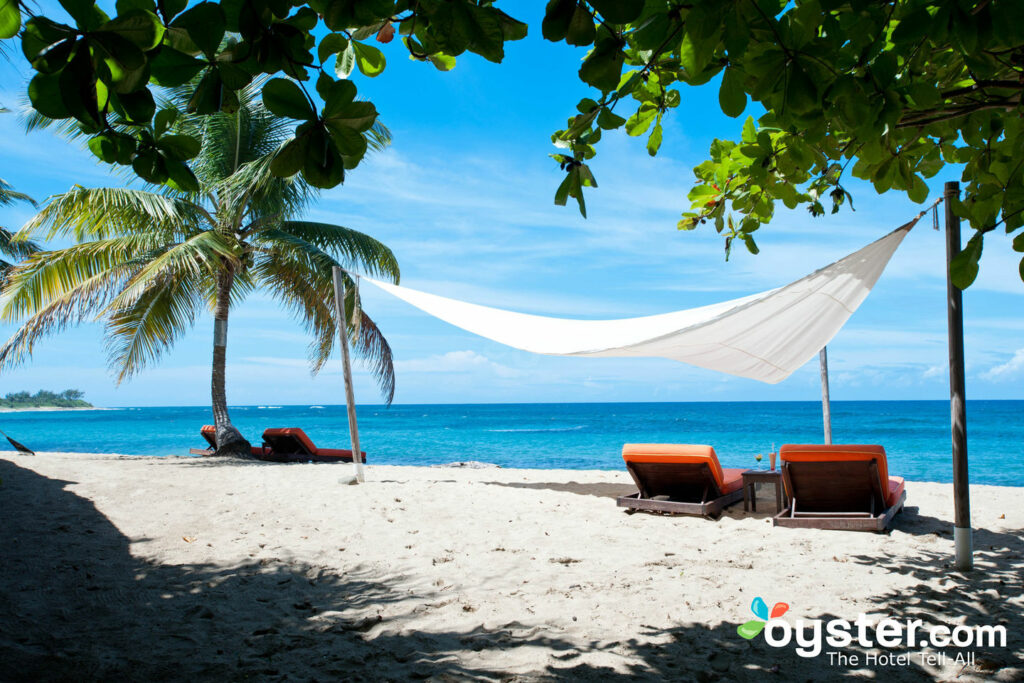 Located a couple hundred miles away from each other, Puerto Rico and the Dominican Republic -- both discovered by Christopher Columbus in the 15th century -- are essentially neighbors in the Caribbean Sea. The two Spanish-speaking spots are popular among vacationers, thanks to their year-round warm weather, beautiful beaches, lush mountainous interiors, and vibrant local culture. That being said, despite their close proximity and near-identical weather, you'll find that these two Caribbean destinations are actually quite different. We've put together a helpful list of travel talking points to let paradise-seekers decide which locale suits them best. Read on to learn more.
Getting to Puerto Rico and Dominican Republic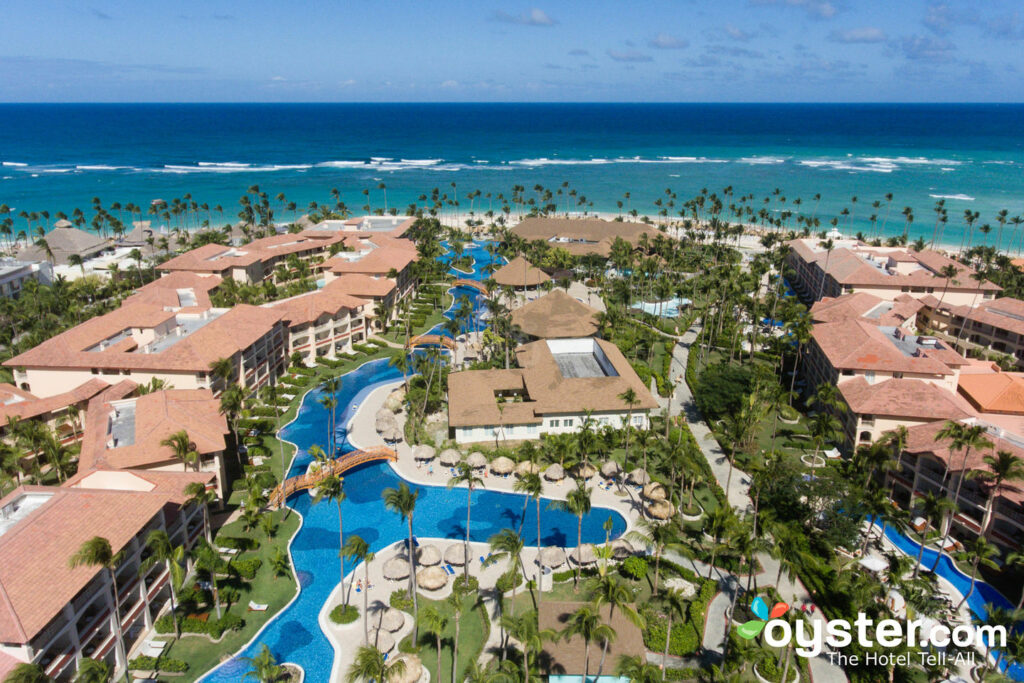 Both the Dominican Republic and Puerto Rico are accessible by plane or cruise, and can easily be combined due to their easy distance from one another. No matter where you're arriving from around the world, it's about the same flight length for all airports in either destination.
Dominican Republic: This separate, sovereign nation is part of a larger island called Hispaniola, which also includes Haiti. The Dominican Republic makes up the east side of the Caribbean's second-largest island. Most travelers either arrive in Santo Domingo on the south coast or Punta Cana on the far eastern coast. Upon arrival, international tourists used to have to pay a $10 cash arrival tax fee, but since 2018, this is no longer required and is included in the price of airfare. West coast travelers can often find one-stop flights with a layover in Miami, or two-stop flights for a lower price. Major cities on the east coast offer direct flights or one-stop for lower fares. Cruise ports include Santo Domingo, La Romana, and Amber Cove port.
Puerto Rico: This United States territory is the third-largest island in the Caribbean, with 100 other uninhabited cays, islets, and atolls including Culebra and Vieques. Compared to the Dominican Republic, Americans will find it easier to travel here: no waiting in lines for immigration and customs, no need to worry about local currency (although U.S. dollars are often accepted in the Dominican Republic), and no need for a passport (a government-issued photo ID will suffice). Like the Dominican Republic, west coasters will typically have a stopover in Miami or Dallas Fort-Worth to get to San Juan or the second-largest airport called Aguadilla, while east coasters have numerous options for direct flights. If interested in a cruise, Puerto Rico's main port of call is located in the city of San Juan.
Hotels and Resorts in Puerto Rico and the Dominican Republic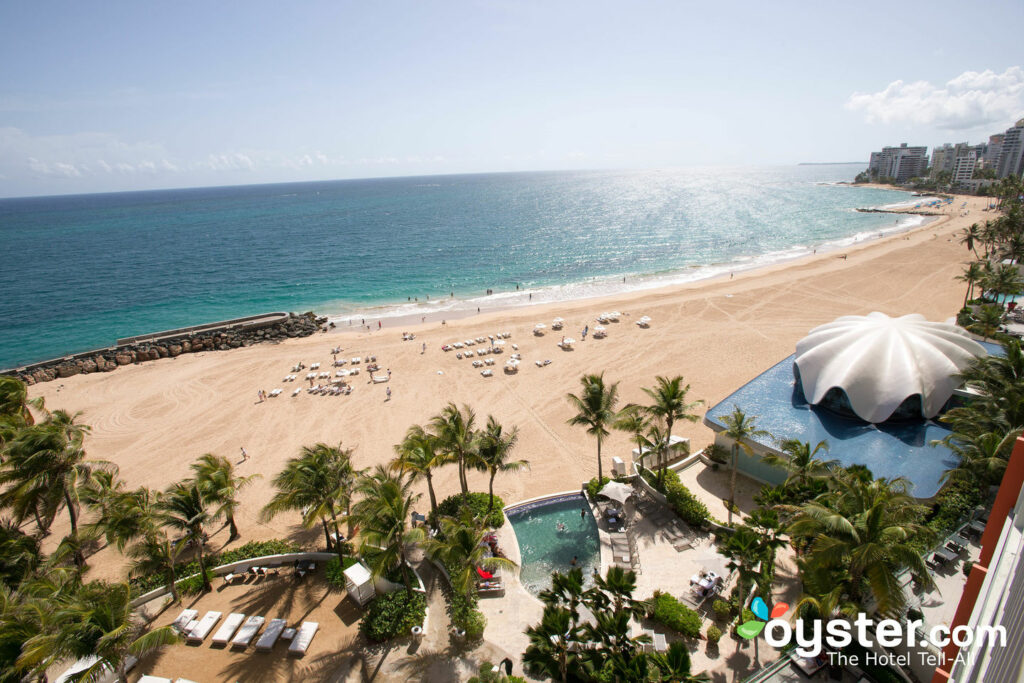 Both destinations offer several options in terms of hotels and resorts, with distinct variations.
Dominican Republic: Many who come to the D.R. stick to the beach resorts of Punta Cana, La Romana, and Puerto Plata. Punta Cana is by far the country's most popular resort area, attracting two-thirds of all visitors to the Dominican Republic with 20 miles of pristine beachfront and nearly 100 all-inclusive mega-resorts that range from budget family-friendly properties to high-end options with golf courses and luxury spas. If you have your heart set on the convenience and (relatively) lower cost of an all-inclusive, then Punta Cana is the way to go. Independent travelers who want to avoid the mainstream can head to remote areas of the country, like the Samaná Peninsula or town of Cabarete, which offers more adventurous water sports. Or, to soak in colonial history, make sure to explore the capital of Santo Domingo — a UNESCO World Heritage site — known as the first European settlement in the New World.
Puerto Rico: With far fewer all-inclusive options, Puerto Rico is arguably the more expensive vacation option between the two. That being said, staying in Puerto Rico grants you more freedom to explore the entire island (100 by 35 miles in size) and its local culture. Since the Dominican Republic is not as developed as Puerto Rico, travelers tend to cab it from the airport or arrange transportation through their hotel, and then stay put. Meanwhile, Puerto Rico offers better road conditions and a wider range of hotels, from the family-run properties on Rincon's west coast to large luxury resorts in San Juan, and everything in between. Car rentals are a cinch for U.S. citizens, making Puerto Rico easy to get around (minus the traffic and aggressive driving habits, of course).
Beaches in Puerto Rico and the Dominican Republic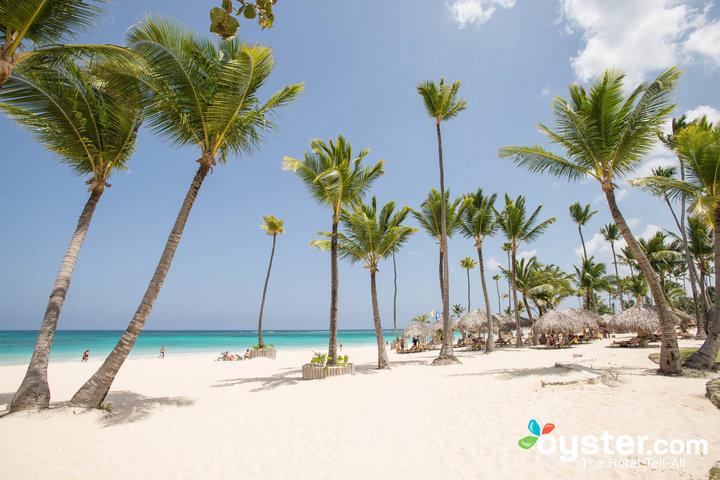 If you're thinking about booking a vacation to either destination, you likely have one word on your mind: beach. Both of these destinations offer stunning stretches of sand and beautiful turquoise waters, though it all depends on where you go.
Dominican Republic: Promising gorgeous stretches of white sand, warm weather throughout the year, and reasonable resort rates, the Dominican Republic is a popular beach getaway for travelers coming from multiple countries in North America and Europe. No matter the time of year, no matter your mood, there is a beach for you in this beautiful, varied country, which has nearly 1,000 miles of spectacular coastline. If staying in Santo Domingo, you'll have access to Playa Boca Chica, one of the Dominican Republic's more popular beaches with calm waters, which are protected by a coral reef. Travelers looking for picturesque white-sand beaches should stick to the Punta Cana area — particularly Bavaro Beach, which receives the least amount of rainfall in the Dominican Republic.
Puerto Rico: This is truly a beach lover's destination, offering hundreds of options to choose from, each with its own unique qualities. Most visitors flock to the beaches near the city of San Juan. These stretches draw fun crowds, especially on Sundays, when locals like to hit the sand with friends and family. Far fewer crowds make it to Flamenco Beach in Culebra, a photogenic spot with turquoise waters and white sand. Everywhere else in Puerto Rico, it's easy to find a wide range of beaches, including narrow coves known for surf breaks as well as large stretches of black, white, or golden sand with hardly a soul in sight.
Food in Puerto Rico and the Dominican Republic
When it comes to local cuisine, both islands are quite similar, as they are predominantly made up of a combination of Spanish, Taino, and African influences.
Dominican Republic: Locals here are known to serve up some of the best Caribbean food, including smashed plantains, white rice, beans, braised meats, and fresh seafood. Spanish desserts, hot chocolate, and coffee, which are usually sweetened, are other highlights. If staying in an all-inclusive resort, food can vary quite drastically from repetitive buffets to gourmet à la carte options, so you'll want to research each resort before making a choice (luckily, Oyster reviews include a section about food). Though most visitors in Punta Cana tend to stay inside the confines of their property, certain places, like Santo Domingo, allow more flexibility to go out and explore the local restaurants. Plus, the quaint town of Cabarete offers top-notch cafes, restaurants, bars, and bakeries with a distinct European feel, since many Italian, French, and German expats have settled here.
Puerto Rico: Combining an eccentric mix of tastes, budgets, and influences from Spain and Asia, Puerto Rico has one of the best food scenes in the Caribbean. In particular, San Juan is known for its trendy food trucks, local celebrity chefs, and new restaurants that often pop up. As for traditional mainstays, mofongo is a favorite stew that includes beef, chicken, pork, or seafood mashed in with plantains smothered in garlic. Other dishes to look out for include arroz con gandules (rice with beans and spices) and pasteles (pork tamales wrapped in banana leaves).
Activities in Puerto Rico and the Dominican Republic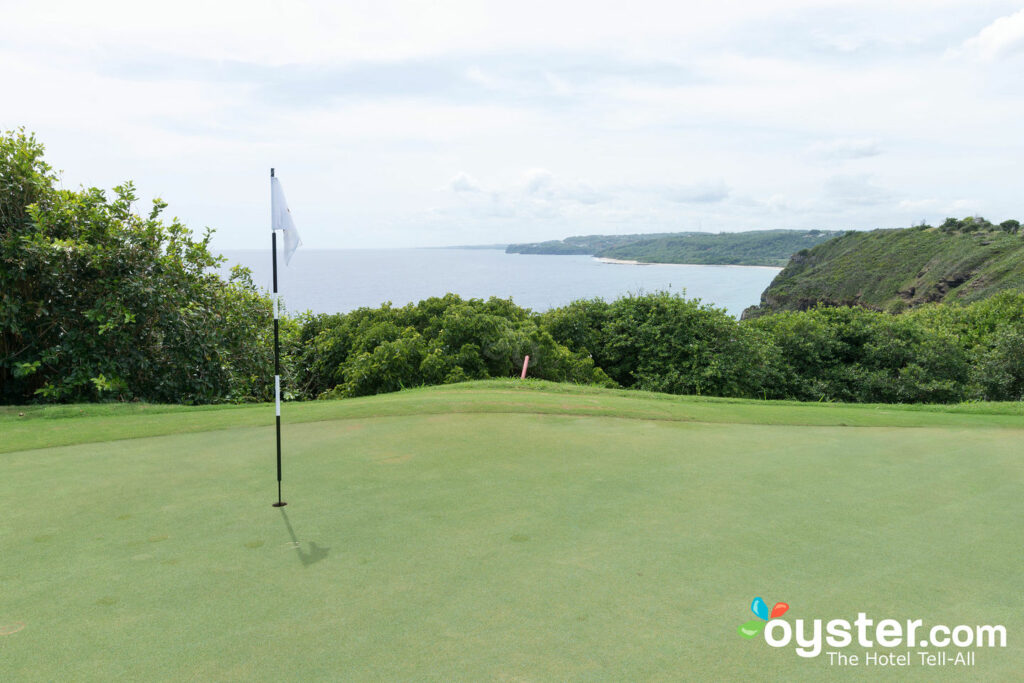 Not a shock, activities in both destinations center around the sand and sea.
Dominican Republic: If staying in Punta Cana, you'll likely have access to non-motorized water sports and activities as part of your all-inclusive package, which could include kayaking, stand-up paddleboarding, volleyball, and classes like aqua aerobics. You can also leave the resort for organized excursions, like glass-bottom boat tours and deep-sea fishing, that are either included or cost separate. However, many travelers don't feel comfortable renting a car and exploring the country on their own. Those who do will discover that there are other sides to the Dominican Republic. In the northern province of Puerto Plata, you'll find kiteboarding, surfing, and wind surfing. There are also protected nature reserves with hiking and biking trails, humpback whale sightings in the Samaná Peninsula, as well as beautiful golf courses with magnificent ocean views. Higher-end resorts like Casa de Campo offer guests horseback riding, polo matches, and golf. Snorkeling at Saona and Catalina Island, where you can see the famous shipwreck of pirate William Kidd, is also an option.
Puerto Rico: There's lots to explore in Puerto Rico beyond the beach and resort pool. In San Juan, it's worth checking out the world-class historic attractions, including the two forts ordered by the Spanish king in the 16th century: La Fortaleza (now the official residence of Puerto Rico's governor) and San Felipe del Morro. From here, you can travel to points of interest such as El Yunque National Forest, Las Cabezas de San Juan Nature Reserve, the Camuy River Cave Park, and more. There's also excellent surf breaks, coral reefs for diving and snorkeling, horseback riding, zip-lining, ATV rentals, and the best shopping malls in the Caribbean.
Safety in Puerto Rico and the Dominican Republic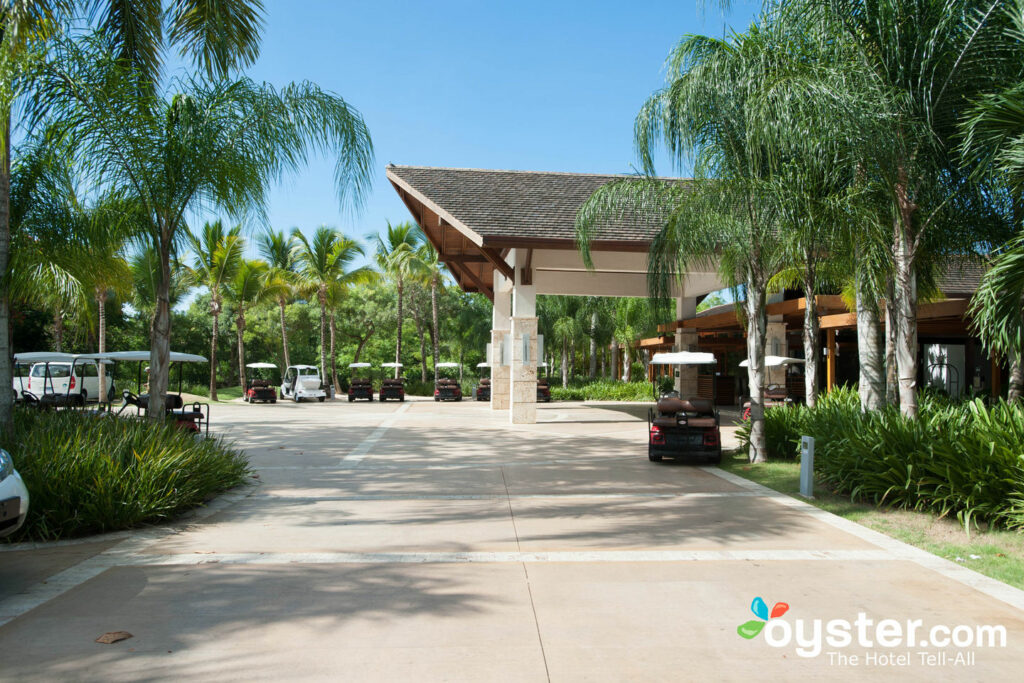 Any vacation will likely bring up the question of safety, and just like everywhere else, some Caribbean islands are more safe than others. Let's take a quick look at how these two stack up against each other.
Dominican Republic: Most of the country's all-inclusive resorts have excellent high-level security and 24-hour staff manning the gate. That being said, some instances of petty theft and muggings do occur, so it's a good idea to use the hotel safe and avoid bringing valuables. If traveling in Santo Domingo, keep your personal belongings close and never leave them unattended in a public place. Thieves on motorbikes won't hesitate to grab a purse from an unsuspecting tourist, so keep your bags close to your body when walking the city streets. If traveling near Cabarete, stay clear of Sosua, which is known for sex tourism — not safe for solo female travelers, families, or couples. Check out our story on safety and security in the Dominican Republic for more information.
Puerto Rico: Most areas of Puerto Rico are safe, but it's best to always be aware of your surroundings and take proper precauations. Like any other major city, San Juan, with about half-a-million residents, has some undesirable neighborhoods. Get advice from trusted locals about where you should and shouldn't go, especially if going out at night.
Nightlife in Puerto Rico and the Dominican Republic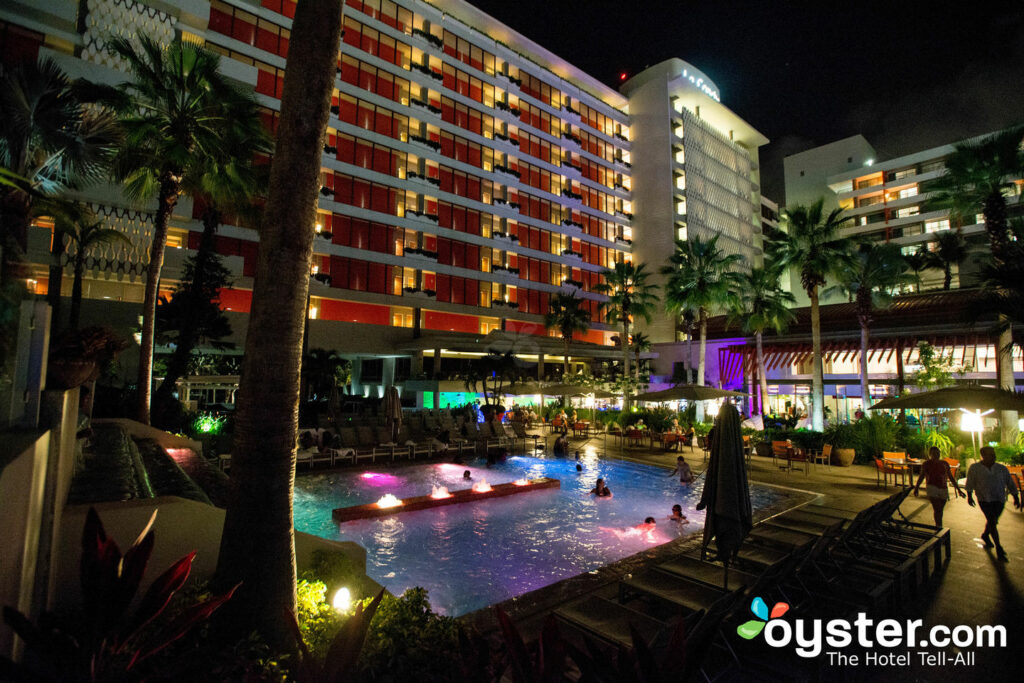 Both destinations have a similar nightlife scene — here's how they compare.
Dominican Republic: Those who like to party should plan a trip around the Carnival celebrations, which are held throughout the country. Join the fun, elaborate feasts and all-night merengue music, and make sure to order a Cuba Libre. In Punta Cana, there are very few options outside of the resorts, except for an underground cave nightclub called Imagine, and a disco club called Pacha, with occasional live concerts. Instead, resort nightlife is designed to suit all international preferences with live music performances, special stage shows, and late-night dance clubs. Locals like to dress up, and beach wear is often frowned upon or not allowed after dark.
Puerto Rico: The relaxed, laid-back vibe of Puerto Rico often means ending the beach day with a rum-based cocktail, like a piña colada (this is the birthplace of it, after all), as the sun goes down. San Juan offers the best variety of nightlife, with hundreds of entertainment options, including casinos, nightclubs, lounges, concerts, plays, and cultural events held throughout the year. Old San Juan becomes romantic after dark, with black, wrought-iron lanterns glowing across cobblestoned streets and the sounds of salsa, flamenco, and jazz coming from restaurants and clubs. In trendier neighborhoods like Condado, Ocean Park, or Isla Verde (Carolina), you'll find beach bars with live music, as well as casinos and nightclubs.
Our Favorite Hotels in Puerto Rico and the Dominican Republic
Dominican Republic: Majestic Colonial Punta Cana
The Majestic Colonial Punta Cana is one of three upscale all-inclusive sister properties on a beautiful stretch of Bavaro Beach. The 658 suites are attractive with marble floors, jetted tubs, and some ocean views. Upgrades to swim-up suites are available. A 1,300 foot lazy river-style pool meanders down the center of the property and there are always available sun loungers here.
Puerto Rico: The St. Regis Bahia Beach Resort, Puerto Rico
The ultra-luxurious St. Regis offers all of the top-notch amenities you'd expect for one of Puerto Rico's only five-pearl hotels. Features include a high end spa, two gorgeous beachfront pools, three restaurants (including a Jean Georges creation), a slick fitness center, and an exceptional golf course. Rain forest boardwalks connect its 139 rooms which are large, timeless, and decorated with care.
Save your skin and Earth simultaneously on your next Caribbean adventure with Mama Kuleana's Reef Safe Sunscreen.
You'll Also Like:
All products are independently selected by our writers and editors. If you buy something through our links, Oyster may earn an affiliate commission.