Although "Keep Austin Weird" is the slogan for the capital of Texas, the saying could be extended to the whole state. After all, Texas is filled with a variety of quirky attractions and fun, under-the-radar activities. Typical Texas to-dos include attending a Cowboys' game, eating barbecue, and experiencing a rodeo, but we've created a list of 10 lesser-known, unique things to see and do in the Lone Star State. Check it out below.
1. Get your art fix at Cadillac Ranch.
The Texas Panhandle is home to some oddball art installations, and perhaps, none more so than Cadillac Ranch. Billionaire Stanley Marsh III bought a bit of property next to Route 66 in Amarillo, Texas, in 1977 in the hopes that an art installation could be built and would interest both locals and out-of-towners. An art group by the name of Ant Farm created what is now known as Cadillac Ranch. The installation features ten Cadillacs buried nose-down in the ground. Since 1977, it has become interactive, with visitors stopping by and spraying artwork or their names on the now-stripped Caddies. So, grab a can of spray paint (or one left behind) and get your art on in Texas.
2. Visit Texas Musicians Museum.
There are a plenty of reasons to visit the Texas Musicians Museum in Irving, Texas. The main draw, however, is the cool displays of famous Texas artists in a variety of genres. Get an up-close look at Willie Nelson's mug shot or watch the first music video on a vintage 50s-style tube TV. Take pics with the Stevie Ray Vaughan display, next to Selena's concert posters, or with ZZ Top's first concert performance flyer from his show in Wichita Falls, Texas. There are even modern displays of Destiny's Child and Jessica Simpson. It's a fun tour to take, and more than surprising when you see just how many famous artists came from Texas. Don't miss out on the live shows on weekends and be sure to snap some photos with the larger-than-life guitar and piano sidewalk art outside. And if you're willing to delve into the creepy aspect of the museum, ask about the ghosts and orbs that party around Janis Joplin's display at night.
3. Drive the fastest speed limit in the country.
Texas is mostly filled with wide open land with nothing in between but highways upon highways. If you like driving fast (and don't want a ticket), Texas is the best place to let your inner speed demon free. You can put the pedal to the metal and drive 85 miles per hour — the fastest speed limit in the country — on State Highway 130 (specifically, on the 41-mile section of the toll road that runs between Mustang Ridge and Seguin).
4. Check out Prada Marfa.
Just 30 minutes outside of Marfa, Texas, off Highway 90, lies Prada Marfa. This art installation resembles a tiny Prada store, complete with a window display of the designer's shoes and handbags. Created by Elmgreen & Dragset, the Prada Marfa store was unveiled in 2005 and is meant to be commentary on Western commercialism. It's built with biodegradable material, which will eventually return to the earth, making it both eco-friendly and a cool photo op.
5. Enjoy a music festival in the Rio Grande.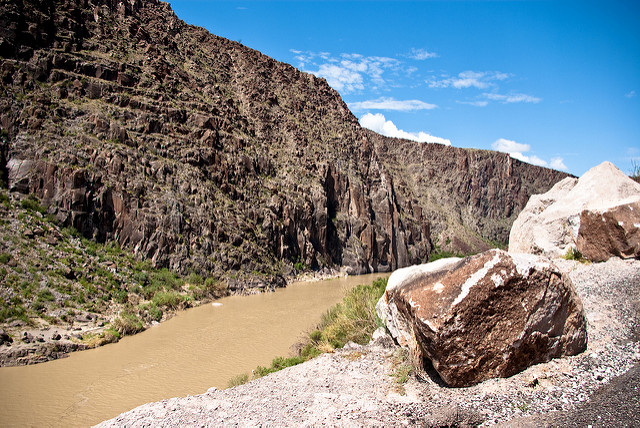 You've likely heard about South by Southwest, but there's a lesser-known music festival with a meaningful impact worth checking out in Texas, too. The small Texan towns of Terlingua and Lajitas had a long and wonderful relationship with small Mexican communities like Boquillas on the other side of the Rio Grande. However, following 9/11, freely crossing the river and border at Lajitas was not permitted, thereby cutting loved ones off from each other. In 2012, this changed. The Big Bend Citizens Alliance started Voices From Both Sides, a music festival that brings people from the U.S. and Mexico together in a neutral area — the Rio Grande. During the festival, stages are set up on both sides of the river and bands showcase their music for families swimming or tubing in the Rio Grande, dancing on land, or enjoying a cold one with old and new friends from the "other side."
6. Marvel at a bat show.
Texas is home to a lot of animals, however, it's the bat that most captures the attention of locals and visitors alike. There are three places where the nocturnal animals congregate, drawing visitors to see them up close and personal. Every summer night, people gather at Congress Avenue Bridge in Austin, Texas, to watch 1.5 million bats (the largest urban bat population in the U.S.) take off in search of food. Then there's Bracken Cave, just 20 miles from downtown San Antonio, which is home to 15 million Mexican free-tailed bats — a sight to behold against the fading sky. Or, witness three million bats in flight at the Old Tunnel State Park through paid viewing opportunities. Watching bats fly from their roost is a bit of a quirky experience, but one that'll leave you in awe.
7. See the Mueller SunFlowers.
https://www.instagram.com/p/BVGj9euFrp7/
Drive along Interstate 35, just outside of Austin, and you'll stumble upon blue flowers. Known as the Mueller SunFlowers, this part public art installation, part solar power hub adds fuel to the city of Austin. Fifteen flower-shaped photovoltaic solar panels are powered by the sun during the day, which then power the blue LED lights of the flowers at night. Visitors can walk through the installation and behold the artistic ingenuity that has generated 386,006 kilowatts of energy and offset 565,103 carbon emissions.
8. Fuel up at the pecan pie vending machine.
https://www.instagram.com/p/BV9uBysAYHu
Cedar Creek, Texas, is home to a giant squirrel holding an enormous pecan. And while a large squirrel might be enough to make you want to pull over, it's the pecan pie vending machine next to the animal that's the real quirky treasure of the area. The pecan pie vending machine is owned by the Berdoll Pecan Farm, who restocks it every day with fresh pecan pies and other pecan delicacies. It's thought to be the only one of its kind in the U.S. And if you have a pie craving at midnight, don't worry, as the machine is open 24/7.
9. Stop by an alien grave site.
https://www.instagram.com/p/BUgIh_HgooR
Before Roswell, there was Aurora, Texas. In 1897, a UFO supposedly crashed in this small Texas town, and unfortunately, the pilot died. The townsfolk supposedly buried the "martian" body in the Aurora cemetery with a headstone that featured an etching of the alien ship. Though the headstone has been lost to time, there's a historical marker that commemorates the buried, including the not-so-forgotten alien.
10. Have a cold brew with a goat mayor.
https://www.instagram.com/p/BFUXfIBweZF
It's not everyday that you get to meet a city mayor, but it's not too hard to run into the mayor of Lajitas, as he sits in his pen next to a small general store. The mayor of Lajitas is a goat and he has held this title for some time. In the 1980s, Clay Henry, a local goat, won the mayoral election of Lajitas. Clay was known for having an appetite for beer and chugged a few cold ones with the likes of Willie Nelson and Jon Stewart. He has since passed and has been stuffed and displayed in the Terlingua Starlight Theatre. Now, his great-great-grandson, Clay Henry III, runs the Lajitas mayoral show. According to social media, Clay Henry III drinks beer, too.
You'll Also Like:
All products are independently selected by our writers and editors. If you buy something through our links, Oyster may earn an affiliate commission.