Whether for a luxury getaway or kid-friendly family vacation, Jamaica is a top travel destination thanks to its year-round beach weather. Although you can cliff dive in Negril, play golf at a world-class course in Montego Bay, or listen to reggae performances just about anywhere, some of the most relaxation-inducing activities are found at the island's top-notch spas. Many hotels offer open-air massages, scrubs using local ingredients like coffee beans and coconut, and hydrotherapy treatments. We've scoured through all the properties, from small boutiques to huge all-inclusive resorts, to find the most serene spas, and came up with this list of the 11 best. (We promise. We couldn't cut it down to 10.) We suggest booking your Caribbean Hydrating Body Wrap stat.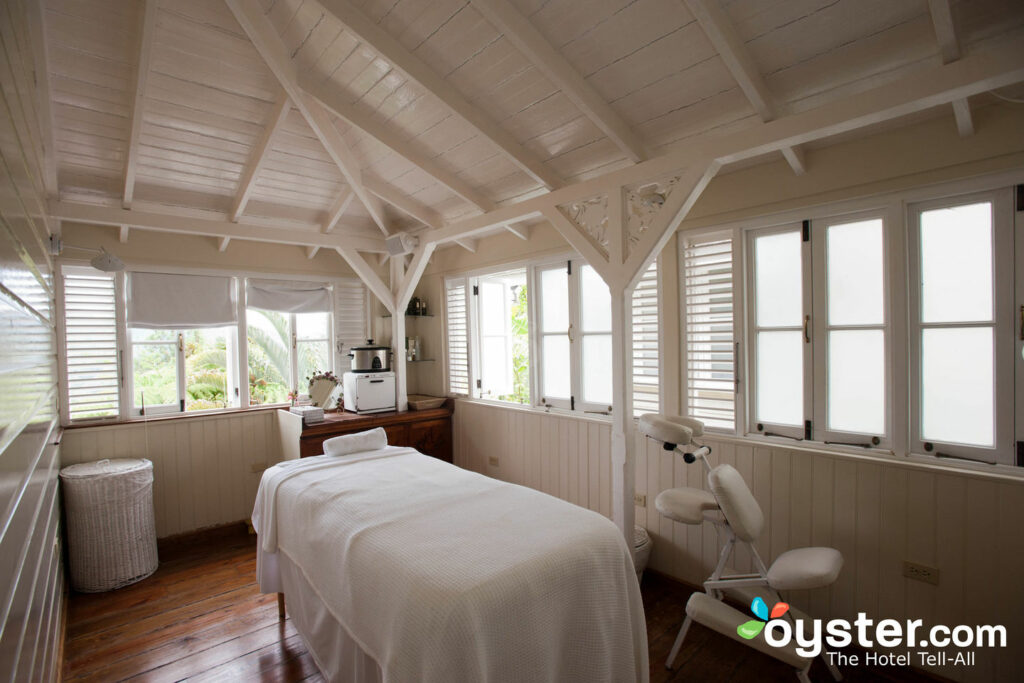 This former coffee plantation nestled among the steep and winding hills of Jamaica's famous Blue Mountain is a little oasis above the very un-resort-like city of Kingston. The Strawberry Hill resort offers plenty of intimacy and privacy, with just 12 cottages on more than 26 acres. A breezy indoor/outdoor spa complex puts the views at forefront, incorporating a relaxing area at the edge of a cliff, an isolated plunge pool, an outdoor yoga pavilion at the edge of a blossoming lawn, and a hydrotherapy treatment room accessed via a winding jungle path. The menu of therapies is diverse, including Ayurvedic and hydrotherapy treatments, as well as a variety of massages, facials, wraps, and salon experiences. For a unique treatment, try the Coconut Hydro-Scrub or the Blue Mountain Body Elixir, which incorporates local coffee beans in a body scrub that's followed by a massage and hydrotherapy session.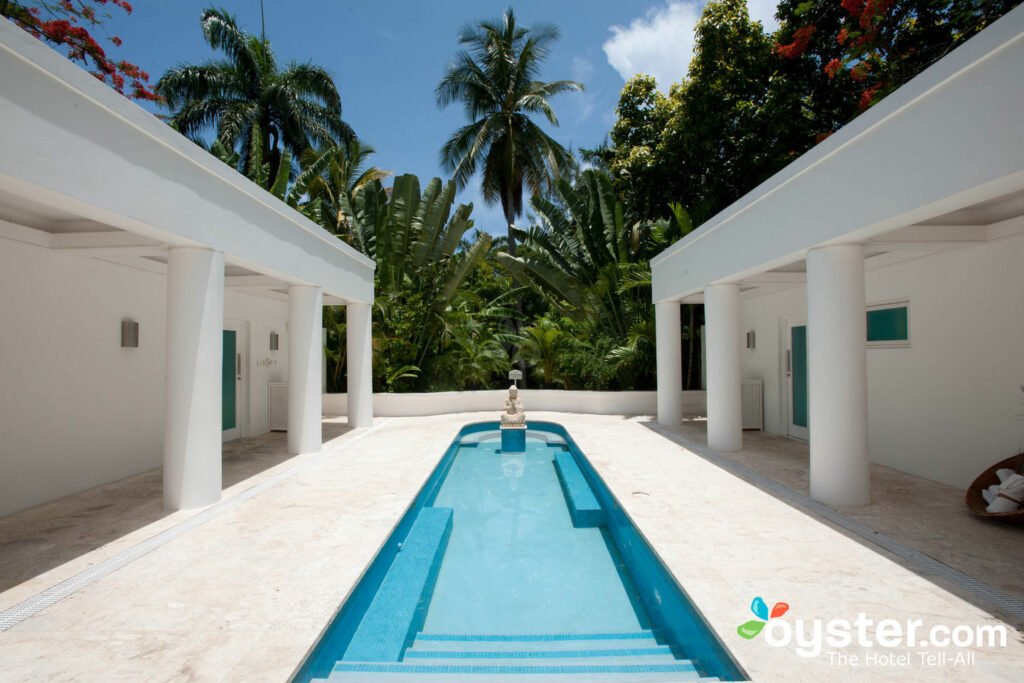 One of the island's first resorts and a former playground for 1950s Hollywood A-listers, this 226-room, 19-acre Ocho Rios all-inclusive is still a sophisticated option. The award-winning spa at Couples Tower Isle is easily one of the best on the island, and has an art-deco-meets-zen style. It is housed in a stark white, U-shaped structure supported by oversize columns, and there is a serene plunge pool crowned by a Buddha statue in its center. While it's unclear if anyone ever actually goes into this little pool, it adds to the relaxing vibe. There are also a few lounge chairs with brightly colored umbrellas, a small juice bar, and a relaxation lounge. The spa includes a salon as well, which features hair, make-up, and nail services.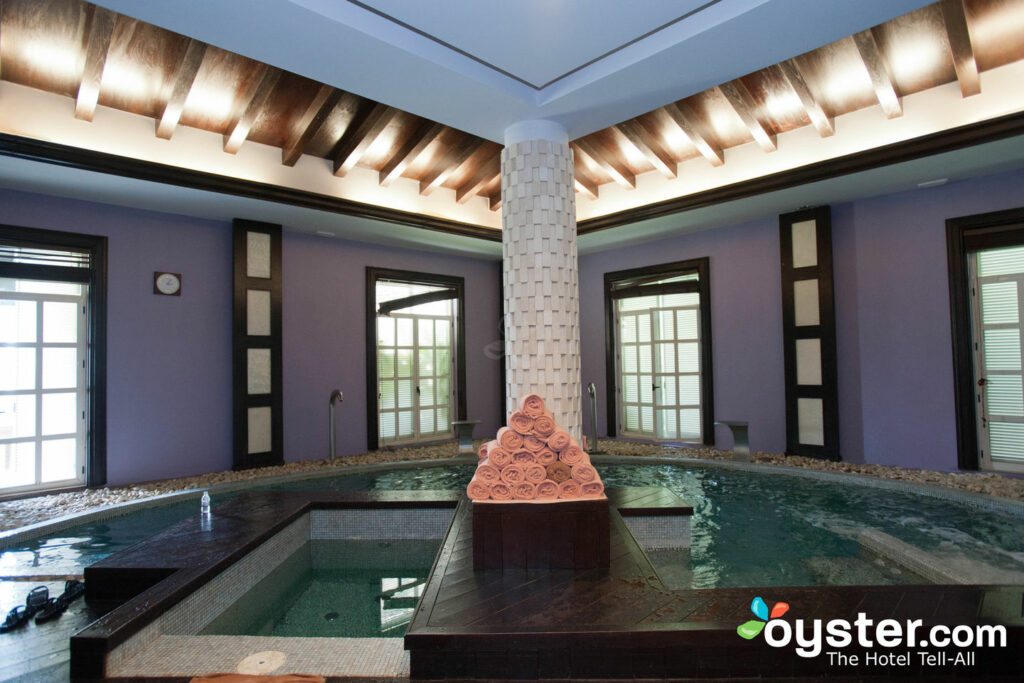 The sprawling Secrets Wild Orchid is one of the more luxurious adults-only, all-inclusive resorts in Montego Bay. The spa features more than 20 treatment rooms and palapas, as well as a menu of specialties that range from facials and mud baths to hydrotherapies and traditional massages. Perks include a juice bar, relaxation room with hot and cold pools, yoga garden, hair salon, and boutique. Locker rooms also include saunas, steam rooms, pressure showers, and Swiss showers.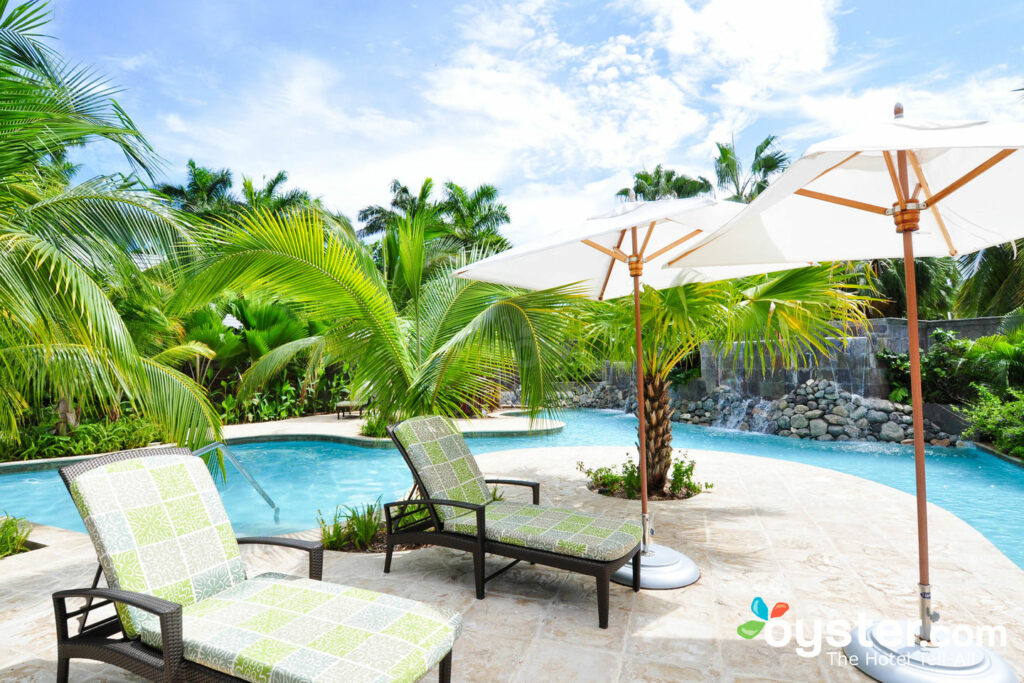 Drawing everyone from Queen Elizabeth to 50 Cent, Half Moon strives for timeless, understated luxury. The 68,000-square-foot Fern Tree Spa has a splash pool, soaking pool, and swimming pool in addition to a number of hot tubs. The space consists of multiple one-story buildings and has a nail salon, a library of New Age books, and yoga/yogalates studio. For a really relaxing treatment, book one of the overwater spa bungalows, which have three sides open to the water. Treatments include a Heated Seashell Massage, Jamaican Bush Bath, and Coffee Coconut Scrub.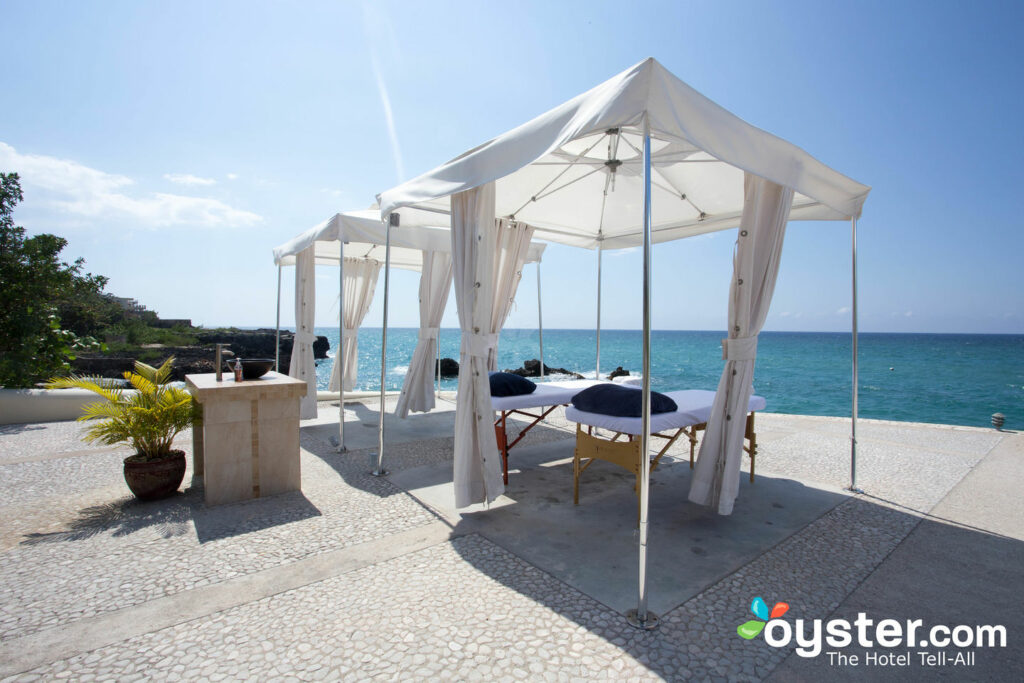 A peaceful and beautiful resort, The SPA Retreat Boutique Hotel was designed to be a true escape for couples and small groups that want to relax, be pampered, and enjoy a quiet experience. For adults only, the intimate hotel (which hosts a maximum 47 guests) features individual cottages, all-inclusive packages for dining at the on-site restaurant and bar, and an incredible view of the Negril cliffs and Caribbean Sea. Dedicated spa staff provides fun and relaxing treatments like beach pedicures and body scrubs using all-natural and organic ingredients. An Aloe and Cucumber Wrap and Jamaican Java Sugar Scrub are a couple of the refreshing options.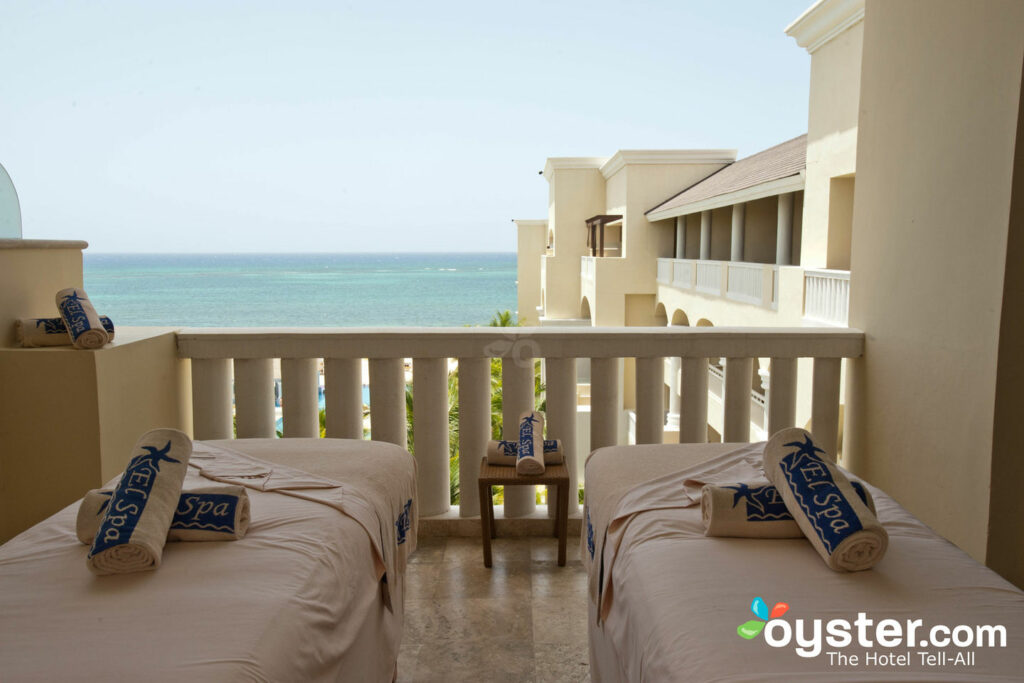 The best of the three Iberostar resorts in Montego Bay, this 295-room all-suite hotel is light years beyond its neighbors in terms of decor, food, and features. Spa Sensations, however, is shared among all of the Iberostar properties. It has a salon featuring hair, make-up, and nail services; a relaxation room with a whirlpool and hydrotherapy pool; a boutique featuring a variety of products; and an extensive fitness center that includes a juice bar and Pilates and spinning studio. Signature treatments incorporate local ingredients such as coffee, cocoa, and oranges, and span a variety of specialties including Shiatsu, Swedish, and Turkish massage. The spa's outdoor treatment room is located on a private balcony overlooking the pool and Caribbean Sea.
Round Hill boasts intimate hospitality, beautifully designed rooms by Ralph Lauren, and breathtaking grounds — easily making it one the best resorts in Jamaica. Round Hill's spa experience begins before guests even reach the spa building: Guests can unwind on the spa's beachfront lawn, dotted with padded lounge chairs, cabanas, and hammocks. A large salon with hair, make-up, and nail services is located inside the spa, and treatment rooms each feature a bathroom and balcony overlooking the pool, lawn, and sea. Throughout the stone-lined, jungle-filled grounds are relaxation enclaves where cozy couches invite guests to linger in the midst of nature. And at the top of a stone staircase that winds through the thicket, an outdoor hydrotherapy treatment space surrounded by breadfruit trees, palms, and chenille plants offers seclusion.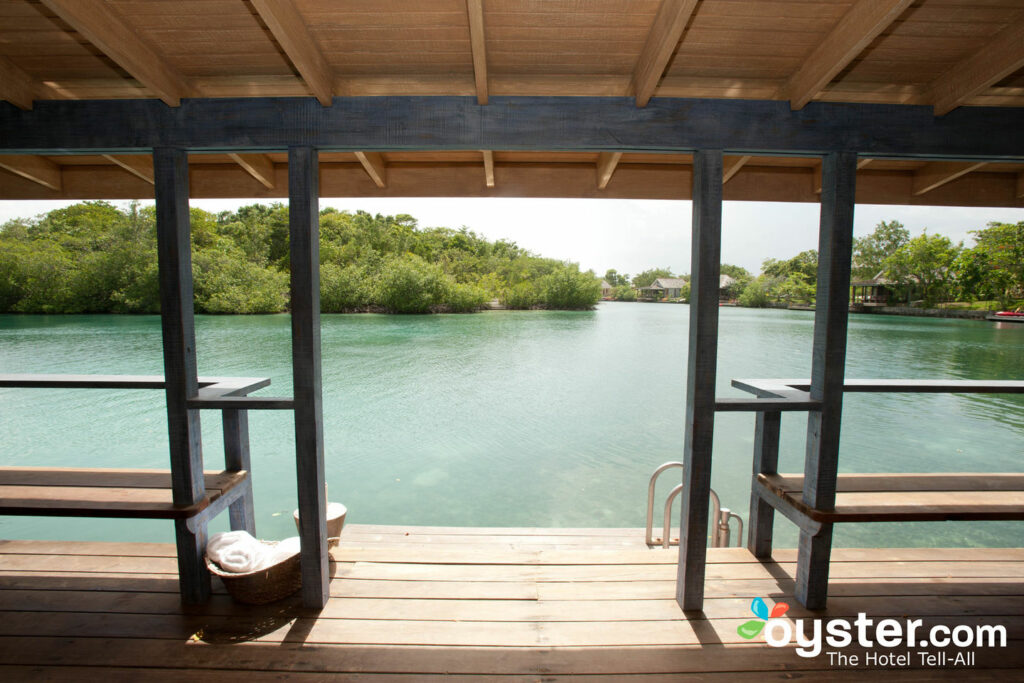 The 21-room GoldenEye is hands down Jamaica's hippest and most luxurious resort. It's also one of the island's most historic, as the former home of Ian Fleming, and the hideaway at which the author scribed all 14 of his James Bond novels. The FieldStone Spa is comprised of three open-air treatment rooms overlooking the resort's peaceful lagoon. Guests can even kayak from their cottages to the dock if so inclined. Treatments range from massages and salt scrubs to facials and wraps. The spa also coordinates activities for guests, including sunset yoga and core fitness classes.
With just 30 hippy-chic cottages in secluded Treasure Beach, Jake's is a member of Bespoke Hotels, a trendy, luxury hotel group. Guests come to unplug — there's no phone, Internet, or TV in the cottages. Driftwood Spa is set in an impressive building atop the cliffs. The front desk and a few treatment rooms are inside, and the spa has a calm, pleasing aesthetic (think rustic and artsy, not sterile and steely). But the truly unique part of Driftwood is the several open-air treatment rooms that descend from the main building toward the ocean, built into the cliffs. The open air yoga studio is on top of the spa and overlooks the ocean. Sunrise and sunset yoga classes are offered here over the weekends, along with unique classes like "Reggae-lates" that feature a Jamaican twist on popular fitness classes in the states.
Debuting in late 2013, the 352-room Royalton White Sands Resort is a stylish all-inclusive in Trelawny, just 30 minutes from Montego Bay. The large and luxurious Royal Spa contains a hydrotherapy circuit and offers a variety of treatments. From body scrubs to facials to aromatherapy massages, the services run the gamut. Couples should check out the Royal Fusion treatment; it starts with a bath immersion, followed by a body scrub and facial, and then ends with a therapeutic massage.
The 35-acre, 148-room all-inclusive Couples Sans Souci has a lush natural setting filled with waterfalls, grottos, beaches, lakes, and jungles.Though the main reception and salon portion of Charlie's Spa (named for the resort's famous resident turtle) are a bit underwhelming when compared with other Couples properties' spas, Sans Souci's tree house treatment rooms are highlights. Perched among native jungle along cliffs that overlook the beach below and an unending horizon of ocean, these hideaways are far removed from the rest of the resort and offer a truly serene experience. The spa's coolest treatment room, called Swept Away, is located at the bottom of a natural waterfall just at the sea's edge. Here, guests can enjoy treatments accompanied by the hypnotic sound of falling water, and even take a secluded dip in the sea via a private beach entrance.
All products are independently selected by our writers and editors. If you buy something through our links, Oyster may earn an affiliate commission.