Legend has it that when Dom Perignon first discovered champagne, he called out, "Come quickly, I am tasting the stars!" It's hard to disagree with the Frenchman -- a cool glass of bubbly can make even the most stoic person let loose a giggle or a smirk. And this is doubly true on New Year's Eve. Tonight, 2013 will be rung in with champagne toasts around the world, and the best place to do just that? In a swanky champagne bar right in the comfort of your very own hotel, of course! On-site champagne lounges provide uniquely festive ambiances and make stumbling home post-festivities all the easier. Some of our favorite luxury hotels feature these sophisticated spots, so sit back, pop open a bottle of bubbly, and start spying for someone to kiss at midnight. It's almost 2013 -- Happy New Year!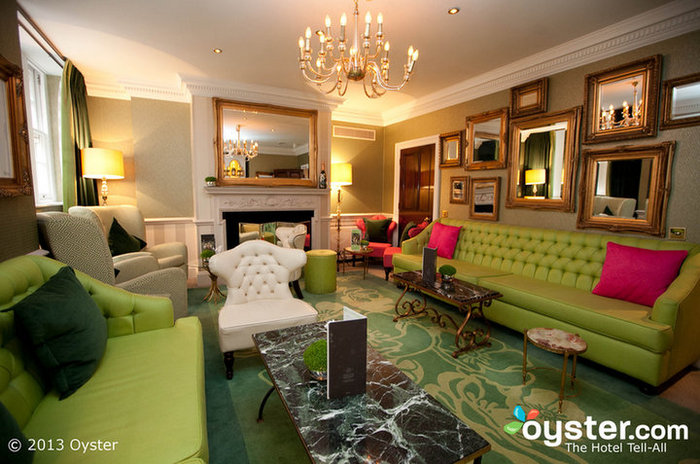 While Dukes may be famous for its martinis — James Bond-creator Ian Flemming originated the famous "Shaken, not stirred" line here — its newest addition to the fold is serving up the finest champagne and champagne cocktails. The Perrier-Jouet Champagne Lounge (or, more simply, the PJ Lounge) is a stylish space, outfitted in rich greens, with bright pops of pinks and whites, to sip some bubbly. The bar is classic and playful all at once, just as any New Years Eve affair should be.
Everything about this New Orleans locale is a bit surprising. At Soffaim, you won't see a po-boy or rum-soaked hurricane in sight; instead, guests are treated to a delicious offering of Middle Eastern cuisine — Chef Klaus Hoppel has been praised for his lamb sliders — and a variety of titillating champagnes. It's a unique way to celebrate New Year's Eve (in NOLA, at least) so be sure to indulge before hitting up Bourbon Street.
This charming hotel near Buckingham Palace offers a chic spot to celebrate the New Year. The Leopard Champagne Bar sports safari-print cushions and oak paneling, creating a slightly clubby vibe. In addition to a selection of champagnes, the bar also provides a menu of fine wines, whiskeys, cognacs, and armagnacs, as well as caviar and oysters.
The most exclusive of The Plaza's dining establishments, the Champagne Bar is a favorite stop for today's society darlings. And don't you want to ring in the New Year rubbing shoulders with the high and mighty? Everyone from the Prince of Wales to Diamond Jim Brady has visited since its opening — originally the Champagne Porch, in 1907 — to indulge in the world's finest champagne and caviar, all while overlooking Fifth Avenue. By day, the space doubles as a gourmet pastry and coffee spot.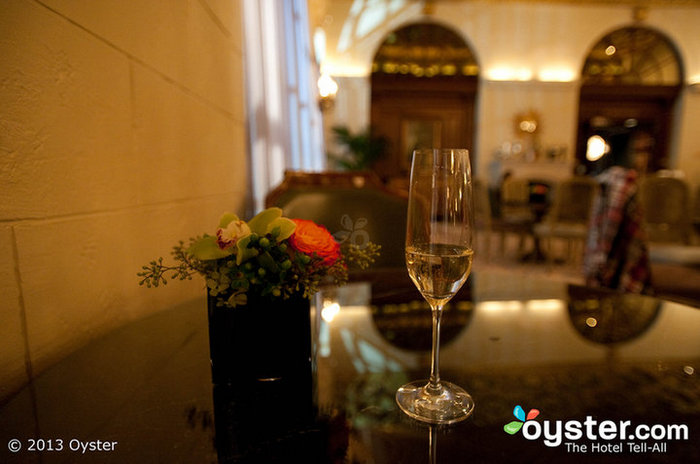 The most unique feature at this luxe stay is the nightly "Champagne Sabering Ritual." Every day at 6 p.m. (5 p.m. during the spring and summer), a wine server makes a loud announcement to the effect of, "Ladies and gentleman: On this, the 21st day of December, we mark the occasion with the pouring of our ceremonial champagne…" Then she pops the cork and pours glasses for everyone who wants one. All in all, a lot of pomp for very little circumstance. But hey, if this is what they do in DC every night, can you imagine what they do on New Year's Eve?
This luxurious boutique in London emphasizes design without sacrificing quality or service. Spaces — such as the lovely Salon de Champagne — have a bold sophistication, classy personality, and subtle playfulness that keep guests comfortable and entertained. This sexy lounge features original custom chairs designed by Tom Dixon, a graffiti ceiling with champagne quotes and tasting notes, and art pieces by emerging British artists.
RELATED LINKS: