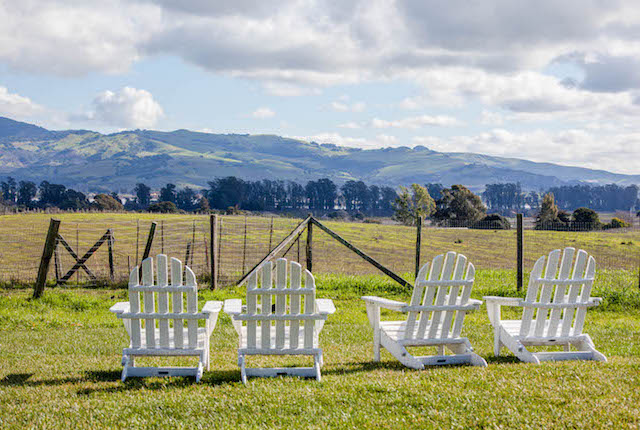 Tens of millions of visitors flock to wine country in Northern California every year. Despite the recent wildfires, and are welcoming tourists again. But which one should you pick? Both places may seem to offer the same perks (enchanting views, charming towns, delicious meals, and of course, world-class wines), but the two regions differ quite a bit -- like Zinfandel and Merlot. Separated by the Mayacama Mountains, Napa and Sonoma maintain their own styles, vibes, and you guessed it -- wines. You don't have to choose sides, but you may not have time to visit both on one trip. That's why we put the two head to head to help you discover which is best suited for you.
Getting There and Around
American, Alaska, Delta, Frontier, Hawaiian, JetBlue, Southwest, United, and Virgin America all fly into San Francisco International Airport (SFO). A 90-minute drive from the southern end of both Napa and Sonoma, this is where most travelers begin their journey. Oakland International Airport (OAK) is only about an hour's drive from either wine country getaway, but it's served by fewer airlines. Each spot also has smaller, regional airports, but these are the big ones should you need them.
Napa: If you'll be mostly in the Napa area, the Sacramento International Airport (SMF) is another option. American, Alaska, Delta, Hawaiian, JetBlue, Southwest, and United all service SMF and it's only about an hour by car from downtown Napa. All of Napa Valley is about 30 miles long and five miles wide. Within those 43,000 acres are more than 400 wineries and 16 sub-appellations (sub-AVAs). Most of the wineries are situated between the city of Napa and the town of Calistoga to the north. Highway 29 and , which run parallel to each other, are the main routes. Each is full of tasting rooms, but also lots of other wine lovers thirsty for a sip. Navigating the heavy traffic in the area is a challenge. You'll have to be patient along the ride. If you can't find a designated driver, you can also travel by the Napa Valley Wine Train. Unlike Sonoma, some areas are also incredibly walkable.
Sonoma: Thinking about a Sonoma wine trip instead? The small Santa Rosa Airport (STS) in Sonoma has direct flights from several major West Coast cities with American, Alaska, and United. At 70,000 acres, Sonoma is nearly twice the size of Napa and much more spread out. Larger than the state of Rhode Island, it includes nine cities and 13 sub-AVAs. There are about the same number of wineries, but you'll spend much more time in the car between tastings. You'll also experience more varied landscapes. Sonoma Valley, Dry Creek Valley, Russian River Valley, and Alexander Valley each offer their own varietal specials. The traffic isn't quite as bad, but there will be other cars on the highway. U.S. 101, which you'll have to use to get from one place to another, just isn't as charming as Napa's routes. Most visitors prefer the backroads, like Bennett Valley, Warm Springs, Carriger, Lovall Valley, Moon Mountain, and Trinity. Plus, from bikes and Segways to old-school trolleys and horse-drawn carriages, there are also .
Atmosphere
In general, Napa is more crowded. Sonoma gets tons of tourists too, but it's much more spread out, so it feels less packed and even undiscovered in parts. Each region also has its own vibe. Many say that Sonoma County is what Napa Valley was like 30 years ago before California's wine country burst onto the travel scene.
Napa: Napa Valley feels more sophisticated, glamorous, prestigious than Sonoma. All the grape-growing and winemaking is done with an eye toward tourism. It's like an amusement park for wine lovers, and anyone can feel like a sommelier by the end of their visit.
Sonoma: On the other hand, Sonoma is more rustic and down-to-earth. Since tourism isn't at its center, it feels more intimate and authentic. It's also often praised for its laid-back and casual atmosphere. That rural charm doesn't come with such a good glass of wine anywhere else. And while it used to be lesser-known, that's changing fast.
Affordability
Cost is probably the most obvious difference between Napa and Sonoma. Though Sonoma is more expansive, Napa tends to be more expensive. You can turn any trip into a five-star getaway or find affordable options, but travelers notice a big price discrepancy between these two regions.
Napa: Napa has a large tourist infrastructure and is much more developed. There are multiple places to stay and consistent demand tends to drive costs up. Wine tastings cost between $20 and $50, and overnight accommodations average around $250 a night.
Sonoma: Sonoma is generally less built-up. It's the perfect place for wine lovers on a budget. The average tasting cost ranges from $15 to $25, and most wineries waive the fee if you buy a bottle. The lower prices also apply to restaurants, hotels, and activities throughout Sonoma.
Wines
Similar grapes are planted in both Napa and Sonoma, but each place focuses on certain wines.
Napa: Napa Valley is divided into multiple sub-regions, and you'll find a tailored wine tour based on preference no matter where you go. The region is best known for its Cabernet Sauvignon, Chardonnay, Merlot, Pinot Noir, and Zinfandel (think Robert Mondavi, Beringer, and Domaine Chandon). It was an incredible bottle of Chardonnay from the local Chateau Montelena Winery that beat the French in the 1976 Judgement of Paris, and put California wine country on the map. It changed the way connoisseurs around the world perceived California wine.
Sonoma: Napa may have mastered some varieties, but Sonoma encompasses multiple terroirs. Its large size allows for a variety of conditions and microclimates, meaning a greater diversity of wines. Visitors here are able to taste more types of wine than they would in Napa. Highlights include (unoaked) Chardonnay, Pinot Noir, Zinfandel, red blends, and sparkling wine. Big winery names like Ravenswood, Kendall-Jackson, Korbel, and Francis Ford Coppola all call Sonoma home.
Activities
Of course, wine country isn't all about tasting vino. You could make it the center of your trip if you so desire, but both Napa Valley and Sonoma County offer plenty of other fun things to do.
Napa: Napa is centered around wine, but there are also lots of spas, golf courses, and shopping areas. If you prefer spas of the more natural variety, head to Calistoga for a dip in some hot springs and mud baths. A hot air balloon is a popular way to explore Napa. Visitors can soar over the vineyards, then sample some wine upon landing. Several walking and biking trails also dot the valley and surrounding areas, offering scenic views. Bothe-Napa Valley State Park is another hot spot for outdoor enthusiasts. You can even paddle in the Napa River. Several performers also come through Napa's Uptown Theatre. Art masterpieces at the Hess Collection Winery, Ma(i)sonry, ÆRENA Gallery, and the Gordon Huether Studio are must-sees for art lovers.
Sonoma: There is truly something for everyone in Sonoma County. While Napa is focused on its grapes, Sonoma is a hub of Northern California fun with a side of amazing wine. In fact, the area is also known for its craft breweries. When you need a break from wine, head out on a brewery crawl — Fogbelt, Russian River, and Lagunitas offer tastings and tours. Sonoma also has shops, galleries, and spas, but it offers much more history than Napa. The adobe-filled town of Sonoma is full of Mexican culture. Sonoma is even home to the northernmost mission in California — the Mission San Francisco Solano. If you can schedule your visit around Bear Flag Day in June, you should, as it marks the creation of the California Republic. If you are up for some adventure, try zip-lining through the area's redwood groves. You can also surf along the coast, rent kayaks on the Russian River, and horseback ride through vineyards. Armstrong redwoods State Natural Reserve and Jack London State Historic Park are great for hikes.
Dining
You'll eat well in both areas, but Napa Valley has a commitment to fine-dining, while Sonoma tends to emphasize simple ingredients and dining experiences.
Napa: From Oxbow Public Market all the way to French Laundry, Napa offers plenty of places to fuel up. Perhaps most impressively, this small region has 11 Michelin-starred spots, while the much larger Sonoma County only boasts three. Yountville in Napa has more Michelin stars per capita than anywhere else in the country. The restaurants and tasting menus of Napa are a huge draw, but the prices can be detrimental to your savings account.
Sonoma: Sonoma's restaurants are far from disappointing, but they don't come with the same prestige or celeb chefs as Napa. Each town has its own highlight, and some of the wineries also offer incredible farm-to-table experiences. Expect menus full of organic veggies, cheeses, olive oils, wine, and beer. Bodega Bay, Jenner, and other coastal spots offer some of the state's best fresh seafood.
Takeaways
Neither region is better than the other, but each one will give you a different experience. These considerations should make it easier when it's time to book your tickets and pick hotels. Of course, the best way to experience California wine country would be to visit both Napa and Sonoma. If you're a true wine lover or simply enjoy that laid-back lifestyle, but can't fit both regions into one trip, make a plan to return. The best time to visit is May or September through October, when the weather is pleasant but the crowds have subsided.
You'll Also Like:
All products are independently selected by our writers and editors. If you buy something through our links, Oyster may earn an affiliate commission.