Halloween looms in the near future (though we must confess, we've been planning our costumes for months) and we're doing just about everything we can to get into the spooky spirit. Carving pumpkins? Check. Watching a scary movie? Check. Visiting a spooky spot? Check. In fact, some of our favorite hotels are not only home to quaint rooms, delicious restaurants, and friendly staff -- they also host resident ghosts. Fortunately, most of these shady figures are reportedly nice enough, but it certainly gives us a little chill when checking-in. Especially when we're visiting the chilly Northeast. Continue reading -- if you dare -- to learn more about the spooky specters that haunt the Northeast's hotels.
The ghostlore: Originally built in 1772, the Jailhouse Inn occupies what used to be the old Newport County Jail. In keeping with the jail theme, the inn features interesting little artifacts and details throughout, such as iron bars over the lobby front desk, framed articles about famous criminals, and signs directing guests to "solitary" and various "cell blocks." Stories abound of ghosts visiting the Jailhouse, so if you keep your eyes open perhaps you'll see one too — especially if you stay on the third floor. Guests have felt cool gusts of wind when it's hot outside and no windows are open, and others have heard whispering voices that can't be explained — all evidence of paranormal activity.
The ghostlore: A 181-room Midtown West landmark where The New Yorker magazine was founded, the Algonquin uses old-world style, tuxedo-clad waiters, and an in-house cat to attract quiet couples, business travelers, and the occasional Nobel laureate these days. But back in the day, it hosted members of the infamous Round Table, the 1920s' literary group with members such as Dorothy Parker and Alexander Woollcott — and some would argue it still does. Numerous guests and staffers have reported seeing Round Table members roaming the dining room and lobby, and a psychic medium recently confirmed the presence of spirits in the hotel. Even one of our readers wrote in to report that she heard moving furniture late at night, among other abnormal activities.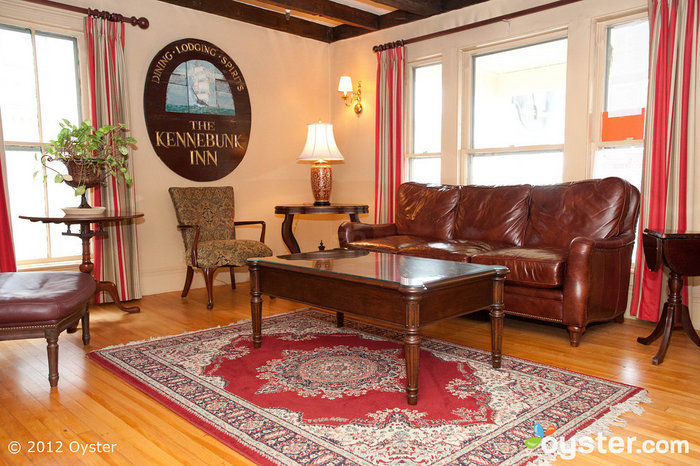 The ghostlore: The Kennebunk Inn is ideal for travelers who enjoy the quirks of a historic property — antique-type furnishings, creaky wood floors, and low ceilings, along with an alleged resident ghost. Silas Perkins, an employee at the hotel in the early 1900s, reportedly still roams the inn, making his presence known by throwing wine glasses and other household ware — so you'll want to stay alert!
The ghostlore: You can't walk two feet without stumbling over some historical artifact or the site of a ghostly encounter at the Parker. With gentle prodding, concierge Seamus Murphy, who's worked for the hotel for over 30 years, will regale guests with tales of the 19th-century whiskey salesman's ghost who lives in the closet of room 303 and plants booze-soaked kisses on slumbering female guests.
The ghostlore: The Crowne Pointe Historic Inn & Spa includes 40 rooms and suites spread out in six different buildings. Like many inns on the Cape, the main building was originally built as a sea captain's house — and, ghost hunters take note, legend has it that the old captain roams the halls of his former home. The hotel even claims to have caught him on their surveillance camera wandering around in the kitchen, but they promise that he's a friendly chap.
RELATED LINKS:
All products are independently selected by our writers and editors. If you buy something through our links, Oyster may earn an affiliate commission.