To go on vacation is to be blissfully free of dirty dishes, errands, and yard work. But while vacationing is all (or at least partially) about letting your daily responsibilities take a nosedive, you've still got to keep your essentials together and on your person. But let's have some fun with that, shall we? After all, this is your hard-earned vacation. Every step of it should be a joy, even the toting of your phone, wallet, sunscreen, and bottled water to the pool or beach. Enter: these adorable woven totes, tailor-made for a getaway somewhere warm and breezy. Say hello to your new tropical vacay BFFs.
Dual blue-and-white shoulder straps make this structured knitted-straw bag a breeze to tote around. The fully removable chambray lining keeps your stuff safe from the dreaded sand assault, and interior slip pockets are useful for things like Kindles, sunglasses, and lip balms. Plus, the flat base means this guy is less likely to tip off the Bali bed.
Color and whimsy are common in the world of beach totes, but this sorbet-hued accessory is proof positive that no one does 'em like Susan Alexandra. Entirely made by hand, her chirpy, colorful pieces are pure delight in bag form. We especially love the pale rainbow stripes of the Granita bag — it makes us dream of sunset drinks in Antigua or leisurely walks on the beach in Bermuda.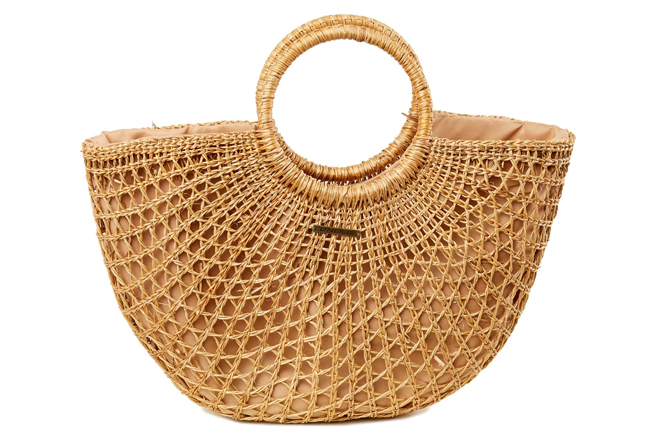 We love the retro vibe and web-like design of this 100 percent straw bag. The lined tote has a circular handle that practically begs for a cute little handkerchief to be tied to its ring. The thought of exploring Puerto Escondido with an oversized straw hat, a bright cover-up, and this bag in hand is getting us through this cold winter.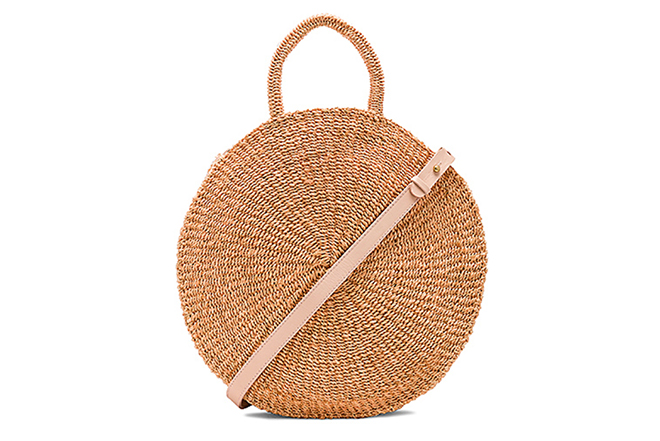 If you want a cute circle tote without the bells and whistles, Clare V.'s simple pink-hued bag is a lovely option. Its ballet-slipper-colored leather shoulder strap can be adjusted for a custom fit or removed altogether, and its open top is great for quick access to your face mist or water bottle.
Want a no-nonsense carryall without a trace of preciousness? Meet your new beach partner. This roomy shoulder bag can fit a towel, sunscreen, hardback, and even your portable Bluetooth speaker for when you want to DJ on the sand.
Design collective Artisans of IQ works with Thai and Cambodian women who craft statement-making jewelry in silver and gold and bags from handwoven natural water hyacinth. This irresistible tote adds silk pom-poms in on-trend hues like jewel-toned green and burnt orange (Etsy's predicted "it" color of 2019). We can already see ourselves wearing it with white cutoffs, an oversized short-sleeve chambray button-down, and a fresh pair of white Keds.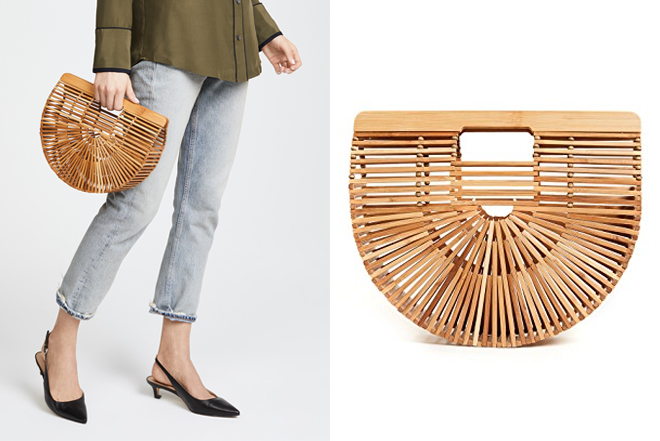 There's no shame in using one of those reusable canvas totes as your beach bag. But you probably use that same tote for groceries, taking cashmere to the cleaner, hauling your gym clothes, returning books to the library, and oh, crap is that Caribbean guidebook overdue? Ditch the connection to your day-to-day and upgrade to this ultra-chic bamboo beauty.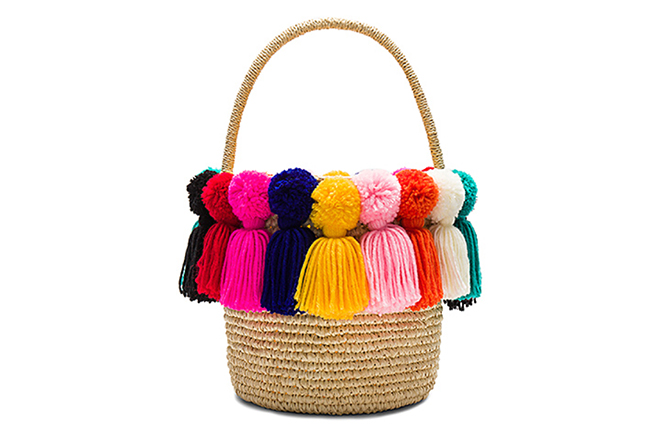 You'll be the belle of the cruise ship cocktail party (or the beach picnic, or the poolside happy hour, or the sunset boat tour) with this darling number on your arm. The fabric-lined straw bucket bag features a drawstring top for keeping your stuff contained, and a parade of rainbow pom-poms that pulls double duty: decoration and conversation starter.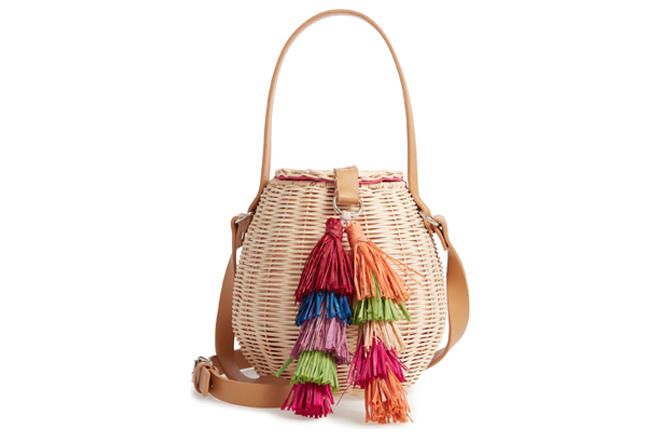 You're sure to rack up compliments from fellow resort guests and beachgoers with this fun rattan basket. Finished with multi-colored tassels, this style can be used as a tote or worn as a crossbody (for those moments when you're sipping a strawberry daiquiri and want to keep the other hand free).
You'll Also Like:
All products are independently selected by our writers and editors. If you buy something through our links, Oyster may earn an affiliate commission.