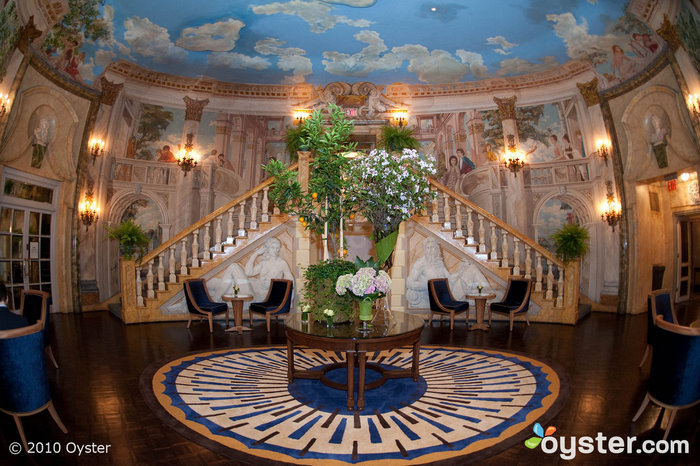 [js_single_hotel_rates_cta hotel="90224" /]
A jet-set trip to Europe may not be within your budget — but that doesn't mean you can't fulfill your dreams of Europe right here at home. Some of our favorite New York City hotels will make you feel like you're across the pond with their flair for decor, dining, and service. So whether walking through the front door transplants you in a Tuscan villa or gliding down the gilded staircase makes you think "let them eat cake!," below we'll show you the New York City hotels that have that certain je ne sais quoi that will transplant you to Europe.
Completed in 1930, The Pierre was built with a Neo-Georgian exterior (an American and English architecture inspired by the 17th century Georgian style of the first four British monarchs of Hanover). The upmost floors' exterior, however, was modeled after the Royal Chapel at Versailles with Corinthian pilasters, arch-headed windows, and a copper roof.
During the hotel's 2009 renovations, decor was updated with Asian accents but many French aesthetics remain, like the Rococo-inspired wall murals and the trompe l'oeil ceiling painting of the sky.
If you want to make your experience feel as European as possible, dine at the hotel's London outpost restaurant, Le Caprice, before tucking yourself in between Frette sheets in the elegant rooms.
Co-owned by actor Robert DeNiro, The Greenwich Hotel was designed to evoke the feel of an (exclusive) Italian villa. Non-guests aren't permitted and, when not empty, no photos are allowed in the lobby where terra-cotta tiles moldered by an Italian, family-owned artisanal company cover the floors.
Meticulously chosen leather settees, Moroccan tiles, Oriental rugs, and artwork are all placed in rooms constructed of reclaimed woods, hand-applied stucco, and hand-crafted tiles, so they feel more like an old (but very clean) Italian apartment than a New York hotel room. A hand-chosen selection of books, including several newly released art and photo books, fill the shelves of each room.
The hotel's airy feel is thanks to the Italian piazza-like courtyard, with lush plant growth and plenty of seats for lounging.
Built in 1904, the 229-room St. Regis combines historic, European-inspired details — Beaux Arts architecture and butlers on call 24 hours a day — with modern amenities like blazing-fast Internet and flat-screen televisions that rise from the foot of the bed via remote control. All of the hotel's concierges are members of Les Clefs D'Or, a French society of professionally-trained concierges.
Gilded moldings, glistening chandeliers, and rococo-esque ceiling paintings lend the lobby an air of 18th-century French elegance.
Warm pastels, chandeliers, and draped beds in the guestrooms are reminiscent of Marie Antoinette-like opulence.
Built in 1926 and named for the finest French restaurant at the time, Hotel Elysee is designed in the art deco style that originated in Paris at the beginning of the twentieth century.
No two rooms at the hotel are the same — many pieces in the rooms have been acquired piecemeal to lend the hotel more of a European boutique hotel feel. Some beds have brass frames, wooden frames, leather headboards, or draping in the style de la duchesse like the one seen above.
In keeping with British customs, the hotel serves complimentary tea every afternoon and the elevators are referred to as lifts.
All products are independently selected by our writers and editors. If you buy something through our links, Oyster may earn an affiliate commission.