While many Americans are celebrating the return of the NFL this week, others have been more excited by September's bringing college football back. Hordes of students, alumni, and general football fans are busy spending their weekend tailgating, sporting school colors, and chanting fight songs for their favorite teams. Many locales across the United States are quintessential college towns, where the entire city is seemingly high on school spirit and businesses proudly proclaim their loyalty with college flags. For a fall trip filled with football-centric activities and camaraderie, these 10 college towns are each a must visit.
College Station, Texas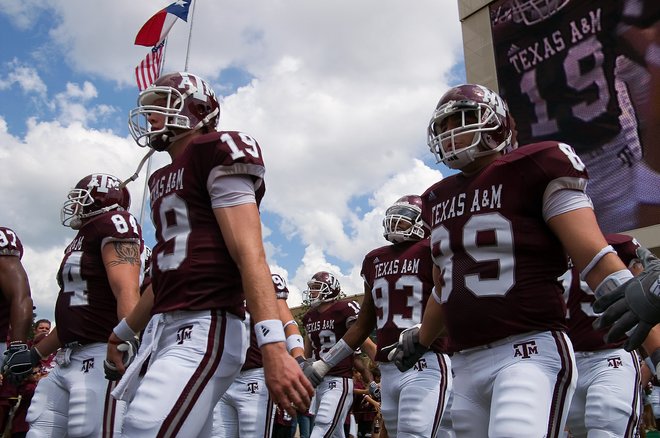 A city that exists only because of Texas A&M University, which was built there in 1876, College Station is a college town in the truest sense. The city has a population around 100,000, with the university's enrollment at about 62,000. The town is filled with maroon and white to support the Aggies, and all football fans are known as the "12th Man," meaning (symbolically) they're ready to suit up and play if one of the 11 players on the field gets hurt. The football team often fares well; their most recent notable alum is Johnny Manziel, who won the Heisman Trophy in 2012. A visit to College Station should include live country music in the Northgate area, a visit to the George Bush Presidential Library, and a spirited football game.
Ann Arbor, Michigan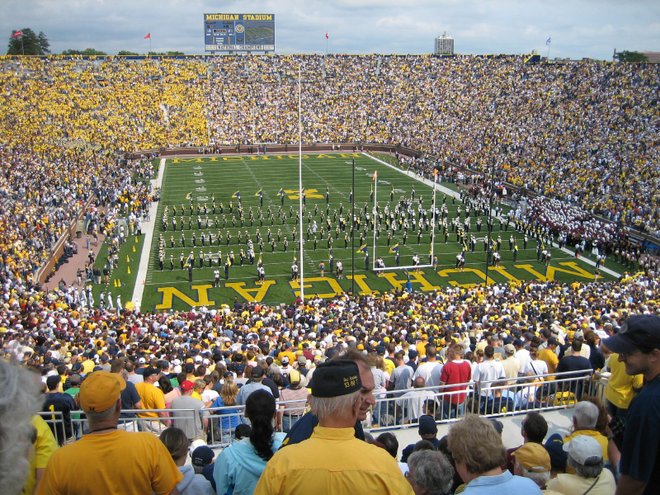 With a population around 114,000, Ann Arbor is the fifth largest city in Michigan. Since about 44,000 University of Michigan students account for over a third of that, a trip to Ann Arbor will undoubtedly include spotting many Wolverines with their backpacks heading to class. Football is a large part of the school's communal spirit, and Michigan has the most all-time wins in college football history. Gerald Ford, the 38th President of the United States, was voted most valuable player by his teammates on the 1934 team. Though visiting the several museums or exploring outside are common activities for residents and visitors, no trip to Ann Arbor is complete without a visit to Michigan Stadium, the largest stadium in the United States.
Related Link: The Country's Top 10 College Towns
Columbus, Ohio
The capital of Ohio, Columbus has a population around 836,000; though the city is obviously more of a large metropolitan area than a town, Ohio State is based here and the city very clearly supports the Buckeyes football team. Columbus is full of several tourist sites — like the Easton Town Center and Franklin Park Conservatory and Botanical Gardens — but cheering on a team at the Ohio Stadium is a top pick. Ohio State is currently number one on the AP Top 25 poll and former Buckeyes player Archie Griffin is also the only two-time Heisman Trophy winner.
Eugene, Oregon
Located in the Pacific Northwest, Eugene is a gorgeous city in Oregon about two hours south of Portland. The city has many lush parks and hiking trails, as well as a thriving arts scene. Recreational activities abound here, but for fans of college football, a visit to Autzen Stadium, home to the University of Oregon football team, is a must — though the school spirit extends well beyond campus. The Ducks football team is currently ranked number seven on the AP Top 25 poll.
Where to Stay: Inn at the 5th
The four-pearl boutique is modern, kid-friendly, and a 7-minute drive from the stadium.
South Bend, Indiana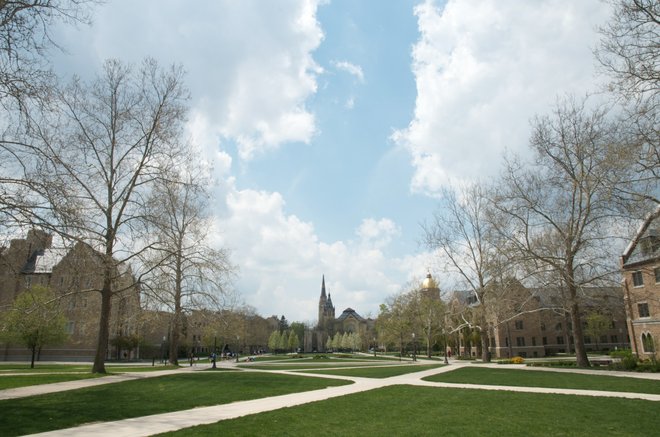 Located at the northernmost area of Indiana, South Bend is known primarily for being home to the University of Notre Dame. Most tourists head to South Bend to see the stunning campus, its main building's Golden Dome, and the Basilica of the Sacred Heart. Though it can be hard to score tickets, a chance to see the Fighting Irish play is a bucket list experience for many college football fans. The 1993 film Rudy is one of the most famous sports movies, documenting the true story of one man's dream to play for the Notre Dame football team. The team also has the highest winning percentage in NCAA history.
Athens, Georgia
About a 90-minute drive from Atlanta, Athens is a city with a population around 115,000. The city is most notably home to the state's flagship university, The University of Georgia, which was established in 1785. The college town boasts rock music venues, nature-filled activities, and 35,000 students that flock to Sanford Stadium to cheer on their Georgia Bulldogs. A trip to Athens in the fall just wouldn't be complete without family-friendly tailgating and rambunctious cheering for the red and black.
You Might Also Like: The Most Romantic Hotels in Atlanta
Baton Rouge, Louisiana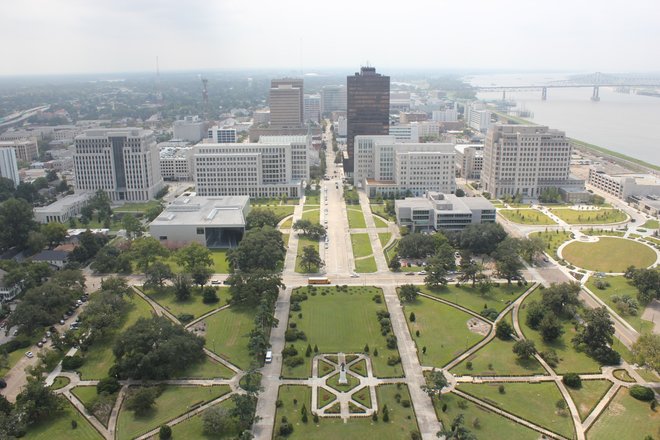 The capital of Louisiana, Baton Rouge enjoys a European heritage and proudly boasts its Cajun and Creole culture. There are many sites and scenery that lure travelers, including the USS Kidd, a Navy destroyer, popular restaurants, and the gorgeous Old State Capitol. Number one on the list for most travelers, however, is the Louisiana State University Tiger Stadium. The purple and gold team is an important fixture of the city and you'll commonly hear locals yelling, "Geaux Tigers!" With three National Championship wins under their belt, it's no wonder they're a source of pride for the community.
Tuscaloosa, Alabama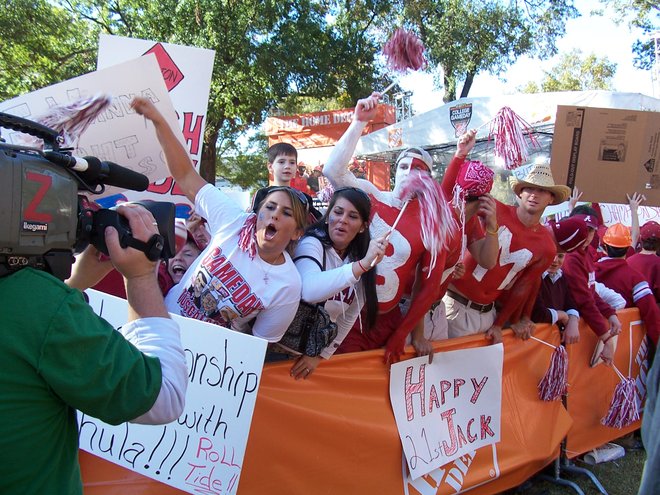 If you've paid attention to college football over the last six years, then it should come at no surprise that Tuscaloosa is on this list. The Alabama city has 93,000 inhabitants, a third of which are students of the University of Alabama. The Alabama Crimson Tide football team is run by head coach Nick Saban, who has led the team to three National Championship wins since 2009; their rally cry of "Roll Tide" is known well beyond the city limits. If you're heading to Tuscaloosa, it's undoubtedly to see a college town bursting with pride for its football team.
Clemson, South Carolina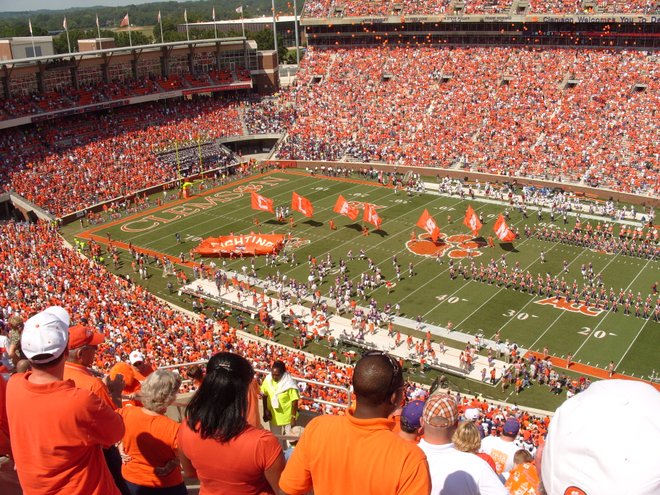 Located equidistant to Atlanta and Charlotte, Clemson, South Carolina, is the smallest city on this list, with a population of 14,000. Clemson University is the heart and soul of the city, and the Clemson Tigers football team is the epicenter. Home games take place at Memorial Stadium, which ranks number one on things to do in Clemson on TripAdvisor. They won their only National Championship in 1981 after an undefeated season, and are currently ranked 12 on the AP Top 25 poll.
Also consider a visit to Charleston, a four-hour drive southeast of Clemson >>
Tallahassee, Florida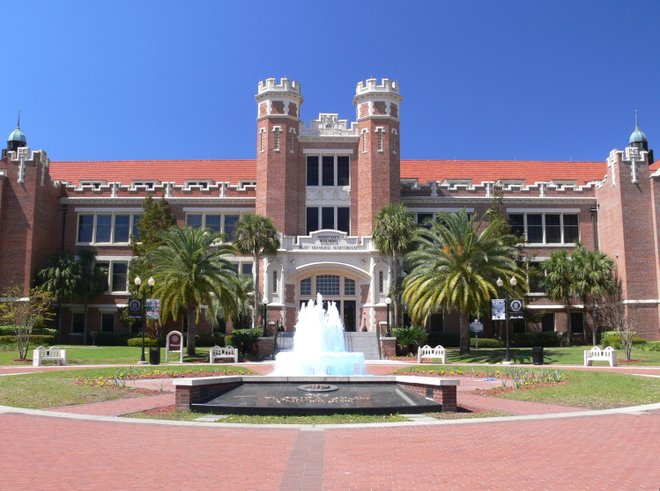 Another capital city to make our top 10 list is Tallahassee, Florida. Located in the northwest region of the state, it has a population around 190,000 that frequents its parks, historic landmarks, and ample museums. The city is also home to Florida State University, with a student enrollment of 42,000, easily qualifying it as a college town. Most visitors to Tallahassee are eager to watch the Florida State Seminoles football team, donning garnet and gold jerseys, storm the Doak Campbell Stadium. Their most recent National Championship win was in 2014, for the 2013 season.
All products are independently selected by our writers and editors. If you buy something through our links, Oyster may earn an affiliate commission.