Fun, sun, and…scuba? For many, a trip to the beach just isn't complete without the possibility of a deep sea dive. Whether you want to explore ship wrecks, meet creatures of the deep, or wonder at gorgeous coral formations, scuba diving can be a fun and athletic opportunity while you're on vacation. Getting certified is crucial before attempting a dive, and if you choose to give it a go, we've compiled some of the best dive sites in North America for you to visit. Some may not realize just how many dive sites await in our own backyard!
1. Dive: Half Moon Caye, Belize
Half Moon Caye in Belize offers divers the chance to go on a wall dive--a dive in which the vertical facades of the earth's landmasses are explored. The depths at Half Moon Caye (and really at any wall dive) are tremendous, giving you the very correct feeling that you are staring into an abyss. The waters at Half Moon Caye are particularly clear, despite the depth, so you will be able to see all manner of wildlife, including loggerhead turtles, rays, barracuda, and eels.
Stay: Portofino Beach Resort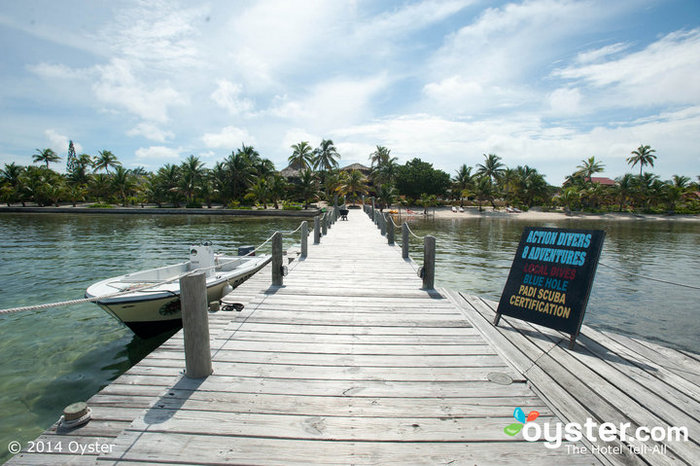 The professional dive shop on-site at the romantic and secluded Portofino Beach Resort is a major draw for adventure seekers.
2. Dive: Blue Heron Bridge, Riviera Beach, Florida
The Blue Heron Bridge dive is fairly simple: In only 12 feet of water, you get access to a plethora of wildlife, including flying gurnards, bandtail sea robins and striated frogfish. For first-timers or those looking to include a short dive into a vacation, Blue Heron Bridge is an excellent choice.
Stay: Delray Beach Marriott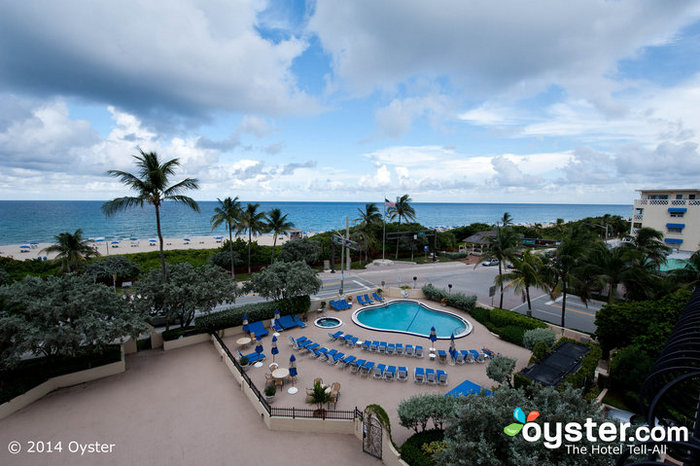 Located right across the street from the beach, the sophisticated Delray Beach Marriott is just thirty minutes from your dive site.
3. RMS Rhone, British Virgin Islands
If you're a fan of the 1977 film The Deep, chances are you've already glimpsed the RMS Rhone on the silver screen. But if you'd rather have an up close and personal view of the steamer, which sunk in 1867, then head to the BVI. The bow is largely intact, while the stern fared worse and remains scattered along the bottom of the ocean. Night dives here are particularly popular, as that's when the coral formations truly come to life.
Stay: Bitter End Yacht Club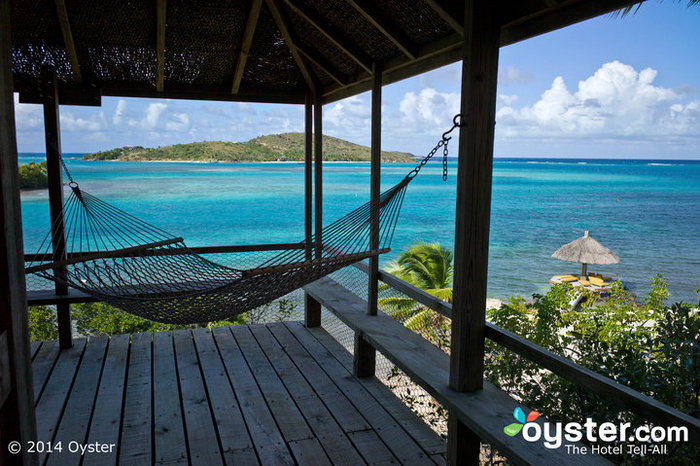 The Bitter End Yacht Club, snuggled into a steep hill on the scenic North Sound, is a relaxed, family-friendly resort in the BVI perfect for divers wanting a home away from home.
4. Gran Cenote, Riviera Maya, Mexico
At Gran Cenote, divers get the opportunity to explore one of the world's best cavern dives. It's a great introductory dive for first-timers as the shallow waters are clear and fairly shallow. You're bound to spot snorkelers in the water as well. The beauty of the rock formations, particularly in the main cavern, are stunning.
Stay: Dreams Tulum Resort & Spa
The all-inclusive megaresort that is Dreams Tulum features a secluded location near Mayan ruins and your dive site.
5. Point Lobos, Carmel, CA
Point Lobos National Park is a gorgeous dive site fifteen minutes from Monterey (where many individuals go to get certified for the first time). The Northern California coastline is a popular spot in general for dives, but Point Lobos allows only fifteen scuba divers a day to enter the water, ensuring the reef structures remain unspoiled. In addition to the haunting kelp forests and myriad of smaller creatures you'll see, harbor seals have also been known to swim by on occasion.
Stay: Hyatt Carmel Highlands
For unrivaled, awe-inspired views—aboveground—of the Pacific Ocean, the cliff-side Hyatt Carmel Highlands offers a luxurious stay before you head to the deeps.
6. Keahole Point, Hawaii
If you're a manta lover, there are few better dive sites than Keahole Point on the Big Island of Hawaii. Night dives are particularly popular where mantas — some with a wingspan of 16 feet — glide eerily through the shadowy waters.
Stay: Royal Kona Resort
For its convenient downtown location, affordable rooms, and private lagoon access, the Royal Kona Resort is an excellent choice of stay on the Big Island.
7. Florida Keys, Florida
The Florida Keys remain a popular diving destination for several reasons, perhaps chief among them the number of wrecks in the waters here. Some people search for gold or buried treasure among the trading vessels or lost pirate ships, but others come just for the history. The USS Vandenberg, a 523-foot-long missile-tracking ship just six miles off the coast, is a must-see.
Stay: Cheeca Lodge & Spa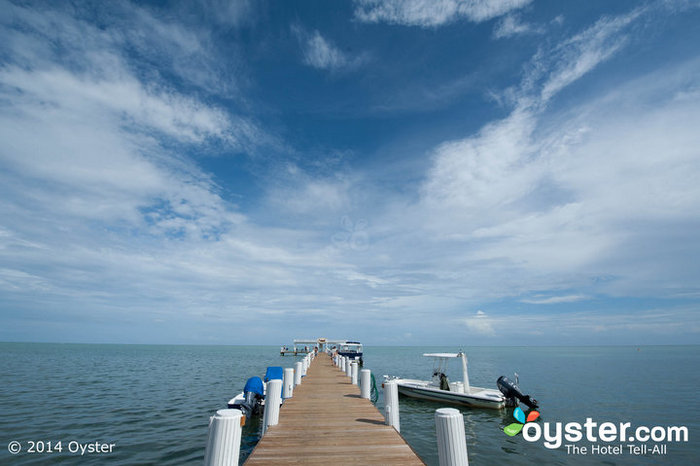 One of the original luxury properties on Islamorada, dating to 1946 and earning plenty of celebrity cachet over the years, the Cheeca Lodge & Spa is a perennial favorite in the Florida Keys.
8. Isla Mujeres, Cancun, Mexico
If you're dying to get up close and personal with a whale shark, then a summer trip to Isla Mujeres (the laid-back island off the coast of Cancun) is necessary. From June to September, these enormous ocean creatures can be seen in the waters around the island. These giants are of the gentle variety, no matter how intimidating their size might be, so divers are perfectly safe.
Stay: Hotel Villa Rolandi Thalasso SPA – Gourmet & Beach Club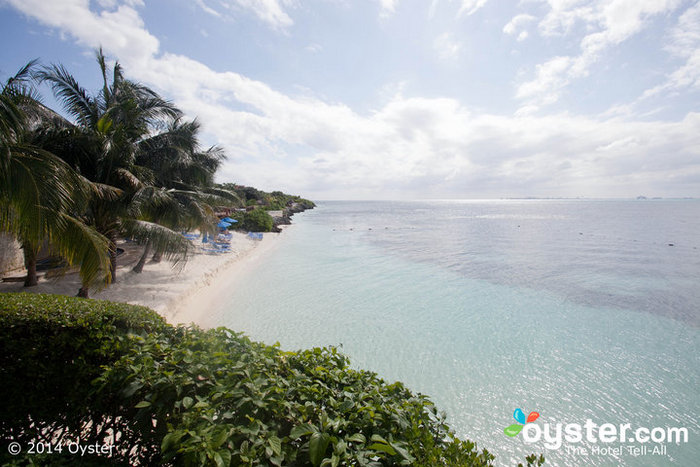 Two big draws at the Villa Rolandi are a secluded location on a pristine (albeit somewhat small) white-sand beach and the "no children under 13" policy—taking the kids for a dive won't fly here.
9. Cocos Island, Costa Rica
For the true adventure diver, there are few spots in North America better than Cocos Island. Deciding to embark on a diving trip there requires some thought. Located 36 hours by boat from mainland Costa Rica, it's a trek to get there. And, as Cocos is a national park and extremely protected by the Costa Rican government, visitors are strictly regulated. Dive trips can be organized, with many lasting several days–some up to 10 days. It's more than worth it, however, as you get the chance to see huge schools of sharks, dolphins, giant mantas, and a variety of rays. The reef system is stunning and, if you look closely, you'll see octopuses and eels darting here and there.
Stay: Si Como No Resort, Spa and Wildlife Refuge
A staple in the beautiful Manuel Antonio resort area, the 58-room Si Como No is carefully built into a lush hillside, which means great views and winding paths. If you're planning on visiting mainland Costa Rica during your stay, this is a great choice near your boat to Cocos Island.
10. Ray of Hope, Bahamas
The ironically named ship Ray of Hope was purposefully sunk off the coast of the Bahamas in 2003. Since then, the ship has garnered many visitors–particularly those of the shark variety. Dozens of gray reef sharks now seemingly call the wreck home, making for a truly eerie and spectacular dive. For another popular dive into shark-infested waters, check out the Bahamas' Tiger Beach, where striped tiger sharks lie in wait congregate.
Stay: Old Bahama Bay Resort & Yacht Harbor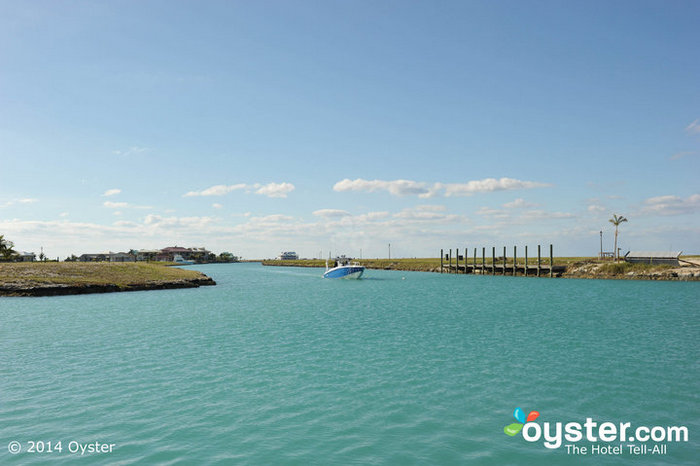 A small, isolated, time-share-style hotel with big, beautiful suites, and a marina, Old Bahama Bay is a good base for your diving adventures.
To learn more about Kristina Fazzalaro, visit her on Google+
RELATED LINKS:
All products are independently selected by our writers and editors. If you buy something through our links, Oyster may earn an affiliate commission.