Over recent years Texas' capital city has become one of the most popular tourist spots in the nations. Known for its amazing food, mild weather, and music and art scenes, there is something for everyone to enjoy. We've rounded up some of the best free things to check out during your visit to Austin.
1. HOPE Outdoor Gallery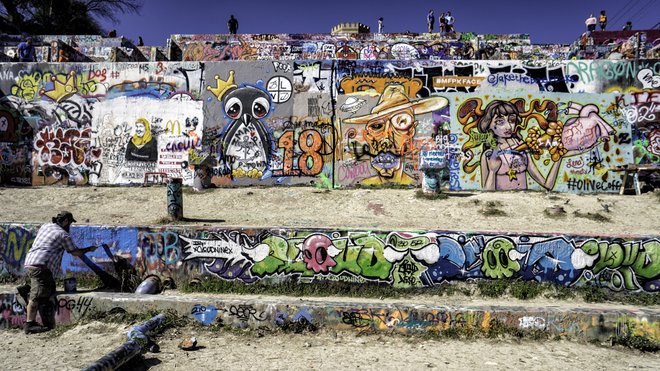 If you're into art, self-expression, and good photo opportunities, the HOPE Outdoor Gallery, also known as the Austin Graffiti Park, is a must-see. Essentially an ever-changing gallery, stop by to see all the beautiful works of art, and possibly even some talented artists adding their mark to the wall. For those of you artistically inclined, you can even buy some spray paint and leave your own piece of art for future visitors to admire.
2. Farmers' Markets
For some fresh produce from local Texas farms, check out Austin's many farmers' markets. The SFC (Sustainable Food Center) hosts two farmers markets and multiple farm stands each week featuring over 100 locals growers and artisans. The Texas Farmers Market is at Lakeline on Saturdays and Mueller on Sundays, featuring vendors who can only sell what they grow or produce. The HOPE farmers' market each Sunday features a curated vendor list of farmers, ranchers, artisans, chefs, local artists, live music, and more.
3. Disc Golf
If you've never played disc golf, Austin is a great place to take a shot of the golf-meets-ultimate-frisbee mashup. The disc is slightly smaller and heavier than a traditional ultimate frisbee one, and the game can get adventurous if you're lacking in accuracy and end up throwing a disc into the woods or a creek. Courses range from easy par-3s that can be completed in 45-minutes, to 500-foot-long greens and hidden holes, appealing to all ages and skill levels.
4. See the Congress Ave. Bridge Bats
Every night during the summer, hundreds of people gather near the Congress Avenue Bridge to watch 1.5 million bats — the world's largest urban bat colony — emerge from underneath. When the bridge was built in the '80s, the newly created crevices started attracting the bats by the thousands, and now the flight of the bats helps the environment with the animals consuming 10,000 to 20,000 insects, including agricultural pests, each night.
5. Visit a Museum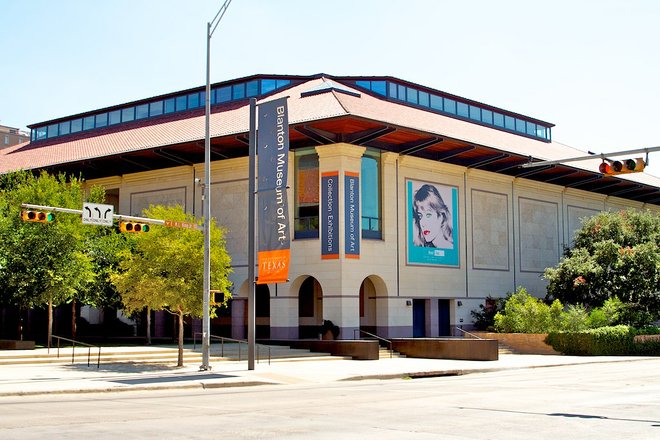 Learning about the culture and history of the places and people you visit is a great way to spend some time, and museums provide the vehicle to do so. To encourage this education and promote learning, many museums have at least one day each month where admission is free. Some highlights include the UMLAUF Sculpture Garden & Museum which is free all summer, and costs only five dollars for adults the rest of the year. The Mexic-arte Museum is free every Sunday, and it's one of few art museums that celebrate Mexican culture in the United States. The Blanton Museum of Art, located on the University of Texas campus, has free admission every Thursday and is the primary art collection for the city of Austin with close to 18,000 works. If you're looking for some Texas history, check out the Bullock Museum, which has artifacts spanning 4,000 years and has free exhibition admission the first Sunday of every month sponsored by H-E-B.
6. Explore Nature
There are miles of trails in Austin that meander along creeks and through forests. The Shoal Creek Hike & Bike Trail is great for both cyclists and pedestrians, and there's a designated area for unleashed pets. The River Place Nature Trail has over five miles of views, waterfalls, pools, walking bridges, and foliage. Mount Bonnell is considered one of the best views of the city, 785 feet above sea level. Probably the most well-known trail in Austin is the Barton Creek Greenbelt (often shortened to The Greenbelt). There are over 12 miles of trails for hiking and biking, cliffs for rock climbing, and several swimming holes when you need to cool off.
7. Relax in a Park
If you're not into rugged nature but still like to spend time outdoors, Austin is chock full of public parks to explore and enjoy. Springwoods Park in North Austin has two playgrounds, picnic areas, and athletic areas including tennis and volleyball courts. Mueller Lake Park is 30 acres, with 6.5 of those acres being lake adjacent. The park has an open air amphitheater, a play area, picnic spaces and a jogging loop. Ramsey Park has multiple playgrounds, a swimming pool, tennis and basketball courts, picnic tables and barbecue pits. If you're looking to work out your mind, head to Wooldridge Square Park, which has free giant chess every Saturday.
8. Zilker Park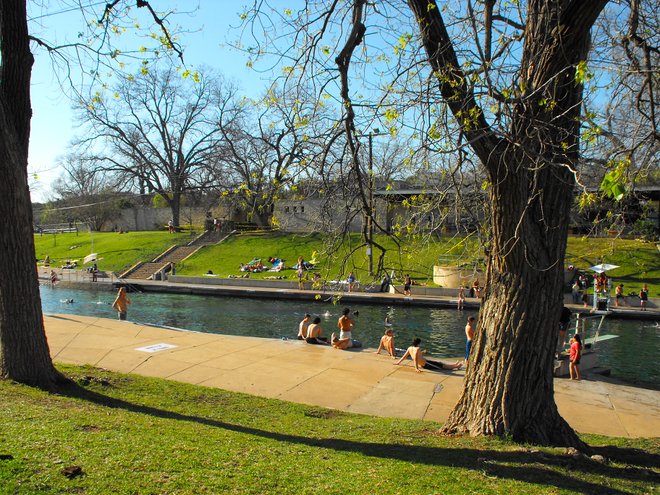 Known for the Austin City Limits music festival, Zilker Park deserves a section of its own. There are 351 acres of trails, gardens, springs, swim areas available for a huge range of activities from jogging, biking, kayaking, and more. Barton Springs Pool is free to swim in from November through February with a small entrance fee the rest of the year. The Botanical Gardens features waterfalls, ponds, and gardens. The park is also home to the Austin Nature and Science Center, which has free admission, and well as the Zilker Hillside Theatre, which hosts free musical productions such as "The Wizard of Oz," "Footloose," and "Little Shop of Horrors."
9. Free Outdoor Movies
The Austin Parks Foundation, along with Alamo Drafthouse, brings the free film series Movies in the Park to parks around Austin each year. All you need to bring are a blanket, lawn chairs, and a picnic, if you'd like. Then you can relax and enjoy a film under the stars. Dogs on leashes are allowed as well. Another option for movies is Sound & Cinema. For four alternating Wednesdays in the summer, Texas Lottery, Do512, and Alamo Drafthouse come together to provide live music and a movie on the lawn at the Long Center.
10. Live Music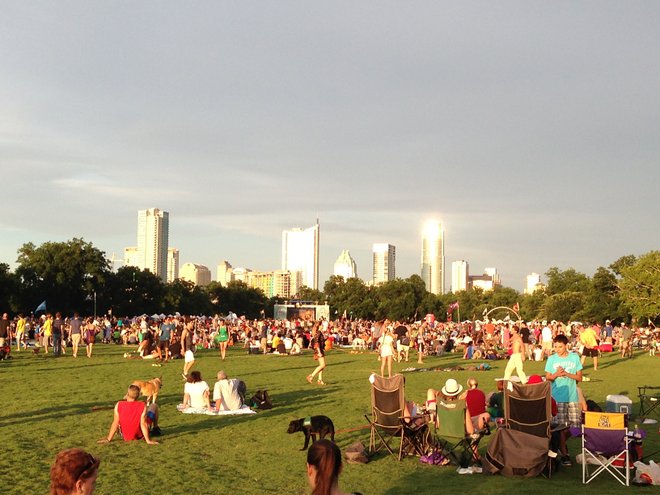 You can't visit Austin and not listen to the great music local musicians have to offer. One classic Austin music event is Blues on the Green, a free concert every month during the summer in Zilker Park where families and groups come together to relax, picnic, and enjoy live music. Another option is Central Market, where you can listen to local live musicians while you shop.
You'll Also Like:
All products are independently selected by our writers and editors. If you buy something through our links, Oyster may earn an affiliate commission.