Bourbon Street and nights filled with booze and revelry generally come to most people's minds when you mention New Orleans. However, New Orleans, lovingly referred to as "NOLA" by the locals, is far more than just its bars and party scene. In 2018, it will be celebrating its 300th anniversary, so it's no wonder that New Orleans is filled with so much history and culture provides travelers with so much to see and do. So take a trip to the Big Easy -- we've managed to narrow it down to the 10 best things to "pass a good time," as the locals say.
1. Have coffee and beignets at Cafe Du Monde.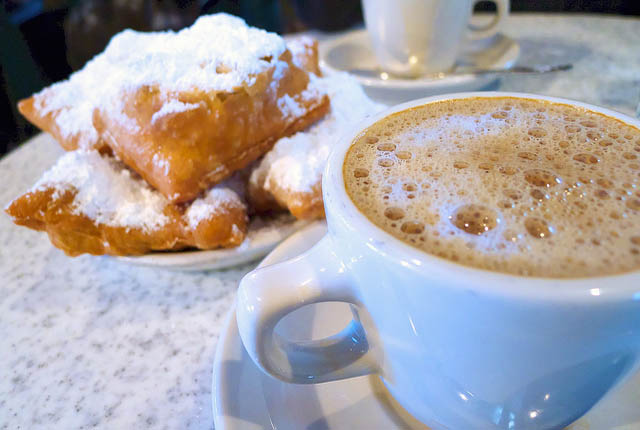 Start off your NOLA mornings at Cafe Du Monde, an open-air coffee shop in the French Quarter. This isn't your typical coffee shop so don't expect Wi-Fi, couches, or long hours working on your laptop. The waiters wear 1950s-style paper hats and move at breakneck speed to accommodate all of the visitors in this self-seating establishment. The menu here is simple: There's black coffee or café au lait, which is half black coffee and half steamed milk. Beignets, French-style square doughnuts with powdered sugar, are a must-have and come in orders of three. You might need to control yourself after the first bite — the desire to gobble them up might overwhelm you. Last but not least, this place only accepts cash.
2. Shop at the French Market.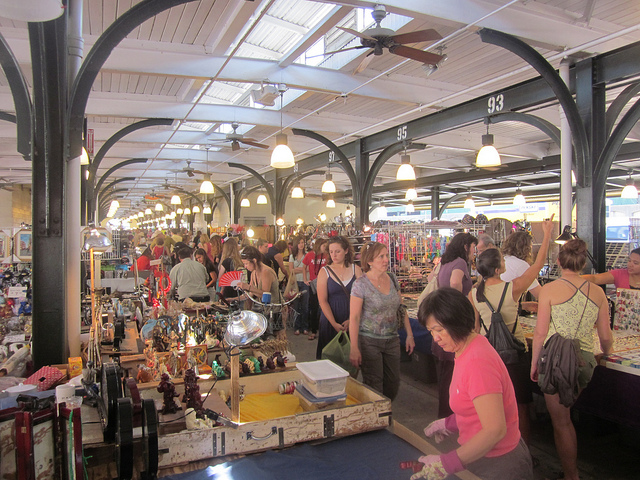 After a coffee and a few orders of beignets, head to the French Market, a collection of shops in the French Quarter, for some shopping. It starts with the Shops of the Colonnade, which is right next door to Cafe Du Monde. Here, you'll find a variety of shops in an outlet-style building which includes local merchandise, stores with cooking ingredients, toy shops, and candy stores. Continue east on Peters Street and make your way to the French Market's flea market, which is open every day of the year. It's an open-air market with vendors from all over the world where you can find local art, jewelry, candles, crafts, and kitschy tourist items.
3. Enjoy art in Jackson Square.
Jackson Square has been around since the 18th century, and it's an iconic place to visit in New Orleans. The square is surrounded by historic buildings, like the St. Louis Cathedral, and a collection of galleries, museums, restaurants, and apartments. For the last half century, it's been a haven for local artists. They display their artwork along the square's iron fence, and it's easy to lose hours staring at the beautiful displays. However, there's more to do and see in this lively square. Palm readers and tarot card readers set up tables here daily, and there are often bands playing lively local tunes throughout the day. You can also generally see a street performer or two.
4. Dine at Coop's Palace.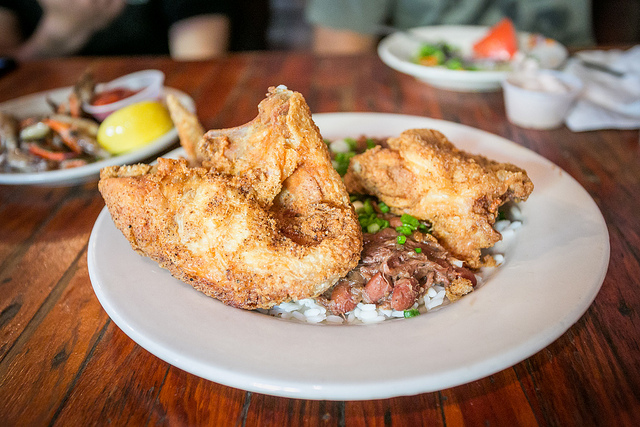 There are plenty of fantastic Cajun restaurants in New Orleans, like Muriel's Jackson Square and the Court of Two Sisters. However, Coop's Place is a good option for those looking for a delightful Cajun meal in the French Quarter that doesn't feel too touristy. It's a small dive-like restaurant that often has a long line snaking along the outside. No need to check-in with a host — just wait in line. Once inside, there's a chill bar with affordable drinks and a diverse menu with local NOLA favorites like gumbo, shrimp creole, and jambalaya. Don't cross the Cajun Fried Chicken off your list either — it's amazing.
5. Explore the Cemeteries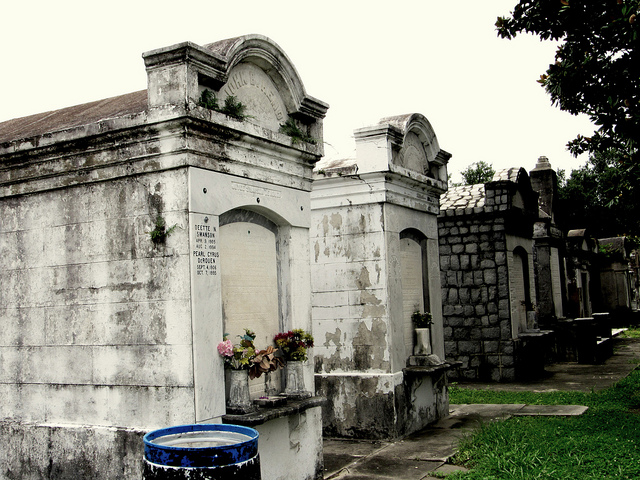 Cemeteries may not seem like particularly delightful places to visit, but they are in New Orleans. The dead of New Orleans have been laid to rest in intricately designed mausoleums and stone crypts above ground. They are most commonly referred to as "Cities of the Dead" and hold many of New Orleans' most famous figures. St. Louis Cemetery #1 is the most famous of the bunch and is the resting place of Marie Laveau, a legendary voodoo queen who was played by Angela Bassett in "American Horror Story: Coven." Take note that you can only visit St. Louis Cemetery #1 with a tour guide, so be sure to book in advance. Not all cemeteries in New Orleans require tour guides, though. For instance, you're free to stroll through Lafayette Cemetery No. 1, which is best known for having the fictional tomb of the vampire Lestat in Anne Rice's "Interview with a Vampire."
6. Tour Mardi Gras World.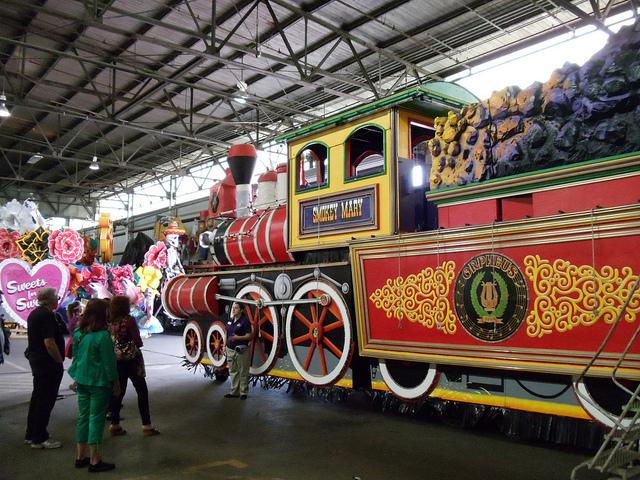 NOLA is famously known for hosting the United States' largest Mardi Gras Festival. However, visiting New Orleans during Mardi Gras isn't for all — it's crowded and filled with lots and lots of drinking. If you're visiting any other time of the year and you want a taste of Mardi Gras without the booze, head to Mardi Gras World, home to a massive studio where the Mardi Gras floats are created. Guides share the history of Mardi Gras, show you floats, and even allow you to try on Mardi Gras costumes and masks. You can get here via a free shuttle from 20 locations around downtown with the purchase of an entry ticket. And don't forget to get your free taste of a King Cake at the end of the tour; it's a Mardi Gras pastry, and whoever finds a small toy baby in their slice of cake gets a bit of luck for the next year!
7. Explore Magazine Street in the Garden District.
Surprise: New Orleans has so much more to do and see beyond the French Quarter. Head west to the Garden District and enjoy a few hours exploring Magazine Street. It's filled with tons of shops that range from artsy galleries to cute boutiques to cool antique stores, and yoga and fitness classes abound in the charming, colorful buildings along the street. Plus, there are plenty of restaurants and bars to try out here, too. If you're looking for a more local experience in New Orleans, Magazine Street is the place to be.
8. Listen to jazz on Frenchmen Street.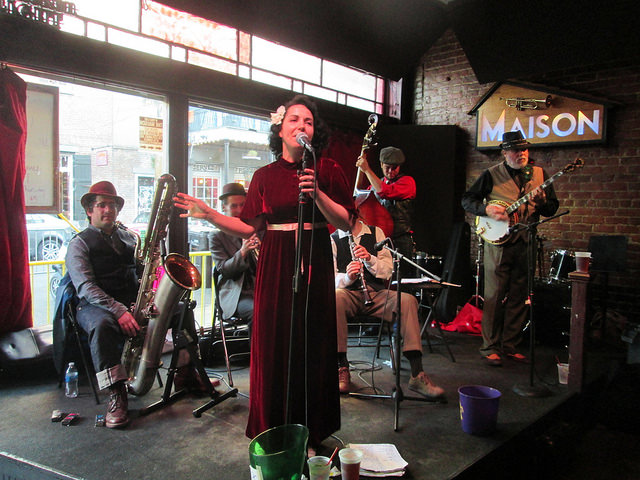 Jazz and live music are integral parts of the culture in New Orleans, and Frenchmen Street is the place to experience them. It's a three-block stretch in the Marigny neighborhood, right next to the French Quarter. Live music, especially jazz music, can be enjoyed here every evening in the many clubs and bars. But there's also funk, Latin, blues, reggae, and other music styles featured in some of the venues, too. The best part? Most places are free to enter. And if you need a break from the music (though, why would you?), head to the nighttime art market on Frenchmen Street. It's open every day except Tuesday and features hip art, jewelry, crafts, and clothing for purchase from local artists and vendors.
9. Enjoy Jazz Brunch at Commander's Palace.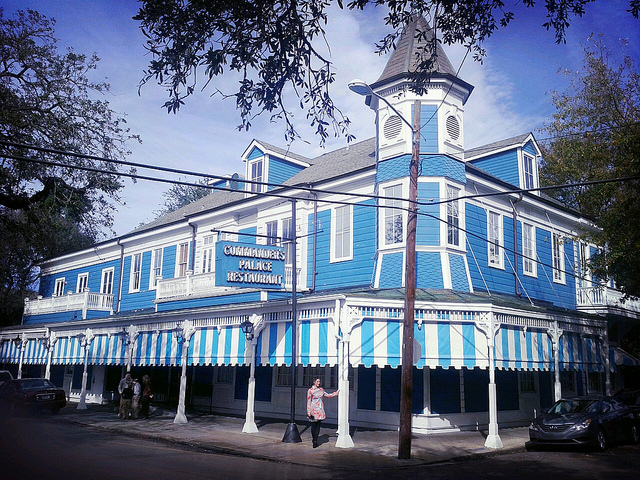 Get a bit fancy and experience some true Southern charm at the Commander's Palace for Jazz Brunch. The famous restaurant has a special brunch menu on Saturday and Sunday, plus live jazz to accompany your meal. It's a charming affair at this New Orleans landmark, which has been operating since 1893. And if you can't come for brunch (it is a bit pricey), make your way here for lunch and enjoy some southern and Cajun favorites.
10. Take a ghost tour.
https://www.instagram.com/p/0eC42aJgfM
Ask any New Orleans local and they'll likely tell you that you can't throw a stone in the French Quarter without hitting a haunted building. The city has been around for almost 300 years, and with that comes a sometimes dark past. A haunted tour of the French Quarter or the cemeteries, then, is a must. Most tours are walking tours and feature guides who tell the ghostly histories of hotels, cemeteries, homes, and other buildings in NOLA. Each tour has its own gimmick, like costumed guides — some wear tutus, others don old-fashioned garb, and even others have creepy vampire attire. But they all have one thing in common: They take their tours seriously and are super knowledgeable about the haunted and occult history of the city. There are a lot of tours from which to choose, but be sure to book in advance, as they fill up quickly each night with visitors interested in the cool haunted history of this historic American city. Be sure to ask your guide about the hotel you are staying in to see what ghosts roam the halls!
Hotel Picks
Luxury: Hotel Monteleone
The 600-room, four-pearl Hotel Monteleone is a historic, grande dame property that has played home to several literary icons. Today it's known for the famous, rotating Carousel Bar, and its central French Quarter location on gallery-filled Royal Street, just one block from buzzing Bourbon Street. Traditionally elegant rooms may be too old-fashioned (and small) for some, but others find it fits in with the property's overall charm.
Mid-Range: Place d'Armes Hotel
This historic mid-range hotel, located right on the famous Jackson Square (once called Place D'Armes), is the essence of old world charm and perfectly situated for sightseeing. Built in the 18th century, there is a quaint, yesteryear feel throughout the property, which consists of eight renovated town homes surrounding a courtyard with a swimming pool and fountain.
Budget-friendly: The Frenchmen Hotel
The 27-room Frenchmen Hotel is in the Marigny, which is a few blocks from the French Quarter and home to some of New Orleans best music venues. The Frenchmen oozes old-style New Orleans charm, and serves a free breakfast every morning in a lovely dining room. The centerpiece of the property is a heated pool and hot tub with a brick terrace. Rooms are small, traditionally furnished, and are not geared toward families or business travelers (some don't even have desks), but they include pleasant touches such as French windows, decorative fireplaces, and Louisiana-inspired artwork.
Everlane offers a wide variety of sustainable, lightweight clothing for any trip to come. We love this washable silk wrap top–it screams street-side in NoLa.
You'll Also Like:
All products are independently selected by our writers and editors. If you buy something through our links, Oyster may earn an affiliate commission.