Portugal's long coast, which stretches over 1,000 miles, has produced some of the most stunning beaches in Europe. Beyond its exterior beauty, these destinations also come with a warm Mediterranean climate for most of the year. Even better, not all are overrun by international travelers -- a major pro for those who are looking for a beach experience without the hordes of tourists. So where exactly can you find these Instagram-worthy spots? Read on. Just don't forget your camera -- you'll want to capture every inch of these places, from the golden sand to the beautiful backdrop of cliffs, caves, and coves.
1. Praia Dona Ana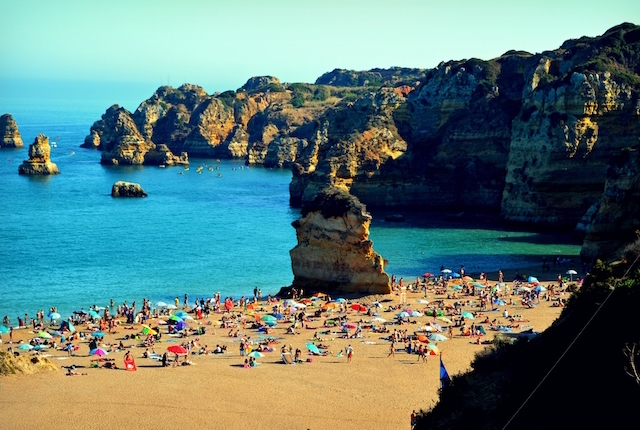 Surrounded by colorful strata cliffs, Praia Dona Ana is regarded as one of the most beautiful beaches in Portugal. With calm (but cold) waters and golden sand, it's no wonder crowds descend on this small piece of paradise every summer. Tip: Head to the lighthouse near Ponta da Piedade for breathtaking views of the beach, cliffs, and boats in the nearby town of Lagos.
Our Hotel Pick:
2. Praia da Marinha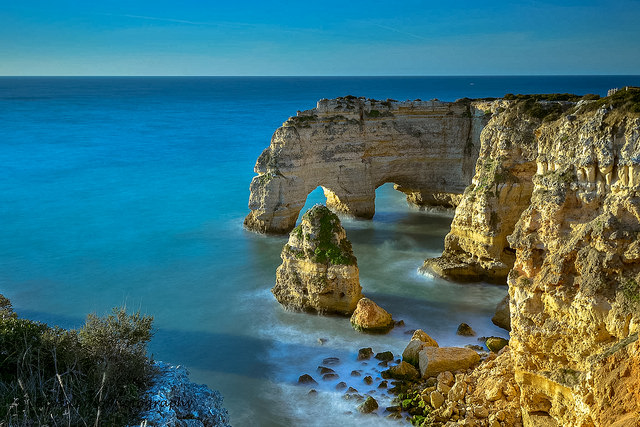 Accessible by a small stairway in a cliff, Praia da Marinha is a true gem on the southern coast near Lagos. The picturesque beach, which is dotted with large rocks and orange limestone cliffs, makes for a killer selfie backdrop. Here, skip the sunbathing and swimming and opt for exploring the rocky formations that are filled with a treasure trove of caves and coves, instead.
Our Hotel Pick:
3. Praia de Odeceixe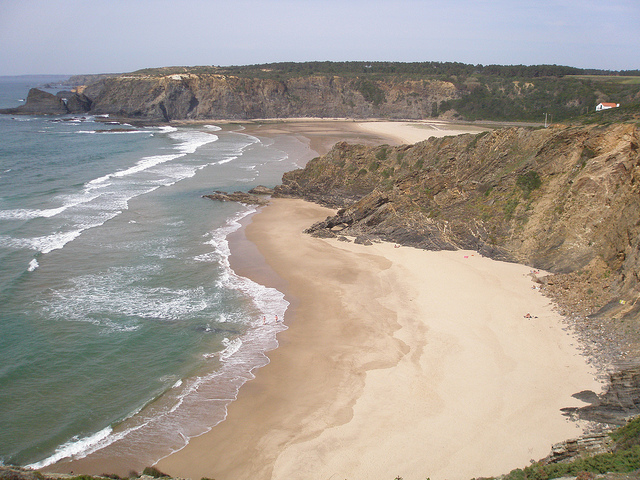 Summertime and the living's easy, thanks to a train that runs between the village of Odeceixe and the relaxing Praia de Odeceixe (it also happens to be a short walk for those who prefer to travel by foot). During the warmer months, the beach destination becomes a popular spot for surfers, but travelers can safely swim here when the tide is out as well. On one end, check out the gorgeous cliffs, and on the other, enjoy the cove (Praia de Adegas) that also doubles as a nudist beach.
Our Hotel Pick:
4. Praia da Rocha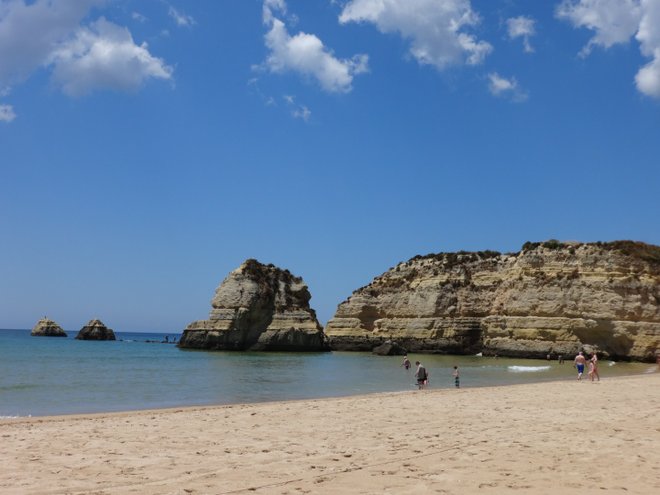 Located in Portimao, the family-friendly Praia da Rocha boasts a large expanse of pristine sand that's meant to be enjoyed all day long. When the sun goes down, the area transforms into a nightlife destination with plenty of clubs and bars. Just a heads up: the water can reach chilly temperatures and the beaches close from October to Easter.
Our Hotel Pick:
5. Praia do Guincho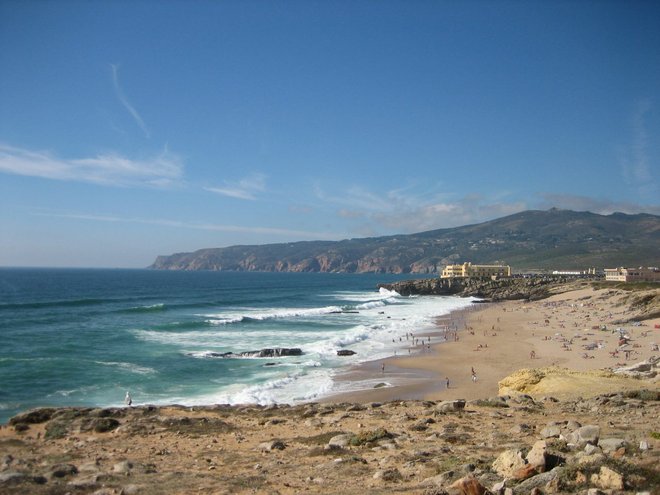 For those who are looking for some peace, quiet, and plenty of nature, head to Praia do Guincho. Set inside Serra de Sintra National Park, Guincho features some stellar waves that attract seasoned surfers, windsurfers, and kitesurfers. If water sports aren't your thing, don't worry — there's plenty of room to stake out a spot and savor Portugal's beauty. And in case you're wondering why you recognize the beach, the location was featured in the 1969 James Bond movie "On Her Majesty's Secret Service."
Our Hotel Pick:
6. Praia do Senhor da Pedra
For a quiet beach getaway that isn't inundated with tourists, check out Praia do Senhor da Pedra in Miramar. During the summer, the water reaches a comfortable temperature, making it a prime spot for splashing around. Don't miss the 17th-century Chapel of the Lord of Stone, which is set directly on the beach. Here, travelers can take in the mysterious pagan history before snapping a couple of unforgettable shots.
Our Hotel Pick:
7. Troia Beach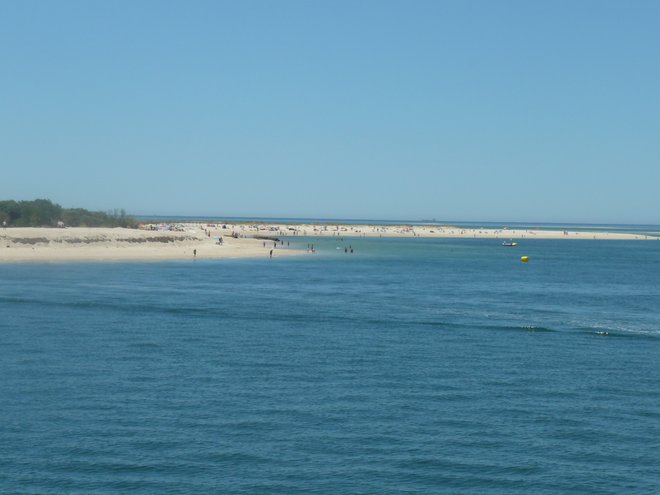 With its immaculate white sand and calm waters, Troia Beach is a must-visit destination in Portugal. A ferry brings travelers from Setubal across the River Sado to the beach. Once you arrive, it's fairly quiet, especially the southern end. In fact, groups of clams even lie in the sand, which can't be found on many popular beaches with tourists. Enjoy the spectacular views — a pine forest borders one side of the beach, while the ocean covers the other.
Our Hotel Pick:
8. Praia do Castelo
https://www.instagram.com/p/BILLXeCgReh
Praia do Castelo is named after a 16th-century watchtower that was built along the coast as lookout point for North African pirates. Today, travelers can still see part of the ruins as they make their way to a wooden stairway that leads to the beach. The small sandy area is sheltered by lovely cliffs, but they can produce falling rocks, so be careful.
Our Hotel Pick:
9. Praia de Santo Andre
https://www.instagram.com/p/BE1yaS3vCQb
Bordered by the Atlantic Ocean on one side and a lagoon on the other, this beautiful, family-friendly beach is rather unique. The ocean makes for great surfing, while the calmer lagoon is populated with canoes and windsurfers. And although Setubal is the largest city nearby, travelers can opt to stay in the quieter Santiago do Cacem when visiting the beach, too.
Our Hotel Pick:
10. Tavira Beach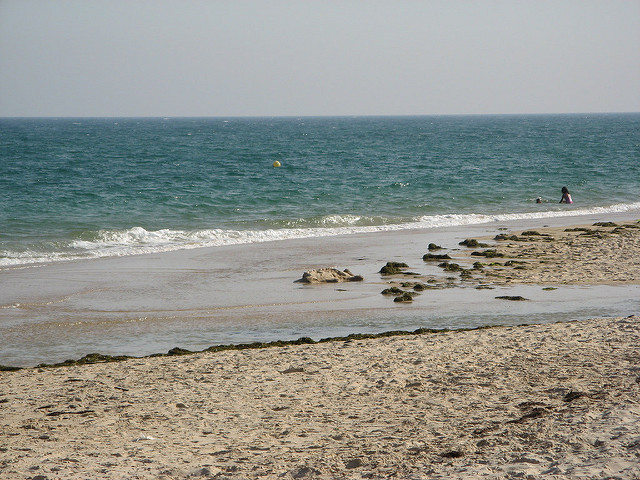 The coast of Portugal is dotted with islands, like Tavira Island. Home to Ria Formosa Nature Preserve, which protects birds like flamingos, the beach here can only be reached by ferry, water taxi, or boat. Upon arriving, walk along the stretch and you'll spot everything from salt marshes and dunes to wild fauna.
Our Hotel Pick:
11. Praia Formosa
https://www.instagram.com/p/BHfVoadhXXx
Located on Santa Maria (the oldest island in the Azores archipelago), Praia Formosa features white sand. This is unlike the other black sand beaches nearby, which got their color due to volcanic activity. Surfing is a popular activity here, but if you don't feel like riding a wave, enjoy marveling over the gorgeous green cliffs, instead.
Our Hotel Pick:
Related Stories:
All products are independently selected by our writers and editors. If you buy something through our links, Oyster may earn an affiliate commission.