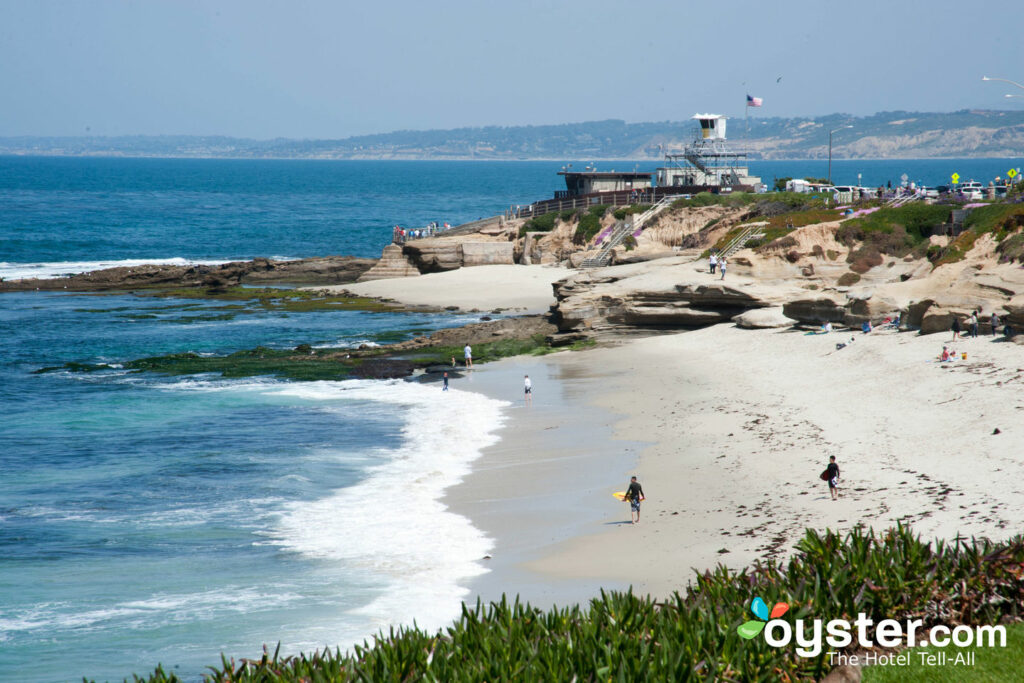 With year-round sunshine coupled with miles of surf and sand, San Diego is easily one of the most desirable year-round beach destinations in the U.S. One of California's most popular options, La Jolla Shores is best known for its beautiful coastal bluffs, world-class restaurants, and charming boutiques. The calm water and spacious beachfront make this is a great place for some light boogie boarding, body surfing, and sunbathing. If you're in the area, a stay the The Lodge at Torrey Pines is a great option, otherwise, one of San Diego's most venerable locales, La Valencia is perfectly located in the downtown La Jolla area and surrounded by a variety of restaurants and bars. When it comes to beachside dining, Jeff's Burgers is a casual burger spot nearby. If you're looking for something with a bit more in the way of late-night beach bars and bonfires, head due south to Pacific Beach where a lively boardwalk, bon fires, and dozens of bars are always keeping the spirit of San Diego alive.
The Jersey Shore may have a reputation for being a bacchanalian booze fest as depicted by the eponymous show, but it has a wide variety of experiences to offer along its 141 miles of beachfront, with options ranging from Perth Amboy to Cape May. One of the best beaches down shore, Asbury Park is an excellent place to catch some rays. While you're in town, a stay at the recently opened The Asbury, a boutique hotel replete with a rooftop movie theater, bar and live music on the weekends, is an excellent option. Enjoy Yappy Hour at the Wonder Bar and dinner in the Victorian dining room of Moonstruck in Downtown Asbury Park
Brigantine Beach is another one of the most coveted pieces of beach real estate. It's also within close proximity to Atlantic City, home to a popular boardwalk, casinos, and restaurants, making it a great option for those looking to double down on a bit of nightlife with their beach experience. If you'd like to stay in Atlantic City, The Water Club at Borgata is the best of the local offerings — it has a complimentary shuttle to and from Brigantine every 45 minutes (the beaches at Atlantic City are less than stellar). We recommend dinner at Izakaya or the recently opened Angeline by Michael Symon.
Finally, Cape May is one of the Jersey Shore's most beloved beach towns, renowned for its grand Victorian style homes and beautiful stretches of white sand beach. A stay at the beautifully appointed The Southern Mansion is your best bet.
Located off the coast of Cape Cod,Martha's Vineyard is one of those summer travel destinations that is truly memorable from beginning to end. There are 20 beaches to choose from around the island, but a good place to start is South Beach State Park in Edgartown. Featuring three miles of beachfront, South Beach, as it's called locally, is best known for its calm water, miles of white sand, and relaxed atmosphere. While you're in the area, The Right Fork Diner, located on Katama Airfield, is open for breakfast and lunch, and it is always a treat to watch the prop planes coming and going. Stay at the nearby Harbor View Hotel, a stately beachfront property replete with an excellent on-site restaurant and bar. Downtown Edgartown's is only a stone's throw away — there you'll find The Newes From America Pub, which blends American and British pub food favorites, featuring local signatures like Martha's Vineyard's world-famous fish and chips. If you're looking for a bit more privacy, head "up-island" to Aquinnah, where Lobsterville Beach offers two miles of pristine sand perfect for soaking up a bit of sun — without the crowds.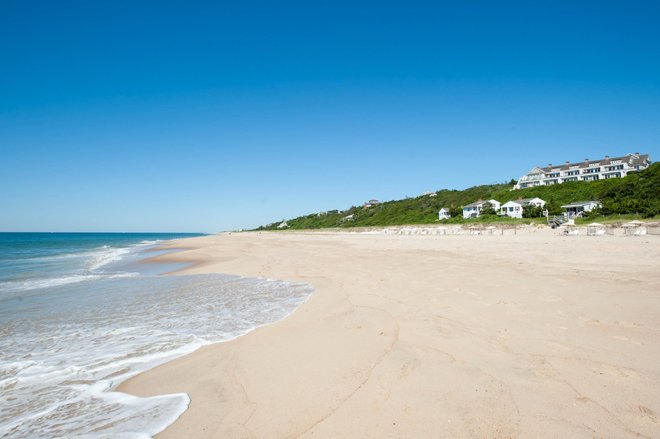 Between palatial beachfront houses and celebrity studded restaurants, the Hamptons are always a attractive choice for a beach getaway. However, if you go a bit farther east to the very tip of Long Island, Montauk stands out as one of the top beach destinations, due to its laid-back, easygoing vibe. For something a little more upscale, dinner in the uber romantic dining room of Harvest on Fort Pond is a must. If you're looking to dial things down a bit, chowder and soft shell crab at The Dock are not to be missed. When it comes to accommodations, Gurney's Montauk Resort & Seawater Spa is one of the best offerings in town.
As you'll find tropical paradise coupled with Hawaii's aloha attitude here, Maui is always going to have a spot on the list when it comes to desirable beach destinations. Though there are so many to choose from, Ka'anapali Beach is by far one of this island paradise's most illustrious. Home to seven resorts, high-end shopping, and a variety of restaurants and bars, Ka'anapali Beach's has plenty of attractions, its most famous being the daily cliff diving ceremony off of Puu Kekaa, or Black Rock, which is held every evening at sunset. Sheraton Maui Resort right on Ka'anaapli Beach offers remarkable views of the cliff.
Kapalua Beach is another perennially popular choice — especially for families with young children, due to the calm waters and natural tide pools. Just minutes from the historic whaling port of Lahaina, The Ritz Carlton Kapalua offers beautiful accommodations, a massive spa and choice of six onsite restaurants
Known for its sugar-fine sand, Florida's Gulf Coast is chock full of beautiful beaches. Siesta Key in Sarasota County features eight miles of white sand and aquamarine water, making it ideal for a beach getaway. Check out Siesta Key Oyster Bar, a Sarasota landmark boasting fresh seafood, outdoor seating, and nightly live music. There is a lot more than oysters on the menu, like the award-winning jerk wings and burgers. Snorkelers can enjoy the sea life at Point of Rocks at the south end of Crescent Beach, and Turtle Beach, even farther south, offers a low-key alternative as a place to unwind and read that novel seaside. Downtown Siesta Village features an assortment of boutiques, bars and restaurants including Daiquiri Deck Raw Bar, a local hot spot with a full menu and raw bar, perhaps best known for its selection of tasty frozen daiquiris. Located on a private marina in downtown Sarasota, Hyatt Regency Sarasota is a great family-friendly option. If you want straight beach access, consider Lido Beach Resort Lido Key on the Gulf of Mexico, off the coast of Sarasota. A family-friendly property, the hotel has multiple pools, a beachfront tiki bar, and a restaurant on the eighth floor.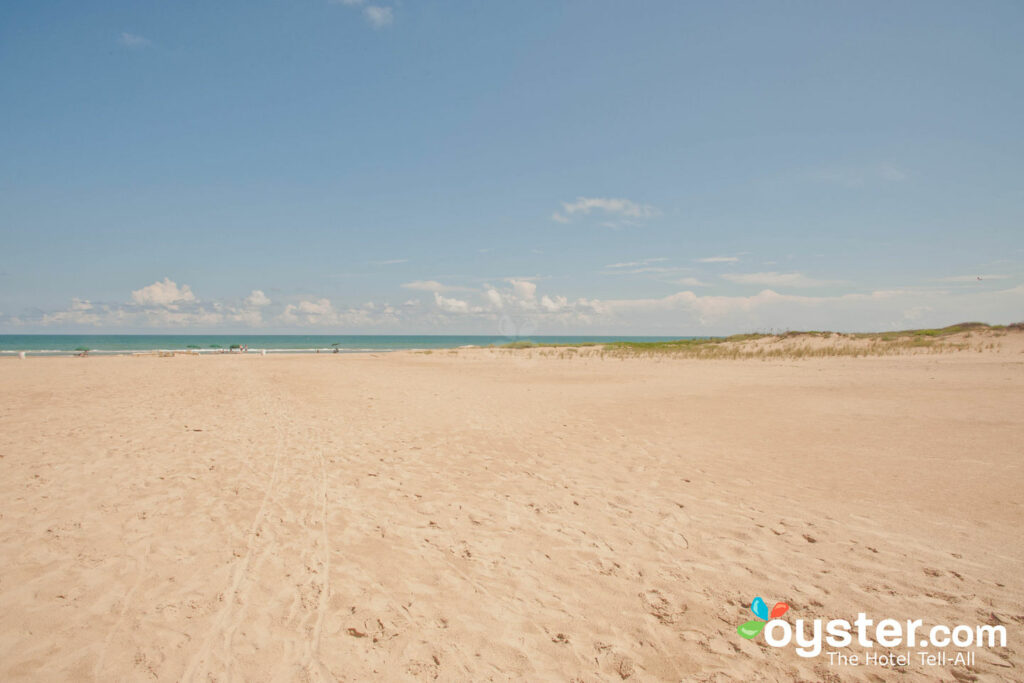 Located on the coastal tip of Texas, South Padre Island features 34 miles of beautiful white sand beaches, emerald green water, and sunshine for days — it's no wonder it's considered the tropics of Texas. There's a little something for everyone in South Padre, making it one of the most popular beach destinations for sun seekers, spring breakers, and families alike. For activities, there's dolphin watching, water parks, kiteboarding, and sailing to choose from. For a hotel, the tropical inspired Isla Grand Beach Resort features a prime beachfront location in addition to a variety of on-property amenities including pools, a waterfall, and spacious rooms. A free shuttle around town known as The Wave 80 is also available. A top choice for dining on the island is Yummies Bistro, which is only open for breakfast and lunch. Other recommended spots are Beachside Bar and Grill and Gabriella's Italian Grill and Pizzeria.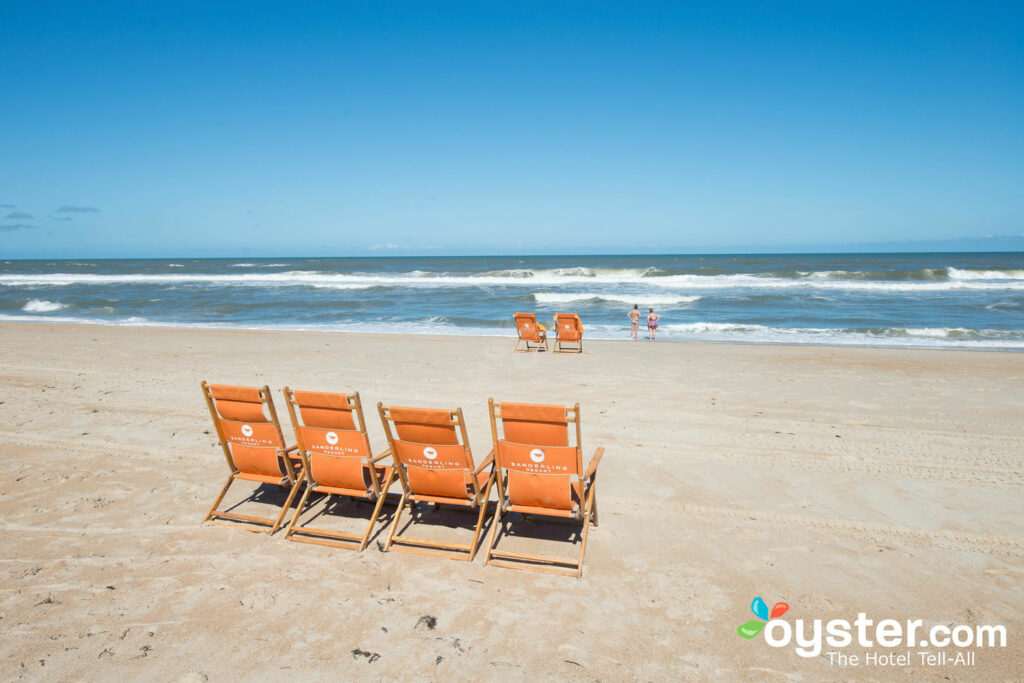 Located along the northeast coast of North Carolina, the Outer Banks comprises 100 miles of narrow barrier islands that feature some of the most beautiful and idyllic beach landscapes in the country. Connected by a coastal two-lane highway are a string of beach towns including Duck, Southern Shores, Kitty Hawk, Kill Devil Hills and Nags Head — all of which have beautiful beaches. Head to Kitty Hawk for its history: The Wright brothers flew the first airplane here. Duck is another popular option and offers a wide variety of hotels to choose from, including The Sanderling Resort, a beautifully appointed boutique hotel complete with pools, a spa, and direct beach access. The Blue Point on Duck is a popular local spot.
For something more secluded, Ocracoke Island in the Outer Banks is considered a hidden gem. Accessible only by ferry, the four-square mile village is buffered by roughly 15 miles of undeveloped beaches. Swimming, shelling, kayaking, and wild-horse watching are among some of the best local offerings on Ocracoke.
Nestled along the South Carolina coast is Hilton Head Island, home to an abundance of beautiful beaches. Hilton Head has long been considered an American outpost of Southern hospitality and features 12 miles of pristine beaches, 24 world-class golf courses, dozens of spas and wellness centers, and plenty of outdoor activities to chose from. Sonesta Resort Hilton Head Island has plenty to offer, including several restaurants, bars, and activities for the whole family, as does the Omni Hilton Head Oceanfront Resort.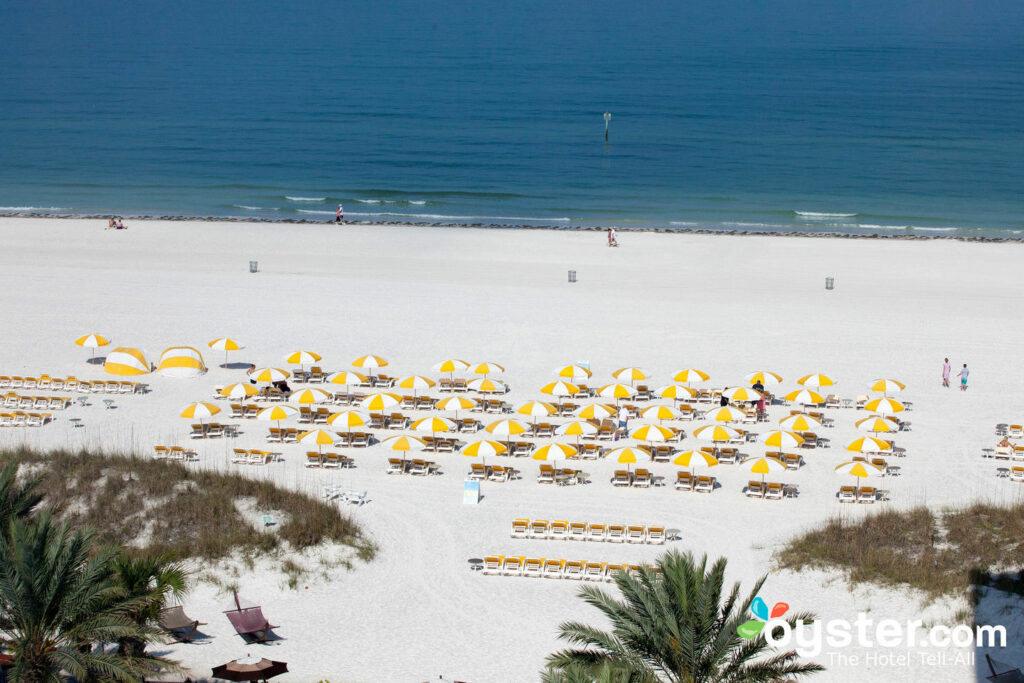 With the azure blue waters of the Gulf of Mexico to the west and tranquil Tampa Bay to the east, Clearwater Beach in St. Petersburg Florida features 35 miles of white-sand beaches, more than 30 craft breweries, and an emerging food scene. If you're looking to infuse a bit of culture with your visit, there are 31 museums in the area, including the Dali Museum, which houses the largest collection of Dali's work outside of Spain; the Chihuly Collection at the Morean Arts Center; and the Museum of Fine Arts. The area also boasts fun outdoor activities like nighttime paddle boarding with glow-in-the-dark boards, swimming with horses, and see-through kayaking with manatees. Located directly on the white sands of Clearwater Beach, Sandpearl Resort is a popular spot for families looking for something a bit more upscale, otherwise, the Don CeSar, known as Florida's iconic "Pink Palace," is a truly St. Petersburg gem.
11. Block Island, Rhode Island
With 17 miles of pristine shoreline and clear blue water, Block Island has beaches that are hailed as some of the most beautiful in the U.S., if not the world. It's called the "Bermuda of the North" — in part due to the abundance of bicycles and mopeds used to get around the island. To get there, there are a range of ferries and catamarans that run from New London, Connecticut; Newport, Rhode Island; Montauk, New York; and Point Judith, Rhode Island. Known for its fresh seafood, Beachead is one of the most popular local restaurants — consider sitting around one of its outdoor fire pits. There are a number of inns scattered around the island. We recommend Blue Dory Inn, a charming Victorian style haunt on Crescent Beach.
Dubbed the "shelling capital of the world," Sanibel Island is located on Florida's Gulf Coast, and those who stroll the shores in the morning are likely to find seashells and sand dollars a plenty. Sundial Beach Resort & Spa is a great family-friendly hotel with condominium-style accommodations that include a kitchen, living room, and dining room. For activities, there are six tennis courts, a twelve-court pickleball stadium, pools, and a fitness center. Nestled on 23 acres along Sanibel Island's famous white-sand beach, Casa Ybel Resort is a historic retreat. The resort features 114 one- and two-bedroom suites with modern kitchens and captivating views of the Gulf of Mexico, in addition to award-winning dining at Thistle Lodge and seemingly endless opportunities to enjoy Sanibel's year-round recreation.
Located where the Atlantic Ocean and the Chesapeake Bay meet, Virginia Beach is one of the best escapes on the East Coast, with vast stretches of beautiful white-sand beaches, a laid-back atmosphere, and a variety of budget-friendly hotels. Check out Assateague Island National Seashore a 37-mile stretch of beach along the northeastern coast of Virginia known for its wild horses. In downtown Virginia Beach, a three-mile boardwalk replete with hotels, restaurants, bars, and shopping is among the area's biggest attractions. One of the larger and more upscale properties in the area, the Hilton Virginia Beach Oceanfront features a rooftop pool and seafood restaurant on the 21st floor — it's a great option while you're in town.
13. Ogunquit, Maine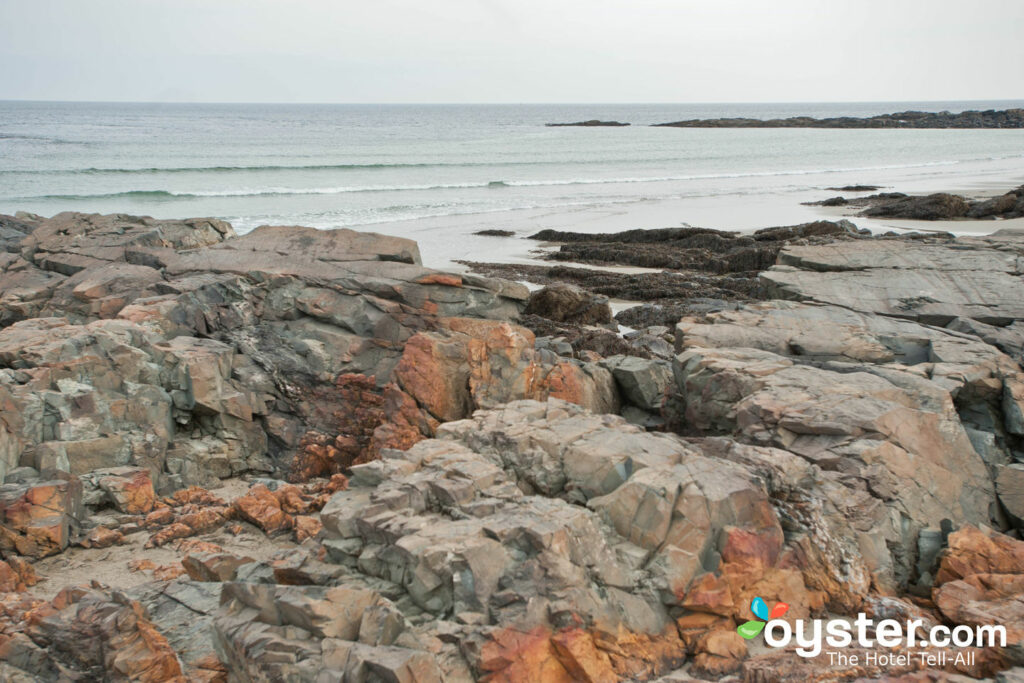 New England is well-known for its charming coastal towns, beautiful lighthouses, and abundance of lobster shacks. We're particularly partial to Ogunquit Beach in Maine, which is one of the state's most beautiful stretches of coastline. Forming a natural barrier between the Atlantic Ocean and the Ogunquit River, the three-and-a half-mile beach offers visitors swimming and bodysurfing. The midsection of Ogunquit Beach, known as Footbridge Beach, is also accessible via — you guessed it — a footbridge that crosses the Ogunquit River. Rental chairs, umbrellas, and beach toys are also available here. After a swim or a nap on the beach, you can stroll along Marginal Way, a mile-long cliff walk along the ocean that passes Marginal Way Lighthouse. The Beachmere Inn on the Ocean is a great place to spend your beach vacation, with beautiful ocean views, large balconies, and an excellent on-site restaurant and pub.
You'll Also Like: