When travelers think of Thailand, they often picture backpacking through quaint rural towns and living off a dime (in a totally awesome, coming-of-age kinda way) by doing as the locals do – feasting on rice dish after rice dish, and staying in rustic tree house accommodations. And this is all great when you're in your twenties. But the thing about Phuket is, it is also home to some insanely luxurious resorts that, as a whole, are way more over-the-top and opulent than almost anything you'll find in the United States, Caribbean, or Europe. So these kinds of accommodations may be more appealing to the average couple or family; and best of all, while a luxe suite in Paris may set you back thousands of dollars a night, a even more luxurious one in a Phuket hotel will likely cost less than five hundred a night. Here we bring you the 13 best luxury resorts in Phuket, with stunning photos of each. You'll be ready to pack your bags and settle in for the long flight immediately!
Paresa
means "heaven" in Thai, and with panoramic views of the Andaman Sea
over Millionaires Mile and private luxury villas — to some guests, Paresa is
truly a five-pearl piece of heaven on earth. At night, the infinity-edge pool
is lit up with hundreds of twinkling LED lights. Two on-site restaurants and a
cooking school offer gourmet fare.
Standout
Feature: The views here, particularly from the infinity pool, are hard to
beat.
The
48-room luxury Ayara Hilltops Resort and Spa is built on the steep slope of
Surin Hill, in northwest Phuket. Thanks to its hillside location and lush,
jungle-like landscaping, there are unobstructed and spectacular views
throughout — especially the sunsets over the Andaman Sea on the horizon. Each
room is a spacious, private villa with luxe features including outdoor showers
and deep soaking tubs.
Standout
Feature: We love that this romantic spot is adults-only.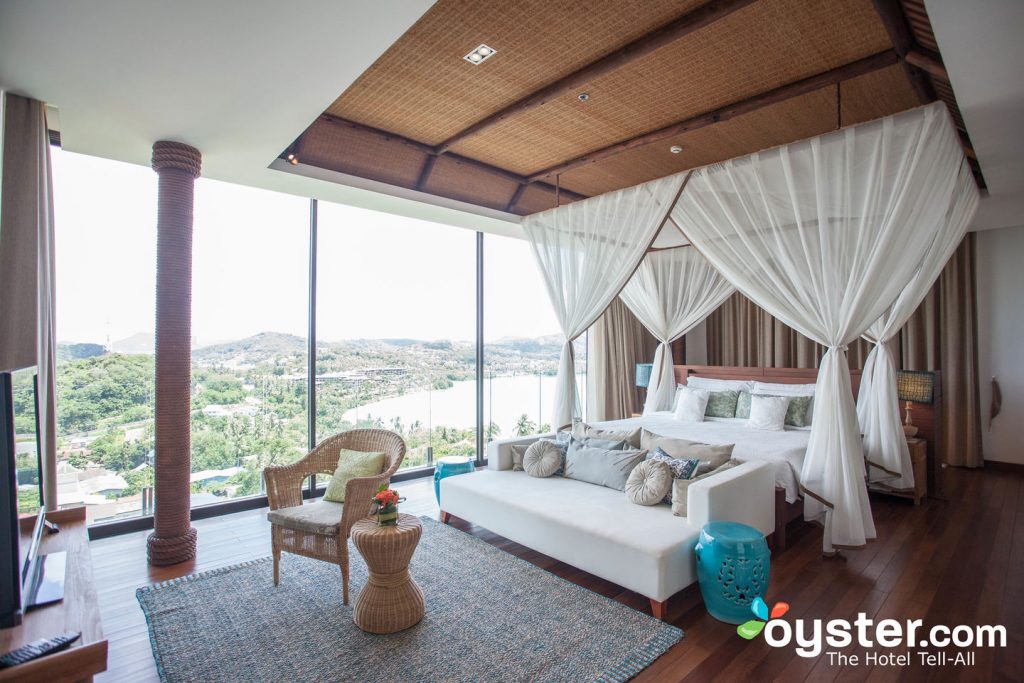 The
205-room Cape Panwa Hotel is an upscale property located directly on Panwa
Beach. It's a solid choice for families and couples who want fast access to the
hustle and bustle in nearby Phuket, but prefer to sleep and eat in a quieter
location. The hotel makes transportation easy with a free shuttle and parking,
and guests who want to stay on property can enjoy the white sand, outdoor pool,
several restaurants, and fun cultural activities. Rooms are spacious and
stocked with creature comforts like pillow menus and balconies.
Standout Feature: Guests can ride a funicular through the lush grounds
to reach the beach.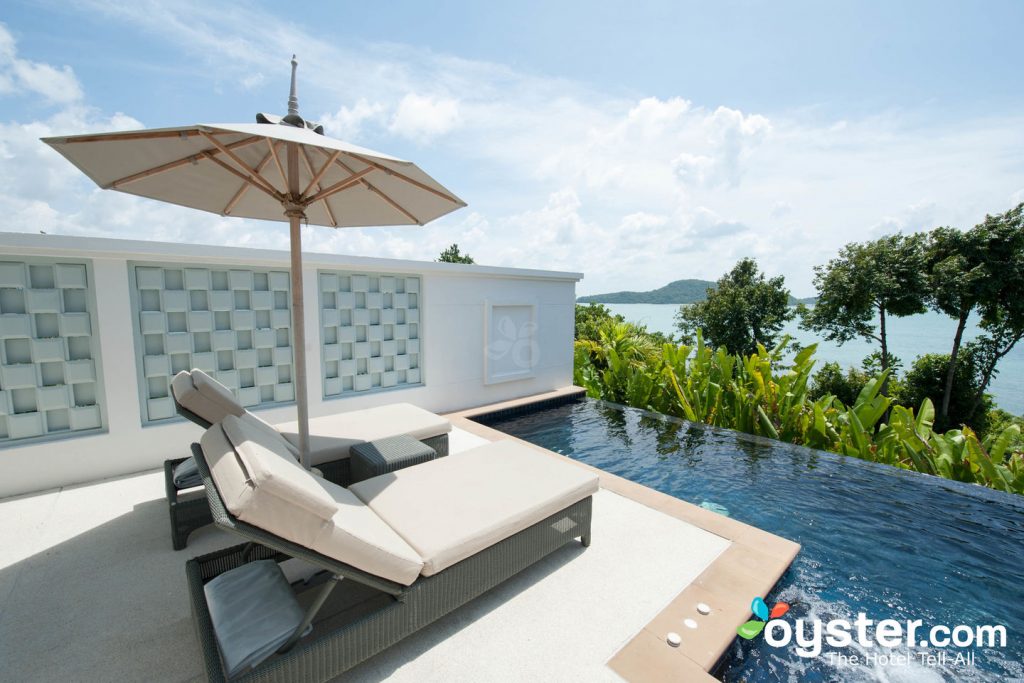 Regent
Phuket Cape Panwa is a five-pearl property overlooking the Panwa Cape on
Phuket's quiet southern end. With a breathtaking infinity-edge pool overlooking
the Andaman Sea, a private sandy beach, and tricked-out villas and rooms, the
Regent Phuket is an ideal spot for couples and families seeking a luxurious
tropical vacation with all the trimmings. Fun extras include iPad tablets in
the rooms, and a full spa and salon, and a free breakfast buffet.
Standout
Feature: The hotel offers a slew of freebies – everything from breakfast to
Wi-Fi, from rental bikes to a shuttle into town.
The
five-pearl Pullman Phuket Arcadia Resort is alone in its class in this part of
Phuket. Both families and couples adore this hotel for its gorgeous design
details, extra-comfortable rooms, and infinity-edge pool overlooking the
Andaman Sea. There are six on-site bars and restaurants, a luxe spa, and a fun
kids' club. The natural beach is stunning, but the water can get a little rough
at certain times of the year, and steep steps to the beach may be difficult for
little ones to traverse. Staff is available to drive guests around the resort
in small buggies.
Standout Feature: With the beach and a national park as neighbors,
this is one of the most private, tranquil resorts in Phuket.
Trisara
Phuket is one of the most luxurious and private five-pearl properties in
Phuket. Guests are met at the airport by an SUV and shuttled to the stylish
resort, complete with a private sandy beach, infinity-edge swimming pool, three
restaurants, and gorgeous accommodations with private pools and views of the
Andaman Sea. There's a private boathouse and a popular Jazz Brunch on Sundays.
Standout Feature: The focus here is the private beach, which has
some of the bluest waters and whitest sands we've ever seen. Plus, Trisara
provides free kayaks to rent.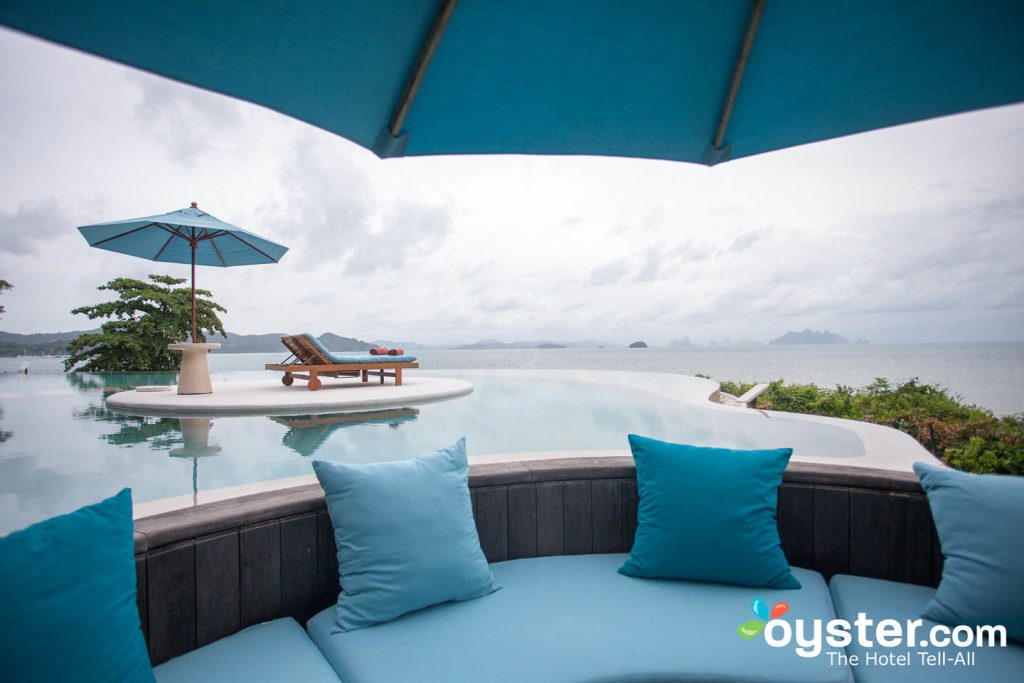 It's
pretty difficult to beat the wow factor found at The Naka Island, A Luxury
Collection Resort & Spa Phuket. Guests arrive at the small, tropical island
via a five-minute speedboat ride from Phuket. The five-pearl property consists
of 67 private villas with private courtyards that boast plunge pools and giant
outdoor soaking tubs. Naka Spa is one of the best in Thailand; it includes an
ice room and warm Watsu pool.
Standout Feature: You can't really beat a resort that's on its own
island, right?!
Well-heeled
guests choose from luxury villas or suites at Andara; most of them have
gorgeous private pools and sweeping views of the Andaman Sea. It would be easy
to spend an entire vacation holed up in the villas, which get stocked with
guests' favorite foods, and a private chef comes to prepare customized meals.
Other great features are the relaxing spa, infinity-edge swimming pool, and
Silk restaurant found in the common areas.
Standout
Feature: Guests can charter the hotel's
tricked-out yacht.
The
333-room luxury Diamond Cliff Resort and Spa is a peaceful family-friendly
resort conveniently located near the gorgeous Phuket beaches. Diamond Cliff is
a quiet sanctuary; its three swimming pools set it apart from other area
resorts. The atmosphere is traditional Thai, simple but lush, with plenty of
local character.
Standout
Feature: Rooms here are outfitted in beautiful,
traditional Thai décor; many have walls of glass offering spectacular sea
views, and private balconies.
Anantara
Phuket Villas is a five-pearl property with gorgeous villas. It was designed by
renowned architect Bill Bensley, and his high attention to stylish detail
shows throughout the Sino Portuguese property: intricately carved wood,
open-air buildings, reflection pools, and pagoda-style structures can be found
here. Though Anantara has everything its competitors have — a luxe spa, free
breakfast buffet, cooking school, and free bikes — the one major flaw here is
the tiny, red flag beach. For those who care more about swimming pools than
sand, the Anantara is a great choice.
Standout Feature: Each villa has a private pool.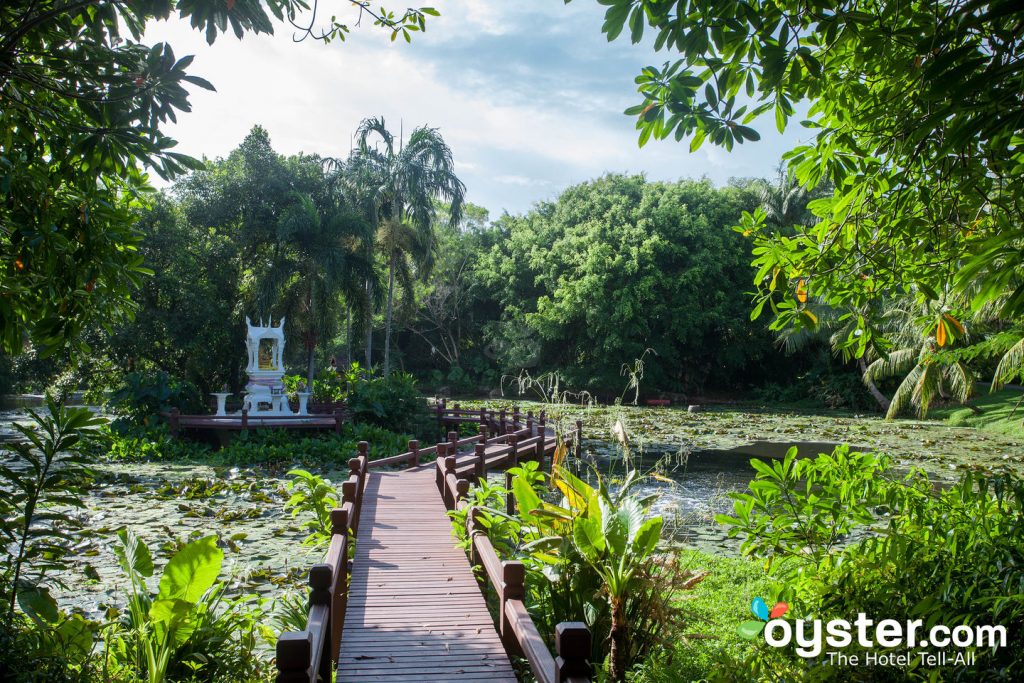 JW
Marriott Phuket Resort & Spa is one of the most luxurious resorts (with a
price tag to match) in Phuket. The tropical grounds and friendly service are
almost impeccable. A location near Phuket International Airport is convenient
for flights, but less so for those who want to explore Phuket. There are three
upscale swimming pools, a luxe spa, and 12 distinct restaurants and bars. Contemporary
rooms include balconies and mini-fridges, while the Villa has a private
pool.
Standout
Feature: The spa is a true highlight; facilities include indoor pools, a
steam room, and outdoor day beds, and various traditional and Thai-inspired
treatments are available.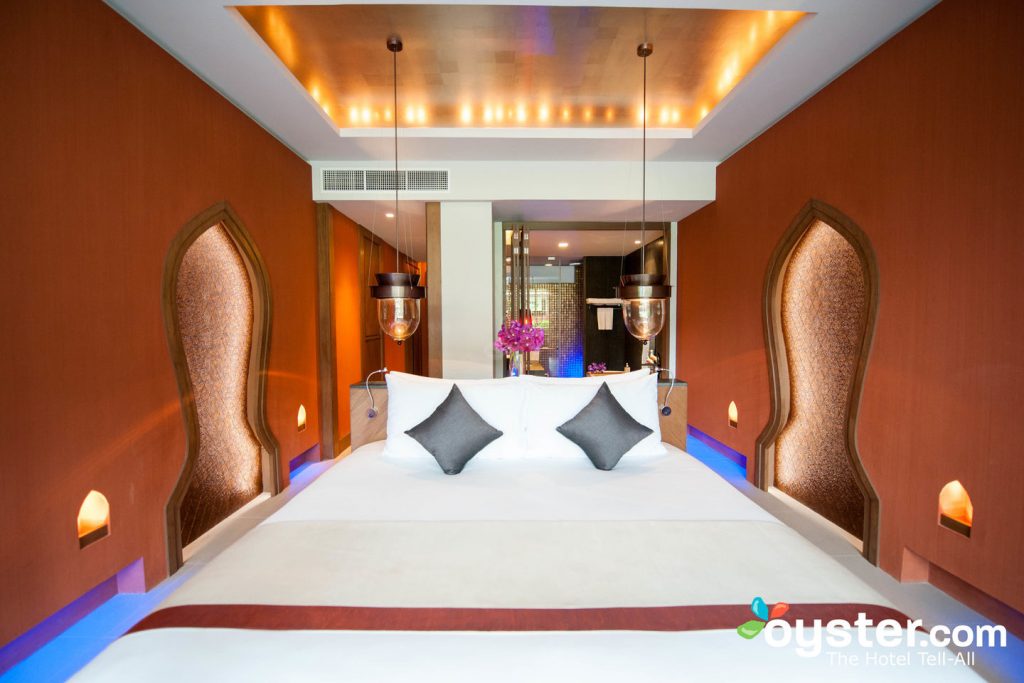 The Avista
Hideaway Resort & Spa is a luxury property perched on a lush hillside
bordering Patong city that offers a quiet atmosphere and a modern, vaguely
futuristic aesthetic. The 150 rooms and suites are decorated in metallics and
rich earth tones, and have all have private balconies. On-site features include
a spa with hillside views, a sleek rooftop terrace with a cocktail bar, and an
opulent international restaurant.
Standout
Feature: With poolside and swim-up bars at the three pools, guests never
have to wait long for a drink.
Banyan
Tree Phuket is one of the larger five-pearl resorts in Phuket, with over 100
guest villas on sprawling garden grounds that can be difficult to navigate.
Manmade lagoons and the Andaman
Sea provide beautiful water views. Villas are spacious and include luxurious
details like private outdoor spaces with hot tubs or pools, designer furniture,
and pillow menus.
Standout Features: The list of on-site features is incredibly extensive,
and includes cooking lessons, boat rides, a golf course, yoga, and even a baby
elephant.