Decided to extend your vacation one more night but your hotel is booked? On a road trip and want to make a spur-of-the-moment stop in Nashville? Or just plain procrastinating when it comes to reserving a hotel room? Don't worry, you're not alone. The emergence of mobile apps have made last-minute hotel booking a breeze, particularly night-of stays. According to data from Sojern, in the last quarter of 2013, around 30% of bookings were made on the arrival date. It's likely this number has grown, as many booking agencies have instituted apps to appeal to travelers who prefer to wait for possible deals and rate decreases. Though risky for larger groups and longer stays, these are the best apps for when you need a hotel room STAT.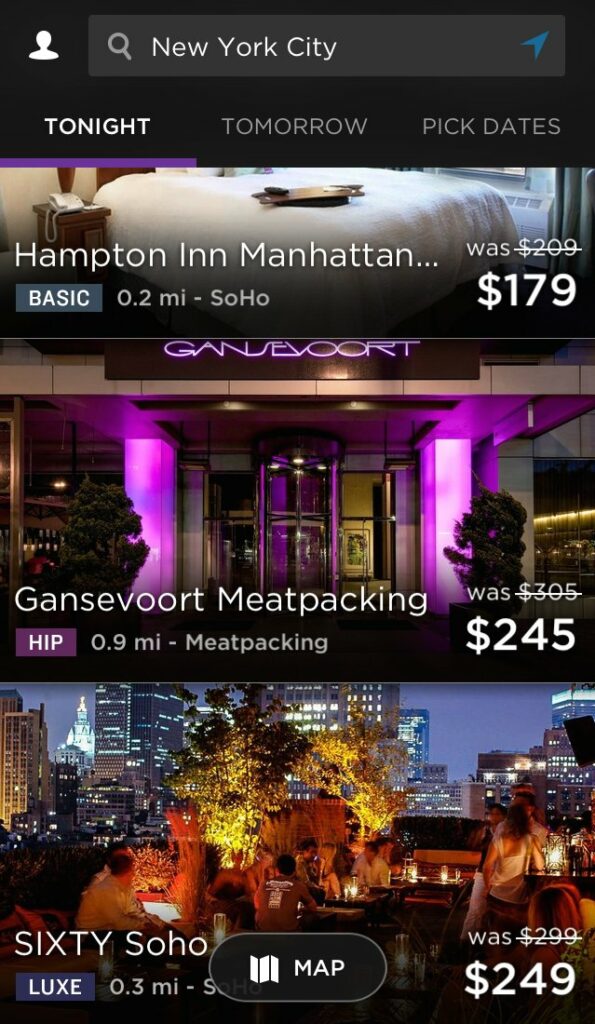 The app HotelTonight was specifically designed with the mobile-savvy traveler in mind, and it promises to find users great hotels via "10-second, 3-tap bookings." Although you can search for deals up to a week in advance, the best rates won't come until noon on the day of. Hotels are divided into categories like basic, luxe, charming, and hip. When I searched hotels available tonight in NYC, The Standard High Line (Hip) came up with a rate of $221, down from $349; the Hilton Garden Inn Chelsea (Solid) had a rate of $99, down from $229; SIXTY SoHo (Luxe) had a rate of $249, down from $299.
It lists essential information like the address and what amenities are offered at each hotel — like free Wi-Fi, valet parking, a 24-hour fitness center, to name a few. It also gives a user rating. For instance, The Standard High Line had a 94% rating based off over 1,700 reviews. It also has a "Why We Like It" section: "One of the best rooftop bar scenes in the city. Bring your A-game." HotelTonight was particularly useful to me during a recent road trip; with no set plans, I used the app to find a hotel in Santa Fe. I particularly loved that I could actually see the hotel's name and then read the review on Oyster before I ended up booking the Hotel Santa Fe at a greatly discounted rate.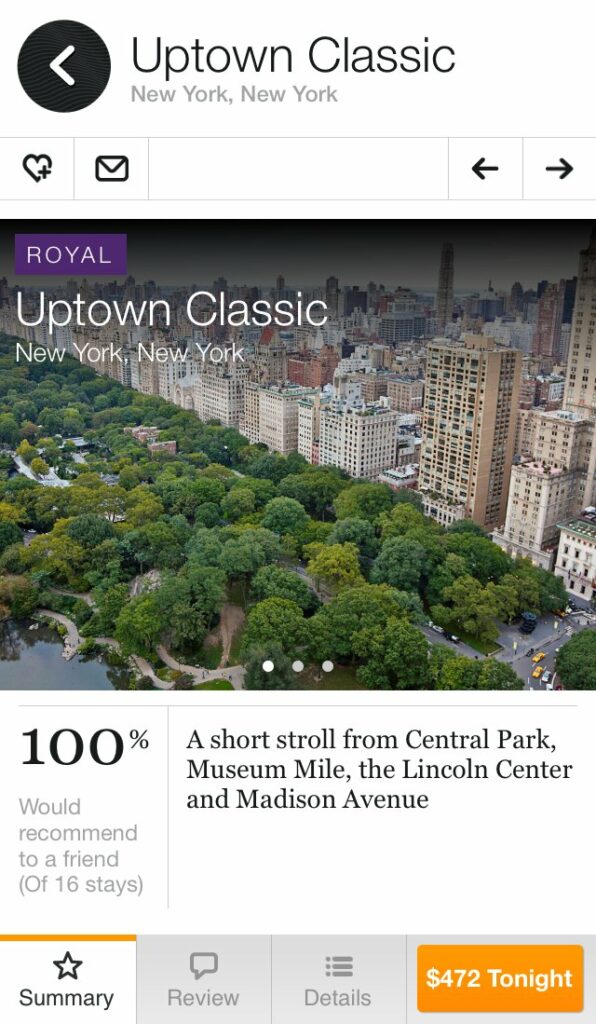 Jetsetter is a curator of travel, promoting hotels and destinations that the team has investigated themselves to make sure they're top-notch. While Jetsetter.com has bookings throughout the year, the company's new Jetsetter Now feature is targeted for same-day deals. After choosing one of the seven U.S. cities, it will come up with a list of available properties, though the names are hidden. They'll instead be categorized by location (Downtown, Midtown, and Uptown for New York), as well as the collection they fit into — either Royal, Posh, or Brilliant. A Downtown Hip hotel was going for $219, while an Uptown Classic had $472 rates.
The Downtown Hip hotel I chose was considered Posh, defined as "Impressive properties with distinctive personality and style, attentive service, a sense of place, and a recognizable quality above standard — an experience sure to be memorable." Based off user ratings, 90% would recommend it to a friend. There's a "What We Love" and "What To Know" section, as well as a reassuring note that users will be emailed the hotel name once it's been booked. Unlike the main Jetsetter bookings, it doesn't say the hotel's name or whether there's a rate decrease, but you can bet the hotel will be a chic stay.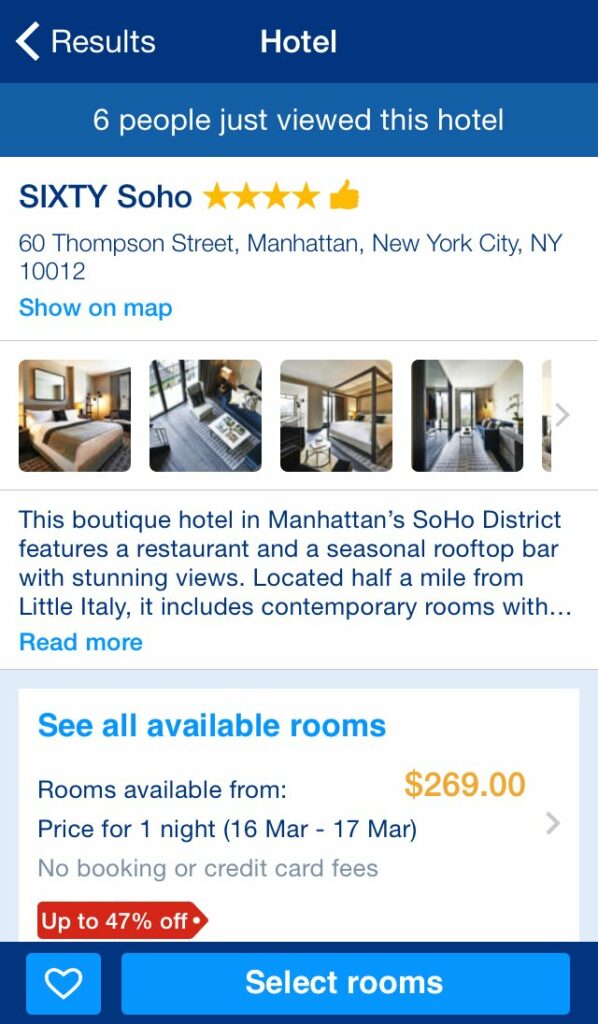 Since both HotelTonight and Jetsetter have more curated content, results are very limited; I had 16 and four options, respectively. If you're less interested in how hip the hotel is, the big booking agencies will give you loads of results with more budget options. Hotels.com, Booking.com, Expedia, and Priceline all have mobile apps for travelers on-the-go.
When I searched for NYC rooms available tonight on the Booking app, 473 hotels came up, even with 39% of properties already reserved. Some results included SIXTY SoHo for $269 (47% off — but still $20 more than the rate on HotelTonight), The Waldorf Astoria for $289 (43% off), and The Bowery House for $72.90 (46% off). Once you click on a hotel, it will list all available rooms, hotel facilities and policies, and other pertinent information. If you want a plethora of options that you can filter by price, location, facilities, etc, this is a great option.
All products are independently selected by our writers and editors. If you buy something through our links, Oyster may earn an affiliate commission.