Calling all art lovers! It feels like there are new art fairs popping up all over the world, all the time -- and as art lovers ourselves, we think it's great! With so many options out there, though, it's hard to know which ones to splurge on and which to pass up. So here are the five world-renowned art fairs that excite collectors, curators and art enthusiasts the most. In other words, these are the one's you definitely shouldn't pass on if you have the chance to go.
Art Basel
Art Basel was established in Basel, Switzerland in 1970 by a group of local gallery owners, and has since become an epic annual art extravaganza with uber-successful satellite
editions in both Miami and Hong Kong. Though not the oldest contemporary art fair, Art Basel is now the largest and has set the standard for contemporary art shows all over the world. The
fair takes place over a five-day period every June in Basel (and generally December in Miami and March in Hong Kong), and is a combination of
performances, public art presentations, panel talks, forums, and book signings.
The celebrity following and fabulous VIP events have helped to make Art Basel
famous, but it's the caliber of the art that keeps people going back.
Our Miami Hotel Pick: 1 Hotel South Beach
Frieze Art Fair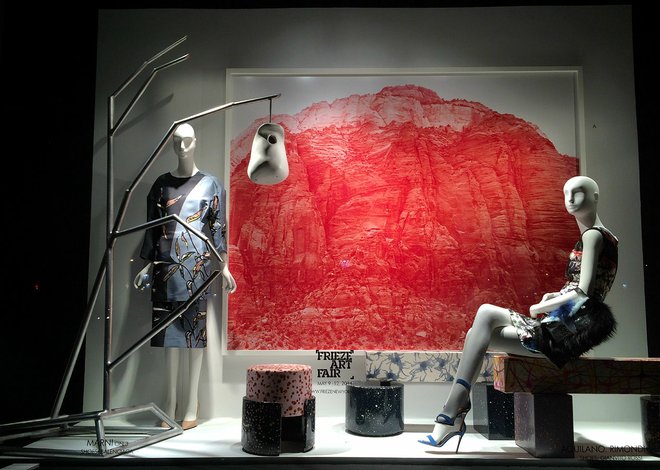 The Frieze Art Fair was established in London in 2003 by the publishers of frieze magazine, and is probably the foremost competitor to the Art Basel brand. The fair takes place every October in London's Regent's Park and features work from almost 200 contemporary galleries around the world. Works are displayed in three sections: the main Galleries section, a Focus section that highlights young galleries, and a Live section for participatory works. One of the most popular elements of Frieze is the series of sculpture projects that are commissioned on the fair grounds each year. A satellite fair, Frieze New York, debuted on Randall's Island in 2011 and was also hugely successful.
Our London Hotel Pick: Melia White House
You Might Also Like: Skip That, Visit This: The World's Most Popular Attractions
FIAC
Paris
is home to some of the best museums in the world (Centre
Pompidou, anyone?), so it's no surprise that the French capital would host an
amazing art fair each year.
Foire Internationale d'Art Contemporain
(FIAC)
began in 1970 and takes place every October in some of Paris' most
opulent venues, like the Grand Palais, the Tuileries, and the Jardin des Plantes. About
180 galleries from 25 countries are featured in the fair each year, and its not
just collectors who make out with awesome buys at the show; half of the sales
are pieces below 100 euros. FIAC's first satellite show is meant to take place
is
Los Angeles
in early 2016.
Our Paris Hotel Pick: The Peninsula Paris
Artissima
Artissima is one of Europe's oldest and most important contemporary art fairs. Taking place in Turin, Italy each year, Artissima attracts huge crowds and tons of media attention. At the 2014 show alone, Artissima garnered crowds of around 50,000 people and about 1,500 reporters. The fair, which makes a point of providing a platform for many newcomers to the contemporary art game, is known to favor galleries from the EU and UK, but it does accept work from all over the world. Artissima takes place every November in the Oval Lingotto Fiere (which was built as an ice rink for the 2006 Olympics) and houses five sections at the venue itself, with other projects taking place at public and private institutions nearby.
Related Link: Hotels with Museum-Worthy Art Galleries
TEFAF Maastricht
TEFAF was founded in 1975 as the The Pictura Fine Art Fair and was renamed The European Fine Art Foundation (TEFAF) in 1996. The fair takes place in Maastricht in the Netherlands and is universally regarded as one of the best art and antiques fairs in the world. TEFAF typically features pieces from over 250 of the most prestigious art and antique dealers, and is known for having a huge variety of works, including everything from Chinese ceramics to stunning jewelry to Francis Bacon paintings. In 2014, the fair housed about 30,000 exhibitions, which were worth a collective $5.5 billion — we know, wow. All works must be vetted by experts before being accepted into the fair, a policy which has helped TEFAF establish itself as a prime spot for museum acquisitions.
All products are independently selected by our writers and editors. If you buy something through our links, Oyster may earn an affiliate commission.