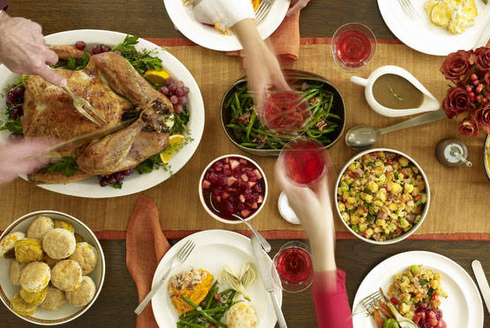 Thanksgiving weekend is often considered a placeholder: sandwiched between Halloween festivities and the end-of-year holiday break, Turkey Day is time off that we love, but that we don't usually leverage to its full potential. So this year, consider making the most of family time and your four-day weekend with a Thanksgiving mini-vacation. Invite one and all, and make it a family affair. You won't even miss out on your turkey dinner, as many hotel restaurants host incredible Thanksgiving feasts.
(Bonus: You won't have to wake at 5 a.m. to get the bird in the oven OR wash the dishes of 20 guests!)
Whether you hit the road or hop a plane, get away with just the kids or invite the whole family, these six Thanksgiving weekend getaways are sure to fill your plates with fun and memories. Take note: The time to book is now.
It's not winter yet, but it 'tis almost the season. And nothing gets us quite in the mood for snow and chill like cozying up by a roaring fire. Come Thanksgiving Day, there's really no better place to light those flames than at this historical, luxurious inn, built in 1805 and located on the beach where the Mayflower first landed. Thankfully, the Red Inn's popular restaurant serves a spread more decadent than the Pilgrims enjoyed, including lobster corn chowder and savory bread pudding.
No one does Thanksgiving quite like New York: It's the city of the Macy's Thanksgiving Day Parade, incredible prix-fixe Thanksgiving meals and, if we're lucky, snow flurries to set the scene. The Mandarin Oriental, which not only has a view of the parade but also a restaurant, Asiate, serving up a decadent Thanksgiving meal — three courses with offerings like seared scallops, Maine lobster salad, and turkey with foie gras stuffing — is a top spot to call your home-away-from-home this Turkey Day.
If you prefer your turkey with a side of heat, Arizona's Phoenician is an excellent choice. Not only does this family-friendly resort have nine pools, 10 restaurants, and a golf course, but it also hosts a 5K Turkey Trot and Black Friday shopping shuttles. Plus, the Thanksgiving brunch and dinner are both mouthwatering — brioche French toast, fennel-sausage cornbread stuffing, and juicy turkey, anyone? — and the festivities wind down with s'mores, stargazing, and the annual gingerbread house unveiling.
It's not New York — and that can be a good thing! A deal compared to the Big Apple, Chicago is chic and polished, not to mention magical around the holidays. Hole up at the city's most luxe hotel, and you'll have a front-row seat to Chicago's Thanksgiving Parade, Black Friday shopping, and, best of all, the Ritz-Carlton's famed three-course Thanksgiving feast, with its fresh seafood station, roasted turkey, and cranberry-pomegranate chutney.
Thanksgiving is a popular (read: busy) time of year at Disney World, but if you can stand the crowds it's also a great time of year to visit — full of family, fun, and holiday cheer. The weather is pleasantly warm; your kids will love a themed holiday getaway; and the day after Thanksgiving, Disney hits the ground running with Christmas festivities. Even better, many Disney resorts and restaurants serve up special holiday menus, including roasted turkey (with all the trimmings) and internationally-inspired meals featuring pan-seared salmon, heirloom beets with candied walnuts, mulled apple cider, and other tasty tidbits.
More Stories to Get You in the Holiday Spirit:
All products are independently selected by our writers and editors. If you buy something through our links, Oyster may earn an affiliate commission.