It's that time of the year again! Time for ghosts and ghouls, witches and zombies, bobbing for apples and seasonal coffee beverages -- in seasonal cups! Thanks, Starbucks. That's right, we're already just around the corner from Halloween. Every town or city has it's own way of celebrating the spooky night, from family-friendly parades to adults-only, booze-filled parties. Whichever mode of celebration you prefer, if you ever get the chance to visit one of these six cities for the ghostly holiday, don't pass it up. You're sure to have a haunting experience...
1. Sleepy Hollow, New York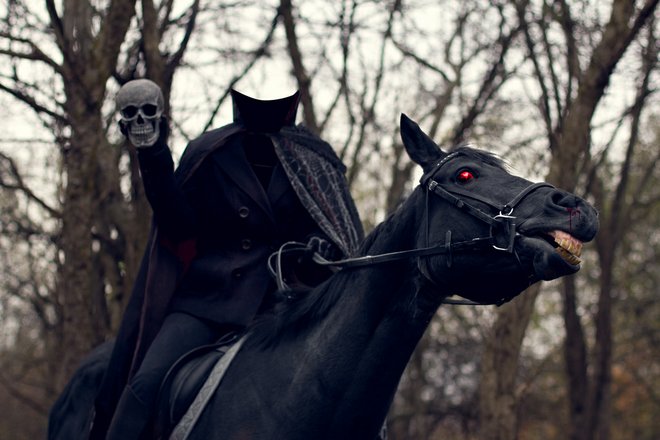 Now, we've all heard of Sleepy Hollow, New York thanks to Washington Irving's "The Legend of Sleepy Hollow." But what you may not know is that the towns of Tarrytown and Sleepy Hollow continue to bustle with ghosts and ghouls every Halloween season, keeping "The Legend" alive and providing creepy entertainment for all age groups. So how does Sleepy Hollow take its creep factor to the next level? For starters, you can plan an evening visit to the Sleepy Hollow Cemetery, the place where Washington Irving was laid to rest. Or stop by Lyndhurst Castle, the 19th-century estate of railroad baron Jay Gould, for Jay Ghoul's House of Curiosities, where a poltergeist can lead you on a family-friendly tour of the gothic revival estate. Now, if all this is just too much for you, there are also haunted hayrides, parades, and street fairs in Sleepy Hollow all October long, so check them out. You might even catch a glimpse of the Headless Horseman…
You know what's coming…the Salem Witch Trials. I don't think I'll ever be able to "un-see" the things I read about Salem in middle school history class, and the small town in Massachusetts continues to capitalize on its creepy legacy to this day. Salem holds ghoulish events all October long, and the town receives about 500,000 visitors for the festivities. The major event is the Salem Witches' Halloween Ball, which is held at Hawthorne Hotel. Hundreds of people attend the Ball, dressed to the nines in creepy-garb, to summon the spirits of Halloween. You can expect a night of witches, magic, music, rituals, voodoo, and fun. Leading up the the Ball, the town of Salem holds traditional carnivals, parades, and community events starting on October 1 to get everyone in the All Hallows Eve spirit. Based on the town's history, there's no better place to get in touch with your dark side than Salem.
Our Hotel Pick: The Salem Waterfront Hotel & Suites
Any Walking Dead fans out there? Good. Because this Halloween you can live your gory Halloween fantasy by participating in the Denver Zombie Crawl. With about 16,000 zombies, donning horror-movie status makeup, walking down the 16th Street Mall in Denver on Halloween, you could actually start to question if you're in real life or your favorite zombie movie. If you're attending the Crawl for the first time, you can show up early (before 4 p.m.) to have the Zombie Crawl staff help you with your look. When everyone's ready, all the participants move slowly in unison down the street, staying on the sidewalk and obeying traffic signals. After the walk, zombies can participate in a blood-filled 5K, a costume contest, or just chill and listen to some live music. Enjoy — just watch out for all the blood splatter in the streets!
Our Hotel Pick: The Oxford Hotel
New Orleans, AKA the Big Easy, AKA the most haunted city in America, lives up to it's rowdy, black-magic-laden reputation every Halloween, making it the city's most celebrated occasion after Mardi Gras. New Orleans' haunted tours are led all year round in the city's French Quarter, but as you can imagine, they can get a bit too realistic (read: awesome) for some people's taste around Halloween time. Make sure to also check out one of the city's famous cemeteries, where bodies are buried in tombs aboveground, at night. Surely the dramatic environment created by the tombs will be enough to make any non-believer superstitious. If you want a true NOLA Halloween experience, though, be sure to head to the Faubourg Marigny neighborhood, where all the clubs and bars participate in a ghost-tastic celebration. Get dressed up, grab your open container (it's legal!), and head down to New Orleans for the Halloween of your nightmares.
Our Hotel Pick: Audubon Cottages, where some cottages are said to be haunted — one of them by a country-music-playing soldier.
If you're a scary or classic movie fan, then you've definitely spent a night haunted by Jack Nicholson after watching The Shining. The 1980 British-American psychological horror film, in which Nicholson's character descends into madness and tries to murder his wife and son, was produced and directed by Stanley Kubrick. The film is now acclaimed as one of the best horror films in history, as well as one of the best films of all time. So how does this relate to Halloween? Well you can stay at the Stanley Hotel in Estes Park, the hotel that inspired the story — and where the television adaptation of the movie was filmed, on Halloween. It is said to be haunted by at least three people. If having a drink in the billiards room isn't enough to send you running back to your room screaming, we don't know what is.
Our Hotel Pick: Stanley Hotel
The All Souls Procession started in Tucson, Arizona in 1990. Today, there are over 100,000 participants who join together every Halloween to create a two-mile-long, human-powered procession, that ends with the burning of a large urn filled with the communal hopes, offerings, and wishes for those passed. The event, which was inspired by the Dia De Los Muertos traditions in Mexico, began as a ceremonial performance art event and has now blossomed into an annual ceremony that brings a community together in the spirit of celebrating lives lost. The event boasts a large number of altars, performers, and artists of all kinds who collaborate for up to six months before the ceremony to make it the spectacle that it is each year. If you're looking to do something unique this Halloween, ditch your Scooby-Doo costume for some sugar-skull face paint and plan to get in touch with your spiritual side.
Our Hotel Pick: Westward Look Resort
Related Links:
All products are independently selected by our writers and editors. If you buy something through our links, Oyster may earn an affiliate commission.