Resorts in Mexico are renowned for their big, bombastic pools with swim-up bars, infinity edges, and good-time vibes where guests can splash around and mingle with each other. If that's your scene, there's plenty to love. But for those of us seeking to take our own little private dip away from the masses, these eight resorts will represent the ultimate peaceful refuge. Bonus: No need to fight over a poolside lounger when each room gets its own spot to soak and sunbathe.
Serenity is the name of the game at the Excellence Playa Mujeres. That's evident in its location, set away from the glut of people in the Hotel Zone. And it can be spotted in the spa with hydrotherapy pools with its bubble-massage bench. But the best example of this blissful atmosphere is the private plunge pools in rooms with rooftop terraces. There, adobe-style walls and wooden beams shelter brilliant blue plunge pools with little waterfall features. Views look over the pool or the ocean, and circular sunbeds give a spot to dry off in the Cancun sunshine.
The crisp, white-on-white decor in the Beloved Playa Mujeres only makes it feel more heavenly. Situated a 30-minute drive outside Cancun, it's close to the beachside bustle, but the stretch of sand right outside feels wonderfully apart from all the crowds and club music. Still, those in Casita Suite, Two-Story Casita Suite, the Terrace Suite, and the Penthouse Suite may never make it out to shore because they'll struggle to pull themselves away from their own private pools — enchanting, cobalt-blue rectangles with their own decks. Some even include ocean views, for the best of both worlds.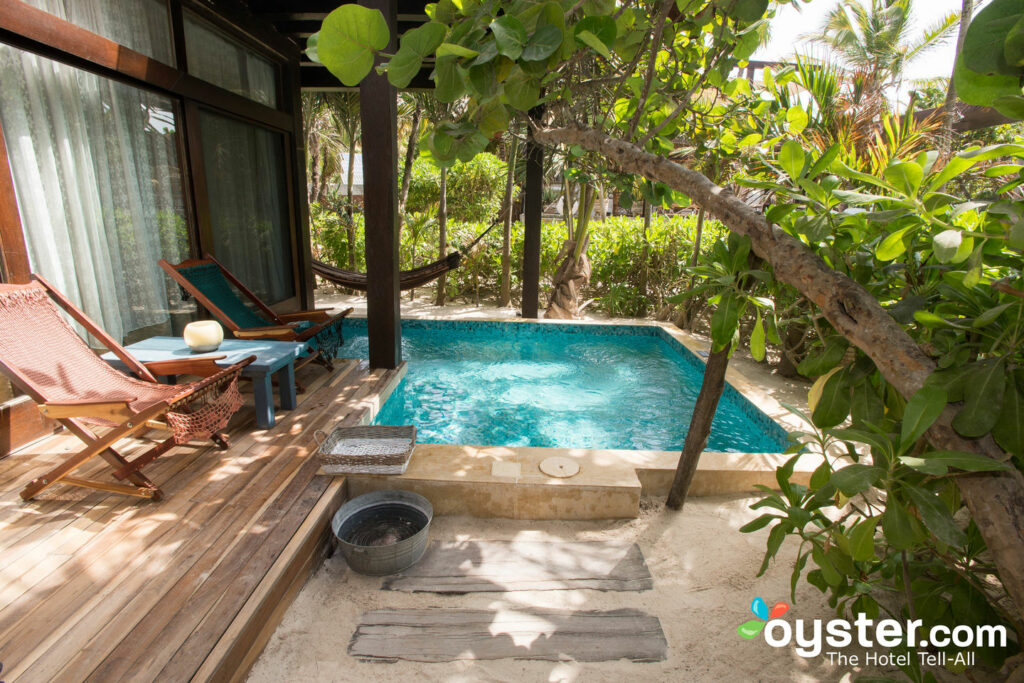 Unlike other swanky resorts in the area, which tend to present a polished veneer, the Be Tulum heads in a earthy BoHo direction, showcasing natural materials and an off-center counterpoint to perfectionism. Wood-plank floors, crocheted lamps, and mason jars stuffed with flowers typify the look. And this attitude can also be spotted with its private pools, which are surrounded by rambling vegetation and paired with a swinging hammock. You can't go wrong with any of the rooms at Be Tulum Hotel, as they all have private pools or whirlpools.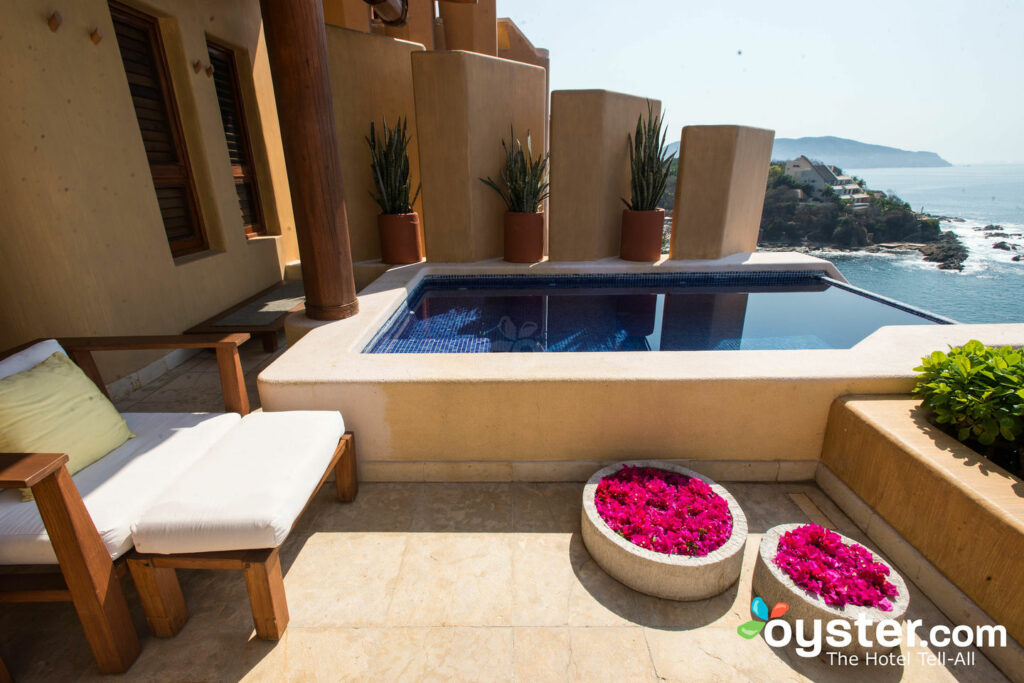 Capella Ixtapa knows it's the little things that truly convey a sense of sheer luxury, whether that's a personal assistant, free poolside treats, or the fresh towels and bottled water offered to arriving guests. So while it has the larger pools you'd expect of a luxury resort, hugging the coastline to majestic effect, it's the smaller private pools in every single room that truly communicate a high-end escape. The rooms' balconies, done up in adobe style with clay colors and desert flora, all cradle deep aquamarine pools. The vast sea views from each pool add to the illusion that every single one is a miniature bay.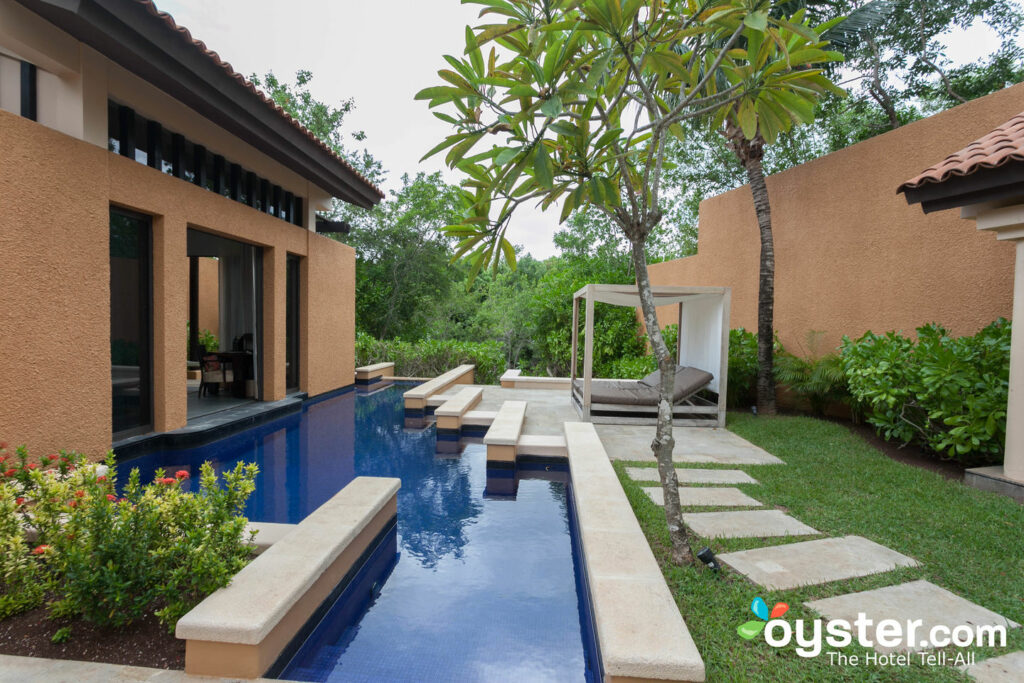 The Banyan Tree chain specializes in over-the-top luxury, and this Playa del Carmen outpost is no exception. The look throughout is less colorful south-of-the-border and more Zen east-of-India, which reflects the brand's Thai origins. Rooms are serene and uncluttered as they open onto broad terraces, each with their own azure pool. And these are no tubs-size dipping pools, but rather long bodies of water broken into rectangular shapes, big enough to actually swim. While most pools lack a beach view, they're usually surrounded by lush vegetation, enhancing their elegance.
Picture your dream room and its private pool. Do you see a rich wood deck jutting out over a lagoon with a little dipping pool right at its ledge? Or do you see a deck opening onto a sandy beach with waves rolling up to meet it? Well in either case Rosewood Mayakoba has you covered. This luxury resort set on a mile-long beach has private plunge pools in every one of its suites. But it's the change in vibe from its Beachfront Suites to its Overwater Lagoon Suites that really captures the imagination. Our suggested compromise: Split your vacation days between both!
Sandwiched between a stunning stretch of powdery white beach and a thrumming rainforest, the Viceroy Riviera Maya is a sampler platter of natural sights and sounds. And rooms here are a tribute to all that natural beauty, with thatch roofs, white stone floors, and rich wood accents everywhere. Alfresco "moon showers" in the bathroom courtyard kicks things up another notch, but this rustic luxury really hits its peak with their beautiful terraces, each outfitted with a kidney bean-shaped plunge pools perfect for basking in the sunshine. Another nice touch: pools are heated, which is especially indulgent for those pondering a midnight dip.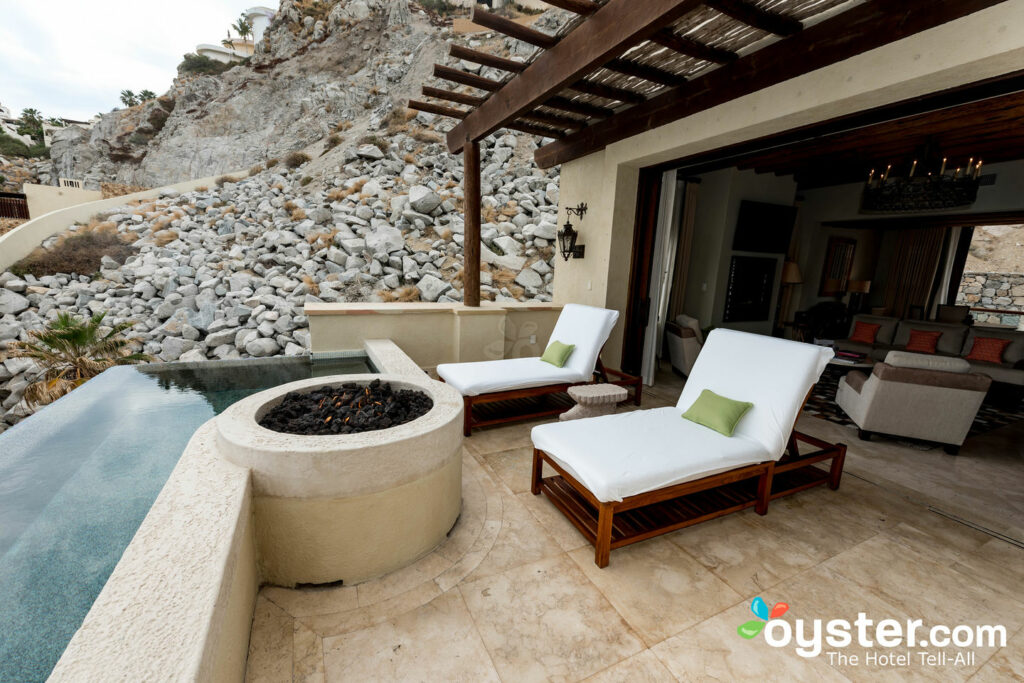 The Resort at Pedregal looks as if it's carved out of the same rugged Los Cabos hillside it's set on. And throughout its grounds, the property merges its manmade structures with the nature that surrounds it, whether that's the tumble of rocks and water forming a fountain feature, the infinity pool reaching out over the seaside skyline, or the sleek dipping pools in each Casita, fronted by a little fire pit and a grassy stretch—combining all the elements of earth, water, and fire. But even standard rooms come with hot tubs with glass barriers that seem to drop off the edge of the balcony and into the majestic vista below.
Summersalt isn't only one of the coziest swimwear brands on the market, but also one of the most fashionable for any hot destination. With sizes ranging from 2-24, Summersalt caters to all types of women.
Now Watch: 7 Things You Need to Know Before Going to Mexico
You'll Also Like: