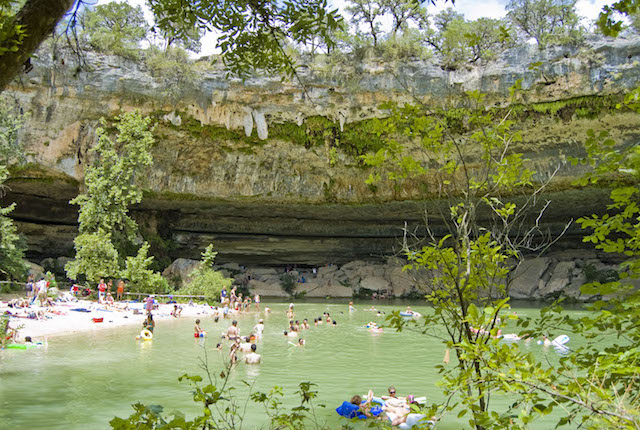 There are two ways we Texans cool down during the hot summer months when temperatures often hit 100 degrees: Blasting air-conditioning and jumping into water. Backyard pools, lakes, and Gulf Coast beaches are all popular places to take a dip, but there's something particularly refreshing about swimming holes. These natural sources of water can be found throughout the state, but we've rounded up the eight that are worth braving scalding seat belts and crowds. Take a look and start planning your summer escape.
1. Hamilton Pool Preserve, Dripping Springs
https://www.instagram.com/p/BULMsabga-g
Located a 45-minute drive west of Austin, Hamilton Pool Preserve is a popular swimming spot for its pretty setting — it's surrounded by limestone and has a waterfall. Considered a collapsed grotto, the pool formed from when the dome of an underground river buckled due to thousands of years of erosion. While the deepest part measures 25 feet, there are more shallow spots and a sandy beach area. To reach this protected spot, visitors have to walk a short (quarter mile) but rugged trail. Note that swimming is not always allowed if bacteria levels are too high, and reservations must be made in advance between May 1 and September 30 to help ensure there aren't too many visitors at once. Additionally, be aware that dogs are never allowed.
A Kid-Friendly Hotel Pick in Austin
2. Jacob's Well, Wimberley
https://www.instagram.com/p/BT0EntRFFSQ
Jacob's Well is one of the most popular places in the small town of Wimberley — roughly an hour from both San Antonio and Austin. It's the largest continually flowing karstic spring in the Texas Hill Country, and part of the longest underwater cave systems in the Lone Star State. The well's opening measures about 12 feet wide and 30 feet deep, connecting to other segments that reach up to 140 feet deep. Year-round, the water is about 68 degrees, though swimming is only allowed from May through September. However, hiking trails and the surrounding preserve are open all the time for activities like family picnics and bird watching. Reservations must be made to swim, but it's free to enter.
A Luxury Hotel Pick in San Antonio
3. Barton Springs Pool, Austin
https://www.instagram.com/p/BUIBV-9jWLP
Thanks to its central Austin location within the well-liked Zilker Park that spans 358 acres, Barton Springs Pool is one of the most frequented spots for taking a dip during those famously hot Texas summers. Fed by natural springs and maintaining a cool 68 degrees year-round, Barton Springs has lifeguards most of the time and ample surrounding grass to lay out a towel. Robert Redford even learned to swim here when he was five. While pets aren't allowed, topless sunbathing is, though it's not widespread. A small entrance fee is required, and the pool is occasionally closed for cleaning or when bacteria levels get too high.
A Boutique Hotel Pick in Austin
4. Frio River, Garner State Park
https://www.instagram.com/p/BSZzI94DVDX
As its name implies, the river that runs through Garner State Park in the tiny unincorporated area of Concan (about an hour and a half from San Antonio) is cold. But with average summer temperatures in the 90s, splashing in the water or renting an inner tube and floating are a welcome respite. This is the most popular state park in Texas for overnight campers, so expect large crowds, particularly during holiday weekends. On summer nights, after you get your fill of water-based fun, head to the Pavilion for jukebox-led country tunes alongside two-stepping and line dancing — a tradition that dates back to the '40s.
A Historic Hotel Pick in San Antonio
5. Balmorhea State Park, Toyahvale
https://www.instagram.com/p/BJ52o0lgGAs
Travelers in arid West Texas — perhaps making a drive from the "Friday Night Lights"-inspired town of Odessa to the trending destination of Marfa — can get their water fill at Balmorhea State Park in Toyahvale. Advertising itself as the world's largest spring-fed swimming pool, the 1930s-built water hole has water from the San Solomon Springs with a temperature between 72 and 76 degrees year-round. With a depth of up to 25 feet and holding 3.5 million gallons of water, the pool offers visitors not only the chance to swim and dive off the boards, but also to snorkel and scuba dive — a real treat, since there are fish and turtles all around. Surrounded by a desert landscape and mountains, it's earned its reputation as an oasis.
6. Hot Springs, Big Bend National Park
https://www.instagram.com/p/BKYZNIlg9Fx
The large expanse of Big Bend National Park occupies the area north of the Rio Grande separating Texas and Mexico, and offers hiking trails, kayaking opportunities, and excellent stargazing. After a strenuous day, heading to the Hot Springs to soak in 105-degree water is just what the doctor ordered. It acted as a bathhouse in the early 1900s, but now it's open to all park visitors who walk the half mile from the trailhead. And since it sits next to the river, bathers can just hop over when they need to cool down.
7. Blue Hole Regional Park, Wimberley
https://www.instagram.com/p/BSSIbeUhKuX
Another Wimberley swimming spot, Blue Hole sits within a 126-acre park with hiking trails, recreational facilities, and an amphitheater. Despite devastating floods in the city in 2015, the Blue Hole remained largely unscathed — due to it being served by Cyprus Creek and not the Blanco River that it feeds into. The shady swimming spot is lined by lovely cypress trees, and rope swings add some fun for all ages. Note that swimming is only permissible during specific months from around 10 a.m. to 6 p.m.
A Party Hotel Pick in Austin (an hour away)
8. Comal River, New Braunfels
https://www.instagram.com/p/BT0W3q-AaMt
Water seekers who love tubing (and don't mind crowds) should head to City Tube Chute in New Braunfels, a 45-minute drive from San Antonio near the family-friendly Schlitterbahn water park. The tube chute is a waterslide carved into the side of a dam along the 72-degree, spring-fed Comal River; it's both fun and functional, acting as a way for tubers to avoid the dam. Lifeguards are on duty during the summer season.
A Kid-Friendly Hotel Pick in San Antonio
You'll Also Like:
All products are independently selected by our writers and editors. If you buy something through our links, Oyster may earn an affiliate commission.