One of the most common questions we hear at Oyster.com is: "Is the Caribbean safe?" The answer is yes — but it depends where you're going. By and large, travelers are unlikely to experience any major incidents on their Caribbean vacation no matter where they go. However, murder and violent crime rates are higher on some islands than others. That's especially true if you're staying in urban areas on the larger islands (though even cities on smaller islands have their share of crime). LGBTQ travelers should also exercise caution, as local laws in certain nations outlaw homosexuality and create unwelcoming (and potentially dangerous) situations.
So what islands in the Caribbean are the safest? The list below includes those islands that are consistently rated among the most secure for tourists. They also happen to be some of the prettiest in the region, and you'll find that there's something for everyone on this list — from nature lovers to luxury travelers. Of course, it's always a good idea to look for updated government-issued advisories before booking a vacation -- and follow standard safety precautions when in unfamiliar surroundings, especially at night. Read on for the safest destinations in the Caribbean right now.
Before you leave for your Caribbean vacation, don't forget to double check our Caribbean packing list.
Additional reporting by Kyle Valenta.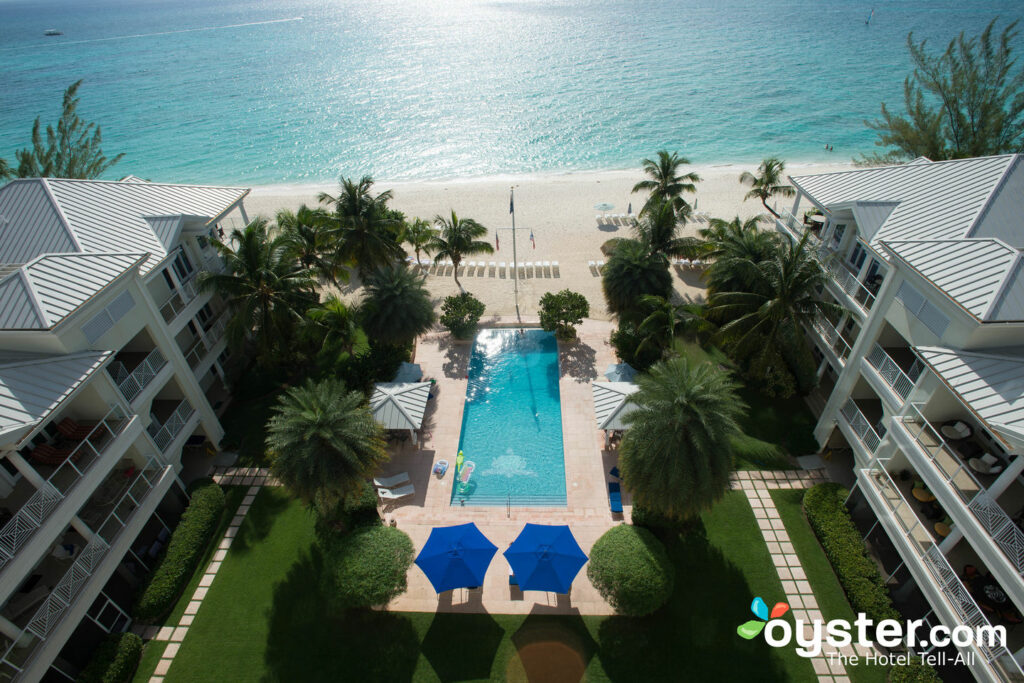 With its relative wealth, stable economy, and strong gun laws, the Cayman Islands are one of the safest destinations in the entire Caribbean. It consists of three islands to the west of Jamaica, and is home to some of the Caribbean's most beautiful beaches. You'll also find some of the world's best scuba diving here, with notable spots like Bloody Bay Marine Park, Stingray City, and Keith Tibbetts shipwreck. Other attractions include a lovely nature preserve, turtle farm, and forested hiking trail to the island's undeveloped center. The Cayman Islands also has one of the world's lowest murder rates, far below that of the United States. In recent years, the island has also seen a drop in robberies and petty theft, according to the Royal Cayman Islands Police Service.
Perhaps a bigger concern in the Cayman Islands is the history of hurricanes during the summer. Luckily, it's been spared the worst in recent years. Meanwhile, The US Department of State says: "The Cayman Islands are a relatively safe place with little criminal activity affecting tourists. Robberies occasionally occur and we recommend you always keep your doors and windows locked." In the end, though, you'd probably do exactly this in your hometown anyway, which is something to keep in mind before you worry too much about traveling abroad.
Cayman Islands Hotel Pick: Caribbean Club Luxury Boutique Hotel
The Caribbean Club sits on Grand Cayman's famous Seven Mile Beach and features 37 spacious villas. All are exquisitely decorated and all have full kitchens plus large furnished balconies with ocean views. It also has one of the nicest stretches of beach along the Seven Mile shore, with white sand and calm waves, plus the hotel offers free cabanas. Luca, the restaurant, is one of the best on the island.
To say that St. Barts was heavily impacted by the hurricanes of 2017 would be an understatement. But as of 2019, the island has rocketed back to the top of the Caribbean's must-visit destinations, with a recovery that's outpaced other Caribbean jet-set destinations like St. Martin/St. Maarten. When Oyster.com editor Alisha Prakash visited in June 2018, recovery was roaring along, and according to the New York Times, early 2019 saw nearly all hotels open and operating (check out St. Bart's our itinerary here).
It's perhaps no surprise that St. Barts (short for Saint-Barthélemy and also known as St. Barth) is quite safe considering it is one of the Caribbean's most exclusive islands. It pulls in the rich and famous in droves, many of whom show up in the capital's harbor on yachts. For everyone else, there are only two ways to arrive on this small, volcanic island in the northwest Caribbean Sea — either via a small prop plane from St. Martin or by ferry. Once you're here, the island offers 22 white sand beaches, charming gingerbread-style cottages, designer shops, colorful beach bars, and luxury spas.
There are no advisories of any note issued by any governments for St. Barts, though you will find cautions against petty theft, which are an issue in any destination frequented by tourists. Keep your belongings close to you at all times, and utilize your hotel's safe for valuable items.
Hotel Pick in St. Barts: Christopher St. Barth
Easily one of the most exclusive getaways on the island, the 42-room Christopher St. Barth balances an urban chic ethos with contemporary French design and tropical island vibes. The lush grounds house a Sisley Spa, a pricey ocean-front restaurant, and an elegant infinity pool overlooking the ocean. There's no beach, but that doesn't stop this from being the most popular hotel in St. Barts.
Part of the Netherlands Antilles, or the ABC Islands (as they're also known), Bonaire is one of the safest Caribbean destinations year after year. In fact, murder is almost unheard of here, and U.S. Department of State advisories are few and far between for the island. Perusing a list of recent crimes from 2018 and 2019, you'll find that attempted thefts and petty crimes are the only noted incidents, with violent crimes almost nonexistent. That and a lost dinghy. Like anywhere in the world, Bonaire isn't perfect — in 2017 two murders occurred in the span of 24 hours, according to Reporter BES. Notably, they were the first such after a span of years.
Aside from incredibly low crime rates, what is Bonaire known for? You'll find perfect beaches, clear water, sunny skies, and amazing snorkeling off of its shores. It also happens to be less developed than its neighbor, Aruba, and has a more laid-back island-style pace of life without the influx of major resorts. Cruises do dock here, so it can get crowded in Kralendijk when they are in town. However, there are numerous small beaches all over the island where you can escape on your own almost-private stretch of sand. And if you want to really feel like you're getting away from it all, head to Klein Bonaire, an uninhabited island off the coast of Bonaire with stunning beaches and no development.
Bonaire Hotel Pick: Harbour Village Beach Club
As one of the more polished resorts on Bonaire, Harbour Village Beach Club has a lot to like. The 43 rooms, suites, and beach houses — many with ocean views — are spacious and decorated with details like hardwood furniture and clawfoot bathtubs. La Balandra, the resort's nautically-themed restaurant serves up decent fare and is especially nice at night, with the sea illuminated. The resort also has a dive shop, fitness center, and full-service spa.
Anguilla was dealt a pretty heavy blow during 2017's historic hurricane season — the same hurricane season that saw Puerto Rico devastated by Hurricane Maria. Many of the hotels on the island had to completely renovate to deal with significant damage. However, as of 2019, the island is almost entirely up and running, with nearly all of its luxury hotels reopened. And it still retains its easy-breezy pace of life — one that's especially great, as the island is consistently one of the safest in the Caribbean. reports that Anguilla's crime rate is relatively low, and as of 2019 there were no travel advisories for the island nation. As you've probably realized, hurricanes are a threat here, so consider the time of year that you're planning on visiting for weather-related concerns.
Yes, this British Overseas Territory depends on luxury tourism — the rich and famous, like Jennifer Aniston and Jimmy Buffet, frequently travel to Anguilla — but it hasn't lost its charm or relaxed authenticity, and appeals to a wide swath of travelers. There are miles of white-sand beaches (like Rendezvous Bay, overlooking neighboring Saint Martin island), as well as secluded coves reached by boat, such as at Little Bay. After a day in the sun, hit up great restaurants, as well as a low-key nightlife with live music that spans from reggae to string bands.
Hotel Pick in Anguilla: Four Seasons Resort and Residence Anguilla
The Four Seasons Resort and Residences Anguilla is arguably the most luxurious resort on Anguilla. All 166 rooms have romantic balconies as well as marble bathrooms with separate showers and soaking tubs. Though the Four Seasons Resort and Residences Anguilla certainly attracts couples, the resort features a kids' club and teen's club, and families can be seen splashing around in the pools and heading to the tennis courts.
The British Virgin Islands, or BVI, is the name given to an archipelago of more than 60 islands, some of which are protected national parks. It's best known for its white-sand beaches, turquoise waters, and rainforests. This is a big boating destination, where sailboats can make stops between the hubs of Tortola, a popular cruise port, and Virgin Gorda, where smaller boats can put down anchor and head for shops and restaurants in the village of Spanish Town. While the islands do sit within the hurricane zone — and were ravaged during the 2017 season — the recovery has been relatively swift and most of the tourist infrastructure is back in place.
Wikitravel reports that the the British Virgin Islands have a much lower incidence of crime than many other Caribbean countries, and wandering about alone, even at night, is not considered particularly risky. Another reason crime is low: Penalties for possession and supply of narcotics can be severe. The British Government says: "Although most visits to the BVI are trouble-free, serious incidents, including armed robbery, do occur. You should take sensible precautions against petty crime." Frommer's states: "The British Virgin Islands are very safe. Crime is practically nonexistent on these islands. Minor robberies do occur on Tortola, with less trouble reported on Virgin Gorda." So if you're seeking the safest locale, we'd recommend spending the majority of your time on the latter. Unfortunately, the more densely populated cities and islands of the U.S. Virgin Islands are a bit more dangerous, so if safety is your top concern, make sure your passport is up to date and head to the British islands instead.
Hotel Pick in the British Virgin Islands: Rosewood Little Dix Bay
The Rosewood Little Dix Bay is a luxury property located just north of Spanish Town. The jungle-meets-ocean setting makes it one of the most romantic spots on this sparsely populated island, and the thick tropical grounds allow for utmost tranquility and relaxation. The hotel is directly on a beautiful sandy beach, and most units are just a couple dozen yards from the water. Expect chic contemporary interiors throughout the property.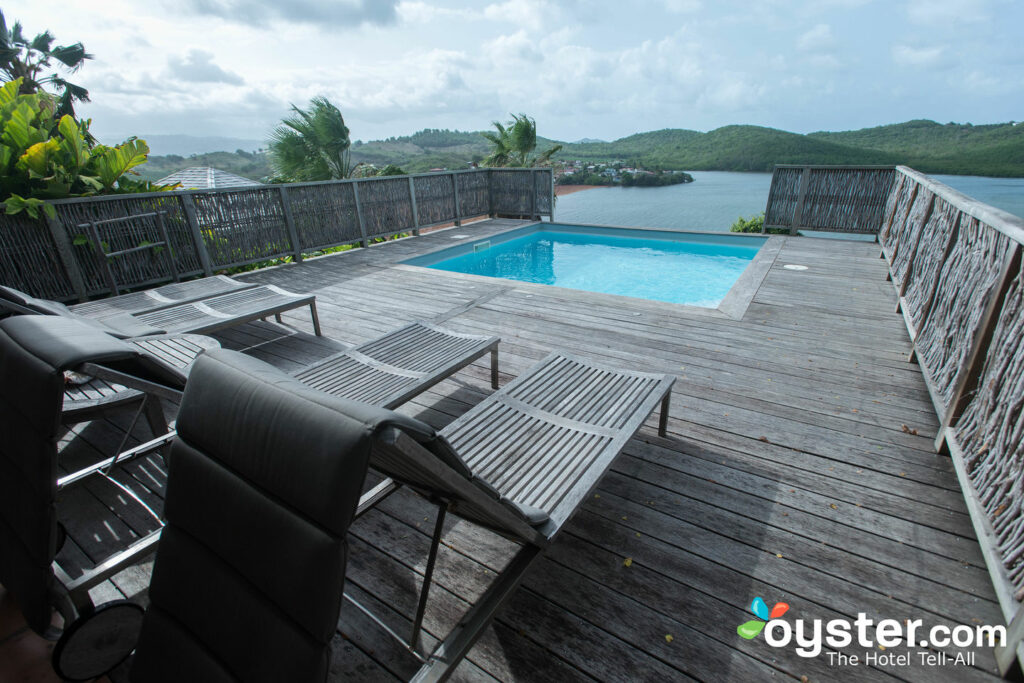 The French territory of Martinique is somewhat of a secret gem, especially considering that it's one of the Caribbean's most cosmopolitan destinations for those who prioritize gourmet beach cuisine, live music, and natural beauty. Here, you'll find white-sand beaches and tropical rain forests — not to mention a live volcano that looks over the harbor town of St-Pierre. Visitors can choose between big luxury resorts, stylish small hotels, or private luxury villas. Caribbean magazine editor Ed Wetschler told Yahoo Traveler: "[Martinique] is for sophisticated travelers who want not just beach. They want history and culture, geography, and cuisine…It helps if you can speak French."
As for safety, Frommer's states: "Crime is hardly rampant on Martinique, yet there are still those who prey on unsuspecting tourists. Follow the usual precautions, especially in Fort-de-France and in the tourist-hotel belt of Pointe du Bout. It's wise to protect your valuables and never leave them unguarded on the beach." The U.S. State Department lists no active threats on the island, or anywhere in the French West Indies, though hurricanes can be a seasonal risk.
Hotel Pick in Martinique: Hotel Plein Soleil
Hotel Plein Soleil is a 16-room boutique hotel set amid beautiful gardens and with views of the Bay of Thalémont. Attentive staff caters to guests, though the vibe here is more suited for travelers who prefer to explore and be left to their own devices (rather than resort-goers who need every whim catered to). The five colorful Caribbean-Creole style villas often feature their own pools and terraces with kitchenettes. The main house holds a cool, carefully curated collection of the owner's artwork. It's not on the beach, but that's never far away in Martinique.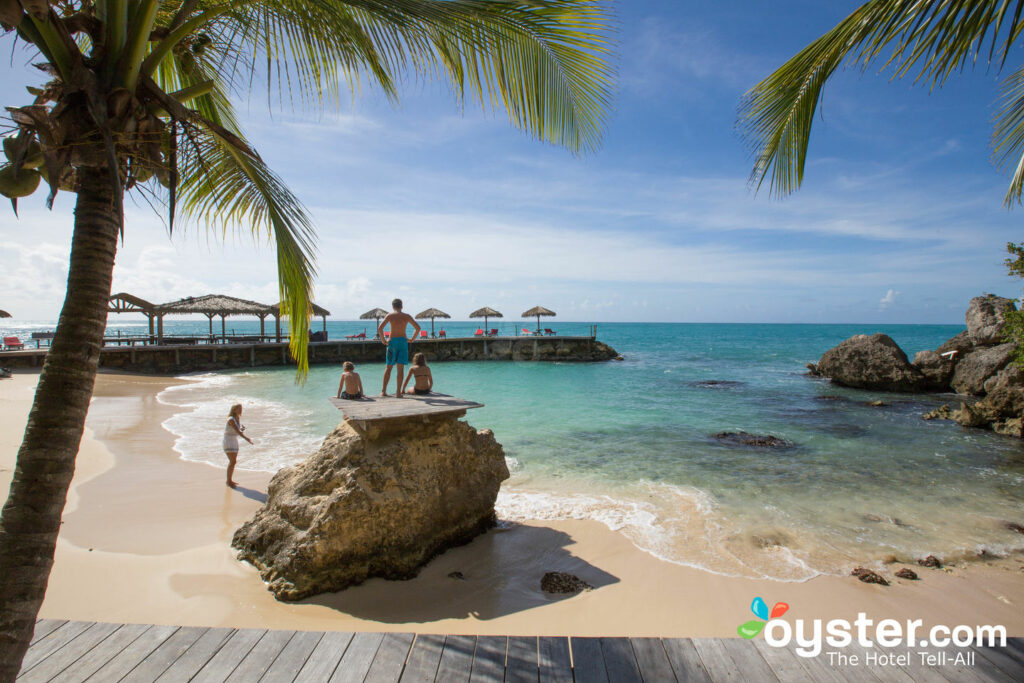 Guadeloupe is a group of five islands in the Lesser Antilles for outdoorsy types who seek authentic culture and natural beauty. The two largest islands, separated by a river and accessed by bridges, resemble a butterfly: On the eastern side is Grande-Terre, where several uncrowded beach towns offer visitors long stretches of sand for relaxing and waters sports. On the west is the more mountainous Basse-Terre, which is home to Guadeloupe National Park, where visitors can hit the two-hour trail to see a spectacular active volcano. Another day-trip: Ferry over to Les Saintes, recognized as one of the most beautiful bays in the world by UNESCO.
Guadeloupe rarely sees criminal activity, and is rarely the subject of U.S. State Department travel advisories. But Lonely Planet says that occasional islandwide strikes can disrupt travel; the site also warns visitors to avoid the shady side of Pointe-à-Pitre. The British Government also suggests that visitors avoid isolated areas, including beaches, after dark. The only mention of crime cited by the U.S. Department of State is "pretty street crime, including purse snatching" — which is common in every major tourist destination, from New York City to Paris.
Keep in mind that mosquito-borne illnesses do persist here, including dengue fever and zika. Come armed with effective bug spray and follow common sense mosquito protection regimens and you should be fine.
Hotel Pick in Guadeloupe: La Toubana Hotel & Spa
This 44-room, 121-acre hotel is the top upscale option on Guadeloupe. From its mountainside perch, the resort descends gradually to the ocean where a small beach cove is a favorite for families and couples. If the sea isn't your favorite place to get wet, an infinity pool has stunning view of waves crashing against the cliffside below. It's a Caribbean setting lifted straight out of a dream, and the rustic-luxe bungalows have enormous terraces — many with terrific ocean views.
If you're looking for a vacation that's free of the devastating potential of hurricanes, is incredibly user friendly, and safe, look no further than Aruba. This tiny island is one of our favorites in the region, and is blessed with everything from stunning natural scenery and beautiful beaches to casinos, all-inclusive resorts, and secluded boutique hotels. It also has broad appeal, drawing solo traveler, couples, families, and retirees.
Aruba is almost never subject to U.S. State Department travel advisories, and currently has none (meaning a trip here is technically safer than visiting France as of 2019). Part of the reason for this is due to economics. Unlike many other Caribbean islands here, the middle class is strong and the quality of life is relatively high for most of the island's residents. Good wages mean that less people are driven into poverty and, thus, petty crime and opportunistic crimes of desperation are kept to an absolute minimum. Of course, exercise the normal precautions you would when traveling anywhere, though you'll likely have no problems here.
Aruba's drier climate and southern location in the Caribbean also means that it's rarely hit with hurricanes. In fact, at the time of writing, the last glancing blow was by weak Hurricane Felix back in 2007. Despite being incredibly safe and easy to visit, check out our list of things you should know before traveling to Aruba, as some may be surprising.
Hotel Pick in Aruba: Bucuti & Tara Beach Resort Aruba
Bucuti & Tara Beach Resort is an adults-only hotel at the southern end of Eagle Beach. Guest rooms are attractive and feature higher-end amenities. Of course, the beachfront setting it the highlight here, and there's plenty around to see and do for travelers looking to explore.
You'll Also Like:
All products are independently selected by our writers and editors. If you buy something through our links, Oyster may earn an affiliate commission.