Sunbathing au naturel in your backyard (barring you don't have any creepy neighbors) is one way to avoid tan lines, but traveling to gorgeous sandy spots around the world where au naturel is, well, natural, is a better option in our opinion. From Greece to Miami, these nine beaches either permit nudity or don't enforce their bans, so you can enjoy the sand and surf in the buff. Go ahead and forget your swim trunks, but be sure to pack some extra sunscreen!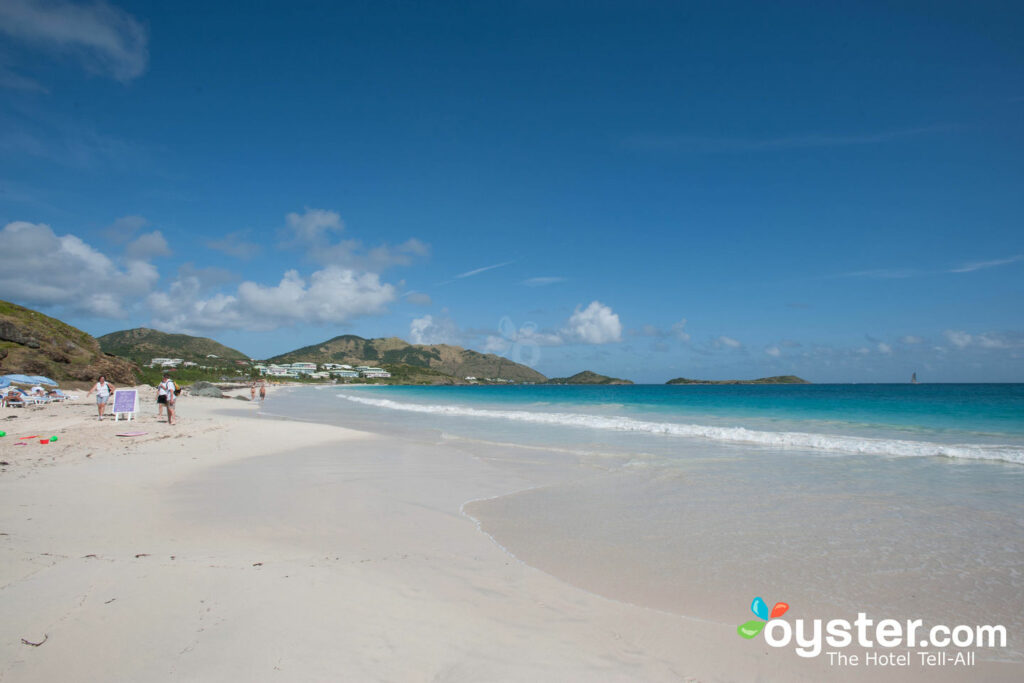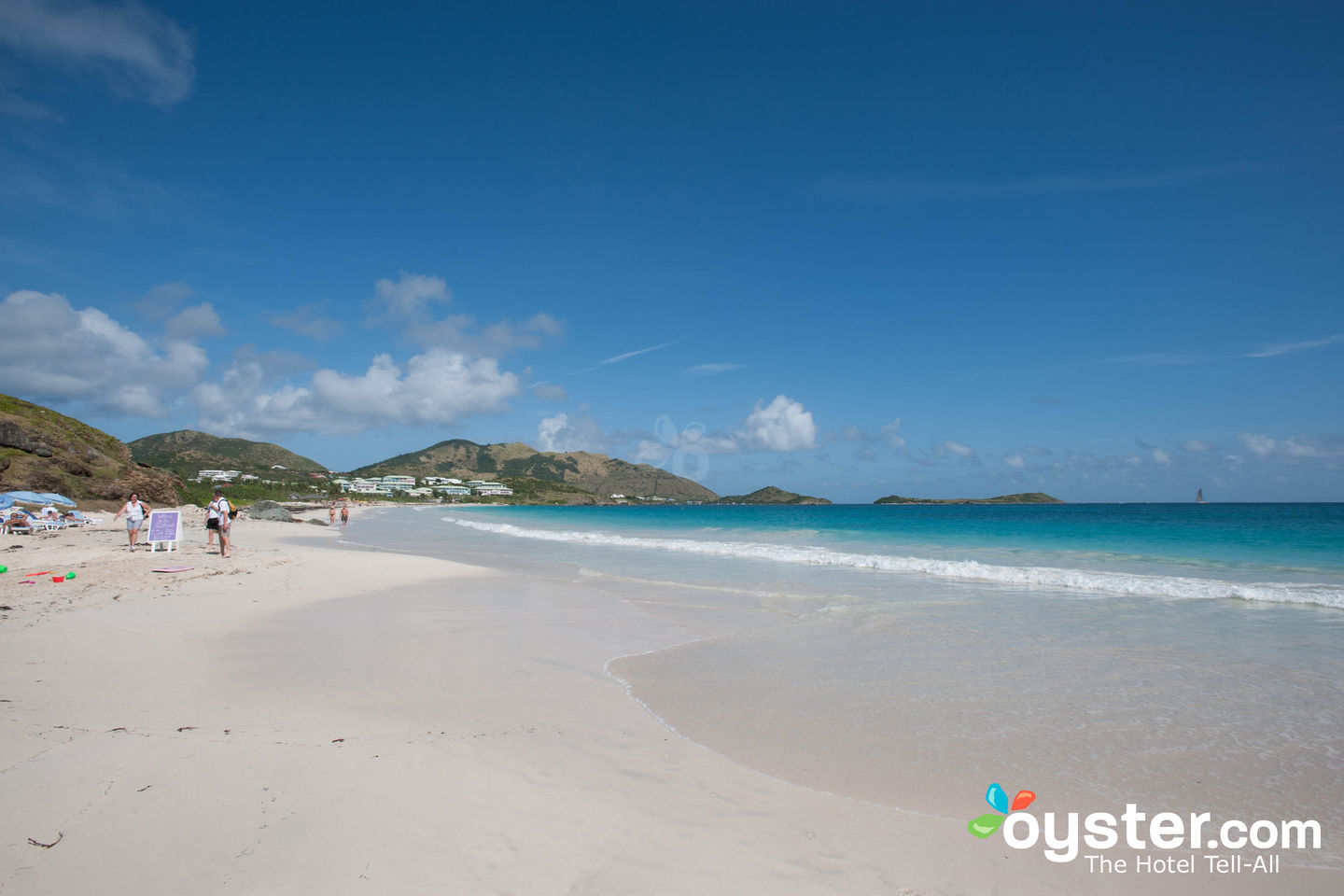 Orient Beach is easily the most popular and busiest beach in St. Martin. The happening scene, pristine sand, and cerulean crashing waves are major draws, as is the beach's clothing-optional policy. In addition to sunbathing au naturel, beachgoers can head to the many bars and restaurants (coverups required!) or make use of the water sports available — which also may be a bit more comfortable with swimwear.
Located within an upscale community featuring several resorts, restaurants, and one of the island's best beaches, Esmeralda Resort's colorful Creole-style villas offer seclusion and elegance with semi-private pools (shared among four units), stylish tropical rooms, and a well-respected restaurant — all within a two-minute walk of the beach.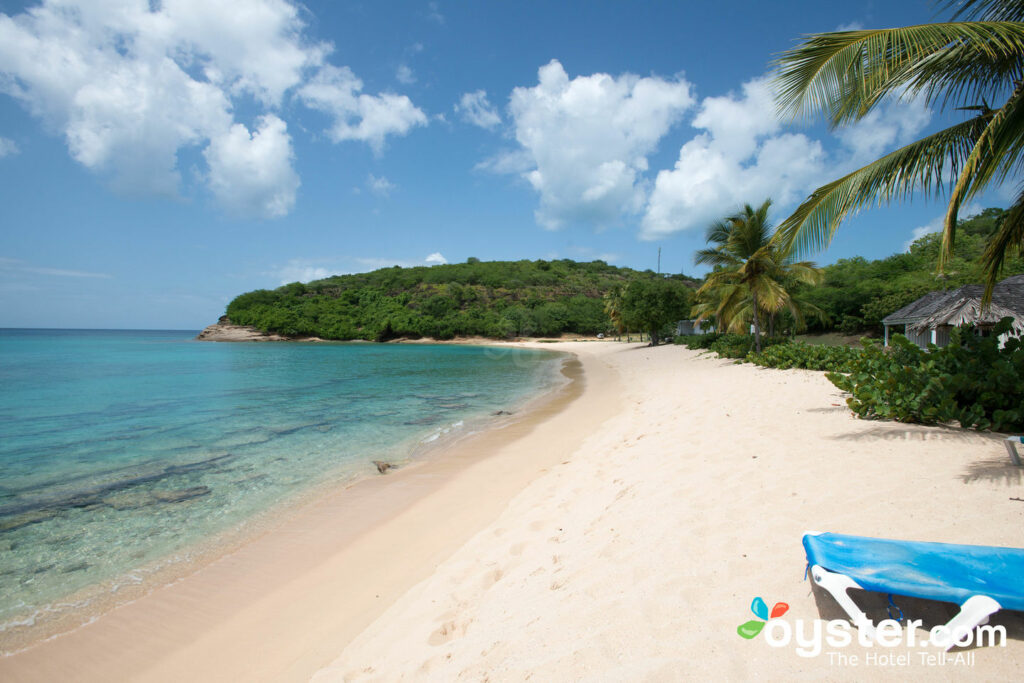 The island's only clothing-optional area, Hawksbill Beach is picturesque with fine, powdery sand and clear, shallow water. It enjoys a beautiful, remote location on the calm west side of the island — which is generally free of gawkers, and primarily attracts laid-back adults (who may be naked).
The clothing-optional beach, one of four beach areas at the hotel, is part of the Hawksbill property. The resort is in need of an update, particularly in the guest rooms, but its main draws are the quiet beaches with ample lounge chairs. There's a restaurant on-site serving all three meals, but the pool is small.
Guvano Beach is situated near the village of Corniglia in the beautiful Cinque Terre region of Italy. The beach is known for its clothing-optional policy and hidden location (you have to walk through a pitch black tunnel to reach it). After a treacherous climb down to the beach area, travelers are rewarded with warm waters and a lovely, albeit pebbly, shore.
A 20-minute drive from Guvano Beach is La Torretta, an upscale hotel perched among colorful houses above the ocean. Rooms are elegantly decorated and the hotel provides a free breakfast. A free evening aperitif and a couple of terraces to watch the sun set make it a particularly good pick for a romantic stay.
Miami's Haulover Beach is one of the best nude beaches in the United States. The sunny (and free) spot is popular for its easy access to area hotels, 0.4-mile-stretch of white sand, picnic facilities, and concession stands. Expect to find travelers of all ages, particularly because it's part of the larger Haulover Park, which includes a nine-hole golf course, fishing pier, and tennis courts.
Apartment-style suites, a huge assortment of kid-centered activities, and a beachside location in safe, suburban Sunny Isles — the Newport is an excellent option for a family vacation in Miami. It's a 10-minute walk to Haulover Beach, though it has its own beach area with organized activities.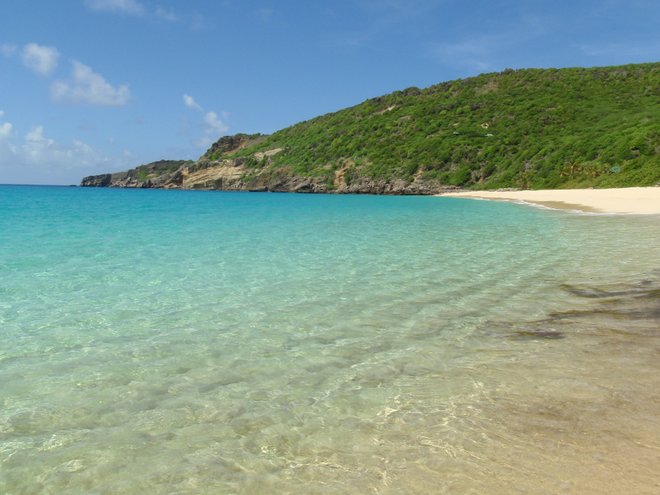 Although technically illegal in St. Barts, nude sunbathing is most often practiced at Saline Beach on the south side of the island. Like many of the beaches in the Caribbean, it has picturesque white sand and beautiful waters in various shades of blue. This clothing-optional spot is fairly secluded, as visitors have to walk up and then down a hill to reach the serene cove.
Just a five-minute drive from Grand Saline is the prestigious and luxurious Hotel Le Toiny. The 15 private villas are spacious and airy, each with its own infinity-edge pool. And the views here are jaw-dropping. The French restaurant is one of the island's most renowned, and one of the many reasons celebrities come here to relax. As expected, prices are high.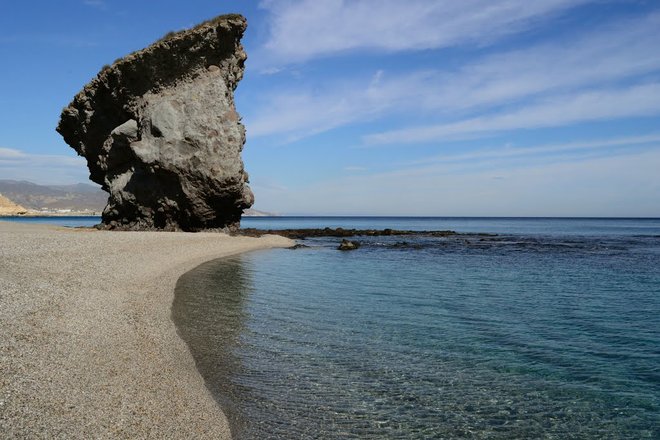 Playa de los Muertos, the "Beach of the Dead," is located along the Almeria Coast, near the town of Carboneras. Though there are many nude beaches in Spain, this one is particularly popular for its secluded spot — free of bars and restaurants. Gorgeous white sand, small pebbles, and clear water make up the 1.16-kilometer-long beach.
After a day's excursion to Playa de los Muertos, travelers can drive 45 minutes to the 230-room mid-range Barcelo Cabo de Gata. It's situated in a quiet area along the Almeria coast and offers access to a lovely (albeit pebbly) beach, multiple large pools, and an all-inclusive option. Rooms are modern and spacious with balconies, and some have sea views, but furnishings are showing a little wear and tear. It has many kid-friendly features, making it ideal for families.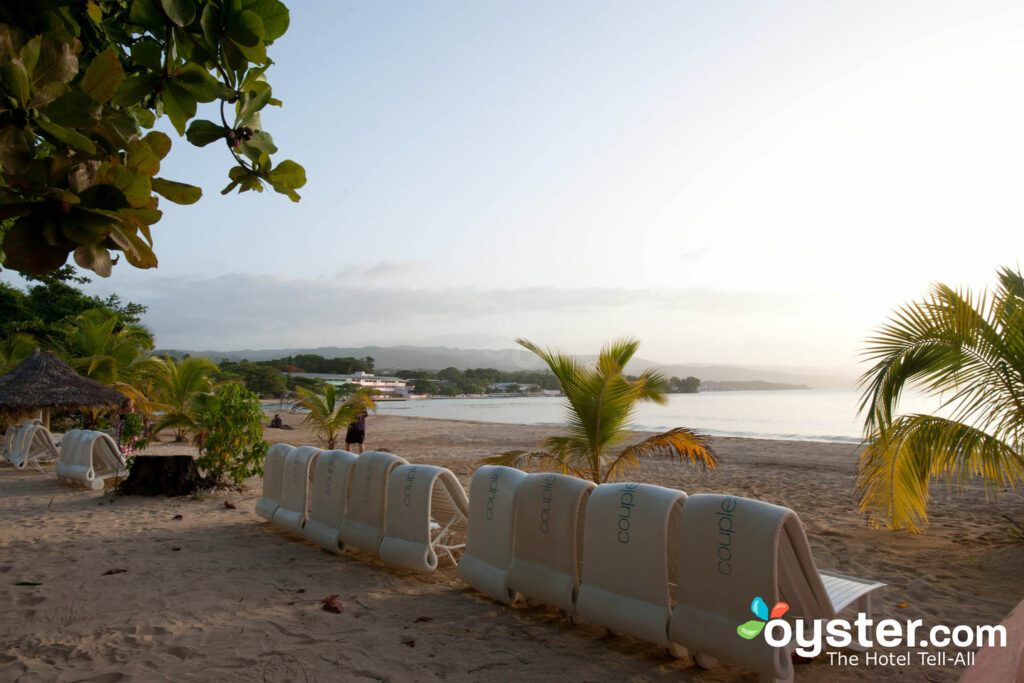 Though there are many spots in Jamaica where you can strip down, the Au Naturel beach at Couples Sans Souci is a nice pick for adults seeking a quiet vacation in a lushly manicured setting. One of two beaches on the property, the large nude beach even has a pool that goes right up to the sand.
The 148-room all-inclusive Couples Sans Souci has a lush natural setting filled with waterfalls, grottos, beaches, lakes, and jungles. It still has the features of a megaresort — three restaurants, four pools, two beaches, four bars, a spa, and tons of free activities — but it's one of the few large-scale resorts that manages to feel crowd-free and even intimate.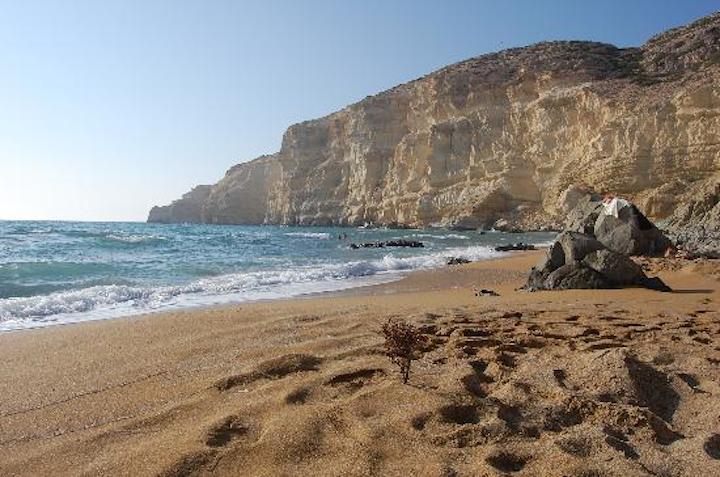 One of the best nude beaches in Greece, Crete's Red Beach is a secluded spot about a 20-minute walk from Matala. The hike down requires some maneuvering over rocks, but there are two different paths, one less treacherous. Though not everyone goes completely bare, nudity is permitted at this quiet, small beach with reddish sand.
A 22-minute walk from Red Beach, the Princess Europa Hotel is a value property offering basic, clean rooms and a free breakfast to match. There's a restaurant and bar on-site, as well as a medium-sized pool surrounded by lounge chairs.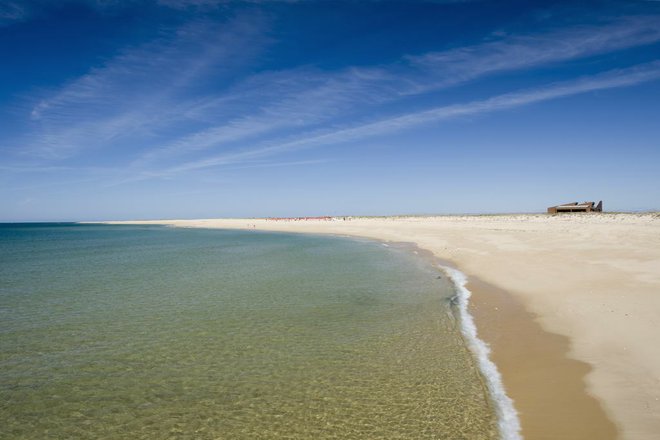 Just off the coast of Faro, Ilha Deserta (Deserted Island) is an uninhabited island about five miles long. It costs around 10 Euros to take the 30-minute boat ride to the island. The water is clear and warm, there's ample space to lounge about sans suit, and there's one well-regarded restaurant on the island. There are also guided nature tours for those interested in wildlife viewing.
The Real Marina Hotel & Spa is an affordable property in Olhao, a city in the Algarve region of Portugal. The hotel has easy access to the ferry point and provides comfortable accommodations in bright, airy guest rooms. There's a medium-sized square pool and separate children's pool, both surrounded by ample loungers. The on-site restaurant serves Portuguese food and there are two bars serving snacks and appetizers.
No tan lines doesn't mean no burns. Be sure to purchase some sunscreen before hitting the beach au natural.
All products are independently selected by our writers and editors. If you buy something through our links, Oyster may earn an affiliate commission.