When planning a trip to India, there are several attractions that must top every to-do list. Along with the usual suspects (think Agra's Taj Mahal, Goa's beaches, and Jaipur's street shopping vendors), there are also tons of sacred, stunning temples dotting the South Asian country. Each presents something unique, but all offer a space for locals and tourists to congregate and find a moment of peace in an otherwise crowded, chaotic spot on the map. From a lotus-shaped temple to a gilded house of worship floating in the water, here are nine of the most beautiful temples in India.
1. Akshardham Temple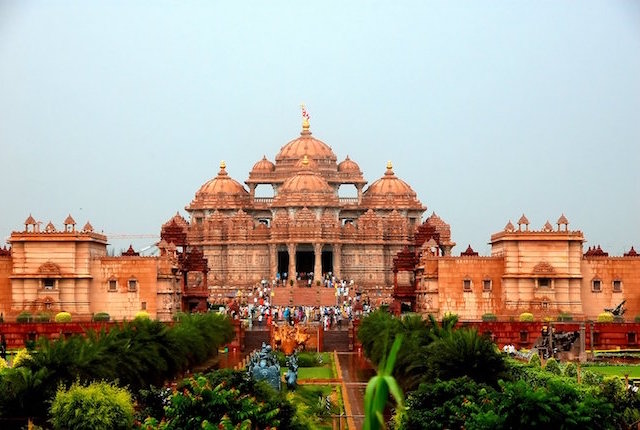 It's not every day you stumble across a Hindu temple that boasts an IMAX theater, musical fountains, gift shops, and a lotus garden, but then again New Delhi's Akshardham Temple, which opened in 2005, is not your everyday Hindu temple. The big talking point of this 60-acre complex is its awe-inspiring Mandir, which is constructed out of white marble and pink sandstone and embellished with stone elephants and statues of divine personalities. Turn your spiritual visit into a history lesson and hop aboard the 15-minute on-site boat ride, which highlights over 10,000 years of India's past. Admission to the temple is free, but expect a small fee for a few of the exhibitions. Oh, and it takes Mondays off, so plan accordingly.
2. Golden Temple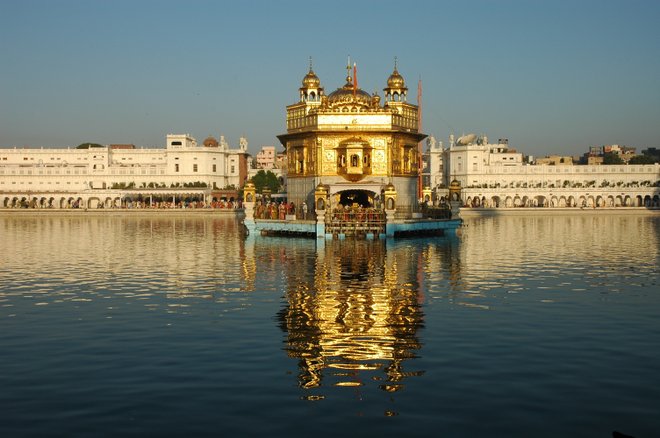 Open almost around the clock (6 a.m. to 2 a.m.), this temple in Amritsar is a holy place for Sikhs. Rumor has it Buddha stopped by to meditate here back in the day and Guru Nanak (he's the one who founded the Sikh faith) followed in Buddha's footsteps. Drawing from Hindu and Islamic architectural influences, the temple — also known as Harmandir Sahib (literally abode of God) — is blinged out in gold. It gets even more wow factor, courtesy of the reflections in the surrounding water and pristine white marble complex. Equally gorgeous during the day and night (it's illuminated after hours), the magnificent site caters to both early birds and night owls.
3. Laxminarayan Temple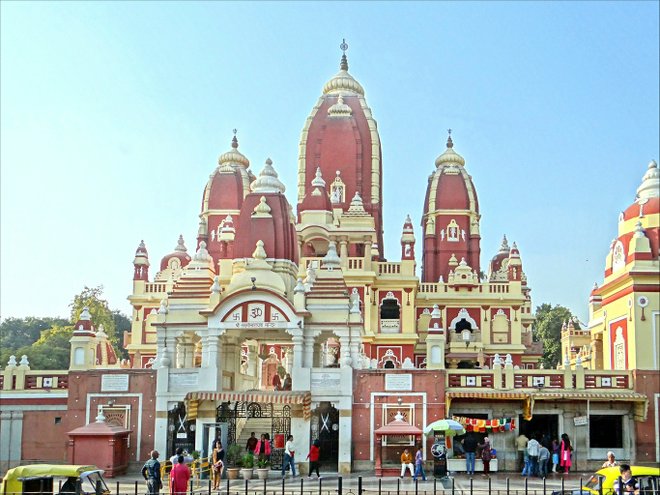 Also referred to as Birla Mandir, this Hindu temple was inaugurated by Gandhi in 1938 with the idea that it would welcome all castes and religious faiths with open arms. Tip: It's proper etiquette to remove shoes upon entering. Sprawled over 7.5 acres, the grounds boast marvelous red and white columns, fountains, waterfalls, several shrines to ancient gods and goddesses — namely Vishnu and Lakshmi — and more. Like the Akshardham Temple, this building is also closed on Mondays. And if you can swing it, we recommend dropping by during Diwali (the Festival of Lights) or Janmashtami (Krishna's birthday), when the temple is beautifully lit up.
4. Virupaksha Temple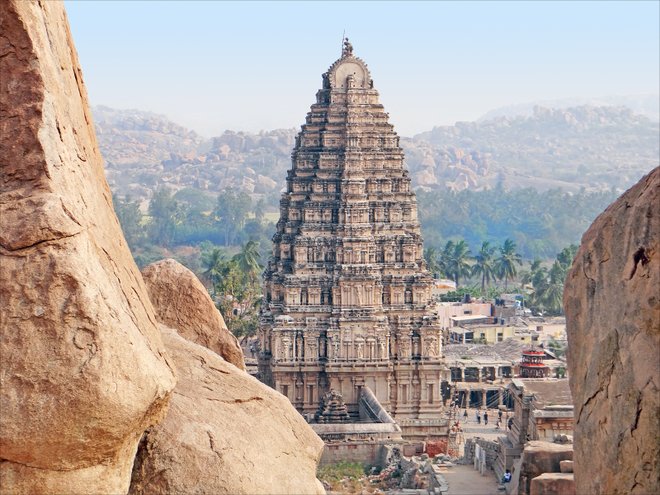 At the center of Hampi, a village in northern Karnataka and UNESCO World Heritage site, sits Virupaksha Temple. The main gateway tower was built in 1442 and the smaller one was added in 1510, making it one of the city's oldest structures (and only working temple). Don't miss the ancient inscriptions that date back to the 9th and 10th centuries, too. The main shrine is dedicated to Virupaksha, an incarnation of the Hindu deity, Shiva. If you're up for the task, climb the nearby Matanga Hill during sunrise. The dramatic views at the summit will nothing short of impress.
5. Kailasanathar Temple
Built in the late 7th century AD by the Pallava king Narasimhavarman II, this temple holds the title of oldest structure in the city of Kanchipuram, or as it's fondly known the City of One Thousand Temples. Dedicated to Lord Shiva, the site houses more than 50 shrines. Stroll around the sandstone complex and stand in awe over the intricate carvings, including half-animal deities that were popular in early Dravidian architecture. In addition to the detailed carvings, the temple also boasts sculptures of Shiva in 64 different poses plus one 10-foot high structure of the deity constructed out of black granite.
6. Lotus Temple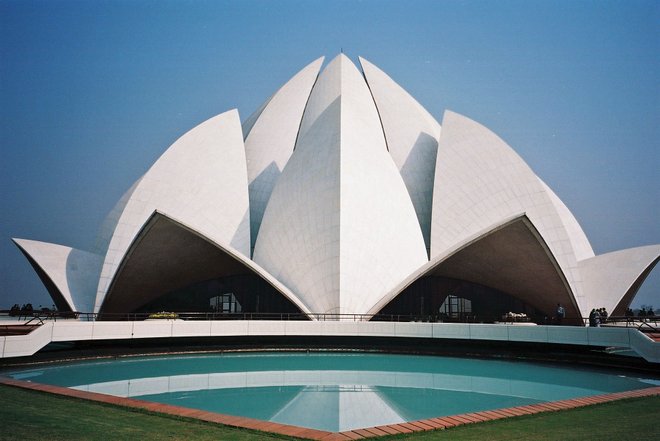 There's no shortage of drop dead gorgeous temples in Delhi, but this Baha'i temple might just take the cake for most original. The stunning structure blooms with three layers of nine marble petals each (hence its moniker). Inside lies a peaceful space that can host 2,500 visitors at a time. In keeping with the theme, there's also an outdoor reflecting pool that creates the effect of a lotus flower floating in water. Kudos to Iranian-born Canadian architect Fariborz Sahba for designing this feat of architecture.
7. Sri Ranganathaswamy Temple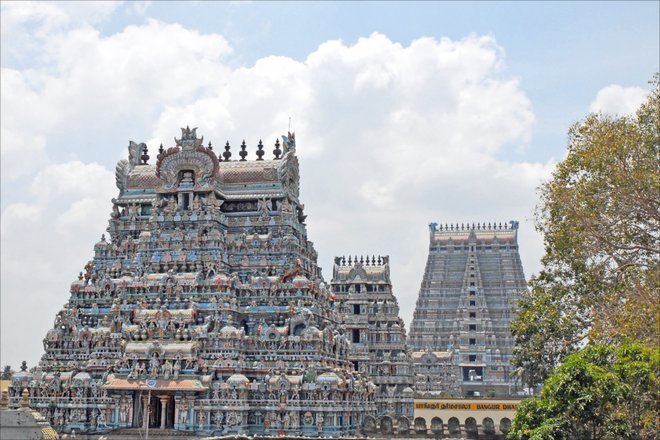 Unlike the other pristine marble and majestic gold temples in the country, this place of worship stands out for its eye-catching, multi-colored exterior. Constructed in the Dravidian style of architecture, the 156-acre complex in Srirangam is dedicated to Ranganatha, an incarnation of the Hindu deity, Vishnu. And with 21 colorful gopurams (or towers), 50 shrines, nine sacred pools, several fresco paintings, and the Hall of 1,000 Pillars, there's something to take your breath away at every corner.
8. Meenakshi Amman Temple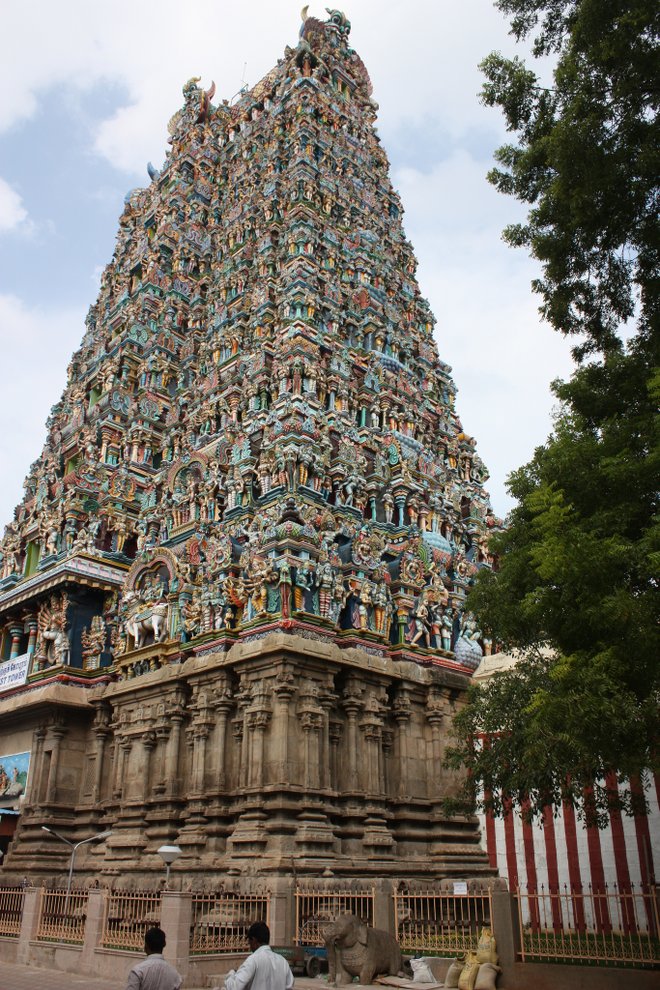 Madurai, an ancient, 2,500-year-old city in Tamil Nadu, plays host to this beautiful Hindu temple. As the story goes, the temple was destroyed in the 1300s by general Malik Kafur and rebuilt by the first Nayak king of Madurai 250 years later in 1559. The landmark was also nominated for one of the New Seven Wonders of the World — and you'll understand why the minute you lay eyes on its 14 towers, which are cloaked in thousands of colorful stone figures depicting animals, gods, and other personalities.
9. Khajuraho Temples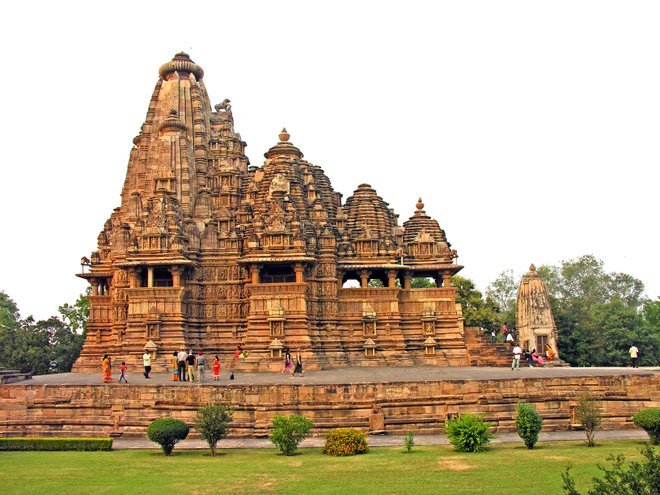 Spread over nine square miles, this group of Hindu and Jain temples in Madhya Pradesh will leave visitors in utter awe. Built by the Chandela dynasty between 950 and 1050, the sandstone structures are most famously known for their erotic sculptures. And although only 25 of the original 85 temples remain today, that still hasn't stopped the monuments from claiming a spot on the UNESCO World Heritage site list.
Related Stories:
All products are independently selected by our writers and editors. If you buy something through our links, Oyster may earn an affiliate commission.