Paris, France, is a top destination for travelers all over the world and with so many sights to see, an itinerary could quickly become expensive. But, if you do a little digging, experiencing the history and culture of the City of Light can actually be free! Whether you're a budget traveler or just want to be savvy with your euros, we've compiled a great list of amazing free attractions in Paris that you don't want to miss.
Parc du Champ de Mars
Parc du Champ de Mars opened in 1780 and has been a must-visit destination for travelers to Paris ever since. By now, you've probably guessed it's a park—but it's the park from which travelers take in spectacular views of the Eiffel Tower day and night. It's also home to the Eco Militaire buildings and the Wall for Peace.
Nicolas Flamel's Home
Harry Potter fans will recognize the name Nicolas Flamel from the first book of the series, "Harry Potter and the Sorcerer's Stone," but many readers aren't fully aware that Flamel was a real person—an alchemist who lived in the 14th and 15th centuries in Paris. His home at 51 Montmorency Street was built in 1407, and it just so happens to be the oldest stone house still standing in Paris today. It doesn't cost a thing to walk by, but if you want to go inside, you'll have to book a reservation at the Auberge Nicolas Flamel, the restaurant that now occupies the home.
Père Lachaise Cemetery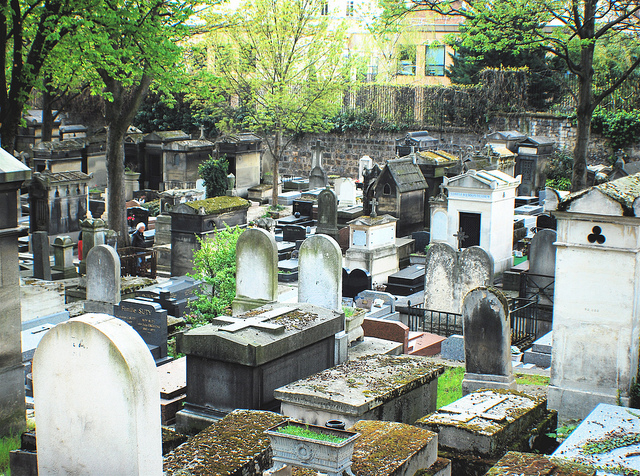 Cemeteries may not seem like the cheeriest excursion on a vacation, but you'll want to visit Père Lachaise when in Paris. It has 77,000 plots of different styles—burial chambers, mausoleums, Gothic graves, and more. A good number of these hold the remains of famous figures, like Oscar Wilde, Jim Morrison, Molière, Edith Piaf, Frederic Chopin, Honoré de Balzac, and Guillaume Apollinaire, among many others. There's free admission throughout the year, and maps are available for visitors.
Sacré-Cœur Basilica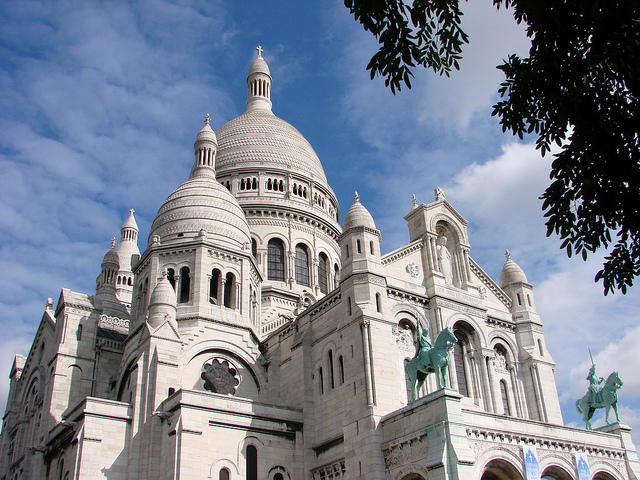 Head uphill to Montmartre to visit the Sacré-Cœur Basilica. The monument features the largest mosaic in France and a grand pipe organ that's considered to be one of the best in all of Europe. Note that only the basilica is free to visit; the dome and crypt cost a fee to enter. Regardless, it's a gorgeous monument inside and out, and well worth the free visit.
Château de Versailles Park and Gardens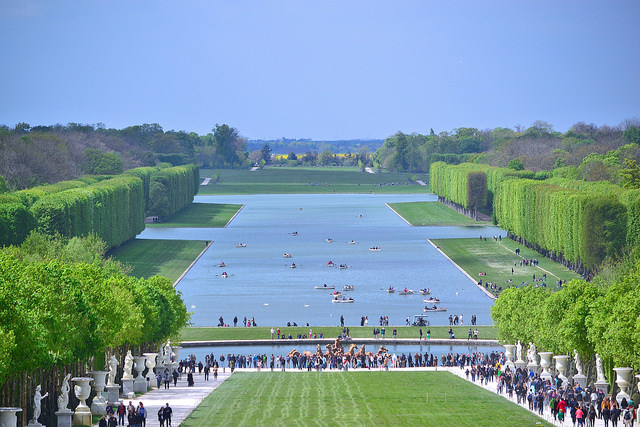 The grounds surrounding the Château de Versailles comprise nearly 2,000 acres and enclose famous sites like the Orangerie, the French Gardens, the Estate of Marie-Antoinette, and the fountains. For travelers less concerned with paying to enter the main building, it's free to walk through Versailles Park. As for the gardens, they're free, too—most of the time. From November to March, there's complimentary admission to the gardens every day. From April to October, the gardens are free on Monday, Wednesday, Thursday, and Fridays, except on bank holidays and during special events.
Musée d'Art Moderne de la Ville de Paris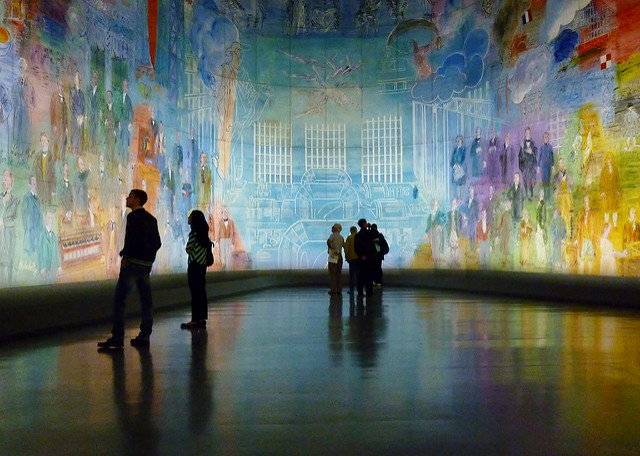 Art lovers must make a stop at the free Musée d'Art Moderne de la Ville de Paris. It's set in a 1930s palace between the Eiffel Tower and the Champs-Elysees and has displays upon displays of beautiful modern artwork. Beyond its 10,000-piece collection, the museum also offers tours, lectures, and events. Most are in French, however, so keep that in mind before signing up.
Place des Vosges
Place des Vosges is a beautiful square in Paris—one of the oldest, in fact. It is surrounded by beautiful red brick buildings and has a central park area with a water fountain. The square is free to enter and is surrounded by great museums, including the home of Victor Hugo, author of "Les Miserables," which does not charge admission.
Buttes-Chaumont Park
Despite being a huge metropolitan city, Paris has plenty of green space for both citizens and tourists to enjoy. The Buttes-Chaumont Park is 61 acres and has great views of the city from its hills. If that's not enough, there are also caves, waterfalls, bridges, trees, wildlife, and a lake. The best part about it? It doesn't cost a thing to spend the day here.
Montparnasse Cemetery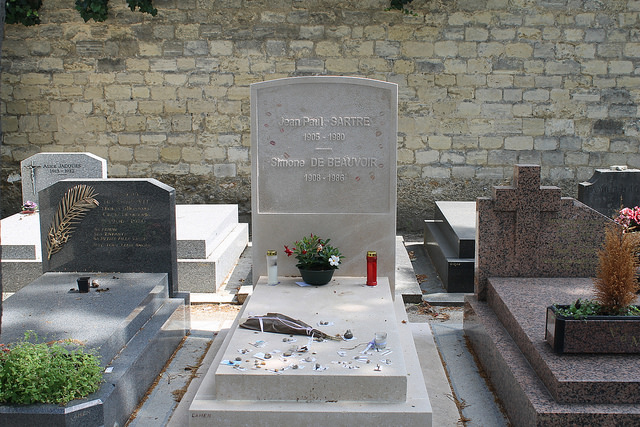 Père Lachaise isn't the only cemetery with famous guests. Montparnasse, opened in 1824, has a long list of celebrities laid to rest among serene trees and graceful sculptures. Visitors can find here the burial sites of French celebrities like Guy de Maupassant, Jean-Paul Sartre, Simone de Beauvoir, and Charles Garnier.
Arènes de Lutèce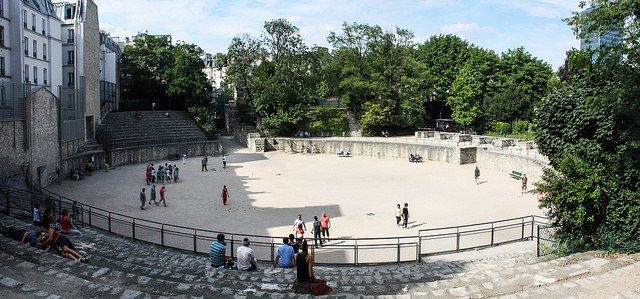 Travelers who would like to break from the sightseeing status quo in Paris might want to consider visiting the Arènes de Lutèce. This first-century Roman arena in the middle of Paris' 5th arrondissement was used for events like dramatic performances and sports. It might not be Paris' most popular attraction, but how often do you get to walk within an ancient Roman arena outside Rome? Not very.
Marché aux Puces
Shoppers will appreciate a visit to Marché aux Puces, or the Saint-Ouen Flea Market, which comprises 17 acres filled with art, clothing, antiques, and plenty of odds and ends. According to its website, it's considered the largest antiques market and second-hand shop in the world. The Puces, as it's called colloquially, has been around since 1885, receiving about five million visitors per year. You'll find open-air and closed markets, as well as restaurants and cafés among the maze-like walkways. Perusing the Marché aux Puces is a great way to spend the day, learning about different eras of Parisian history by way of their antiques—and all for free, unless you feel like buying something.
The Cathedral of Notre Dame of Paris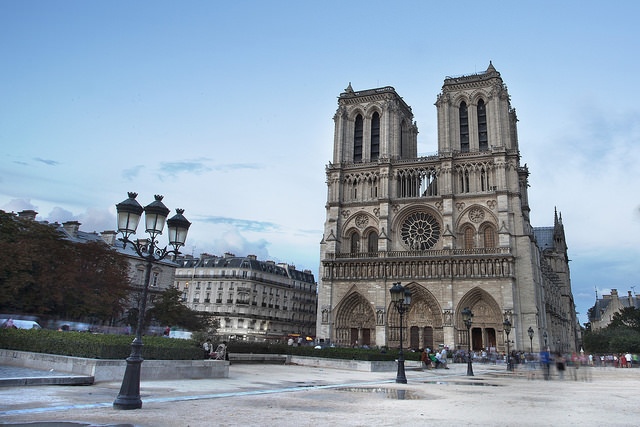 One of Paris' most prized historic attractions, the Cathedral of Notre Dame of Paris is a lovely Gothic church more than 800 years old. The cathedral has a long history: Crusaders prayed here before going off to war in medieval times, and it was the spot in which Napoleon crowned himself emperor. In April 2019, a fire broke out in the cathedral, destroying the building's spire and most of its roof. For the foreseeable future, the interiors will be closed to visitors.
NOW WATCH: A Time-Lapse of the Eiffel Tower in Paris
https://www.youtube.com/watch?v=7xtUD6LUhZw
You'll Also Like:
All products are independently selected by our writers and editors. If you buy something through our links, Oyster may earn an affiliate commission.