Freebies! The word alone sounds like a carnival ride where everyone wins a prize. And what could be better than a hotel that offers little perks completely gratis? That rush of a free treat is enough to make even the most jaded traveler bust out their happy dance and squeal, "Mine! Mine! Mine!" Whether they're delicious bath products, no-fee minibars, or thoughtful touches like shoeshines, we're thrilled to bits to encounter these extras when they're priced at zero dollars and zero cents. Here are the six most memorable hotel freebies Oyster editors have received in all our travels.
Movie Theater-Style Popcorn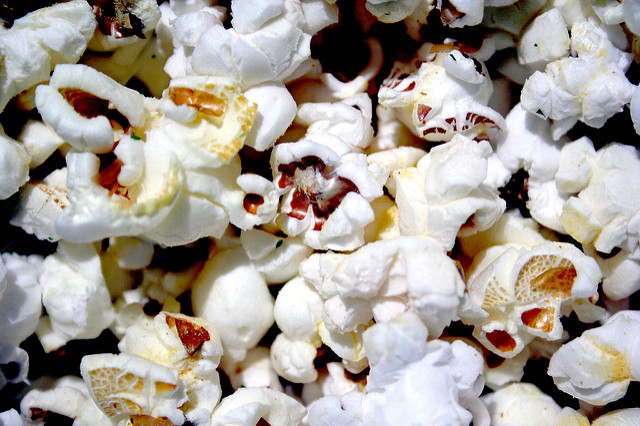 "I was lucky enough to spend three luxury-laden nights at Rancho Valencia Resort & Spa in Southern California. Everything about the hotel is laid-back California perfection: from the grotto-style spa to the cozy restaurant to rooms with fireplaces and private patios. I mentioned to the concierge that my friend and I would be staying in one night to order room service and watch an on-demand movie, and she surprised us by sending two huge buckets of caramel corn and movie-theater style popcorn to enjoy with the film. What a treat!" —Megan Wood, Editor
Vintage Mercedes Rides
"Thailand hotels are fairly affordable compared to U.S. ones, so on my visit to Chiang Mai I was able to splash out on the luxurious Ping Nakara. The hotel already piles on the freebies including a free breakfast with coconut pancakes I'm still dreaming about, free minibar snacks, and luxe free toiletries like perfumed bath salts. But the most memorable perk was free rides in the hotel's vintage Mercedes. Tooling around in this car made me feel like I was living out a scene in a movie. And the locals got a kick out of it, too, giving us a thumbs up as we drove by or snapping pictures when we stopped." —Maria Teresa Hart, Executive Editor
Bottega Veneta Lotion
"I'm no great connoisseur when it comes to grooming products. I've been using the same face-soap-plus-moisturizer regimen for over two decades. In fact, regular body lotion doesn't even figure into my routine. However, the Bottega Veneta lotion that the Mandarin Oriental, Hong Kong stocks has some wicked magic inside of it. I don't know if it's the masculine, herbal, earthy scent, the fact that I picked it up in a city that charmed me more than I ever thought, or that the trace of it on my hands reminds me of a big crush I found while on that side of the world. In any case, I'm still carrying it around with me months later." —Kyle Valenta, Manager of Editorial Operations
Bottles of High-End Tequila
"The Rosewood Mayakoba is one of the most luxurious hotels I've ever visited. Spacious rooms feature butler service and private plunge pools, and the property itself feels like an oasis. There is a complimentary happy hour every evening, but if you'd rather stay in, each room comes with a bottle of Milagro tequila to enjoy during your stay." —Liz Allocca, Senior Video Producer
Glass-Bottom Boat Rides
"No matter where you're coming from, getting to Mauritius isn't cheap. The good news is that once you've splurged on the airfare, you can reap the freebies that are commonly offered at Mauritius hotels, especially those on the beach. Nearly every Mauritius beach hotel provides free kayaking and snorkeling, and most even offer free sailings and free daily-glass bottom boat rides to snorkel sites. Even free water-skiing is available at some upscale hotels, like the Shandrani Beachcomber and Constance Belle Mare Plage. Preskil Beach Resort offers free glass-bottom boat trips to IIe aux Aigrettes, a nearby island wildlife reserve with wonderful birdlife, and Tropical Attitude offers free daily boat rides to the beautiful Ile aux Cerfs, a lush island with pristine white-sand beaches." —Anne Olivia Bauso, Editor
Pretty Sarong Cover-Up
"The luxurious Sofitel Bora Bora Private Island already stands out for its stunning setting on a private island overlooking Mt. Otemanu, but freebies also top its pros. All of its overwater bungalows and stand-alone villas come with free minibars stocked with local Hinano beer and sweet treats on arrival, though the best freebies I received were the floral-motif sarong and Sofitel-branded T-shirt that were laid out on the bed amid colorful hibiscus flowers. I could use the wrap as a bathing suit cover-up during and after my stay, and the shirt is a cozy reminder of my unforgettable trip." —Lara Grant, Editor
You'll Also Like:
All products are independently selected by our writers and editors. If you buy something through our links, Oyster may earn an affiliate commission.