Mega-resorts will always have their perks, but these days more and more travelers are choosing to stay in private villas. The perks of a villa? Well, no shared walls with loud, late-night partiers for one thing. Or you can be that late-night partier and not worry about noise complaints. More space. More privacy. And the homey feel of being in a free-standing unit, surrounded by attractive landscaping. But what we really love is when you can find a private villa on a resort's property, merging the best of both worlds. Guests receive all of the benefits and amenities of a resort, while still enjoying the seclusion of a villa. We did a tour of hotel villas in the Caribbean and found the best of the best on seven islands.
Undoubtedly one of the most prestigious hotels in St. Barts, this exclusive 15-villa luxury resort sits amid 28 lush acres of natural hills and beachfront. The private villas are spacious and airy, each having its own infinity-edge pool, and the views are jaw-dropping. The French restaurant is one of the island's most renowned, and one of the many reasons celebrities come here to relax. Rates are nothing to sneeze at, but you'll definitely receive the all-star treatment that should come with such a hefty price tag.
Oyster's Favorite Villa Perk: Each villa includes freebies such as Wi-Fi, bottled water, and tea, but the best is the free breakfast served daily on white linen-topped tables on your private terrace.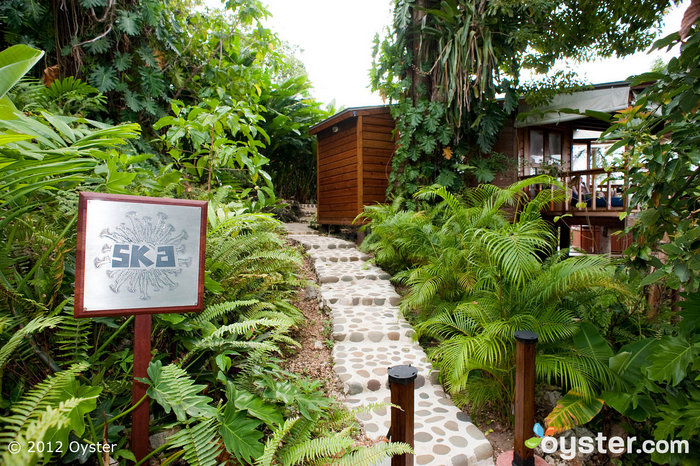 The Geejam is made up of only five private, high-tech cottages on the lush (rainy) foothills of Port Antonio. The setting is gorgeous, the service is extraordinary, and one of the Caribbean's most beautiful beaches is only 10 minutes away. The resort may not have a pool or a spa, but it does have a nice restaurant and a small fitness center. Plus, the Ska villa has a private Jacuzzi and the three-bedroom Sanwood has its own small pool.
Oyster's Favorite Villa Perk: All villa guests have access to the resort's state-of-the-art recording studio, where the likes of Bjork, Common, the Gorillaz, and India.Arie have laid down tracks.
Stonefield Estate Villa is a rustic, upscale resort with 18 plantation-style villas set on 26 acres of gorgeous rainforest. Amenities include an exceptional spa, a cliff-top pool, and an open-air restaurant and bar. The property is deliberately unplugged — meaning villas lack TVs, Wi-Fi, and telephones — but the stunning atmosphere, and the villas themselves, are worth it for those who can go technology free for a while. The villas are quite spacious, with separate living areas, dining spaces, bedrooms, and kitchens or kitchenettes. And the bathrooms feature an outdoor/indoor shower. The only potential drawback for some may be the lack of beach access, but the hotel provides a free shuttle to and from a couple of nearby beaches.
Oyster's Favorite Villa Perk: Each villa has a secluded terrace with a private pool and gorgeous views of Petit Piton.
Designed by Oscar de la Renta, the 15-room Tortuga Bay hotel offers amazing service (including preferential treatment at Punta Cana Airport), an on-site nature reserve, several superb restaurants, and three world-class golf courses. The standard room (although there's nothing standard about it) is a one-bedroom, second-floor villa. Upgrades get you a Jacuzzi and additional bedrooms, all the way up to a four-bedroom villa. All of the rooms have the same tasteful and luxurious design, as well as a slew of impressive amenities.
Oyster's Favorite Villa Perk: Personal golf carts come with each villa for guests to use, and are parked outside.
Crowded beaches are unheard of on this private island resort where a maximum of 28 guests at a time have free range of 50 acres and three beaches. With just six one- to three-bedroom villas, Fowl Cay affords absolute privacy unmatched by your standard Caribbean resort. Personal boats for daily excursions, on-call service, spacious villas with fully stocked kitchens and wet bars, and a host of all-inclusive activities make Fowl Cay a standout gem in the Exumas.
Oyster's Favorite Villa Perk: At this all-inclusive resort, the villas' kitchens are stocked with food, wine, beer, and liquor — all of which is replenished daily by your personal island host.
Accessed via a 30-minute boat ride from Providenciales, this 1,000-acre all-inclusive resort on a private island is the definition of tranquility. With an incredible infinity-edge pool, world-renowned COMO Shambhala Spa, waterfront Balinese-style villas, doting service, and more than three miles of pristine beaches, it's easily one of the most luxurious and romantic options in the Caribbean. With just 66 accommodations scattered across the island, solitude is easy to come by. Two large buildings near the main building (where the lobby, restaurants, and pool are located) house the garden-view and ocean-view rooms. Farther through the thicket, 24 villas and estates with one to four bedrooms can be found. In each unit, teak Balinese furnishings, four-poster beds, and private decks or balconies are standard.
Oyster's Favorite Villa Perk: All villas come with a personal butler. "I go wherever you go" is the way one butler describes her job. Nonetheless, privacy is easy to attain as butlers manage to do everything — from freshening your poolside cocktail to cleaning your sandy flip-flops after a trek on the beach — in a discreet and inconspicuous manner.
The Biras Creek Resort is a rustic-luxe retreat with just 31 suites. It features two beaches — one calm, looking out to the North Sound, and the other slightly rocky — and a long list of on-site amenities: tons of water sports, tennis courts, an attractive pool, a game room, an on-site restaurant, and a (tiny) fitness center. Even when occupancy is at its height, the 140-acre resort can feel empty and it's quiet, secluded nature is just why visitors come.
Oyster's Favorite Villa Perk: Each of the suites comes equipped with two bicycles so guests can explore the grounds.
RELATED LINKS:
All products are independently selected by our writers and editors. If you buy something through our links, Oyster may earn an affiliate commission.