In the southwest part of the United Kingdom is Cornwall, an area with picturesque coastlines, rocky cliffs, and gorgeous sandy beaches. Painting classes, boat excursions, and sunbathing on the beaches are a few of the activities that lure travelers to the peaceful locale; but if you're really looking to relax, a trip (or two!) to the spa is an absolute must. We visited Cornwall's top hotels to check out their guest rooms, restaurants, and on-site spas to see which were the best of the best. Take a look at the best hotels for a spa getaway and be sure to book a massage when booking your room.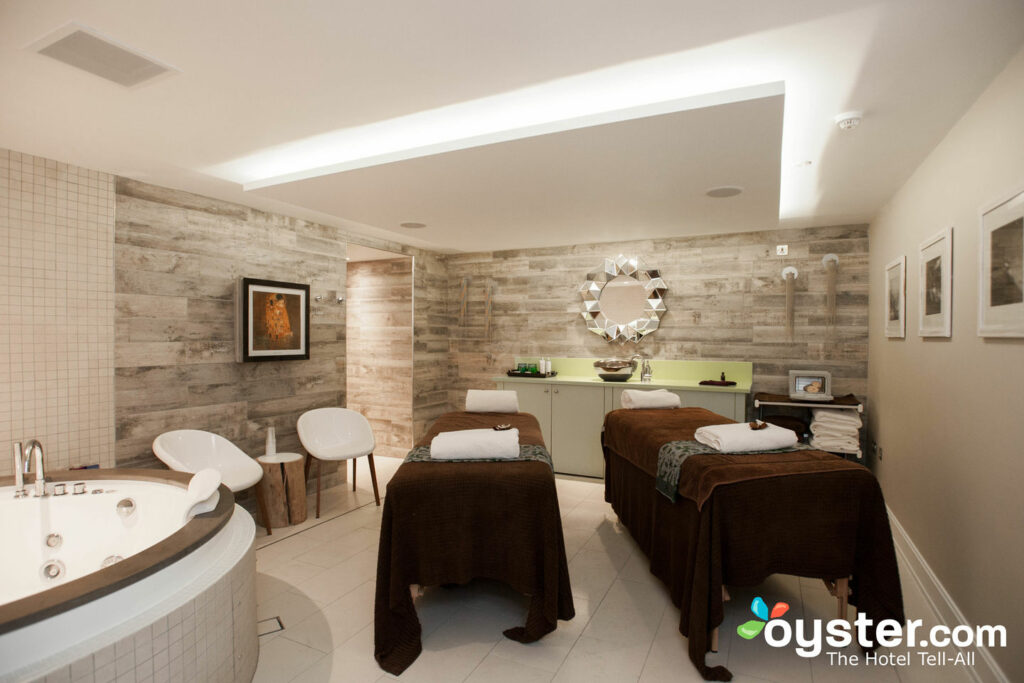 Built in 1900, the four-story Headland Hotel — fashioned from red clay, brick, and stone — has retained many of its original Victorian features, and provides stunning views of Fistral Beach from its cliff-top location. Stone-lined alcoves for two are tucked into the hillside, allowing privacy while taking in the vista. At this upscale property, there are 96 guest rooms and suites (with traditional or contemporary decor) in the main building and 39 luxury self-catering cottages. The elegant spa offers a myriad of treatments, and has an indoor pool, sauna, Cornish salt steam room, hydrotherapy suite, whirlpool, and aromatherapy showers.
Located on a quiet stretch of coast just outside of the commercial town of Nequay, the four-pearl Fistral Beach Hotel has 71 bright and airy rooms, many of which have unobstructed, jaw-dropping sea views. There's a spa with a fitness center, large indoor pool, hot tub, steam room, and sauna that's free for guest use. Treatments include facials, body wraps, massages, and reflexology for an additional cost. Nail and hair treatments are available in the beauty salon. After a spa day, guests can relax in the bright, comfortable rooms that are outfitted with soaking tubs, heated towel racks, and flat-screen TVs.
The Scarlet Hotel is a super-contemporary and über-arty upscale hotel squarely aimed at grown ups. While the views over Mawgan Porth beach are stunning — and viewable from every room — the location might feel a little isolated for some. Guest rooms have a cool natural aesthetic and private outdoor space with sea views, and the restaurant employs locally sourced ingredients in creative, whimsical dishes. Log-fired hot tubs provide that magical holiday moment, and there's no shortage of other relaxation opportunities on-site: a very mod library, serene spa with copper tub, and benches tucked along sandy paths, to name a few.
Gwel An Mor is an upscale resort with 61 Lodges and Residences by the sea in Cornwall. Guests can choose to stay in the cozy knotty-pine Lodges or in more modern, Scandinavian-chic Residences, all of which have full kitchens and views of the water from private terraces and balconies. With the beach a 10-minute walk away, and on-site features including a Mediterranean restaurant and kids' activities, the resort is a wonderful choice for families seeking an active, outdoorsy holiday with all the comforts of home. The Clubhouse has a heated pool and hot tub, and also houses the Wellbeing Health and Beauty Spa, which has a sauna and steam room and offers massages and beauty treatments using marine-inspired products.
The Carbis Bay Hotel & Spa is a 47-room, mid-range B&B-style property set on one of the finest beaches in the UK, if not the world. Most of the facilities — restaurants, spa, heated pool, and many rooms — overlook this golden Cornish beach which actually belongs to the hotel. The hotel's Victorian period elements are a lovely counterpoint to eclectic modern decor seen throughout. Special features include the spa's barrel-shaped outdoor sauna, and chic weathered-white champagne bar. A coastal footpath leads directly from the hotel to the Cornish town of St Ives. Higher rates tend to reflect the location and not always the quality of the rooms, and frequent wedding parties can be disruptive, but these bay views are still some of the best money can buy.
The Sands Resort Hotel & Spa is a large, mid-range, family-focused holiday resort located two-and-a-half miles from Newquay with views over the sea. Beyond the beaches (Porth Beach and Watergate Bay are within walking distance) there's not a great deal in the area, though a huge range of kid- and adult-friendly leisure facilities on-site means most people won't set foot outside the mid-range property anyway. Rooms, too, are particularly family-friendly — most have two separate sleeping areas — while the restaurant provides parents with some child-free time. The spa offers a steam room, along with body and beauty treatments, including a Brow Bar.
All products are independently selected by our writers and editors. If you buy something through our links, Oyster may earn an affiliate commission.