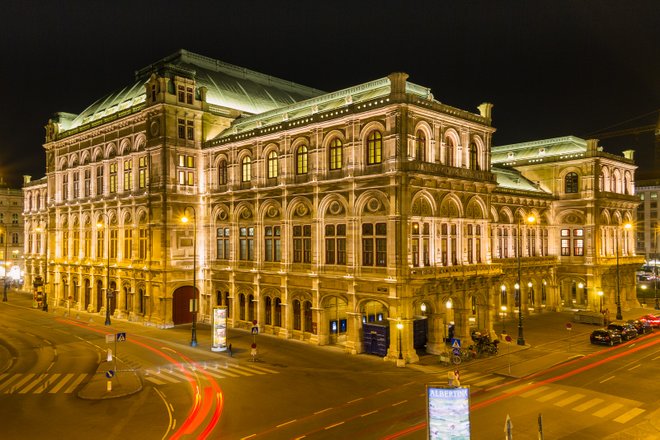 Vienna is the type of place that conveys an air of grandeur without being pompous. Lively restaurants serving oversized schnitzels, cozy historic cafes, and an amusement park with a giant Ferris wheel lighten the mood of majestic palaces, Mozart concerts, horse-drawn carriages, and pristine streets -- all of which are worth experiencing. So, whether you have a week or more to frolic in Austria's capital city or are strapped for time with just a couple of days, we pulled together some can't-miss attractions, including where to stay, what to see and do, and where to eat.
Where to Stay
Hotel Bristol, which is situated across from the Vienna State Opera, once hosted guests like Theodore Roosevelt and George Gershwin. Nowadays, a well-heeled crowd travels through the 19th-century luxury hotel, which is filled with marble and brass details, antique crystal chandeliers, and stained glass. Take a moment to admire the lobby, which is decorated with a mahogany grandfather clock from the mid-1700s before retiring to the rooms, which are outfitted in both classical elements as well as modern amenities like rainfall showers. If you want the royal treatment, opt for the Hotel Imperial, which was formerly the private residence of an Austrian prince. Suites even come with personal butlers that provide limo service, draw baths, and offer other above-and-beyond amenities.
What to Do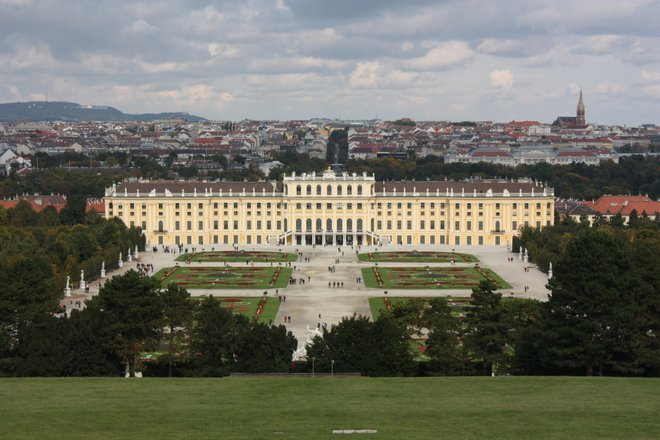 Hofburg Palace
This stunning 13th-century palace, which also happens to house the Austrian president's offices, offers the chance to check off several sights at once. Stop by the Baroque-style Imperial Apartments for a peek into how the royal family lived, before making your way to the Sisi Museum, a building that's dedicated to Elizabeth, Vienna's much-loved empress and wife of emperor Franz Joseph I. The Spanish Riding School, where folks can post up in the bleachers to watch Lipizzan stallions be trained, and Austrian National Library, the largest library in the country, are also on the grounds.
Schönbrunn Palace
Formerly a summer getaway for Hapsburg emperors back in the 1700s to the early 1900s, this Baroque palace is a major tourist destination for folks traveling to Vienna today. Roam the grounds, which include formal gardens that feature a fountain, as well as the world's oldest zoo. Of the more than 1,400 rooms — adorned with frescoes and tapestries — 40 are open to view. Our favorite: the Mirror Room, which is decked out in crystal mirrors and white-and-gold Rococo decor. It also happens to be where Mozart allegedly performed his first concert at age six, upping its cool factor even more.
Belvedere
If you don't feel palace-d out just yet, grab a cab to this architectural gem, which was originally built as Prince Eugene of Savoy's summer home. The two-in-one complex doubles up on Baroque palaces (Upper and Lower). Stroll around the manicured lawns outside first, then head inside the museums to browse the art collections, which spotlight works by Egon Schiele and Gustav Klimt.
Vienna State Opera
Whether you're seeing a show or not, it's worth making a pit stop at the 147-year-old Wiener Staatsoper (or Vienna State Opera House), on the Ringstrasse, to admire the Neo-Renaissance architecture. The interiors, though, are just as magnificent as the façade, thanks to mesmerizing tapestries, a marble staircase, gorgeous ceiling painting, and a Tea Room. While the venue hosts performances almost daily for the majority of the year, tickets are tough to come by. Affordable standing-room tickets are sold before each performance for those who are traveling on a budget.
Rathaus
Designed by Friedrich von Schmidt between 1872 and 1883, Rathaus (or city hall) houses the office of Vienna's mayor as well as the chambers of the city council. During the winter months, the Gothic structure towers over a popular Christmas market and ice skating rink that sets up shop in front of the building. Come summer, folks can enjoy food and live music al fresco. If you're more interested in what's going on on the inside, book a guided tour.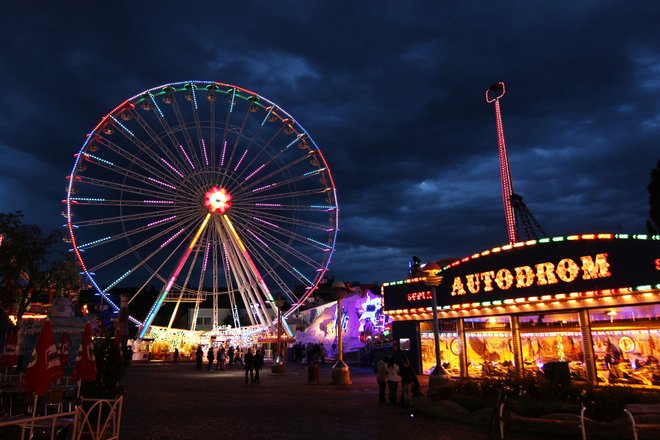 MuseumsQuartier
Reserve a few hours to explore the art collections that are sheltered inside several different buildings at this cultural complex. The Leopold Museum, for example, is home to an impressive ensemble by Gustav Klimt and Egon Schiele, while Mumok displays more than 10,000 contemporary pieces from artists like Andy Warhol, Pablo Picasso, Roy Lichtenstein, and more. Take a break and refuel between art stops at one of the several cafes or restaurants in the area.
Prater
For those traveling with little ones, Prater, a large public park in Vienna's second district, is the way to go. Dating back to the 12th century, the over 3,000-acre space comes with bike paths (and rentable bikes), skating areas, jungle gyms, and the Wiener Riesenrad Ferris wheel, which parents may recognize from Orson Wells' film "The Third Man."
St. Stephan's Cathedral
Step inside the same church in which Mozart was married in 1782. Located in the heart of the city, this 12th-century Romanesque and Gothic cathedral is constructed of limestone and stands at about 446 feet at its highest point. Marvel at the decor inside, including a Gothic stone pulpit, before descending to the catacombs beneath, where tombs, caskets, and skeletons lie. Simultaneously beautiful and eerie, this church is a can't-miss when visiting the city.
Kunsthistorisches Museum
Opening its doors in 1891, this palatial building takes the title for the largest art museum in the country. Built with sandstone, the structure is brimming with marble, stucco decorations, gold-leaf, and paintings on the inside. Beyond the decor, the museum houses pieces amassed from the Hapsburgs. Don't miss the Picture Gallery, which displays works by Pieter Bruegel the Elder, Vermeer, Rembrandt, Caravaggio, and other notable characters. Check out the Naturhistorisches Museum, which faces the Kunsthistorisches Museum across Maria-Theresien-Platz, for a back-to-back art history visit.
Hundertwasserhaus
While you might not be able to enter, the quirky facade at Hundertwasserhaus is reason enough to visit. With uneven surfaces, bright colors, mosaic detailing, this colorful apartment complex was dreamt up by Austrian artist Friedensreich Hundertwasser, and makes for stellar Instagram fodder.
Where to Eat
https://www.instagram.com/p/904qUyL1b5
Figlmuller.
Tucked behind St. Stephen's Cathedral, Figlmuller doles out some of the best Wiener Schnitzel (one of the city's specialties) in town. Come hungry — at this establishment, the thin and tender breaded cutlet, which is usually made using veal or pork, is so big it topples off the plate. And if the location is full, don't worry — there's another just around the corner. Other traditional Viennese eats include bratwursts, which are sold by many street vendors, as well as Hungarian goulash.
Cafe Central, Cafe Sacher, or Cafe Sperl
A coffeehouse is to Vienna as a pub is to Ireland. A meeting place for writers, artists, and musicians, these iconic cafes, many of which are still operating today, have shaped the country's food-and-drink culture. For a cafe with an old-school vibe, head to Café Central, which opened in 1876 and once welcomed Leo Trotsky and Sigmund Freud as regulars. Café Sperl, which was founded in 1880, offers up cozy booths, tasty treats, strong coffee, and top-notch people watching. If you prefer a more opulent setting, Café Sacher, with its glittering chandeliers and ornate walls, will surely satisfy. The main attraction here is a slice of chocolate-and-apricot heaven, otherwise known as Sacher torte. The decadent cake, which was first created in 1832 for Prince Wenzel von Metternich, is so good it even has its own national day (December 5).
Naschmarkt
Join the many locals and tourists who flock to the city's largest (it's nearly one mile long) and most popular outdoor food market from Monday through Saturday. Browse more than 100 bountiful stalls, packed with an assortment of meat, fruits, vegetables, baked goods, cheeses, and fragrant Indian and Middle Eastern spices. If your stomach starts to grumble, stop in at one of the restaurants for a bite to eat.
Related Stories:
All products are independently selected by our writers and editors. If you buy something through our links, Oyster may earn an affiliate commission.