The Best Road Trips is a weekly summer series highlighting our favorite getaways from major cities all over the United States.
Miami is one of the U.S.'s most celebrated metropolises, a Cuban-influenced coastal city on the Southern tip of Florida, known as the "gateway to the Americas." But Miami's wild reputation and glamorous lifestyle can really wear on the locals (and their bank accounts). With its high-brow art scene, luxurious shopping, and A-list clubs, Miami is an energetic, ultra-lively hub for young partiers and jet-setting tourists -- but to escape the rowdy scene, southern Floridans have several spots to flock to within the Sunshine State for some much-needed R&R. Put on you sexiest string bikini (or Speedo), pack your bags, and jump in the whip -- we've got some miles to cover.
Road Trip #1: Miami to Key West
Total Driving Time: 3 hours, 11 minutes
Distance Covered: 161.7 miles
Take This Trip If: It's been too long since you've last passed out in a hammock with margarita in hand.
There's a reason even the most sunny of Floridians love visiting Key West: Its laid-back atmosphere and beautiful surroundings make it one of the best vacation destinations in the country. Miami residents may get their share of water sports and authentic Cuban cuisine, but Key West maintains a much slower pace. The island boasts warm weather year-round thanks to its Southernmost U.S City status, which even steamy Miami can't compete with. For a supremely luxurious experience, the Casa Marina Resort, a Waldorf Astoria Resort, offers a sophisticated setting while maintaining a chill vibe with its poolside bar, beach hammocks, and lush grounds. Although not quite a steal, the Eden House is offers a variety of amenities at a fraction of Casa Marina's price. Within the beautiful grounds, guests can enjoy complimentary happy hour, outdoor pool (make sure to apply your FREE sunscreen!), koi ponds, hammocks, or barbecue on the small rolling grill. What more do you need for some fun in the sun?
Top Driving Tip: Be prepared for Seven Mile Drive to the Keys to feel like Seven Hour Drive. The bridge spanning the Florida Keys is usually heavily congested, but does offer some of the most scenic views of the Altantic Ocean just about everywhere.
Road Trip #2: Miami to Orlando, FL
Total Driving Time: 3 hours, 45 min
Distance Covered: 234 miles
Take This Trip If: You and your inner (or real) child need to play and eat a ton of sugary goodness.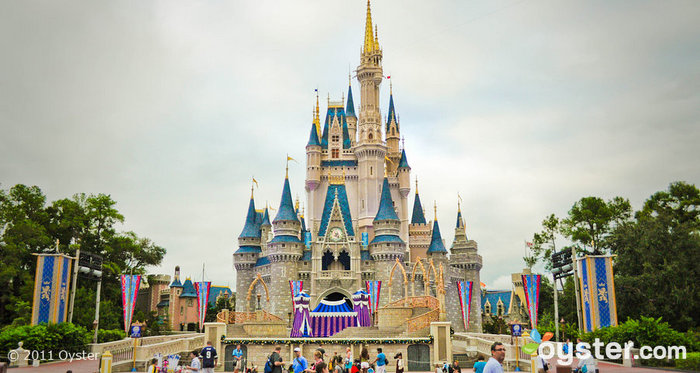 Orlando is practically synonymous with Disney World, but the city is also home to a Sea World and Universal Studios parks, making it an ideal destination for some family fun. (Bonus: If you don't crave the adrenaline rush of a roller coaster, there are plenty of other options.) Universal's Portofino Bay Hotel may cater to Universal parks over Disney, but hotel is chock-full of perks for all members of the family. Guests not only get a free water taxi to the namesake grounds, but once inside, get VIP treatment at all parks with priority status at restaurants and rides. And should you forget cash? NBD — you can charge anything right to your hotel room. Adults will also appreciate the complimentary golf transportation and access, as well as the on-site Mandara Spa and nightly entertainment at the piazza. For all the sweet resort features without the added dollar signs, the Disney's Pop Century Resort has endless Disney perks (click the link to find out exactly what they are) with the fastest access to the parks than other value hotels. Plus, should you want to try out another Disney resort's pool or fitness center, it's no problem — you'll have access to all of 'em.
Top Driving Tip: If you have an extra hour to drive to Cape Canaveral, the Kennedy Space Center is only some 50 miles outside of Orlando. NASA may not have plans for manned space flights anytime soon, but the detour may inspire the future generation in the back seat to take to the skies.
Road Trip #3: Miami to Naples, FL
Total Driving Time: 2 hours, 6 minutes
Distance Covered: 126 miles
Take This Trip If: You've got time and a 401(k) to blow.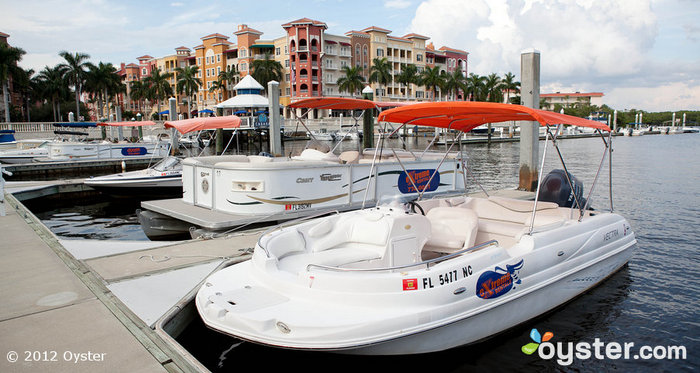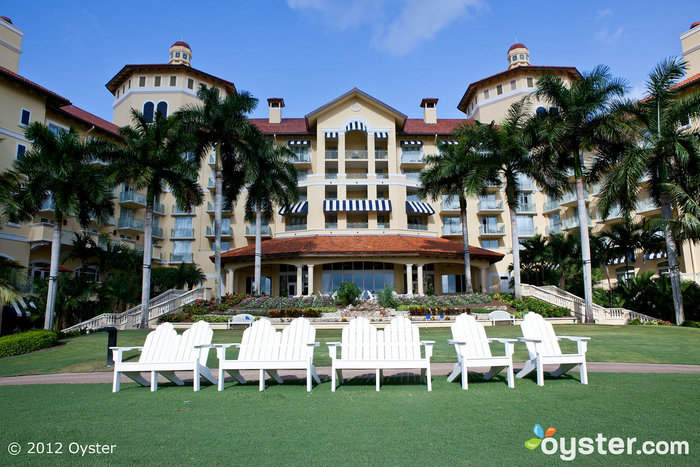 Though the town has its share of ritzy galleries and high-end shopping, Naples is known for its more mature demographic. With beautiful white sand beaches, 80 golf courses, and calm, crystalline tides from the Gulf of Mexico, Naples mainly attracts sophisticated retirees who can afford the chic lifestyle. Feel like splurging? The Ritz-Carlton Golf Resort offers two world-renowned gold courses, popular upscale Mediterranean restaurant, and shuttle service to sister Ritz property on the beach. But if you'd rather spend more green on shopping along famous Fifth Avenue (no, not the NY one, but similar…), The Inn at Pelican Bay offers prime amenities in a pristine setting. The hotel offers complementary lakeside breakfast and bike loans, and even hosts a weekly senior singles event. [Ed note: Now how freaking swanky is that?!?] But we promise, should you not be 65 plus years of age, you'll still appreciate the quiet beauty Naples provides.
Top Driving Tip: It may take about the same amount of time to drive on either Alligator Alley (I-74) or the Tamiami Trail (Highway 41), but 41 winds through the more beautiful Miccosukee Indian Reservation, and offers roadside attractions like the Sasquatch-related Skunk Ape Research Headquarters or the smallest post office in the U.S. (Seriously.)
RELATED LINKS
All products are independently selected by our writers and editors. If you buy something through our links, Oyster may earn an affiliate commission.