The Best Road Trips is a weekly summer series highlighting our favorite getaways from major cities all over the United States.
Some associate Boston with crooked old cobblestone streets, the American Revolution, and clam chowder. (Yum.) And it's got all that. But those who work and play there know that it's also filled with sprawling convention centers, progressive universities, and biotech research facilities. A forward-looking town with an eye on the past, Boston combines the charm of a New England harbor town with the mindset of a bustling, modern metropolis. And sometimes, its non-stop vibe can seriously wear a resident out. So if you're a Bostonian looking for a weekend escape, why not hop in the car and head to a not-too-far destination where you can find some R&R? Get your bags packed and set your GPS: We've got some miles to cover.
Road Trip #1: Boston to Kennebunkport, ME
Total Driving Time: 1 hour, 42 minutes
Distance Covered: 85.4 miles
Take This Trip If: You want to bask in the sun like a quality Kennedy or Bush family member would.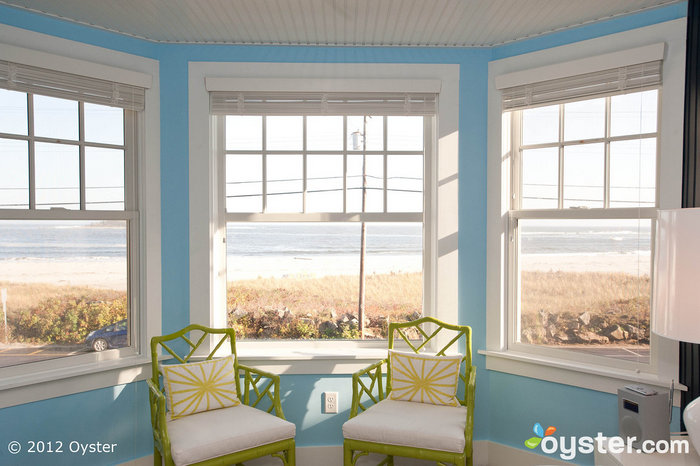 Originally settled in 1610, Kennebunkport was a small fishing village that experienced an economic boom during the shipbuilding era. But it wasn't until after the Civil War that Kennebunkport became what it is today: a summer retreat for wealthy families. In fact, former President George W. Bush's great-grandfather's compound, Walker's Point, is located in Kennebunkport, and both he and his father (also former President Bush) have hosted foreign dignitaries at the summer home. What, you may ask, attracts the elite crowds to this Northeastern haven during the summer months? The private-feeling beaches are the area's main draw and activities such as kayaking, whale-watching, golfing, and fishing are also popular pastimes. If you're looking for a cozy hotel that's also spot-on chic, The Tides Beach Club is the perfect choice. Fully renovated in 2011, the hotel's vibe is South Beach-esque and trendy while maintaining a quaint New England feel. Two suites designed by Jonathan Adler, spectacular ocean views, and a contemporary restaurant with a sophisticated menu are just some of the upgrades that came with the renovation. For a more budget-conscious option, stay at The Colony Hotel. This historic hotel has a welcoming attitude to both kids and dogs, attracting families with its heated saltwater swimming pool and private sandy beach.
Top Driving Tip: Don't forget about all the neighboring areas: Kennebunkport is a great launching point for visiting nearby towns like Ogunquit — known for its long sandy beaches and as being Maine's biggest LGBT destination — or York, to see the famous Neddick Lighthouse.
Road Trip #2: Boston to Eastern Vermont
Total Driving Time: 2 hours, 22 minutes
Distance Covered: 129 miles
Take This Trip If: You're seeking peaceful, scenic surroundings to explore.
If there's one word that describes Eastern Vermont, it's gotta be "scenic." Winding roads along rolling hills allow for wonderful vistas of tumbling streams, sweet lil' villages and superb trails amid thick woods and state forests. The Green Mountains, one of the main attractions in the region, has killer views, and during the winter, it has some best skiing on the East Coast. But the summer can actually be the perfect time to go: no crowds, comfortable temperatures, and tons of outdoor pursuits to participate in — from hiking to sailing to rock-climbing. For visitors ready to splurge, The Woodstock Inn and Resort is the place to be. With beautiful, manicured grounds, quintessential Vermont architecture, a gorgeous LEED-certified spa, wonderful fitness and wellness amenities, solid dining options, and a great location in a quiet pocket in the heart of Woodstock, this hotel is top-notch. Looking to save some green? The historic Norwich Inn — where President James Monroe and Dr. Seuss have both stayed — is a quaint, well-maintained inn with just 38 rooms. Rooms have a cozy New England feel, with floral wallpaper, Victorian antiques, and exposed brick, and though rates aren't super low, they provide solid value for the price tag.
Top Driving Tip: Many roads in Eastern Vermont do not have street lights, so it is best to start your journey early enough in the day that you'll arrive before sunset.
Road Trip #3: Boston to Martha's Vineyard, MA
Total Travel Time: 2 hours, 17 minutes (including a short ferry ride)
Distance Covered: 90 miles
Take This Trip If: You're ready for a slower pace in a quiet-but-still-totally-hip spot.
The charming island of Martha's Vineyard — a happy medium between well-developed Cape Cod and the more isolated Nantucket — offers pristine beaches, boutique shops, and a taste of the region's maritime past. The area's small seaside towns are picturesque — visitors and locals bike and stroll along the streets — but still have high-end shopping (read: no chain stores here) and entertainment options, such as wine bars, ice cream parlors, and music scenes at the elegant pubs and bars. Competition in the foodie world is fierce on this island, as the restaurants here have some of the finest service and cuisine on the East Coast. If you're looking for luxury accommodations, the Vineyard Square Hotel's extensive renovations over the years have brought about fresh, airy rooms, modern technology (free Wi-Fi, flat-screen TVs and iPod docks), and updated amenities (a salon, fitness center and popular on-site restaurant). The hotel, located on Main Street, offers luxury suites with spacious kitchenettes and private decks. If a more remote location is more your cup of tea, Lambert's Cove Inn is a cozy spot. It's quiet and classy (no children under eight are allowed here), with a home-like feel and beautifully manicured grounds. The free daily made-to-order breakfast during the high season is superior to the buffet-style breakfasts offered by many inns, and the hotel boasts one of the most famed restaurants on the entire island.
Top Driving Tip: Make sure to book a spot on the Steamship Authority ASAP: It's the only ferry to MV that allows vehicles and the best times fill up fast.
RELATED LINKS:
All products are independently selected by our writers and editors. If you buy something through our links, Oyster may earn an affiliate commission.