The Best Road Trips is a weekly summer series highlighting our favorite getaways from major cities all over the United States.
If you live in Charlotte, you know that there is more to this city than just a booming business district. The Queen City, naturally, has also proved to be a highly-cultured one, with both a symphony and opera that are each among the best of their respective fields in the nation. And, there are plenty of other sights and museums in Charlotte that are available to keep locals busy. But there's definitely something to be said for getting out of the city and hitting the dusty trail for some new and some far – but still within driving distance, of course – destinations. So, get your bags packed and hop in the car: We've got some miles to cover.
Road Trip #1: Charlotte to Charleston, SC
Total Driving Time: 3 hours, 40 minutes
Distance Covered: 209 miles
Take This Trip If: You're searching for some good 'ole Southern charm.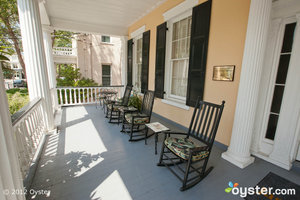 If Charlotte is the "New South," Charleston must be the "Old South." It's no wonder why some of the most popular romance novels — Dear John, The Notebook, The Last Song — have been set in or near the city of Charleston. Between the horse-drawn carriages, the colorful gardens, and the historic architecture, Charleston exudes old-world charm. Plus, the city's height restriction ordinance has kept the downtown skyline relatively low, giving Charleston a small-town vibe. Its streets are ideal for walking, and almost always move at a quiet, relaxed pace. If you're aiming for the ultimate historic experience, the Jasmine House Inn is the perfect choice. Housed in a beautifully renovated mansion dating to 1843, the Inn's 12 rooms have all the charm of a B&B and the comforts of an upscale hotel, plus great freebies such as continental breakfast and evening hors d'oeuvres. For a more budget-conscious option, stay at the Hampton Inn Historic District. It has a perfectly nice outdoor pool and a cozy lobby with plenty of seating and a fireplace to cozy up next to with someone you love.
Top Driving Tip: It's nearly an hour out of the way, but many road-trippers like to swing by Congaree National Park on their way down to Charleston by switching over to US-601 after hitting Columbia. The park features scenic rivers for canoeing, as well as beautiful plant growth.
Road Trip #2: Charlotte to Atlanta, GA
Total Driving Time: 4 hours, 13 minutes
Distance Covered: 244 miles
Take This Trip If: You're ready to go a little crazy — in more ways than one.
Often referred to as the "New York of the South," Atlanta is all about having a good time. The posh city – home to celebrities such as Tyler Perry, Jennifer Nettles, and of course, the cast of The Real Housewives of Atlanta – is known for its lively nightlife, gourmet restaurants that serve up comfort food with a twist, and fabulous shopping along famed Peachtree Road. For visitors ready to splurge, the St. Regis is the place to be. Luxury reaches an impressive, otherworldy level here: Expect huge, comfortable beds, marble bathrooms with soaking tubs, and a luxurious outdoor pool piazza. Looking to save some green? The Artmore Hotel offers rooms at affordable rates and its garden courtyard, with brown wicker lounge chairs and a stone fountain, is a great place to Zen out.
Top Driving Tip: Some drivers pick up I-20 W about thirty miles from Atlanta, but if you stick to I-85 S, you'll shave about 30 minutes off of your trip.
Road Trip #3: Charlotte to Hilton Head, SC
Total Driving Time: 4 hours, 25 minutes
Distance Covered: 253 miles
Take This Trip If: You want to play around in the ocean.
Hilton Head is known as one of the best spots to vacation on the East Coast, but don't mistake its panache for pretentiousness. This resort town is laid-back, boasting calm public beaches and low-key seafood eateries. Most of Hilton Head's attractions are outdoors; its championship golf courses have long been its claim to fame, but tennis and horseback riding are also big draws – and the ocean is hard to miss. If you're looking for a quaint, affordable setting, the Main Street Inn & Spa is easily one of the most romantic and beautiful B&Bs in Hilton Head. Families and visitors hoping for a beachfront location may prefer the Hilton Head Marriott Resort & Spa. This upper-mid-range hotel has a great location on a wonderful white-sand beach, and it has all the amenities of a property of this category, plus some: a nice spa, a fitness center, a huge pool, a kids' program, and several dining options, including a convenience-store-style market.
Top Driving Tip: Be sure to pull over when you see a local produce stand; plenty of them dot I-95 and offer tasty seasonal fruits and veggies fresh from the farm.
RELATED LINKS: