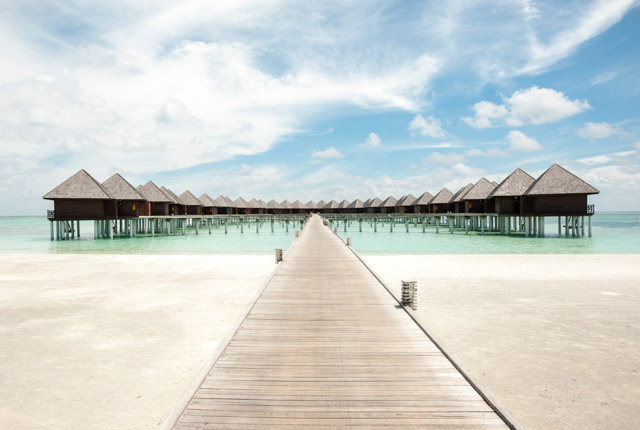 We should start by saying there's no real terrible time to visit the Maldives. Sure, it has high and low seasons like any other destination, but the truth is that this island paradise is actually just that: a paradise. Even during the rainy season, when you can expect downpours nearly every day, rain usually comes in spurts and makes way for sunny skies and gorgeous sunsets. Since the Maldivian archipelago is one of the most geographically dispersed countries in the world, visitors can expect varying weather and water conditions depending on which island or atoll they are on. Researching specific islands or atolls in correlation to the specific activities you are interested in is highly suggested in order to pinpoint the best month for your visit.
However, we've got a few general timely tips to help give you a better sense of what to expect, where and when. For example, divers can expect to see manta rays year-round in the southernmost atolls, and temperatures fluctuate about ten degrees on average throughout the year, with highs in the upper 80s and lows in the mid-70s. Expect a wet monsoon season from May to September and a dry season from the end of December through April. That said, take weather patterns and average temperatures somewhat with a grain of salt. The Maldives is extremely susceptible to climate change and weather can be unpredictable. Read on to see what we encountered versus what we expected.
January
For anyone looking to escape the Maldives' year-round swelter, go in January when temps are at their coolest, usually resting between 80 to 85 degrees. Diving fanatics, take note: January jump-starts three months of the best diving in the Maldives thanks to a combination of calm waters and clear visibility. Why? January, February, and March see the least amount of rainfall, with under 10 inches of precipitation per month. This makes the new year a great time to visit the island chain. Tip: Less rainfall also means less humidity.
February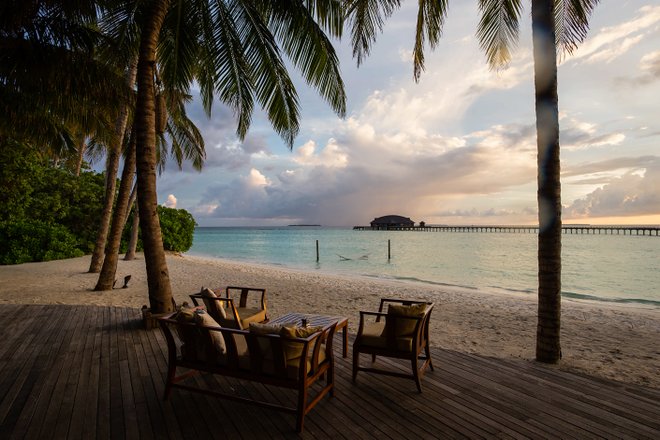 Another one of the archipelago's driest months is February. During this month, visitors will also be welcomed with beautifully balmy temperatures and lower humidity, though a few showers may be present. As the currents begin to dissipate through February, the excellent diving conditions start to wain. That said, folks can still expect some of the better diving conditions during this time. Whale sharks are on the eastern side of the archipelago after having completed their migration in December and sometimes into January. For those looking to maximize their time in the sun, this month has the longest days with an average of 10 hours of sunlight per day.
March and April
March marks the last of the Maldives' drier months, so for those who want to avoid the wet monsoon season, this is your last chance until November to get in before the rain starts frequenting the islands. The change in weather bodes well for surfers, crowning March with some of the best surfing swells and light winds. In April, surfing season is at its peak with great swells in both the northern and southern atolls. Day temps slowly creep higher in April and the sea warms up.
May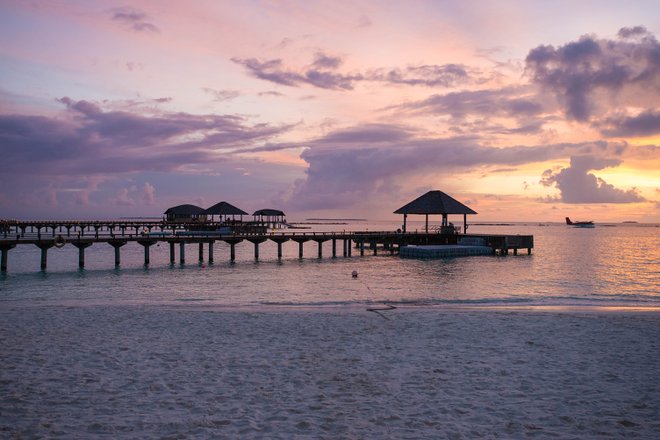 May brings the start of the Maldives' wet season. Those who brave the rain will be rewarded with some of the destination's best sunsets. Travelers looking for a bargain can start here as airfare tends to drop from May through July. For example, flights from New York City to Maldives range between $830 to $1,100 — half the cost of tickets in high season. Some hotels even begin closing in May or dropping prices — another marker that low season has begun.
The wet season lasts until September, though May is one of the wetter months. Visitors can expect around eight inches of rain for nearly 20 days of the month. Surfers will enjoy the swells and light winds sustained by the southwestern monsoon, while divers will want to start moving to the eastern side of the archipelago through November. Meanwhile, whale sharks begin moving back to the western side of the island chain, where they'll hang out until December. Diving waters are still relatively calm, but can get a bit choppy with the southwestern monsoon.
June
Heavy monsoon rains make June another one of the Maldives' wettest months, though visitors during this time will still be rewarded with outstanding sunsets. Hammerheads and reef sharks are most common during June and are likely to be visible in much shallower waters thanks to the cooler water temps. Unfortunately, the frequent rains mean visibility isn't the best. Airfares are also likely to gradually get higher in June, July, and August (round-trip flights from New York City can cost between $1,200 and $2,200).
June also sees a lot of surfers making their annual pilgrimage to the islands for the WQS surfing competition. Light winds and tropical storms are brought in by the southwestern monsoon during this shoulder season. The June storms also bring in a load of plankton, particularly to the Baa Atoll's Hanifaru Bay, giving divers a good chance of spotting whale sharks in the area. It's also worth noting that by June, visitors can only expect about seven hours of sunlight per day.
July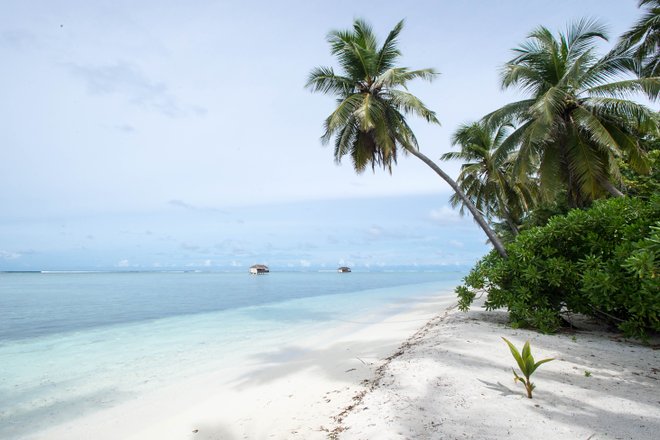 With tropical storms in full force, July's surf swells can reach up to seven feet or more. The high number of storms also means that the visibility is weak for divers, which may not be the best thing for those who are sharing the waters with hammerheads and reef sharks. While some give July average high temperatures in the 80s, we found that on clear days, temperatures sometimes climbed into the triple digits. This is one of the wettest months and visitors should prepare themselves for possible torrential rain nearly every day. But even then, it won't last too long, and the sun will return to blue skies.
August and September
Surf swells are still high during August, and prices begin to rise as school holidays bring swarms of tourists to the Maldives. The weather during August is the epitome of tropical, with heavy rain, lots of humidity, and typical temperatures in the mid-80s. In September, rains continue to pour down and winds pick up over the waters. This is one of the wettest months and visitors who come during this off-season can expect showers nearly every day.
October and November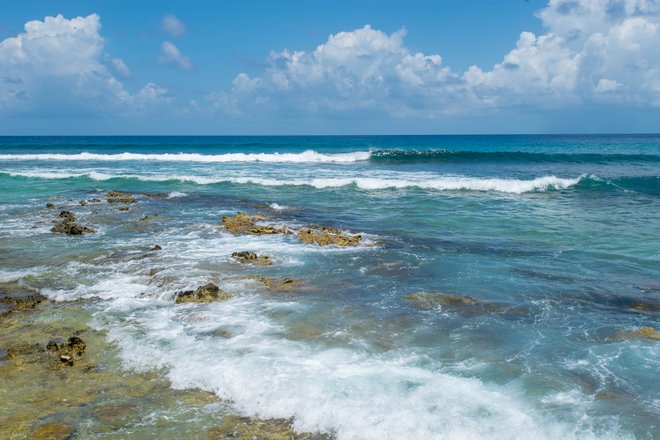 The medium-sized waves and better weather in October are excellent learning conditions for beginner surfers looking to hang ten. Less storms mean less intense swells and calmer winds. However, sun worshippers may want to consider visiting another time as October has some of the shortest days of the year (on average, six hours of sunshine per day).
Like in May, the change in weather makes November one of the cheapest months to fly to the Maldives (flights from New York City cost about half the price of high season). While flight costs may be lower, temperatures are still high, reaching into the mid-to-high 80s or even 90s.
December
December is the second-most expensive month to visit the Maldives due to the holiday vacation season. Peak prices signal the start of peak season and last until March. This is also the trickiest month to find whale sharks since they begin their migration to the eastern side of the archipelago, where they can be spotted until April when they start heading back west. Divers will also want to follow the whale sharks to the eastern side of the islands through April. Here, conditions are better and waters are calmer. In a last-ditch effort, the southwestern monsoon pours down in December again before bidding the islands farewell by January.
A Few Other Things to Consider
The Maldives is one of the only countries in the world that is 100 percent Muslim, meaning you'll most likely want to plan your vacation around the holy month of Ramadan. During this month-long period, the majority of the hotels and tourism staff will be fasting from both food and water in the daytime hours. As you can expect, this can cause service to be slow, workers to be confused, and several services on hotel grounds to intermittently close during prayer time. On the other hand, visiting during this time offers visitors a unique look into the culture, especially in the evenings in Male when the fast is broken.
One more thing: Surfers will want to look at the subtle differences in the two surf seasons. The North Male Atoll's surf season runs from April to October, while the Outer Atolls' season is prime from February through April.
You'll Also Like:
All products are independently selected by our writers and editors. If you buy something through our links, Oyster may earn an affiliate commission.