When visiting the Anatolian Region of Turkey, it's a requirement, in our opinion, to head to Cappadocia. Thanks to erosion and volcanic eruption (natural occurrences we aren't usually thanking), the city is filled with beautiful rock formations, dubbed "fairy chimneys" for their surreal appearance. They kind of look like honeycombs these days, as over the centuries, locals have carved into the soft rock to form houses and churches, creating underground systems in the process. Hot air balloon rides are particularly popular in the area, as they give travelers a chance to see the amazing and well-preserved structures from a bird's eye view. For a truly unique experience, stay at one of the many cave hotels that have guest rooms carved into the rock. These 10 are some of the coolest you can book!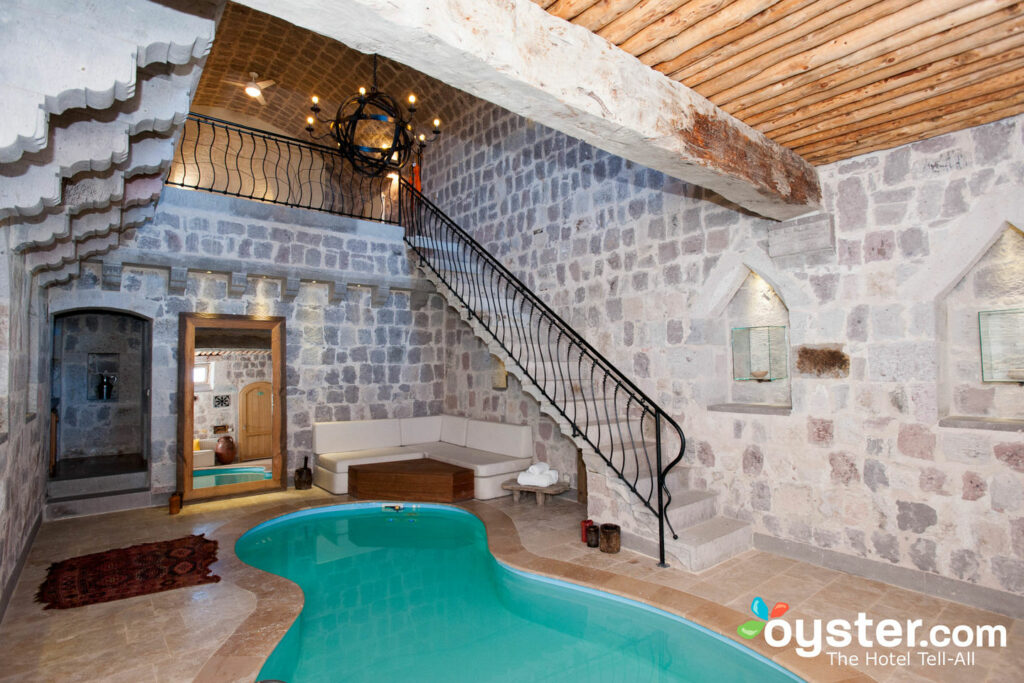 This sprawling hillside property made up of six stone buildings (and the caves beneath them) has stunning views of Pigeon Valley from its many terraces and courtyards, where guests can enjoy wine from the hotel's immense cellar. Rooms at Argos in Cappadocia have Turkish antiques lending a rich decorative element, wood-burning fireplaces, and access to outdoor courtyards or terraces. Suites have separate living areas with private terraces or balconies, and the Splendid Suites have their own private indoor pools carved into the cave floors. The all-stone bathrooms have large walk-in showers and heated towel racks.
One of the top hotels in Urgup, Kayakapi Premium Cavesis a hilltop property occupying 2,700 acres of a residential neighborhood composed of hundreds of long since abandoned cave homes and historical buildings. A full spa, outdoor pool, and two restaurants fill the unique stone interiors and gorgeous grounds here. With 32 rooms and counting, the hotel features large guest units, all of which are built into true historical caves. Each is unique and luxurious, carved into the rocky hillside with a separate living area and work desks. Elegant wooden furniture and colorful Turkish kilims are used sparingly, letting the stone spaces exude a natural Cappadocian ambiance. Some rooms have fireplaces, courtyards, or terraces, and a few spaces even have their own private cave pools.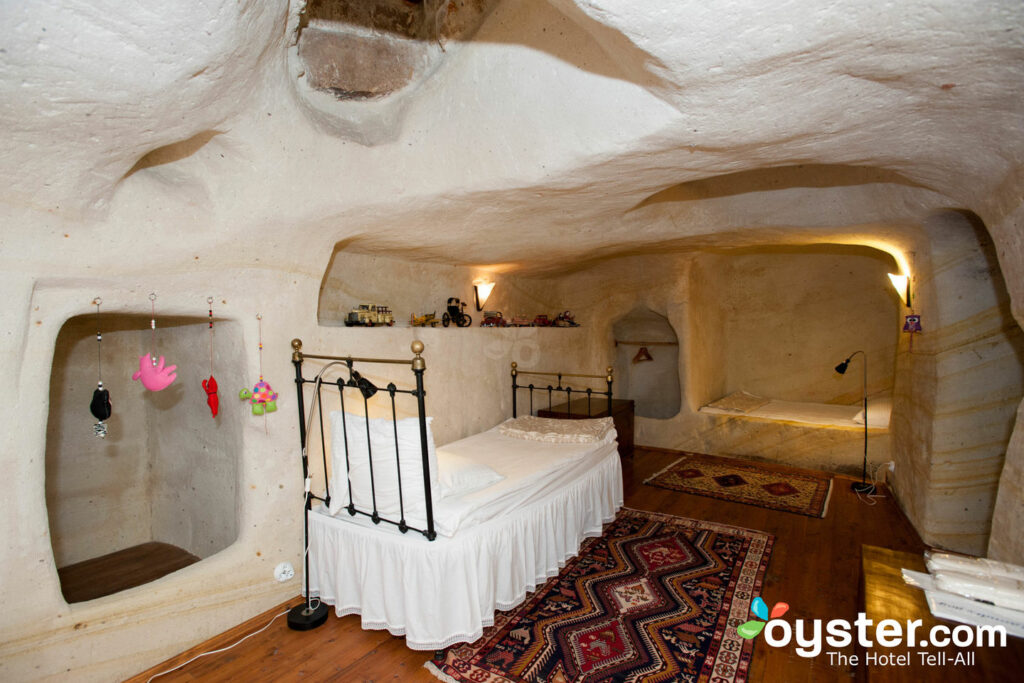 Converted from nine abandoned cave houses and their neighboring fifth-century caves, Esbelli Evi Cave Hotel is a boutique with 10 suites and four standard rooms. It was the first hotel in Cappadocia, opening in 1990. The natural stones are the highlights of the rooms; each area is carved out individually to accommodate the bathrooms, doors, windows, and even closets — no two rooms are the same. The larger suites have en-suite bedrooms and two additional day-beds in the separate living areas, separate kitchens, and marble bathrooms.
Designed for explorers who prefer a quiet and meditative space, the 35-room Gamirasu Cave Hotel is a stunning and romantic find in Ayvali Village. The property is a combination of converted village houses and a Byzantine-era monastery that now hosts a number of modern conveniences — from a heated outdoor pool to free Wi-Fi — but has retained historic details such as frescoes decorating the walls. Standard rooms have the basic beds and en-suite showers, while the larger suites have luxuriously decorated separate living areas and balconies with great views.
Anatolian Houses is an upscale, traditionally styled complex with 33 suites carved from ancient stone caves located in the center of Göreme town. The original architecture has been superbly maintained as has its wonderfully historic ambience, though with all the modern comforts you'd expect from a hotel of this caliber. The Roman spa is certainly impressive and the wine fountain is sure to appeal to many. All of the hotel's 33 suites are carved into rock in the Cappadocian style and retain much of their original elements — including stone archways, carved wooden beams, and ancient alcoves. Local art pieces also decorate the stone walls, while modern amenities include minibars and flat-screen TVs with digital channels.
The 14-room Aydinli Cave House Hotel is a mid-range, family-run guesthouse set on a hillside overlooking Göreme town and the surrounding area. Friendly and accommodating service is a real highlight here, as is an excellent breakfast that can be taken on the panoramic terrace. Rooms are generally spacious with wonderful old stone walls, exposed wooden beams, and locally-sourced decorations and furnishings; they also feature furnished terraces and separate lounges with fireplaces. Bathrooms also tend to be relatively large with heated towel rails and plenty of toiletries — many also come with bathtubs big enough for two.
The 21-room Traveller's Cave Hotel is one of the more smartly presented properties in Göreme, both inside and out, while retaining plenty of rustic charm. Rooms are particularly nicely finished, with comparatively clean lines and polished wooden floors — mixed with traditional furnishings and Turkish rugs. In-room amenities are impressive, and include free Wi-Fi, mini-fridges, tea and coffee facilities, and flat-screen TVs with satellite (and English-speaking) channels. Bathrooms are also better than most in the area; many have hammam-style stone basins and whirlpool tubs, while most rooms also feature fireplaces.
Sultan Cave Suites, set about a 10-minute walk up a cobblestone street from the center of town, is fantastically terraced into the hillside, with stone patios facing multiple directions. Many of the 30 rooms here are carved directly into the surrounding rock, making for delightful features like curved walls and indentations that have been turned into functional sections. Doors and furnishings are made of substantial wood, and some rooms have skylights cut into the rock. With arched doorways as additional highlights, most units have a significant amount of sconce lighting, though spaces can still be a bit on the dark side.
The 36-room Cappadocia Cave Suites' main selling point is its excellent integration with the striking "fairy chimneys" the region is renowned for. The blend of these with ancient cave dwellings and modern stone buildings give a real feel of history throughout. There are a total of 36 rooms, of which 20 of them are rock-cut caves and 16 of them are stone-arched rooms. Each has different layout and variations in decor and furnishings, though all are decorated with a selection of local handicrafts and regional furnishings. They are well equipped with minibars, small flat-screen TVs, and (in most) nice soaking tubs.
This charming bed and breakfast enjoys fantastic views of the surrounding countryside and offers a plethora of romantic places to sit among stone terraces. Multiple guests have lauded the Elysee thanks in large part to the warmth of the owner and the willingness of the staff to help book travel and tourist activities. Guest rooms contain arched doorways that lend a particularly elegant feel to the spaces, and pale stone is handsomely set off by rough-hewn wood ceilings with large chunky crossbeams. The rooms need little decor to feel authentic, though there is the occasional decorative throw rug. Bathrooms are tiled in light brown and offer stalls with handheld showerheads.
All products are independently selected by our writers and editors. If you buy something through our links, Oyster may earn an affiliate commission.