Walk around any college campus at the beginning of a new school year, and you'll feel the energy and excitement. (Trust us. We walk through Washington Square Park every morning on the way to our Oyster offices.) A new year brings new opportunities; it's a fresh start and a blank slate, and particularly at the beginning of the school year, it feels like anything is possible -- and it is! For all of us working here at Oyster, this optimistic attitude is something we miss about our college years. So, we put our nostalgia to good use and came up with a pretty awesome list of some pretty awesome college towns. Here are 10 college towns that'll have you thinking about hitting the books once again.
Berkeley, California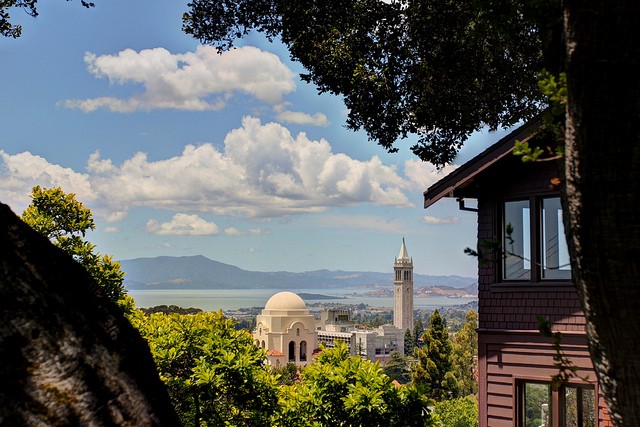 Photo Credit: John Morgan
Welcome to Berkeley, a place with mere perfect weather that's teeming with history and culture — and corner coffee shops. It also just so happens to be home to the oldest campus in the University of California system — you guessed it, University of California Berkeley. Whether you're looking for gourmet vegan dining, a world-renowned theatrical performance, or serious city nightlife (hello, San Francisco), you'll find it in Berkeley.
Where to Stay: Sheraton Fisherman's Wharf Hotel
Visitors to Berkeley might want to stay in nearby San Francisco (only 30 minutes by car) for convenience. Because of its location in a tourist-friendly neighborhood, The Sheraton Fisherman's Wharf Hotel is a great option for those exploring the area.
Ithaca, New York
Photo Credit: Mads Bodker
If you've ever been, then you know that "Ithaca is gorges." The popular saying can be seen everywhere from bumper stickers to t-shirts in this college town. The slogan pays homage to Ithaca's ubiquitous waterfalls and their unrivaled beauty. Home to both Ithaca College and Cornell University, Ithaca is a place where students, outdoor enthusiasts, vegetarian liberal activist PhDs, and IPA-drinking hipsters mingle effortlessly. And whether you're a visitor or a longtime resident, you'll known that none of these terms are mutually exclusive.
Where to Stay: Hope Lake Lodge
Just a short drive from Ithaca, Hope Lake Lodge is a family-friendly resort that blends seamlessly with the natural beauty of the Finger Lakes Region. After a busy day exploring all Ithaca has to offer, relaxing by the beautiful outdoor pool won't sound like a bad idea at all.
College Station, Texas
Photo Credit: Stuart Seeger
Unlike most college towns, College Station wouldn't exist at all had Texas A&M not opened its doors back in 1876. Literally built around the school, College Station is now a thriving city with a multitude of shopping, dining, and entertainment options. But this college town's true love is football. As part of the popular Southeastern Conference, Texas A&M is home of the Aggies, and College Station residents aren't afraid of showing their pride. Football fans will feel right at home in Aggieland, thanks to A&M's long history of sports tradition.
Where to Stay: Magnolia Hotel Houston
College Station doesn't have its own international airport, but luckily Aggieland is only an hour and a half away from Houston. We like the Magnolia Hotel Houston for its rooftop pool, comfortable rooms, and subtle nods to the Lone Star State throughout the property.
Madison, Wisconsin
Photo Credit: Richard Hurd
The University of Wisconsin Madison has long been known as a politically active campus. Not only is the school directly linked to the Wisconsin State Capitol by State Street, but many will remember the Vietnam War protests that took place here in the 1960s and 70s. Even today, it's hard to find a school as entwined with the happenings of its city as Madison. State Street remains the place to be, with great shopping, dining, and nightlife. There's no shortage of outdoor activity either, as the school, like much of the city itself, lies between two lakes, the Mendota and Monona.
Where to Stay: Allegro Chicago Hotel
Don't get us wrong, Madison is an awesome place to stay. But if you're craving a truly big city feel, stay in Chicago and take a day trip to Wisconsin. The Allegro Chicago Hotel is right in the middle of the theatre district, and feels kind of like a theatre itself. Plus, rooms are spacious and well-equipped with freebies.
Photo Credit: Rick Cooper
One of the biggest college towns on our list, Tucson is known for its beautiful desert scenery, 350+ days of sunshine per year, and incredible culinary scene (it's just 60 miles north of Mexico, which means you'll find some pretty amazing tacos). The nearby mountain ranges of Catalina, Rincon, and Santa Rita, offer incredible hiking and biking opportunities. But if the thought of biking around the desert is already making your sweat, there's plenty of indoor (air-conditioned) activity to take part in as well. The University of Arizona men's basketball program is one of the best in the country, and games attract rowdy fans from all over town.
Where to Stay: JW Marriott Tucson Starr Pass Resort & Spa
A bit removed from the city center, The JW Marriott Tucson Starr Pass Resort & Spa offers striking scenery in a luxurious setting. The large pool, lazy river, and water slide are perfect for Tucson's HOT summer days.
Burlington, Vermont
Photo Credit: Michael Whitney
The largest city in the state of Vermont, Burlington is home to the University of Vermont, Burlington College, and Champlain College. The city experiences four distinct seasons, and during the winter it's not uncommon to see skiers and snowboarders hauling their gear through downtown. Burlington also boasts a great music scene; the band Phish was born on UVM's campus in 1983, and the popular SpringFest hosts various musical guests each year.
Where to Stay: The Norwich Inn
Quaint, cozy, charming — The Norwich Inn is everything you'd want a New England inn to be. Guests can expect fireplaces, oriental rugs, and Victorian furnishings, along with modern amenities and an on-site brewery. It's an hour-and-a-half drive from Burlington, but is only a five-minute walk from Dartmouth College's campus, located in the adorable college town of Hanover, NH.
Gainesville, Florida
Photo Credit: Dan Smith
With a low cost of living, a near tropical climate, and a huge music scene (there's an annual, three-day rock 'n' roll festival) it's not hard to see why Gainesville is often ranked as one of the country's best places to live. Home to the University of Florida, Gainesville is never short on school spirit. Football season is a particularly exciting time, as thousands of fans flock to Ben Hill Griffin Stadium, AKA "The Swamp," to cheer on the Gators.
Where to Stay: Hilton St. Augustine Historic Bayfront or Hilton Orlando Bonnet Creek
Gainesville's location in central Florida makes it easy to reach popular tourist destinations. Whether you'd like to head to the beach, or spend a little time with Mickey, the Hilton St. Augustine Historic Bayfront and the Hilton Orlando Bonnet Creek are both excellent options within a two-hour drive of Gainesville.
Athens, Georgia
Photo Credit: David Torcivia
Steeped in tradition, the University of Georgia and its surrounding town of Athens are known for southern hospitality and a devotion to upholding customs. One such tradition is the annual football game between the Florida Gators and the Georgia Bulldogs. Considered one of the oldest rivalries in football, the game is often referred to as the "World's Largest Cocktail Party." But don't fret if you're not a sports fan; Athens also happens to be the birthplace of R.E.M. and the B-52's, and the city hosts a yearly music festival known as Athfest.
Where to Stay: Loews Atlanta Hotel
Just over an hour away from Athens, Atlanta is Georgia's historical and cultural hub. The stylish Loews Atlanta Hotel has an awesome midtown location and bright, modern rooms with floor-to-ceiling windows.
Boulder, Colorado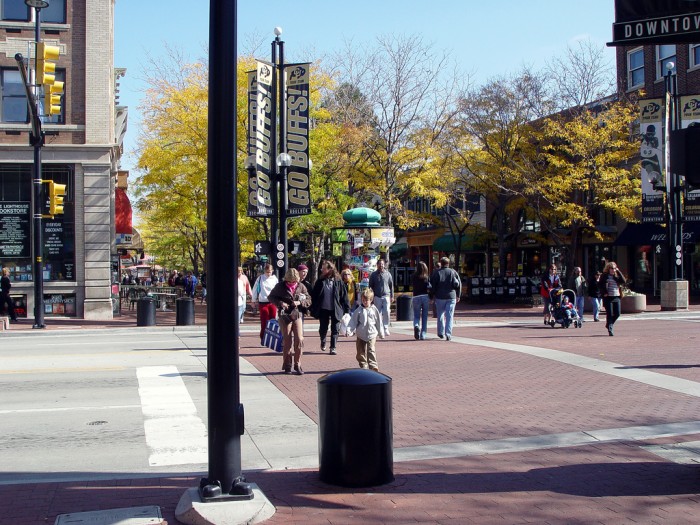 Photo Credit: Thomas Rumley
Look on any list of "best college towns" and you'll likely find Boulder. A city known for its staggering natural beauty, Boulder is an outdoor adventurer's paradise, with endless bike paths, hiking trails, and rock formations to climb. Boulder also has a great downtown; Pearl Street is the ever popular student hangout, with tons of bars and restaurants.
Where to Stay: Hotel Monaco Denver- A Kimpton Hotel
Denver is a mere 40 minutes away from Boulder, and the Hotel Monaco Denver is certainly worth the drive. This funky (we're not kidding) hotel is centrally located within Denver, has awesome standard rooms, and is pet-friendly!
Photo Credit: Michael Hicks
With schools like Harvard and MIT within its borders, there's got to be something in the water up in Cambridge. Just a quick T ride away from Boston, Cambridge has the best of both worlds — a small college town feel with direct access to the big city. Known for its town squares, Cambridge has many unique neighborhoods, each with a different vibe. Check out Lechmere Square for great shopping, Inman Square for a funky music scene, and Central Square for global cuisine.
Where to Stay: Hotel Veritas
A few blocks from Harvard Square, the Hotel Veritas has comfortable rooms with elegant decor and modern furnishings. It's also within walking distance to the Charles River and the nearest T stop.
RELATED LINKS:
All products are independently selected by our writers and editors. If you buy something through our links, Oyster may earn an affiliate commission.