The election is only days away, but before you cast your ballot for Romney or Obama, we have an entirely different presidential face-off that requires your vote: Two of the world's finest Presidential Suites are going head to head for your vacation dollars. These qualified candidates bring a different set of skills to the table, run on entirely different foundations, and boast excellent Junior Suite running mates for the job. And unlike the other election, nobody loses with one of these choices. To help you decide, we've asked each suite to give a final statement in its own words. (Yes, walls can talk.)
J.W. Marriott Essex House, New York City
"My fellow Americans, I speak to today from this beautiful Central Park location in the great city of New York to tell you why I at the J.W. Marriott Essex House should be voted the best Presidential Suite in the United States.
It's true that since my 1931 opening, I may have belonged to the Marriott family, the Westin Brand, and Jumeirah Group, but I'm no flip-flopper, and my return to Marriott shows that I am loyal to quality service and the pursuit of excellence. In addition, I have my own video surveillance room, because security is of the utmost importance to me. And, yes, I may boast luxury brand status, with my 24-hour room service and a curated art collection, but that doesn't mean I don't care about the citizen who can't afford my $10,000 per night price tag. After all, my Junior Suite running mate is just under $1,000 per night, which you could just borrow from your parents if needed.
At the Essex House, we believe in providing comfort, luxury, and free breakfast in qualifying rate packages, all for the hard-working Americans who have earned at the nation's finest penthouse at the finest hotel."
InterContinental, San Francisco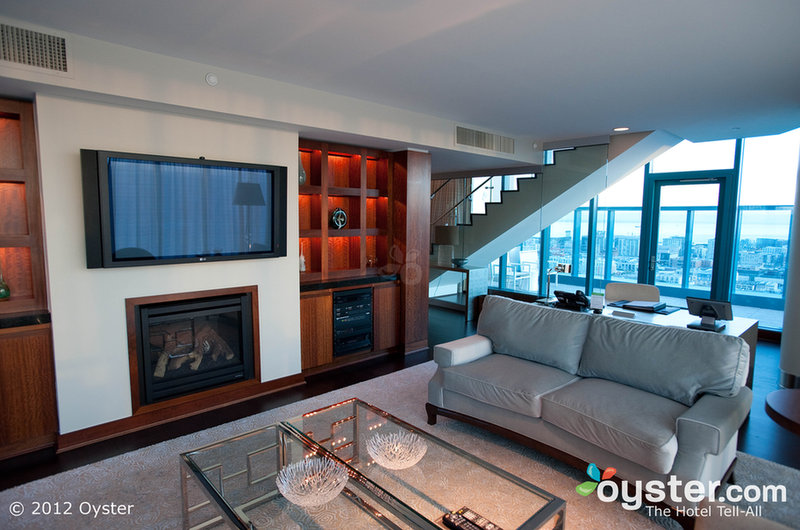 "My fellow Americans, I am proud to address you from the great city of San Francisco, and as one of the first green Presidential Suites in the nation. I am not only a proud resident of the LEED certified InterContinental San Francisco, but I also offer hybrid Zipcars to my guests so that they, too, have the opportunity to achieve greener status.
Along with my Junior Suite, I offer Club Room access, which allows citizens free breakfast and refreshments, a service that all guests are entitled to experience. As a spacious duplex, my comfortable 2,000 square-feet allow for a full kitchen, two stunning terraces, a baby grand piano, and a Jacuzzi and bidet in one of my two gorgeous bathrooms.
But go ahead and see for yourself what makes me the best Presidential Suite in nation, and book this InterContinental room to have your voice heard."
So who wins? Let us know in the comments section or on Facebook!
All products are independently selected by our writers and editors. If you buy something through our links, Oyster may earn an affiliate commission.