For many New Yorkers, heading to the Hamptons isn't just about the beach -- it's about the hopping nightlife. When the weather gets warm, it's the Hamptons, not Manhattan, that becomes the place to see and be seen after dark. The first step in planning your Hamptons party weekend is choosing where to sleep when the partying is done, and we've saved you time by selecting five hotels to suit different tastes -- and pairing each with a cool party spot of a similar style. Don't forget your designated driver.
Stay: The Trendy Hot Spot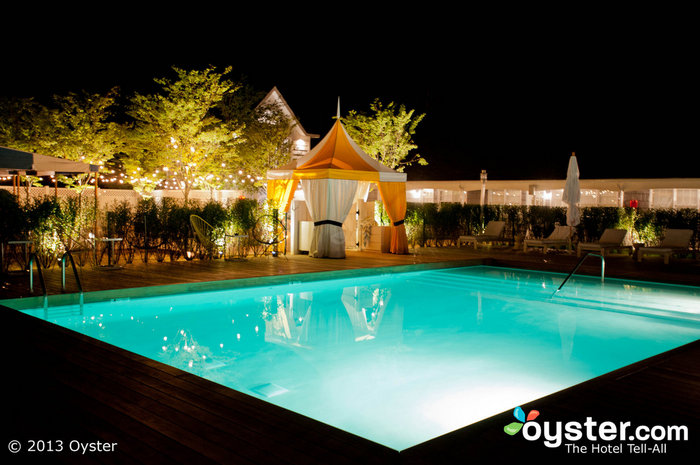 The 24-room Capri Southampton received a beach-chic makeover in 2011, and the new owners brought in a BLT Steak and Lacoste uniforms for outdoor staff. These brand names attract a certain social crowd — the kind that drinks champagne and munches on seafood while mingling poolside.
Party: The Bathing Club
At this trendy hotel, the party is at your front door — literally. The rooms are all on the first floor and doors open up right to the grounds that surround the pool lounge, dubbed The Bathing Club. Lounge music pumps through the outdoor speakers, and live DJs spin on Fridays and Saturday nights. Guests can relax on daybeds and cushioned chairs, and on the weekends cocktails are served by the pool until 2 a.m.
Stay: The Cheap Crash Pad
Finding an affordable spot to crash in the ritzy Hamptons is no easy feat — but it does exist. The Enclave Inn is a basic 10-room motel with close proximity to Bridgehampton and nearby beaches. Rooms are uninteresting and starting to show wear and tear, but the front porches, outdoor pool, and a pretty lawn allow some breathing space. If you need a cheap place to sleep within driving distance to all that the Hamptons has to offer, then this is a good choice.
Party: Boardy Barn
Boardy Barn is a Hamptons institution, known for its cheap beer, cheap hot dogs, and smiley face stickers that patrons are encouraged to stick on each other (expect to leave covered in them). The raucous daytime drinking scene starts on Sunday afternoons over the summer, and there is always a line. It's located in Hampton Bays, but those in town for the weekend may prefer to stay in neighboring Bridgehampton as it's more convenient for hitting up the beach.
Stay: The Chichi B&B
Those looking for a quiet, romantic, upscale Hamptons experience should consider Mill House Inn, a meticulously maintained historic home turned bed and breakfast in East Hampton. It's just a short walk from the village center and offers 10 understated, sophisticated rooms that are full of thoughtful personal touches. The top-notch breakfast and easy walk to restaurants and shops help make it a stand-out option.
Party: SL East
The chic trendsetters who can afford Mill House Inn may appreciate this upscale nightclub located just down the road. It's the Hamptons outpost of SL in Manhattan's Meatpacking District, and the line can be very long (be prepared to shell out for bottle service if you want to get in). Once you do get in, you'll find a huge dance hall and terrace with cabanas; there are live DJ and music performances certain nights.
Stay: The Laid-Back Waterfront Resort
The family-friendly Montauk Yacht Club Resort variety of renovated rooms, suites, and villas overlooking Lake Montauk. The views take advantage of the attached marina, bobbing with boats galore, and are crowned by a white lighthouse. The resort has more than 80 years of intriguing history, and rooms are pricey but nicely decorated in nautical style. Though the location is not directly on the ocean, on-site activities and restaurants, and the free shuttles to town make it a draw for an amenities-filled Hamptons getaway.
Party: Navy Beach
Navy Beach is a relaxed restaurant on Fort Pond Bay with gorgeous sunset views. Both families and couples dine here, and the beachfront outdoor space has a low-key, lounge-y feel when it gets late, with white picnic tables, daybeds and candlelight. Yachts often anchor in front of the restaurant, so those staying at the Montauk Yacht Club could hypothetically take the boat, rather than the car, to dinner — as long as a designated, er, captain is in tow.
Stay: The Stylish Boutique Hotel
Sole East, an American Tudor-style hotel in Montauk, is a summer hot spot that maintains an essence of "cool" without pretension. The 61 rooms and suites have a surf-chic vibe and appeal to the Manhattan set with amenities such as high-quality linens and Aveda products. Though not directly on the beach, expansive grounds include lawn games, daybeds, hammocks and an organic restaurant and bar.
Party: Hotel Pool
The outdoor pool — with live DJs on weekends — is popular, and the party scene has been known to carry on until the wee hours of the morning. There are numerous day beds, and bottle and food service from Backyard Restaurant is on offer.
RELATED LINKS:
All products are independently selected by our writers and editors. If you buy something through our links, Oyster may earn an affiliate commission.