Over-the-top luxury and adventure are what most folks lust over when it comes to travel. And we don't blame you -- you work hard for those vacation days and deserve a little pampering, after all. Still, while those top-notch, elegantly executed experiences are certainly satisfying, it's sometimes the quirky attractions that are the most memorable (think gimmicky Dollywood over glamorous Hollywood). For those with a little sense of humor, we rounded up 10 of the country's kitschiest and coolest attractions that are worth a detour. Say cheese.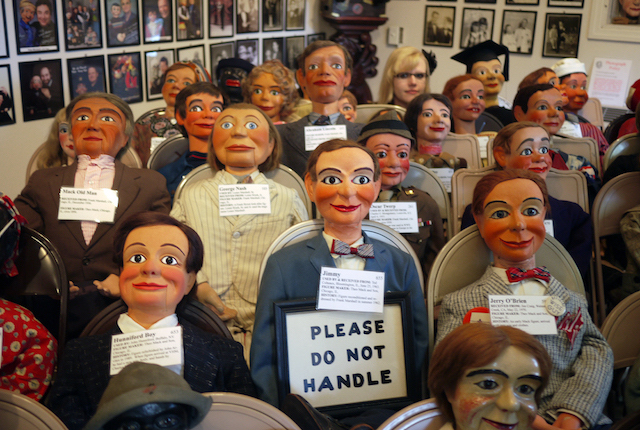 Looking to hang out with a bunch of googly-eyed dummies? Head to the world's only ventriloquist museum. Located just 20 minutes from Cincinnati, Ohio, this attraction houses more than 800 figures, thousands of photographs, letters, and an extensive library of books that focus on the unique topic. Founder William Shakespeare Berger donated his extensive collection to create the museum upon his death. The only downside: it's open May through September by appointment only, so make sure to plan in advance.
Where to Stay:
Dollywood in Pigeon Forge, Tennessee
https://www.instagram.com/p/BI1P7-5BJtz/
Owned by entertainment legend Dolly Parton, this Smoky Mountains-based theme park has all the flare you would expect from the singer. Top attractions include the Tennessee Tornado roller coaster and the Barnstormer, a swing ride that travels at 45 miles per hour and goes 81 feet high. Set against the backdrop of an old-timey country village, the thrilling rides still serve up a Southern experience. And if you still want more, Parton recently opened Dollywood's DreamMore Resort, which is adjacent to the park, as well as Dollywood's Splash Country Water Park.
Where to Stay: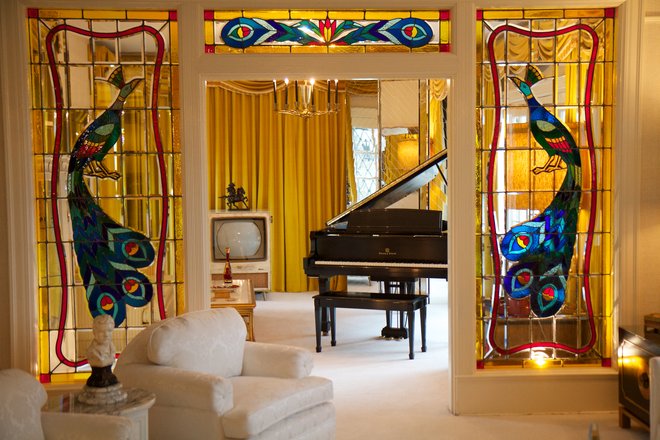 Tennessee isn't home to one, but two kitschy attractions. Located in Memphis, Graceland was home to another colorful entertainer: Elvis Presley. While he died in 1977, his home remained in tact — animal print furniture and all. Visitors can even stop by his gravesite on the property. Three different guided audio tours are offered year-round — a regular Graceland Mansion Tour, the Graceland Platinum Tour, and the Graceland Elvis Entourage VIP Tour. The Guest House at Graceland, a luxury hotel located steps away from the mansion, opened in October 2016.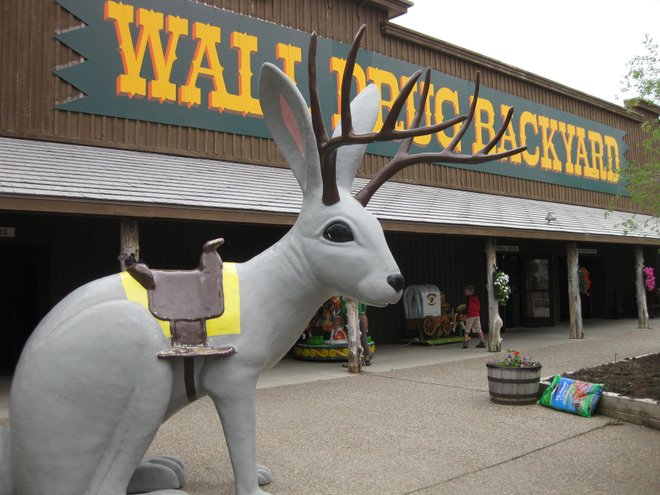 Situated near Mount Rushmore and the Badlands, this Western-themed mall and amusement park won't disappoint its visitors. Folks come for the life-size T-rex that roars from behind a Jurassic Park-style electric fence and stay for the animated Chuck Wagon Quartette, a band of cowboys that plays every twenty minutes. Don't leave without sitting atop a giant jackalope statue, too.
Where to Stay:
Villisca Axe Murder House in Villisca, Iowa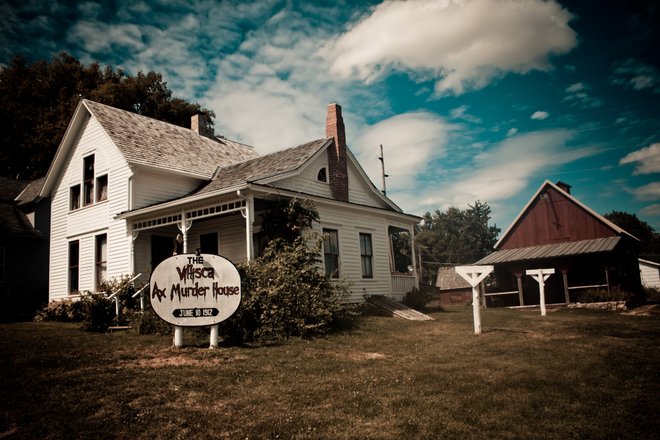 The Josiah B. and Sara Moore House was the site of a brutal murder of eight people, including six children, in 1912. The mystery has yet to be solved, but visitors say strange things happen in the house — if you dare to go inside. In the past, tours have even been cut short by flying objects and eerie children's voices. Those who are brave enough can also spend the night for $400, but keep in mind there's no electricity or plumbing.
Spam Museum in Austin, Minnesota
https://www.instagram.com/p/BI2tjzCBUwk/
Believe it or not, this wacky Minnesota museum is solely dedicated to Spam. Yes, really. Not only are the walls lined with 3,390 cans, but many exhibits include a mock factory where visitors can compete to package Spam in record time. The gift shop also sells 12 Spam varieties, including a spreadable version and bacon flavored one.
Cockroach Hall of Fame Museum in Plano, Texas
https://www.instagram.com/p/ZVwnH/
Cockroaches are usually the last thing you want to come across, but Michael Bohdan, who has run The Pest Shop since the late 1980s, continuously welcomes a steady steam of guests to his free Cockroach Hall of Fame Museum in Plano, Texas. Among the fairly few things to marvel at are displays of dead cockroaches dressed like celebrities. There's even a Liberoachi and Marilyn Monroach.
Where to Stay:
Abita Mystery House in Abita Springs, Louisiana
https://www.instagram.com/p/BIigpBvAaOX/
They say one man's trash is another man's treasure — and John Preble certainly follows that logic. Using found objects, Preble built an abundance of crazy contraptions that now live inside Louisiana's Abita Mystery House. Don't leave without snapping a couple of pics of his marble machine, which is constructed out of thousands of popsicle sticks, hot glue sticks, pinball machine parts, and plumbing supplies.
Where to Stay:
World's Largest Basket in Newark, Ohio
https://www.instagram.com/p/BIlLe_MhsHX/
Did you know there's such a thing as the world's largest basket? Well, now you do. Built as the seven-story headquarters for the Longaberger Company, this basket is a replica of the company's popular Medium Market Basket. The magnificent, larger-than-life monument clocks in at 192 feet long and 126 feet wide at the bottom and 208 feet long and 142 feet wide at the roof. Fun fact: The basket's handles are even heated to prevent ice from forming in the winter.
Where to Stay:
Roswell UFO Museum in Roswell, New Mexico
https://www.instagram.com/p/BHddBQggBKn/
Whether you're an alien believer or not, a stop at the Roswell UFO Museum is a must. As the legend goes, a flying saucer crashed into the ground near Roswell, New Mexico in 1947. The spaceship debris and alien bodies were then quickly recovered and hidden by the military. This museum is dedicated to those events and entertains from the moment you step inside.
Related Stories:
All products are independently selected by our writers and editors. If you buy something through our links, Oyster may earn an affiliate commission.