Venice is absolutely gorgeous: The canals, the architecture, and the quaint local shops and restaurants make it a city worth exploring on foot. But it may be hard to get yourself out of bed if you're staying in one of these amazing rooms! Take a look at ten Venetian hotels that are home to some stunning rooms.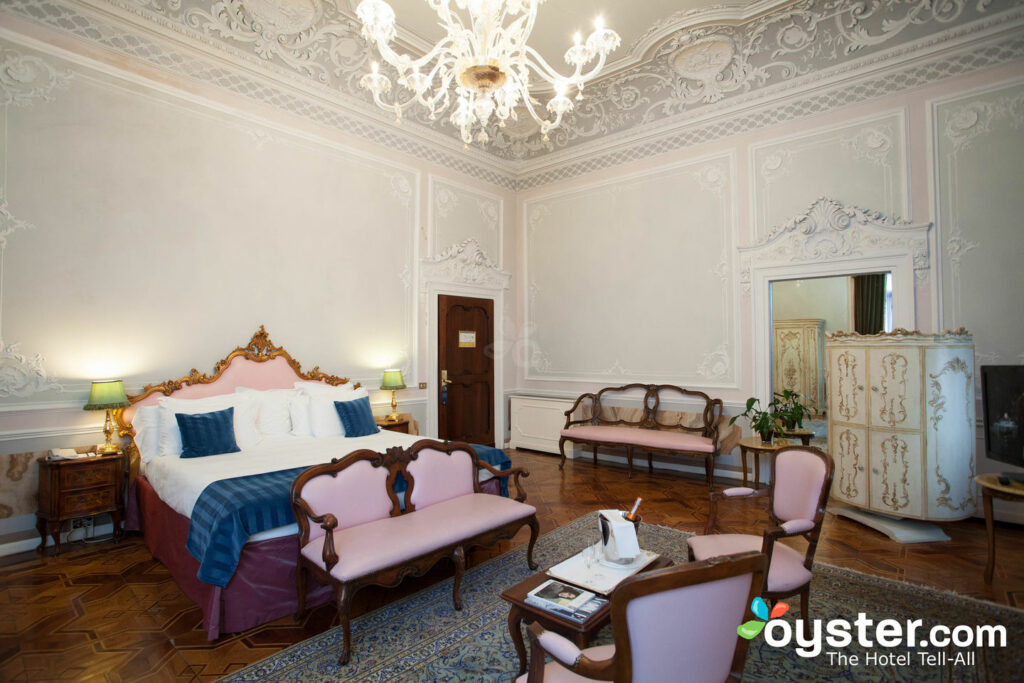 A luxurious, 72-room converted palazzo on the northern edge
of Venice, Boscolo Venezia Autograph Collection is a quiet retreat from the
chaotic heart of the city. The rare, private garden and spa with hot tub,
sauna, and steam room are highlights. Rooms are also stunning and have classic decor and Venetian
portraits. Upgrading to a Junior Suite gets guests more space and style —
these rooms have high ceilings and intricate crown molding.
The Luna Hotel Baglioni is a luxury chain hotel with 104 rooms located less than a two-minute walk from the shops, restaurants, and architecture of Saint Mark's Square. The classic hotel delivers a high level of service in a beautiful setting, and rooms are beautifully decorated in soft colors, detailed
with floral wallpaper and fabric-covered headboards for the beds; traditional
Venetian furniture completes the scene. There are suites available with varying
features like gray marble bathrooms, handmade Versailles parquet flooring, and
private terraces overlooking the island of San Giorgio Maggiore. Rooms have
flat-screen TVs with satellite channels; iPod docking stations are available in suite spaces.
The Centurion Palace is a 50-room luxury hotel housed in a 19th-century palace. Its location is excellent, right on the Grand Canal and sandwiched between the Peggy Guggenheim Museum and Santa Maria della Salute. Rooms are chic and contemporary,
with dramatic headboards, premium bedding, and high ceilings (some with white
or wood beams). They're individually decorated, and some have vibrantly colored
walls while others are more neutral. All rooms have quirky, modern touches and
stunning bathrooms with separate tubs and showers, as well as robes and
slippers. It's worth
asking for a canal view, though it does cost more. All in all, the rooms are among the most luxurious in the
city, and the contemporary look is rare; most luxury hotels opt for classic
Venetian elegance.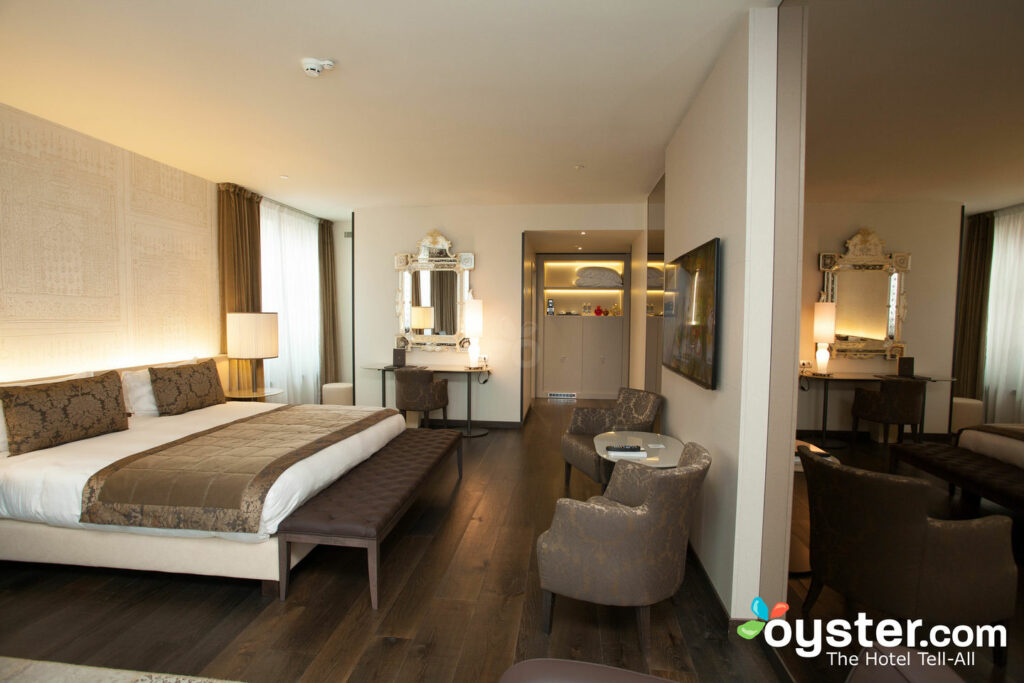 This upscale, charming 118-room hotel on Murano Island in the Venice lagoon is a chic, modern pick with a quiet atmosphere. The hotel (a restored glass factory) has bright, spacious interiors and displays local glass artwork. The 118 rooms at LaGare Hotel Venezia – Mgallery Collection
are polished and chic. Decorated in soft earth tones, all rooms have big
flat-screen TVs, minibars, free Wi-Fi, and big, modern bathrooms. Some rooms
are lofted suites while others have original exposed brick detail. Some rooms
have obstructed views, but others have sweeping ones overlooking the water.
The boutique Hotel
Palazzo Stern is housed in a restored historic building on
the Grand Canal, with sections dating back to the 15th century. The room decor
is in a traditional Venetian style, with crystal chandeliers and luxurious
curtains, but it's not overly stuffy. Amenities include flat-screen
TVs and free Wi-Fi, and beautifully updated bathrooms come
complete with towel warmers.
The luxurious, 22-room Hotel Canal Grande is housed in a
centuries-old palace located
along the Grand
Canal, near the main train station in Venice. Decadent rooms have
modern amenities including flat-screen TVs and comfortable beds,
but the use of rich patterns in
gold and blues, the classic artwork on
the walls, and the Rococo-style furniture might
be a bit too much to some. Rooms facing the canal have better views (though
some have small windows), but those overlooking the lovely square are
quieter.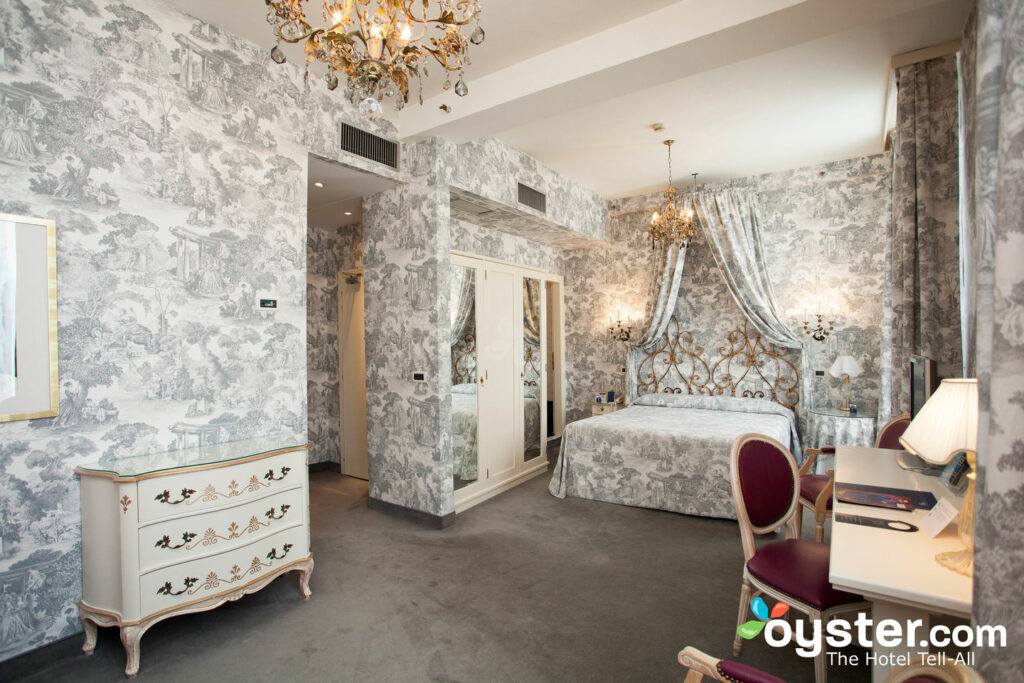 Hotel Principe is a formal, upscale 139-room hotel with classic touches in the Cannaregio district on the Grand Canal. Choice rooms come with exquisite
views of the canal, especially those with small balconies that are almost level with the
water. Some of the rooms have more traditional design touches, such as
chandeliers, heavy curtains, and decorative wallpaper; the bedspreads may feel
a tad dated to some. Rooms all come with flat-screen TVs,
small desks, safe, minibars, and Wi-Fi (for a fee).
Hotel Moresco is a boutique on a small canal near Venice's bus terminal. The tranquil bar with library and fireplace provides a welcoming setting where guests can relax with a drink and snack upon check-in. Each of the 23 rooms — with names such as The Town Crier
and The Poet — is individually decorated with pretty, patterned wallpaper and
elaborate chandeliers. Attention to detail is seen in the small touches such as
robes and slippers and in the decor including intricate mosaics in the
bathrooms. Some rooms have balconies, some overlook the canal, and all get
great natural light. Beautiful suites have vaulted ceilings and soaking tubs.
A classic Venetian palace turned 36-room hotel, the UNA Hotel Venezia is located in the charming Cannaregio district near a Vaporetto stop. Rooms are decorated in a classic Venetian style, and each
has nice touches including an electric kettle, flat-screen TV, and a work desk
and chair. Traditional patterns and formal drapes are elegant, though the rooms
decorated in green decor may feel either busy or grand, depending on tastes.
Most rooms are spacious and some overlook the canal. Bathrooms are big and
modern.
The clean, 67-room Carnival Palace Hotel near the train station in Venice is tucked away in the quiet north of the city, away from the tourist bustle. Each of the 67 rooms is
individually designed. Some are understated while others use bold color,
patterns, and stripes. Murano glass chandeliers and gilded mirrors provide
glamorous touches. Some rooms face the picturesque canal while quieter rooms
face the interior garden. Wall-mounted TVs, free Wi-Fi, and big Carrara marble
bathrooms are all nice features, but there are no tea or coffee facilities in
the rooms and to control the temperature you must call the front desk.
All products are independently selected by our writers and editors. If you buy something through our links, Oyster may earn an affiliate commission.