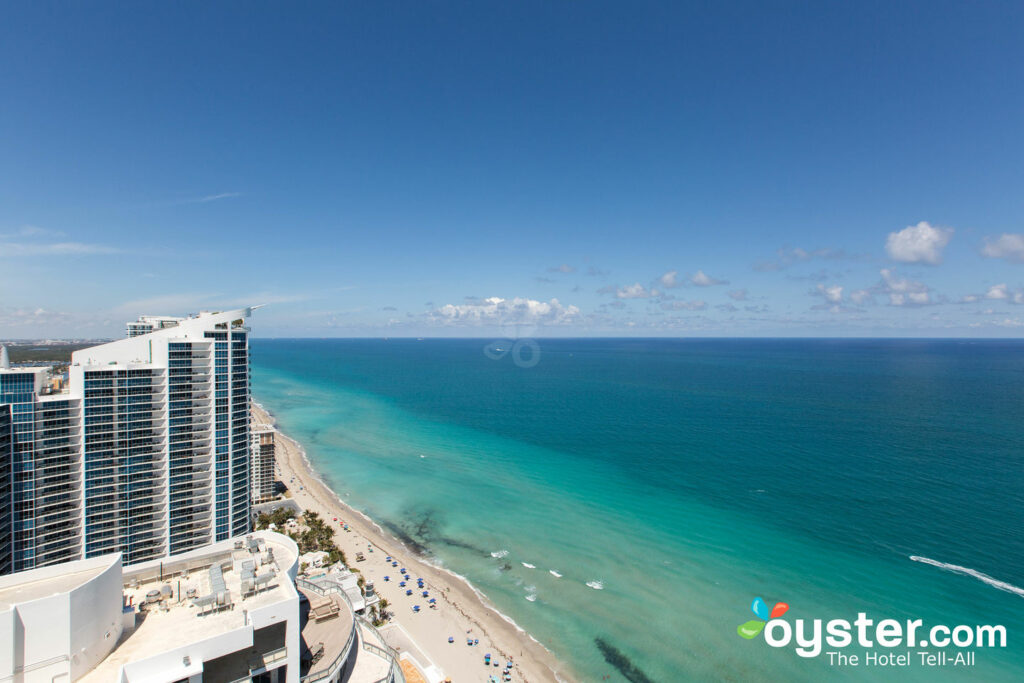 Florida's warm weather, beaches, and beauty have long lured travelers from around the world. In the 1920s, Florida was one of the hottest destinations, giving various areas around the state a boom in construction. As time moved forward, Florida never lost her looks, though her style has changed. The result is a ton of beautiful hotels that represent the Sunshine State throughout various decades. From gorgeous restored Art Deco buildings to fresh and contemporary properties, here are nine of the most beautiful hotels in Florida.
The Faena Hotel Miami Beach opened in 2016 to rave reviews, particularly from the art community. It's no wonder, since much of the hotel moonlights as gallery space sporting sculptures, murals, and sexy, stylish designs. A gilded, life-size wooly mammoth sculpture by Damien Hirst is considered one of the hotel's crown jewels, though we also love the Dante-esque floor-to-ceiling murals that waste no time greeting guests as they walk through the front doors. The decor is luxe and tasteful, from the herringbone tiles in the bathrooms to the retro-chic red-and-white striped umbrellas out by the pool. To top it off, the resort's beachfront location is attractive, too.
For a glimpse at a piece of Florida's past, set your sights on Four Seasons Hotel at the Surf Club in Surfside, just north of Miami Beach. Unassuming from the outside, the resort oozes sophistication and a slightly exotic vibe once you pass through the doors. The hotel's original Art Deco architecture mixes with geometric fixtures, white walls, and a well-curated collection of leafy plants. The Joseph Dirand-designed rooms are contemporary and minimalist, sporting gorgeous elements like leather headboards, swish bathrooms, and tech-savvy gadgets. The modern Art Deco look is in full swing inside the restaurant and bar area, too. Expect cathedral ceilings, huge light fixtures, palm trees, and several arched windows and walkways that bring in loads of light.
The Breakers has somewhat of a legendary status among Floridians and frequent visitors. Once you peak inside this massive resort, it's easy to understand why: It's stunning. The Breakers' swoon-worthy beachfront setting, surrounded by well-groomed golf courses, is complemented by the hotel's historic architecture and estate landscape design. It's luxury of a bygone era, specifically the 1920s, when the hotel was reconstructed after a devastating fire. Expect elegant chandeliers, a European Renaissance vibe, and a good-looking, well-heeled crowd. But keep in mind that this kind of beauty comes with a hefty price tag.
While several properties on this list have been restored from Florida's booming Art Deco period, the Diplomat is unapologetically contemporary. This Hollywood resort houses a whopping 1,000 rooms along a beautiful stretch of beachfront. Ocean palettes, simple yet stylish decor, and tons of natural light help bring the beach vibes indoors. We particularly love the tall atrium ceilings in the lobby area, complete with skylights, sandpits, realistic palm trees, and elegant light fixtures hanging from the ceiling. It's no wonder this spot is on the short list of the state's best hotels.
Fenway Hotel, Autograph Collection, Dunedin
Back in the 1920s, this gorgeous hotel opened its doors to vacationers. Guests shared space with the sounds of live jazz while the area's first radio station pumped out tunes over the airways. Since then, the hotel has had different functions, eventually reopening in 2018 as a beautifully restored boutique hotel with just 83 rooms and design touches that pay homage to its history. Expect mid-century modern furniture, Spanish-inspired tiling in the bathrooms, and subtle reminders of the hotel's musical past, like cymbals on the walls and hidden musical notes throughout the property. Palm trees and well-manicured lawns add to the picture-perfect setting, while views over the Dunedin Channel are beautiful and serene.
The Don CeSar in St. Pete Beach is another stunning hotel left from the late 1920s — and it's pink! This huge beachfront resort was nicknamed the Pink Castle or Pink Palace by locals because of its sprawling, regal look and pink exterior paint job that features bright-white crown moldings. In fact, the resort was built to resemble a Mediterranean castle. Twisted white columns, multiple archways, shuttered windows, and terra-cotta roof tiling typical of Florida's best buildings in the 1920s are on display outside. Inside, you'll find a wealth of lavish features, sophisticated furniture with a contemporary feel, and tons of beautiful architectural details that showcase the property's classic character. The resort's beauty goes beyond the beach, earning it a spot on this list.
This estate-like property on Gasparilla Island has been hosting guests since 1913 and is a registered historic landmark. It's also beautiful, and a great option for anyone who wants to experience the feel of Old Florida with a contemporary touch (think wicker chairs, soft pastels, polished hardwood floors, and palm frond wallpaper without the dated kitsch). The resort's main building offers a grand entrance with double-story columns, a deep front porch (complete with white wicker rocking chairs), and a stepped walkway. The gardens are perfectly clipped and dotted with tall palms, and rooms have a simple country feel thanks to white wood furniture, pastel walls, and patterned carpeting. This look may not be for everyone, but we think it captures Old Florida beautifully.
Yet another historic hotel that originally opened in the 1920s, Casa Marina Key West perfectly blends the old vibes of the Keys with modern luxury and style. This stunning property was built on over six acres and rested against 1,200 feet of beautiful beach — one of Key West's only swimmable beaches, at that. The width of the building looks a little like a fortress, and guests receive a grand welcome as they walk up a paved path toward the entrance, passing swaying palms and flags flapping atop flagpoles in the yard. And it only gets better once you enter: Polished dark wood ceilings and columns give a classic, luxe feel, while modern, minimalist furniture rests on top of the wood floors and cream-colored drapes hang as room dividers. The result is opulent without being extravagant.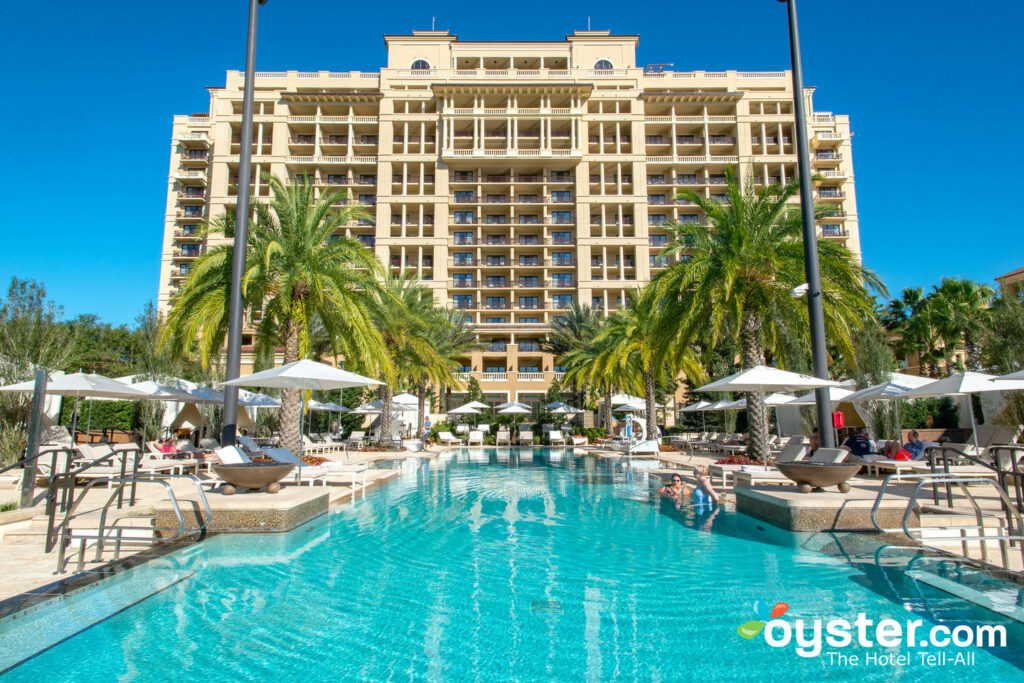 On the flip side, the Four Seasons Resort Orlando at Walt Disney World Resort has opulence in droves. This regal property reigns over a grassy pond and is chock-full of polished marble — marble floors, stairs, walls, columns, you name it. Beautiful windows and views, plus gorgeous contemporary touches like light fixtures, banisters, and furniture, round out the design touches. To offset all of the cream marble, the resort stocked public areas with modern sofas and chairs in bold colors, hung a collection of contemporary artwork, and meticulously designed landscaping that includes a lazy river. Rooms have a classic, chic look with a modern feel, though they are far from stealing the show.
You'll Also Like:
All products are independently selected by our writers and editors. If you buy something through our links, Oyster may earn an affiliate commission.