These days, most people (particularly in the US) down a power bar on the go -- or skip breakfast all together. But doctors (and nagging mothers) have long dubbed it the most important meal of the day...and we'd argue it can also be the most delicious. During our travels, we've used this MD-approved advice as an excuse for getting our fill of tasty eats every morning before a day packed with sight-seeing and exploring. Here are nine of the world's most delicious traditional breakfasts...don't be afraid on the ones that are a little more, er, different! (Like #2...)
1. A Traditional English Fry-Up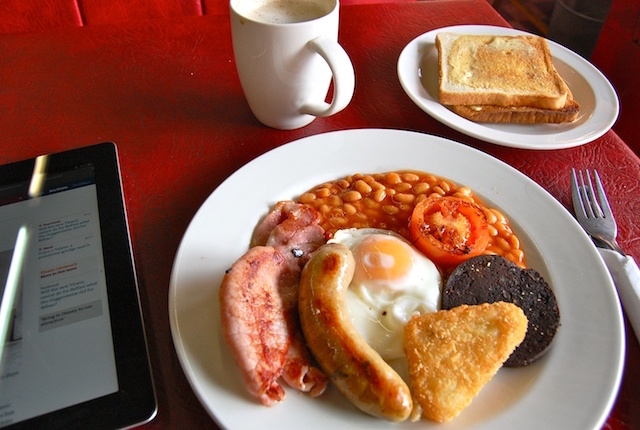 Speak to any full-blooded English person living abroad and it's guaranteed that a traditional (and cheap) English breakfast will be at the top of the list of things they miss from across the pond. Covering every inch of plate possible, a typical English breakfast — also known as a "full English" or "fry-up" — consists of, well, many of the things that could induce a heart attack. It's basically fried everything, making it so dang delicious (and a great hangover cure). Next to a collection of fried eggs, fried tomatoes, and fried mushrooms, you can find baked beans, slices of buttered toast, a few rashers of bacon (English bacon is what Americans call "back bacon" and tends to be a bit thicker cut and much less crispy), sausage links, and, of course, tea. While any English Breakfast tea is passible, to be most authentic make sure to sip a cup of PG Tips or Tetley. Variations of this morning meal can also include chips (a.k.a. french fries), hash browns, and/or black pudding. For a taste of a fancier fry-up, London's four-pearl Rembrandt provide guests with a free full English breakfast — a rarity at hotels of this caliber.
2. Natto in Japan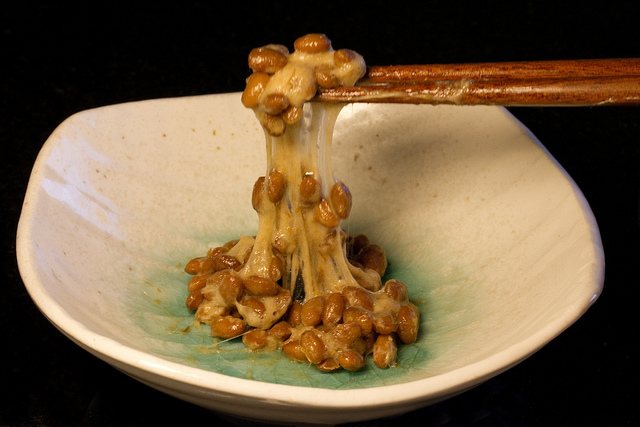 Many consider Natto — a dish made of slimy, fermented soybeans — an acquired (to say it nicely) taste, even in Japan. But nevertheless, this pungent probiotic punch, often served with rice, is a popular early-morning eye-opener on the breakfast table. If you fear you might not be able to stomach it, you can opt for traditional asagohan items like miso soup, grilled or smoked fish like salmon or mackerel, and/or pickled veggies instead. Can't make it to Japan anytime soon? Guests at Hawaii Prince Hotel Waikiki get a taste of Japan with rock garden grounds and a traditional Japanese breakfast menu, while deep in San Francisco's Japantown, Hotel Kaubki not only has traditional breakfast items, but is decked out in traditional Nippon-style decor, too.
3. Chinese Congee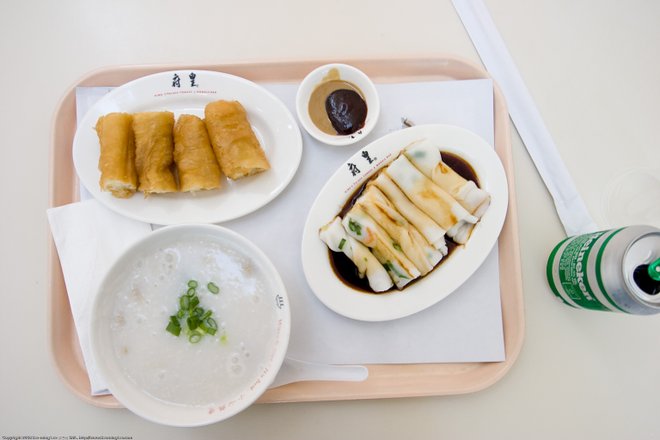 Congee is a simple Asian dish. While each country has its own take on the gruel-style rice porridge — it's a known illness remedy in Burma, and is served to babies in South Korea — and it can pass for a meal any time of day, it's most commonly found featured as a breakfast option. No matter the case (or hour of consumption), the basics are this: white rice is boiled down in an excessive amount of water until it becomes fragile and soft like oatmeal. It can be eaten plain or with various sauces and/or accoutrements like herbs, meat, seafood, vegetables, or nuts. In China, it's often paired with fried bread sticks, or youtiao, when served for breakfast. The Venetian Resort Hotel Casino's Chinese restaurant, Noodle Asia, serves congee, so you can check it out stateside next time you're in Vegas.
4. Kaymak, Sucuk, and Tea in Turkey
If you are someone who wants a little bit of everything in the morning, then you are going to love Turkish breakfasts. With a seemingly endless selection of start-the-day dishes — all on one table! — the Turks make sure to fill their tummies with tasty tapas of breads and butter, cheeses, olives, eggs, tomatoes, cucumbers, jam, honey, and kaymak, a traditional water buffalo milk condiment that's creamy and similar to clotted cream. Don't forget to try a bite of the spicy Turkish sausage, sucuk. If you are a coffee drinker (and believe us, Turkey has some crazy strong coffee), try skipping the cup of Joe for a more traditional cup of Turkish tea. Sound good? At Turkey's Gorme's Aydinli Cave House Hotel you can pick and choose from the hotel's delicious (and free!) Turkish breakfast buffet, packed full of all the staples.
5. Brazilian Tapioca Cheese Crepes or Creamy Requeijão (On Anything)
https://www.instagram.com/p/BXqGznZl7PK/
Considering how the country's cuisine is strongly defined by region, typical Brazilian breakfast dishes can vary greatly depending on your locale. While it is safe to say that you will almost always be welcomed with a café-da-manhã, or morning coffee (phew!), be prepared for a menu featuring more lunch-like items than bacon and eggs. Sliced cold cuts, fresh fruits, couscous, and bread and butter are common breakfast buddies, as are grilled sandwiches. Though some of the traditional breakfast cakes can be a nice treat, we like to get our fill of requeijão — a creamy cheese spread with a similar consistency to melted brie — whenever possible. Thankfully, it pops up in many of the Brazilian breakfast sandwiches, slathered between two slices, usually with ham or turkey. When we are in the Northeastern regions, we keep a keen eye out for places that serve tapioca crepes filled with butter, fruit, or cheese. Bonus: These delicious crepes are gluten-free!
6. Fresh-baked Croissants and Coffee in France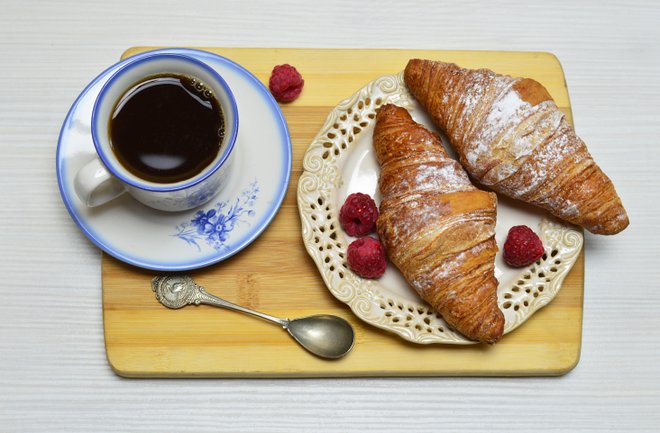 Apparently missing the memo that breakfast is the most important meal of the day, France opts out of endless buffet options, small plates, and overflowing forkfuls of artery-clogging components in favor of a simpler (but equally delicious) start. In fact, one bite into a perfectly crusty, yet soft, big-as-your-hand croissant may cause your knees to buckle as you melt into the cafe floor — before the barista can even hand you your coffee! We love the selection at Hotel Original Paris, where you can start your day with scrumptious and fluffy fresh-baked pastries and hot coffee.
7. A Shot of Smooth Italian Espresso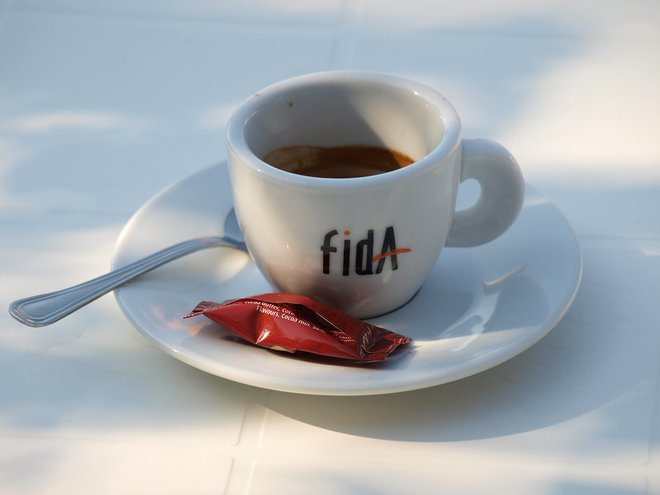 Similar to the French, Italians traditionally don't put much on the plate for breakfast. In fact, in most Italian households, there is little more than a hot shot of espresso taken in the morning. Those feeling a bit more peckish may add a few sweet, cookie-type biscuits or a pastry to the mix, and fortunately restaurants and hotels often serve a continental-style breakfast with a few hot items and some simple, sweet crepes. The Italian Riviera's Hotel Miramare offers a free Italian-style breakfast on its beach-facing terrace. It may not fill you up, but at least it comes with a beautiful view.
8. Eggs with Relationship Issues in Mexico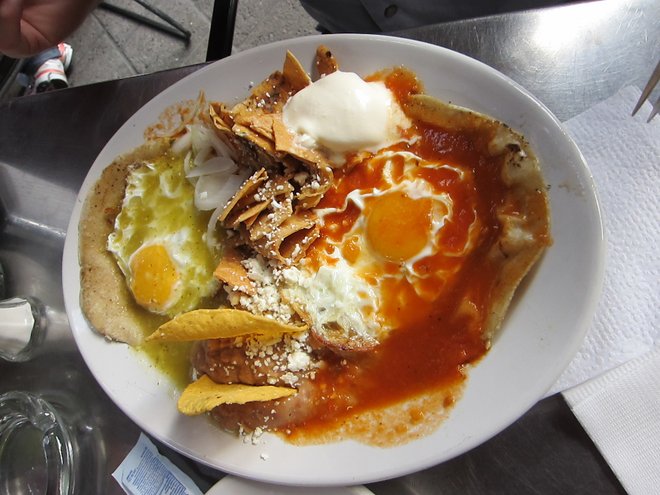 Using the traditional components — like tortillas, beans, rice, queso fresca (fresh cheese), tomatoes, onion, and cilantro — found in Mexican lunch and dinner dishes, many popular, south-of-the-border breakfasts make them morning-friendly by adding fried eggs. While huevos rancheros (corn tortillas topped with fried eggs and a mild tomato salsa, served with refried beans and rice) is definitely one of the most popular, even popping up on menus in diners across the States, we prefer one of the more creatively named dishes. Perhaps its the cynic or silly in us, but we can't stop laughing and ordering huevos divorciados, or "divorced eggs." What do you get? Two fried eggs, one served under red sauce and the other under green, served separated on the plate. The means of separation varies, but it's most commonly rolled, stuffed, and fried tortillas known as chilaquiles — or plain ole refried beans and tortilla chips. Guests at Riviera Nayarit's Villa Bella can test out some traditional morning dishes, Mexico style.
9. Ackee and Saltfish in Jamaica
Widely known as Jamaica's national dish, ackee and saltfish is one of the island's must-try breakfast items — especially if you live in the United States. Because of its possible poisonous properties if harvested incorrectly, the nutty ackee fruit — which resembles scrambled eggs when cooked up — is banned from import in the States. The other half of the dish, saltfish, is basically leftover bits of codfish that are heavily salted for flavor and preservation. The two ingredients are mixed with tomato, onion, and Scotch bonnet peppers and usually served with bread dumplings, boiled green bananas, and/or fried plantains. There's also a starch-heavy, potato-like fruit called breadfruit that is fried and bears an impressive resemblance to dense, sliced bread. If you're heading to Jamaica, Half Moon, a RockResort's Sea Grape Terrace Restaurant has an extensive Jamaican breakfast buffet; guests can sample staples like ackee and salt fish, fried bread dumplings, and boiled green bananas.
All products are independently selected by our writers and editors. If you buy something through our links, Oyster may earn an affiliate commission.