We are always amazed how fashionistas never let jet lag cramp their style: Always dressed to impress. Hair and makeup never out of sync. How do they do it? Well we honestly had no idea -- until we rounded up some beloved fashion bloggers and begged them to spill their secrets. After reading their tips below, we swear you'll hit your next flight feeling runway ready!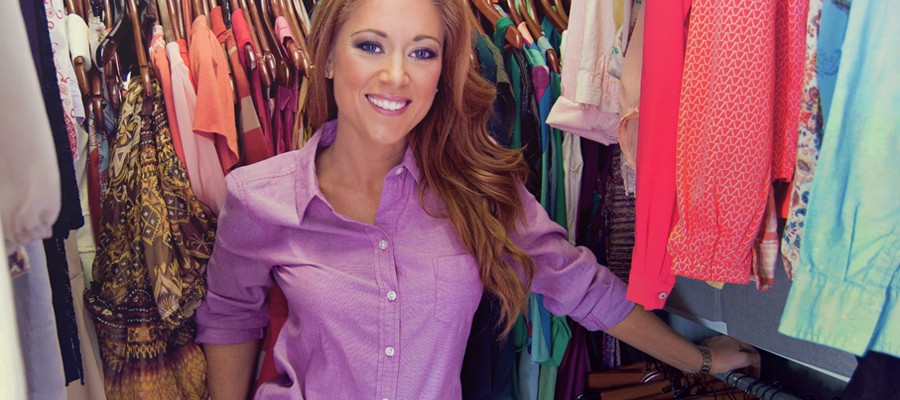 1. Avoid Wrinkled Clothes
After a long flight, have you finally unzipped your bag — only to find a full week's worth of suitcase-smushed outfits? Luckily, there's an easy fix. First of all, plan ahead — and pack soft, rollable clothing that doesn't wrinkle easily. As CouponPal's Erin Konrad (@CouponPal) agrees, "I love to pack clothes that don't wrinkle easily — there's nothing that makes you look unkempt and frazzled faster than a wrinkled outfit!"
Former fashion buyer Tara Cannon (@pintsizedpilot) of the Pint Sized Pilot suggests that if you must bring wrinkle-prone clothing, to pack a steamer along. She also says "I plan out my outfits beforehand, making sure I have an extra amazing outfit just in case I get invited to a surprise event. I fill the bottom of my suitcase with conversation- worthy, pretty shoes too."
2. Pack Versatile Go-Tos

For fashion television personality Hilary Kennedy (@hilarykennedy), picking shirts and pants that all work well together makes for easy travels. "I stick to black tights or pants, a neutral cami, and a comfortable, long, and lightweight cashmere cardigan sweater to double as my blanket on a flight," she says. "Though I often wear heels,I keep soft, flexible leopard print flats in my handbag. Large sunglasses and a fedora are also great for blocking out light and sound while on the plane."
"Staying fashionable while traveling can be as simple as a maintaining a neutral color scheme, carrying an oversized handbag for your ballet flats and a beautiful pashmina to stay warm or use as a pillow," says Leticia Pfeiffer (@StyledOrganized) of Style and Better Organized Living.
Comfy shoes were a popular pick for many bloggers with whom we spoke. Brandi Koskie (@BrandiK), who just came off of a 15,000 mile road trip, says comfy shoes are her number one must-have: "My Tieks ballet flats! They go with everything, they're comfortable even on days we were walking several miles around cities like Washington DC, Philadelphia, or New York City. They also collapse, making them one of the easiest items to pack when space is limited."
3. Stay Organized
Alexandra Jimenez (@travlfashngirl) of the Travel Fashion Girl blog says staying organized helps keep traveling stress-free. "Packing cubes are my favorite travel product because they allow me to travel light, organized, and still have space for all my clothing items. Without them, I used to lug around a massive bag. Now, I have the freedom of traversing the globe with just one carry-on and a day bag."
4. Keep Skin Hydrated
When you go long distance, it's easy to look haggard by the time you get off the plane. To ensure a well-rested look, lifestyle blogger Dorian Smith-Garcia (@TABridezilla) says her go-to items are Skyn Iceland Glacial Face Mist and Eye Gels. "These no-drip, no-mess gels are easy and quick to apply," she promises. "I also opt for makeup and skincare products that are a bit more self-contained — like gel pencil eyeliners and disposable face wash cleansing cloths."
5. Be Ready To Multi-Task (And Pack Multi-Tasking Products)
Christina Farrell (@makeupblogging) of The Makeup Blogger says the best makeup tip for travelers is to maximize products. "When traveling, look for multi-tasking products to help streamline your beauty bag. I love carrying IT Cosmetics' Eye Lift in a Tube, which includes both a brightener and a concealer. I also recommend using a lip-and-cheek stain for double duty color."
Amy Guzzi from Joey And The Owl (@joeyandtheowl) says, "I'll never go anywhere without my favorite cashmere wrap because I am usually cold on planes. It is pretty versatile because you can use it as a scarf, pillow, or blanket."
For Donna Lethal (@donnalethal), beauty editor for Los Angeles Beat, a must-have is "A good balm It's multi-purpose: hair, skin, cuticles, lips and, in a pinch, flyaway hair. I also slather on tons of products in the duty-free before boarding."
(Photo credit: Hilary Kennedy, www.hilarykennedy.com)
RELATED LINKS:
All products are independently selected by our writers and editors. If you buy something through our links, Oyster may earn an affiliate commission.