With tropical beaches, rugged mountains, and cool cities, Mexico is a traveler's dream. Facts and figures vary, but the country generally sees around 40 million tourists annually. And while that's a major indicator of why you should visit, it also means you should brace yourself for crowds. Mexico's most popular destinations -- like Playa del Carmen, Los Cabos, and Tulum -- swell with visitors in the high season. However, given this country's fascinating history and landscape, it's also worth hitting up some of its under-the-radar or newly trending vacation destinations. To give your south-of-the-border getaway a twist, read on for the most popular Mexico destinations and where to go instead.
For Yoga, Boho Vibes, and Natural Beauty: Skip Tulum and Visit Bacalar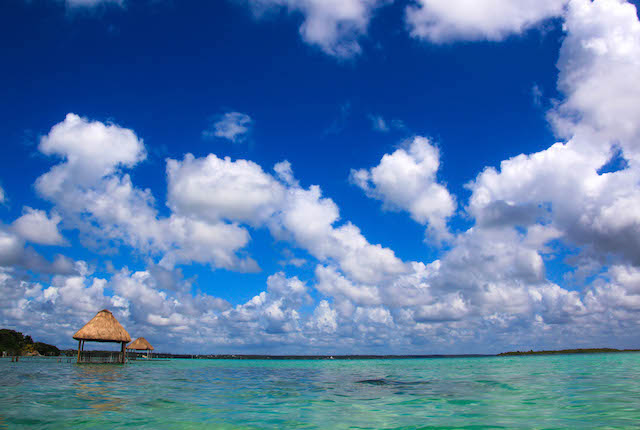 While Tulum certainly has its charms — amazing Mayan ruins, boho beach hotels with unplugged vibes, and all sorts of wellness activities — the town today isn't the off-the-grid escape it once was. In fact, we've encountered more than one traveler who has returned from Tulum feeling like they didn't quite get the solitude they were seeking. What's more? Nightly rates at the area's boutique hotels can be sky-high, as is everything you'll want to eat or drink (at least in the beachside Hotel Zone).
If you're looking for a Caribbean escape that provides the untouched atmosphere of old Tulum, consider Bacalar. You'll find yoga retreats and cute boutique hotels here, though it's perhaps the away-from-it-all setting that makes this the place to be. Bacalar sits along the stunning Lagoon of Seven Colors (the Laguna de Bacalar or Lake Bacalar), where the shades of blue vary from spot to spot and throughout the day. It's the perfect place for a dip and a photo shoot that'll make your friends jealous.
While Bacalar is not technically on the shores of the Caribbean — the closest proper beach is an hour away in Mahahual — we promise you won't miss it. In fact, the lagoon often gets better reviews than Riviera Maya's beaches. After all, the seaweed blooms that plague the coast aren't seen in Bacalar, and it stays far less crowded than towns farther north. Even better, cenotes, kayaking adventures, and the like can all be found nearby.
Hotel Pick:
While Los Cabos continues to lure travelers with trendy new boutique hotels and amazing foodie spots, it's by no means an undiscovered corner of Mexico. What's more? The lack of swimmable beaches (there are only four or so in the region) is a big drawback.
Located back on the mainland in the newly hip Riviera Nayarit, Punta Mita is an exclusive playground north of Puerto Vallarta. This gated community is home to some of the world's most famous luxury brands, like the St. Regis Punta Mita Resort. It's also blessed by its geography, where Banderas Bay keeps the surf calm and the water safe for swimming — a luxury that can't be underestimated along Mexico's west coast.
Riviera Nayarit on the whole also has a lot of cool under-the-radar destinations to check out. Here, towns have a calmer atmosphere than their counterparts in Los Cabos and Riviera Maya. Sayulita is one of the region's most famous former hippie enclaves, while the charming village of San Pancho has plenty of artsy vibes. For more information on this up-and-coming Mexican beach region, out our guide on the best towns in Riviera Nayarit.
Hotel Pick:
For Art, History, and Culture: Skip San Miguel de Allende and Visit Puebla
San Miguel de Allende is an undeniably beautiful and charming city. Thanks to its artsy scene, beautifully preserved colonial architecture, and tourist-friendly atmosphere, it has been drawing travelers for decades. These days, it's home to luxury hotels and quaint boutique properties, like the Rosewood San Miguel de Allende and Hotel Matilda. However, parts of the city center can be hyper-touristy, which drives up the prices on everything from hotels to food. Plus, it's not the easiest city to reach since it lacks its own airport and is a five- to six-hour drive from Mexico City.
For an alternative city escape that's packed with a dizzying mix of local traditions, beautiful Baroque architecture, incredible cultural hubs, and amazing local cuisine, Puebla should be your pick. Only a two-hour drive east of Mexico City, and surrounded by towering volcanoes, this vibrant city feels a bit more untouched by tourists. You'll find tasty taquerias and torta shops, as well as the region's famous mole poblano and sweet stores, around the city's charming central plaza and stunning cathedral.
Art and history run deep here as well, with one of Mexico's coolest collections of indigenous, ancient, and contemporary art found at Museo Amparo and the International Museum of the Baroque. Looking for something a little less high-brow? Arena Puebla is the spot for wild Lucha Libre matches. The crowd participation in these campy theatrical wrestling events is reason enough to buy a ticket. For a cool day trip, head to nearby Cholula, where hipster bars and dining spots sit alongside historic churches and Mexico's largest ancient pyramid (which is buried and now crowned by a Catholic basilica).
For a Low-Key Vibe: Skip Isla Holbox and Visit the Costalegre
https://www.instagram.com/p/Br6Q1PgBokG
Isla Holbox is one of the Yucatan's most buzzed-about destinations — a place where development has remained largely checked and peace and quiet are still intact, thanks to the lack of cars. Even so, that's changing. While the local community still struggles against new development on the island, its proximity to Cancun's international airport and the money behind the tourism industry show that Holbox Island may soon become the next Tulum.
For now, though, Mexico still has alternatives where you can get your dose of sunshine along with a secluded ambience. Let us reiterate: for now. Discover the Costalegre before the masses of solitude-seekers arrive. It was recently featured on numerous must-visit lists, and there's a new international airport being built here (along with a handful of accompanying luxury resorts).
As it stands now, this rugged stretch of coastline in Jalisco and Colima states is largely unspoiled. There are fishing villages that sit on beautiful bays where the jungle often seems to crash right into the water. Don't expect to find cheap digs here, though — this region is home to some pricey boutique resorts and the number of rooms available isn't high. But if privacy is what you're after, you'd be doing yourself a favor by heading to Costalegre.
Hotel Pick:
For a Laid-Back LGBTQ Destination: Skip Puerto Vallarta and Visit Zipolite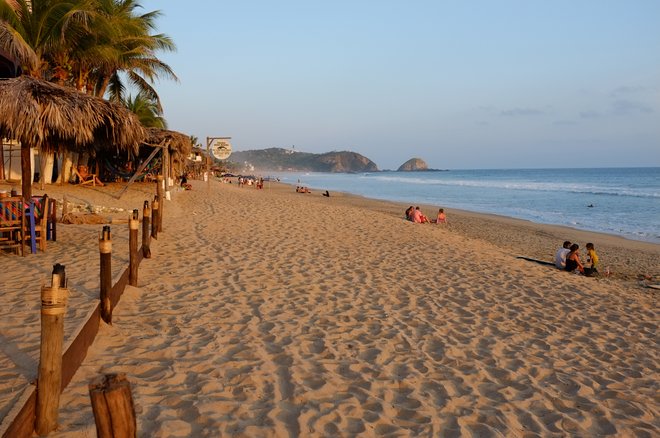 Like Provincetown, Sitges, and Palm Springs, Puerto Vallarta has become a major destination for international LGBTQ travelers — and with good reason. The setting is beautiful, the bars are plentiful, and the sun almost always seems to be shining. Legendary institutions like Blue Chairs Resort by the Sea have turned themselves into go-to destinations for everything from beach-bumming during the day to dancing at night. However, Puerto Vallarta isn't for everyone — it's a big and busy city, after all.
In-the-know gay and lesbian travelers have had their sights set on Zipolite for some time now. This tiny town, along the beautiful Pacific coast of Oaxaca, is Mexico's only true clothing-optional beach. The long sweep of golden sand is flanked by steep mountains and cliffs, and draws everyone from modern-day hippies and yogis to surfers, elderly Europeans, and loyal LGBTQ travelers. A few beach bars and restaurants provide evening entertainment, but you won't find any blazing nightclubs, neon-colored shots, or all-inclusive mega-resorts here. Instead, prepare yourself for epic sunsets, starry skies, ocean breezes, crashing waves, and — if the spirit moves you — a little bit of naked time. The neighboring towns of San Agustinillo and Mazunte make for great day trips, both with their own low-key vibe. For a real treat, head to Playa del Amor in Zipolite or hike up to Punta Cometa in Mazunte for the sunset. Trust us, it's worth it.
Hotel Pick:
Playa del Carmen is the kind of Riviera Maya destination that has a lot of different personalities. There's busy, loud, and touristy Fifth Avenue in the heart of town, as well as boatloads of cruise day-trippers coming to visit from Cozumel. However, the city is also home to some of the most beautiful beaches and luxury resorts, particularly in the Mayakoba development north of town.
If you're after that easy resort lifestyle, but still want to savor a bit of local flavor, you'd be wise to head to Zihuatanejo. This little corner in the state of Guerrero still has a fishing-village vibe, with cobblestone streets, friendly people, art galleries, cafes, laid-back beach bars and snack shacks, and one of the most beautiful beaches in the region, Playa la Ropa. While the city center is mostly filled with no-frills budget and mid-range options, there are also a number of luxury resorts and beautiful boutique hotels, like the Viceroy Zihuatanejo and La Casa Que Canta.
And although it's by no means an undiscovered destination, Zihuatanejo feels a bit less overtly commercial than Playa del Carmen. If it's Playa del Carmen's all-inclusive scene that you're hoping to replicate, check out Ixtapa, which is next to Zihuatanejo and features high-rise hotels on the beach.
Hotel Pick:
You'll Also Like:
All products are independently selected by our writers and editors. If you buy something through our links, Oyster may earn an affiliate commission.