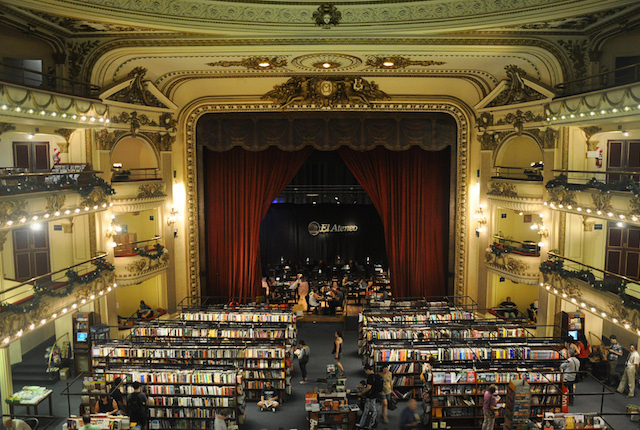 Whether you prefer pop culture-focused titles like "Gone Girl" or you're a deep-thinking Dostoevsky fan, there's nothing better than losing yourself in a bookstore. The unmistakable smell of books, the serene ambiance of hushed concentration, and the welcome escape of analogue culture in a digital age continue to make the bookstore a haloed space. So what better way to unwind and connect with a new city than stopping by an extra special one? From Paris and Buenos Aires to London and Los Angeles, we rounded up some of the world's most amazing bookstores. Take the ultimate literary pilgrimage and check out the one bookstore you must visit in these eight cities.
As physical bookstores become more elusive, places like London's Daunt Books offer hope that at least the true beauties might last forever. What began as an antiquarian bookstore in 1910 transformed into Daunt Books in 1990, and the current inhabitants keep the heart and soul of the Edwardian premises pretty much the same as they always had been. The galleried main room and its stained glass windows and oak balconies are a must-see for any travel-loving bibliophile visiting London. Here, expect to find an endless collection of guide books, maps, language references, and more. The shop also houses lots of literary fiction, biographies, and plenty of other page-turners.
Hotel Pick:
Grand and splendid by name and by nature, El Ateneo Grand Splendid in Buenos Aires is part-mega bookstore, part-architectural gem. Dating back to 1919, the building, which was originally a theater, resides in a city that has more bookshops per inhabitant than any other in the world. The bookstore took up residence in 2000 and attracts over a million visitors per year. One look at the original frescoed ceilings, intricate theater boxes and balconies, and red stage curtains and you'll understand why.
Hotel Pick:
Not only does Paris' Shakespeare and Company have an impeccable selection of new and secondhand books spread throughout its haphazard, grotto-like interior, it also houses beds between the shelves. Turns out, an estimated 30,000 people have slept in these beds around the shop (they're offered to artists and writers in return for casual help around the store). And even if you don't need a place to rest your head, we suggest visiting this Left Bank institution, which was opened in 1951 by American George Whitman, for the English-language literature.
Hotel Pick:
With more and more bookstores shuttering in cities, The Last Bookstore in Los Angeles is aptly named. It even backs its moniker up with the tagline 'What are you waiting for? We won't be here forever.' Whether or not that's true, California's largest used and new bookstore and record shop is still going strong. Located in a former bank building, the store's physical features (think marble columns and large doors) are as just much of a lure as the thousands of books that fill the interior space.
Hotel Pick:
You might think that Libreria Acqua Alta, a bookstore that's named after the high tides and flooding that Venice is currently experiencing more than ever, is the perfect place to escape when the city is covered in a foot of water. Unfortunately, the bookstore floods too, which is why you'll find a full-size gondola wedged into this whimsical building. Built with a series of interconnecting rooms, the unique shop opens out onto the canal. Come for the stunning sight, whether you're a bookworm or not.
Hotel Pick:
Opened in 1906, Livraria Lello has the stories to go along with its historical interior. Besides the walls of books that fill Porto's most famous bookstore, the swirling wooden staircase is the star attraction of this neo-Gothic structure. If that's not enough incentive to visit the shop, perhaps this will be: JK Rowling was a Porto resident in the early 1990s and the bookstore's staircase is rumored to have provided the inspiration for the one at Hogwarts.
Hotel Pick:
The story of Bart's Books all started when owner Richard Bartinsdale's book collection grew so big that he put them on the street for any passersby to purchase. Since then, the space has grown to become America's largest outdoor bookstore. These days, lemon trees lie among the books, and the sun shines down on you as you browse. Oh, and it still follows the same system for after-hour sales. And while it may not be located in a city, it's just an hour-and-a-half drive from Los Angeles — and worth the trip.
Hotel Pick:
Of all the bookstores in Mexico City, make sure to stop by El Pendulo in the Polanco neighborhood. At this multi-level shop, the shelves are piled high and indoor plants grow among the stacks. Plus, the air-conditioning soothes, the colorful plant presence relaxes, and the books — complete with a small English-language section — might just keep you engrossed in the cool in-house cafe for longer than you planned.
Hotel Pick:
Related Stories:
All products are independently selected by our writers and editors. If you buy something through our links, Oyster may earn an affiliate commission.