There's always one -- that one inimitable treat your trip to Europe wouldn't be complete without sampling. It's the one dish your friends waste no time in asking you about. That isn't to say it's easy to choose one food for each country. After all, this is Europe, home to some of the most delicious grub in the world. The cuisines of France and Italy alone could fill volumes. While some were easy -- Scotland has its haggis and Sweden has its meatballs -- others required agonizing choices (perhaps that's why the Russians love buffets). To make things easier, we had to set some rules:
No duplicates. For example, the must-try food in Poland could have easily been the pierogi, but since Ukraine already had the varenyky, we decided to leave it at that.
Easy for the casual traveler to find, at any time of year.
Distinctive. For example, variations of stewed meat and vegetables are a national dish in many places, but they have to really stand out in order to make the cut.
Dishes must be available nationwide. Of course, some regional specialties, such as paella and Neapolitan pizza, have evolved to also become internationally iconic.
The food must be native to that country rather than borrowed from elsewhere. (We love curry, but it's still a relative newcomer to the British food scene.)
Ultimately, it's about that single life-changing bite. It might come while you're standing at a crowded Christmas market with a hot, sweet pastry in hand, or while you're sitting in a Michelin-starred restaurant, clinking glasses of local wine with new friends. After all, when you travel, food is more than nourishment -- it's a major key in understanding people and their culture. Below, we rounded up one signature dish you must try in 47 different European countries.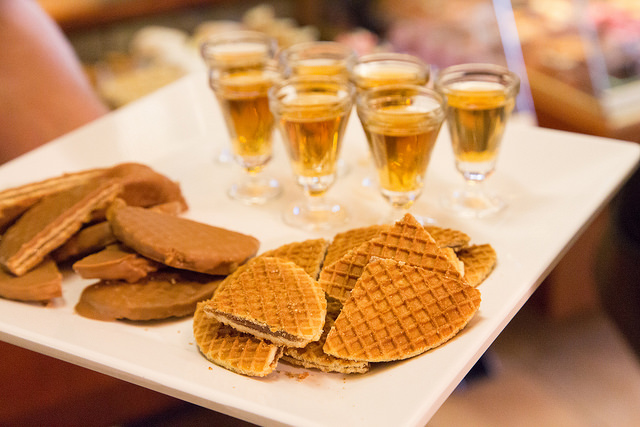 Invented in the early 19th century by a frugal baker in the city of Gouda, these sweet "syrup waffles" are more like cookies, as they're ideal for dunking in a steaming hot beverage. Although a few bakeries are left in Gouda, the stroopwafel is firmly in the mainstream, available in supermarkets all over Holland.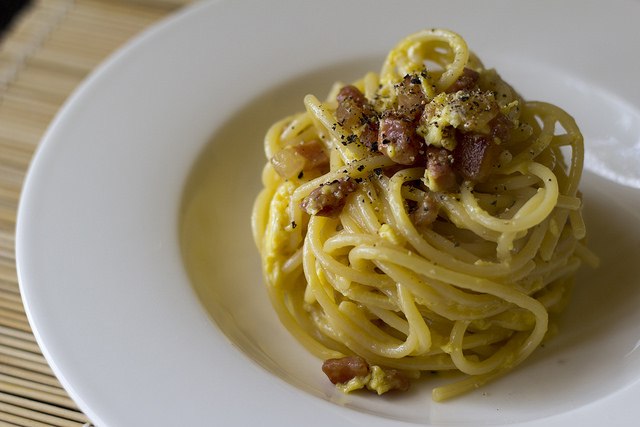 We don't know whether the pope is a fan of carbonara, an age-old favorite enjoyed by shepherds and coal miners, but since he's the Bishop of Rome, we'd like to guess yes. Romans go hog-wild for strutto, pork lard prepared each winter, as well as the cured and spiced pork jowl known as guanciale. They use it for the most traditional version of this pasta, with egg, pecorino Romano, and black pepper.
Byrek, Albania
https://www.instagram.com/p/BROiqv1jtPa
Layers upon layers of light and flaky phyllo dough make these pastries — popular as börek around the Balkans and elsewhere — a dream, especially when they're stuffed with local produce like pumpkin or nettles, salted curd cheese, or ground meat, tomato, and onion ragu.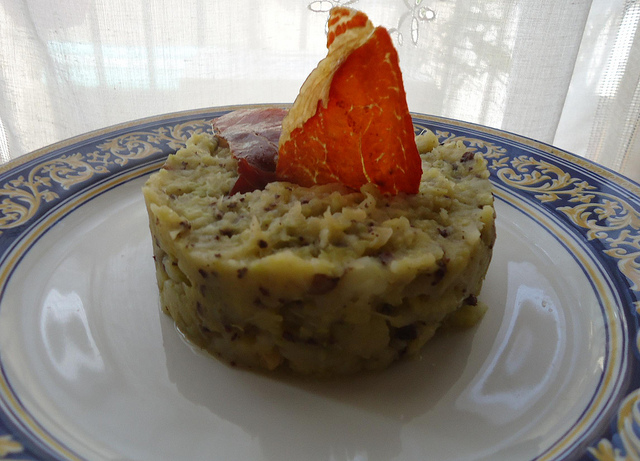 The mountain-dwelling borda ranchers of this tiny country in the Pyrenees happily subsist on trinxatde la Cerdanya, a mash of potatoes and cabbage, formed in a skillet and garnished with fatback or bacon.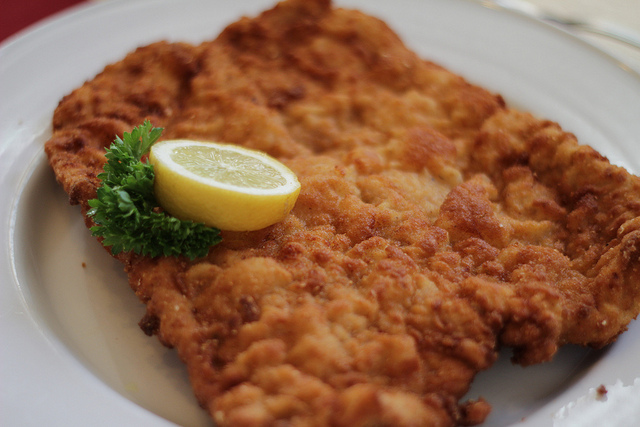 Schnitzel with noodles? Nein. The traditional breaded, fried veal cutlet of Vienna is served with a wedge of lemon, lingonberry jam, and Erdapfel (German) potato salad (or maybe even French fries). Bonus points if it's the size of your head, as you'll find at some ambitious Viennese restaurants.
Draniki, Belarus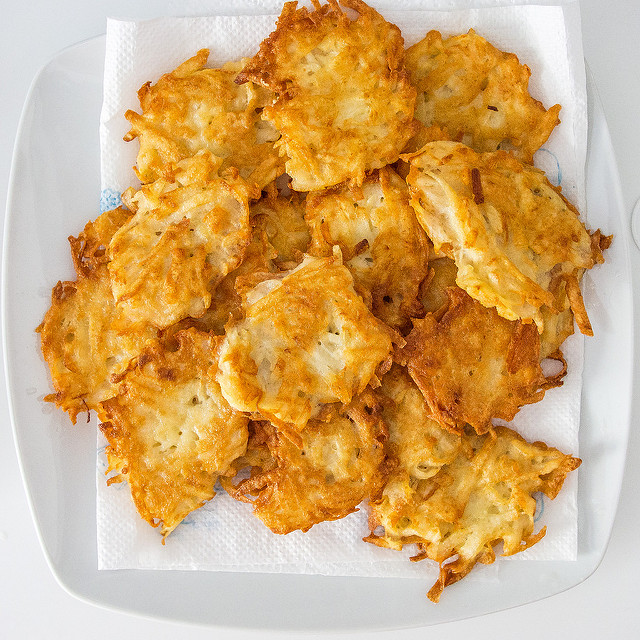 Potato pancakes, also known as latkes, are a staple across Eastern Europe. But they hold a special place for Belarusians, who, since the 1830s, have consumed these crispy delights by the basketful, garnishing them with sour cream or cowberries for breakfast, or baking them into casseroles.
Cevapi, Bosnia and Herzegovina
During the Ottoman occupation, outlaws on the run cooked these skinless mini sausages on sticks over open campfires, giving rise to what may be the ultimate Balkan street food. Nowadays in Bosnia, they're served on pitas and coated with plenty of creamy, cheesy kaymak.
Shkembe Chorba, Bulgaria
https://www.instagram.com/p/BQu1QSSDfXG
In the 1980s, this tripe soup became an unexpected star of the lunchtime rat race in the capital of Sofia. Pork, lamb, or beef innards were boiled for hours, returned to the broth, and spiced up with paprika. Fun fact: for some Bulgarians, it's the ultimate hangover cure after a night of rakia consumption.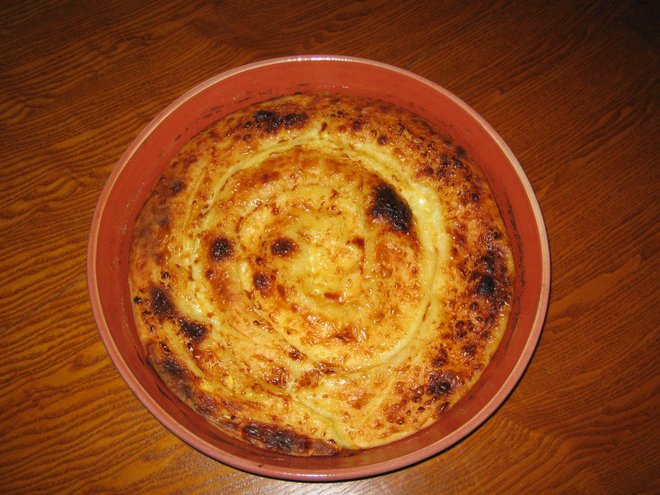 Each region of Croatia boasts its own specialty, but these tender pastries, which are filled with curd cheese and eggs and baked or boiled, can now be found almost anywhere. They're topped with butter, cream, or gravy and delicate enough to eat with a fork.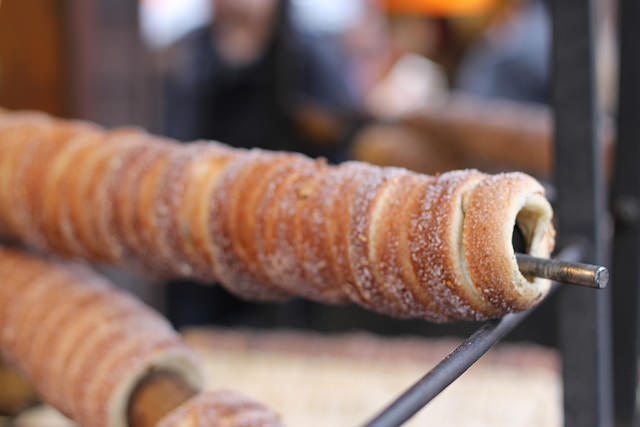 You'll likely find these delectable circular cakes at outdoor markets and shops from Prague to Brno. They're shaped on a spit, grilled, and topped with cinnamon, sugar, and walnuts.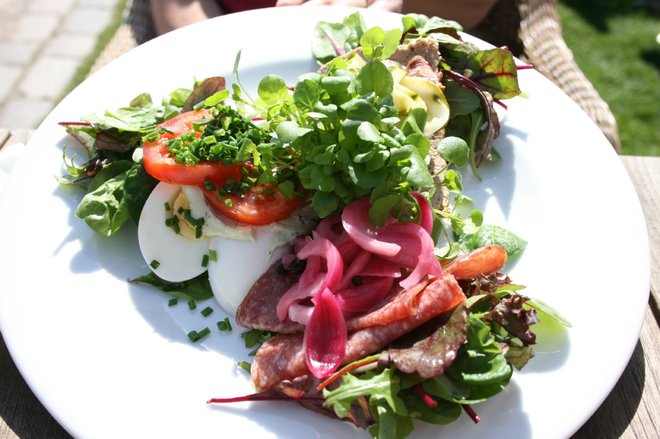 It would take you a long, long time to try all the possible varieties of this Danish lunchbox staple. One version is perplexingly named Dyrlægens natmad ("veterinarian's midnight snack") and features a layer ofpate (leverpostej), corned beef (saltkød), aspic (sky), and red onion. No matter the topping, rye bread (rugbrød) and rendered bacon fat always makes an excellent starting point.
Kohuke (Curd Snack), Estonia
https://www.instagram.com/p/BNEbjurBvCm
When hunger strikes in the Baltic states, fill up on kohuke, a two-inch-long hybrid between a fruit snack and a protein bar. It's made from pressed curd cheese and available in countless varieties, from chocolate to vanilla to kiwi-strawberry.
Poronkäristys (Sauteed Reindeer), Finland
https://www.instagram.com/p/BRfd7MXjUTP
You'll risk ending up on Santa's naughty list for chowing down on sauteed reindeer, a specialty of the Sami people of Lapland. The dark, low fat back meat is sauteed in reindeer tallow, or less traditionally, lard or butter, and flavored with salt, pepper and/or beer, then washed down with pickles and lingonberry jam.
Crepes, France
https://www.instagram.com/p/BRm_eyVAc1t
Where does one start in the capital of haute cuisine? With crepes, bien sur. Both a Breton regional speciality and a national sensation, a perfect crepe is a thing of simple beauty. Whether washed down with cider at the humble crêperies of Brittany or served at the finest hotels in Paris, crepes can be filled with anything — Nutella for breakfast, ham and mushrooms for a hearty lunch, or fruit confit for a decadent dessert.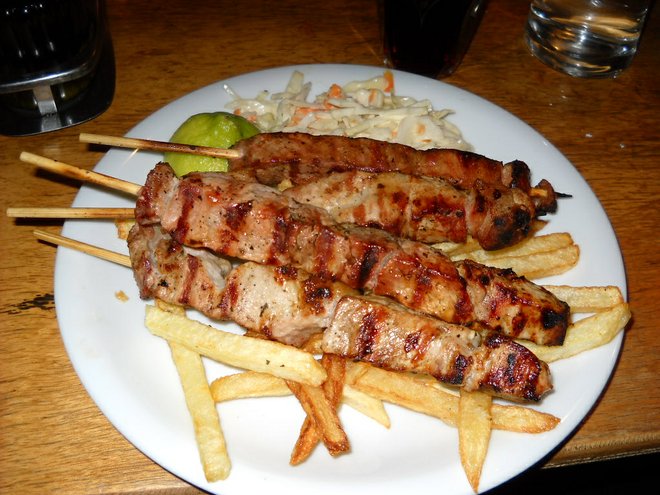 Souvlaki, which was mentioned in the works of Aristophanes and Aristotle, literally means "skewer." When you wander the Athenian streets and sample this ancient Greek pork on a stick, which is served on a warm pita with a side of potatoes, it's clear to see why it's endured through the millennia.
As soon as you see a Hungarian street vendor hawking this deep-fried flatbread and smell its yeasty aroma, you'll be asking for a double serving. Eaten fresh and warm, it's dripping with sour cream, grated cheese, and garlic butter.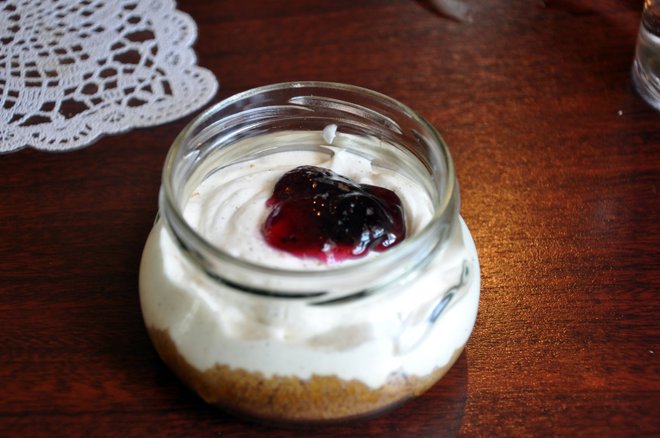 Thicker and sweeter than yogurt, the traditional cheese known as Skyr is a Nordic sensation. (Tip: You can also buy it to-go in the airport.) Stir it up for breakfast as hræringur porridge, or slurp it up cold with milk and sugar.
Latvians are loopy for rupjmaize, their signature dark rye bread that's usually made without caraway. Gobble it up plain, or, if you really love caraway, try it in sklandrausis, a sweet pie that's made of rye dough and filled with a paste of potato and carrots.
Käsknöpfle, Liechtenstein
They may call it spatzle in Germany, but in Liechtenstein, it's always käsknöpfle. This dish is made up of small dumplings topped with caramelized onions and local cheese, like Saukerkas or Emmental.
Blynai, Lithuania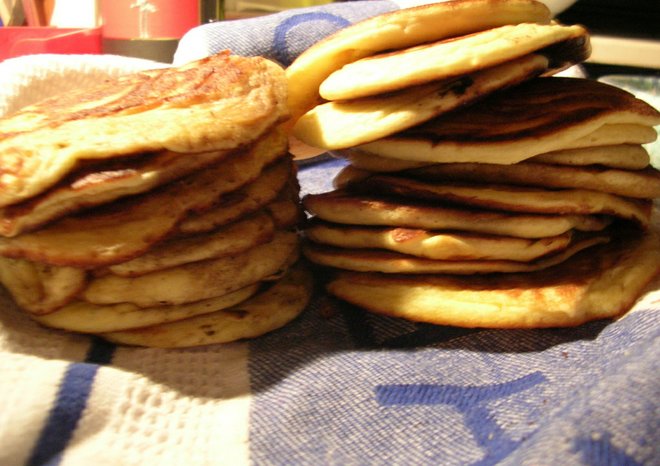 Often anglicized as blini, these delicate pancake-like concoctions are the traditional meal for Shrove Tuesday. They can be wafer-thin crepes or risen with yeast, and dolloped with sour cream and applesauce. One must-try variation is Žemaičių blynai, which incorporates boiled potatoes and minced meat and/or mushrooms.
Quetschentaart, Luxembourg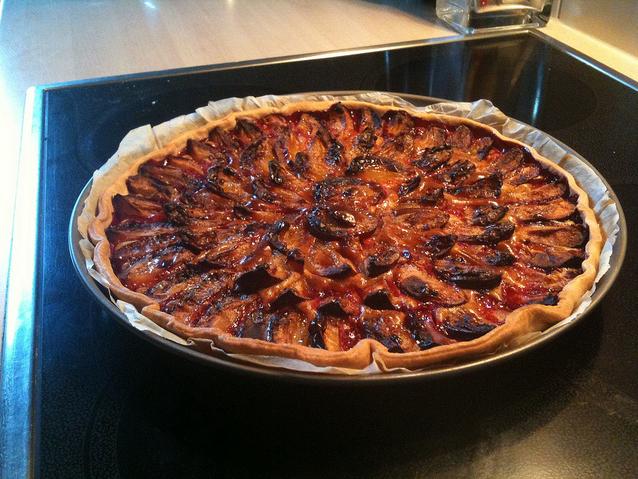 Not quite an apple, not quite a damson, a zwetschgen is a freestone fruit that holds its shape so well at high temperatures that it's baked into pies all over Luxembourg. With a base of yeasty dough, these fragrant pies are sprinkled with sugar, baked, and devoured each year around the autumn harvest.
Tavce Gravce, Macedonia
https://www.instagram.com/p/BOK4BJQgfSR
This Macedonian-style white bean casserole, known as tavce gravce, is a placed in a Dutch oven to cook all night and served in an earthenware bowl when lunch rolls around. (Don't worry, carnivores — there's a version with sausage, too.)
In Malta, if something's "coming out like pastizzi," it's going like crazy. These flaky, diamond-shaped pastries can be found in every corner shop, and are either filled with ricotta (pastizzi tal-irkotta) or with mushy peas (pastizzi tal-piżelli).
Mămăligă, Moldova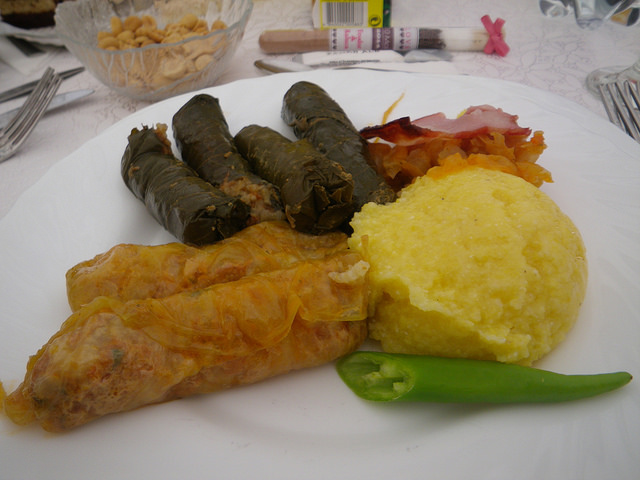 This cornmeal mush might not sound like much, but when it's topped with fried meat, sour cream, pork cracklings, or the creamy, sheep's milkbrinza cheese of Moldova, or wrapped in a cabbage leaf and stuffed into a sarma, it's fit for a king.
Raštan, Montenegro
https://www.instagram.com/p/05RatcIQAz
A slightly bitter dark green primitive cabbage, similar to collards or kale, has been growing in the region of Cetinje, Montenegro for over 2,000 years. Try it cooked in a savory stew with pork knuckles or ham hocks.
The Norwegians are geniuses in whipping up all sorts of preserved fish, but the ultimate prize goes to this cured salmon, coated in dill, lemon, and vodka. It's buried under spices and cured for a few days, making it both tender and flavorful.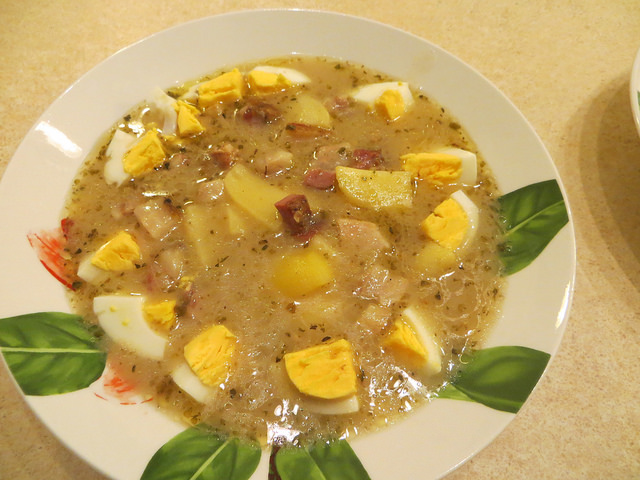 Borscht is a favorite across all of Eastern Europe, but the Poles hold it in special regard, especially on Easter Sunday, when they dole out white borscht. It's made with wheat flour, or a fermented mixture of rye flour and oats, flavored with garlic and marjoram, and served with plenty of Polish sausage.
Carne de Porco à Alentejana, Portugal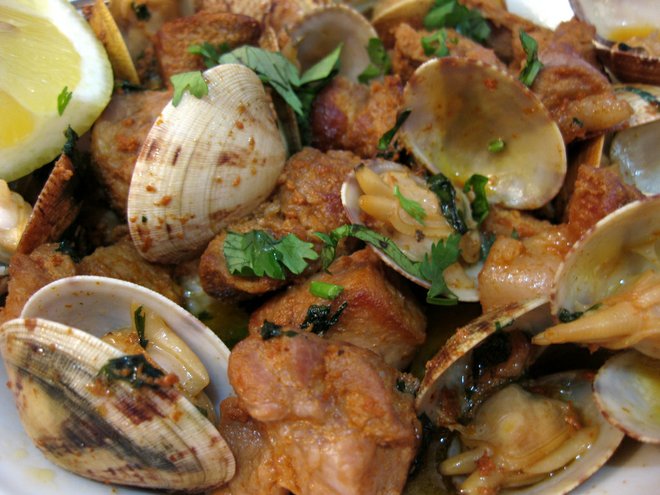 Portugal is as famous for its seafood as it is for its meat. Carne de Porco à Alentejana, a surf-and-turf-style mashup of pork marinated in paprika, garlic, and coriander and served with fresh clams over potatoes — originated in the coastal region of Algarve.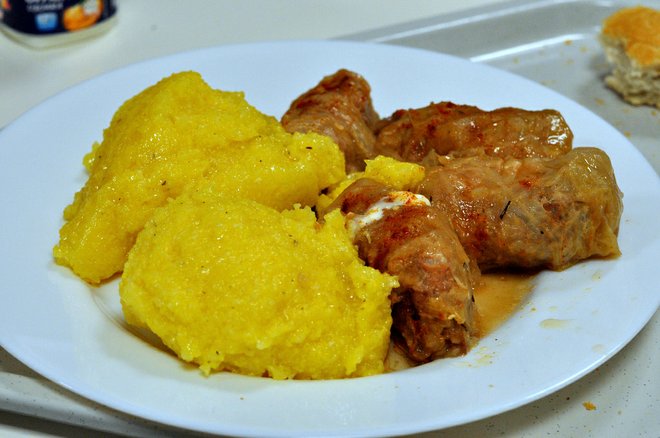 These rolled-up tubes of minced smoked meat, caramelized onions, and rice have made their mark all over the former Ottoman Empire, but it's the sour cabbage that makes the Romanian version special.
Pirog, Russia
https://www.instagram.com/p/BQlZ4OsgRAF
Besides the shot of vodka served after each course, the heart of a Russian zakuski (or buffet) is the pirog, baked dough with a sweet or savory filling. Pirogi come in several shapes, sizes, and forms, from tiny ones filled with fruit and cheese to huge domes stuffed with meat.
Ajvar, Serbia
https://www.instagram.com/p/BRdKdU_FAgO
This relish, which is made of roasted red bell peppers, may also contain garlic and eggplants. Whether it's spread on bread or incorporated into cevapi, it manages to be sweet, tangy, spicy, and smoky all at once.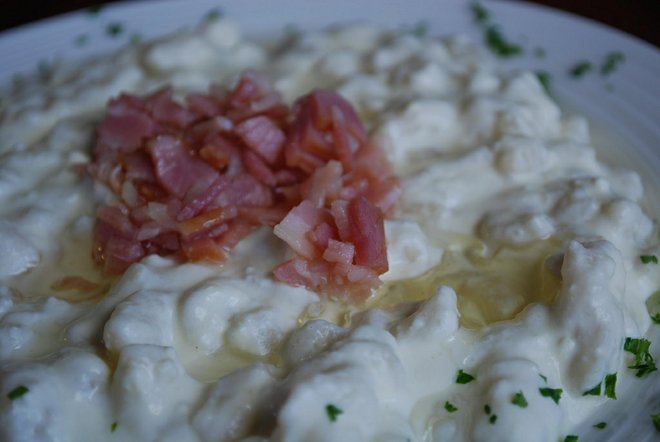 Gnocchi has nothing on this Slovakian specialty. Creamy potato dumplings are topped with bacon fat, cabbage, or eggs. Folks can also opt for the classic version, which features bryndza, a strong-tasting sheep's milk cheese.
Gibanica, a sweet pastry made from cheese and eggs, is popular all over the Balkans. However, for special occasions, the innovative folks of the Prekmurje region of Slovenia really fancy it up, adding layer after layer of quark cheese, poppy seeds, walnuts, apples, and raisins.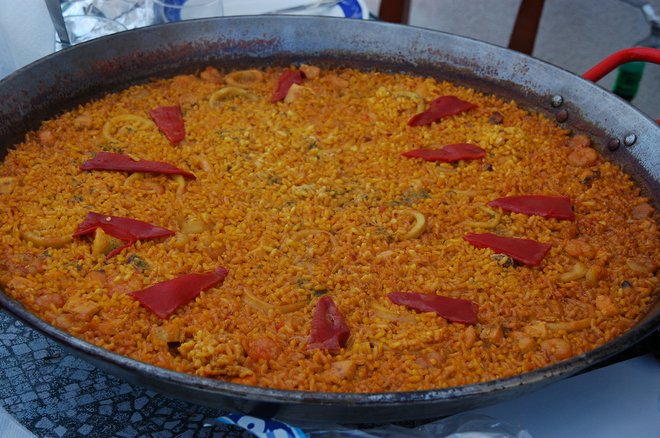 Named after the oversized pan in which it's cooked, this rice dish has become synonymous with Spain. However, to Spaniards, it's a Valencian speciality. And although seafood paella is acceptable, true Valencians use only the fruit of the farm and woods –chicken, rabbit, and snails, plus butter, runner beans, and artichokes, all spiced with paprika and saffron. It's cooked under the stars and eaten straight from the pan — all the other paellas are just imitators.
Made with milk-soaked breadcrumbs and ground beef, pork, or even veal, these distinctly sweet meatballs are coated in a creamy gravy and kicked up with allspice. There's nothing more comforting on a cold Nordic night.
Fondue, Switzerland
Fondue (cheese only, please) became a stateside sensation in the 1930s as an alpine style of communal eating. However, Swiss town-dwellers (peasants couldn't afford it) were dipping bits of bread in bubbling Gruyere, boiled over a portable stove in a vessel known as a caquelon, long before that. Be sure to save room for the crispy cheese that's encrusted at the bottom of the dish — known as la religieuse ("the nun"), it's the tastiest bit.
Varenyky (Pierogi), Ukraine
https://www.instagram.com/p/BPgLiNbj350
Known as pierogi elsewhere in Eastern Europe, Ukrainian varenyky (meaning "boiling liquid," due to the way they're cooked) are miniature masterpieces that can be enjoyed any time of the day (or year). Shaped like crescent moons, these treats are stuffed with just about anything (mashed potatoes, egg, cabbage, and liver, to name a few) and may be topped with bits of salo (fatback), onions, or sour cream.
Every culture has its own bread, but how many can claim theirs is made from seaweed? To be honest, it's not technically bread — the dark viscous substance is often described as "Welshman's caviar." Bake it into an oatcake, spread it onto a cracker, throw it into a soup, or eat it alongside cockles and bacon.
Barbajuan, Monaco
https://www.instagram.com/p/BRcASLKhxYg
The city-state of Monaco may be home to princes and casinos, but it's also home to this salty-sweet gem that falls somewhere between ravioli and a fritter. It's stuffed with Swiss chard, caramelized leeks, and ricotta and is eaten each year on November 19, Monaco's National Day.
Torta Tre Monti, San Marino
https://www.instagram.com/p/BBA_jfIAp-g
Representative of the romantic Three Towers of San Marino, this delicate cake — made with layers of paper-thin wafers, held together by hazelnut creme, and coated in chocolate fondant — is as decadent as a fairy tale.
Before modern refrigeration, there was no better way to make your meat last than combining it with oatmeal, onions, salt, and spices, and boiling it in a wee sheep's stomach. And although supermarket haggis in synthetic casings is de rigeur these days, a side of neeps and tatties (turnips and potatoes) can still make your Burns Supper one for the ages.
"When in Brussels, eat mussels" is more than a clever rhyme. In Belgium, mussels are cooked simply in white wine and butter and served by the bucketful through the spring and summer. Plus, as it turns out, the name French fries is misleading, as frites are originally a Belgian dish (thick-cut and served with mayonnaise, naturally).
If your Belfast hotel greets you at the top o' the morning with an Ulster fry, you won't need to eat for the rest of the day. The dish comes complete with sausage, rashers, and soda bread. Don't forget to finish your black pudding — pig's blood and suet fried up in disc form. Come on, be brave.
While visiting the country, you may hear the term "rosbif" ("roast beef"), and the time-honored Sunday roast is the reason. It's served with Yorkshire pudding, which is made simultaneously in the oven, so the beef juices can drip down and infuse the rising pudding with rich flavor.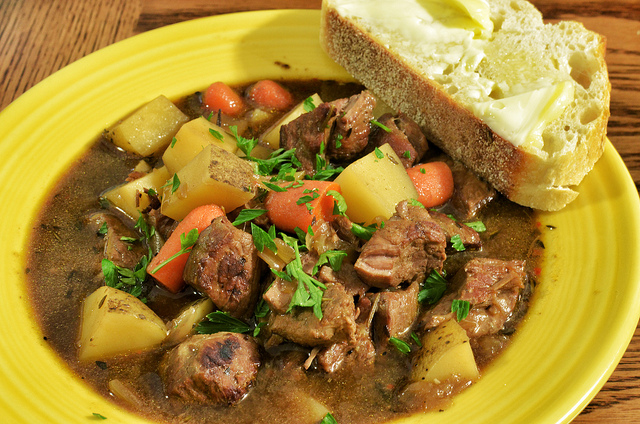 Purists insist only on mutton, onions, and potatoes, the backbone of the 19th-century Irish diet, while some ambitious cooks add beef, Guinness, or other flavorings. But no matter the ingredients, this dish, originally born out of poverty, makes you feel rich indeed.
Neapolitan Pizza, Italy
https://www.instagram.com/p/BRop265B-_t
These days, you can get pizza just about anywhere, but that's all the more reason to book a trip to Italy and try the real deal. Neapolitanpizzaioli must use San Marzano tomatoes, hand roll the dough for a pliable crust, and bake their product in a domed oven. Pizzerias like Antica Pizzeria Port'Alba and L'Antica Pizzeria Da Michele serve two classic varieties: marinara — tomato, oregano, garlic, and olive oil — and margherita, which, as legend goes, resembles the colors of the Italian flag. It doesn't get more patriotic than that.
One thing's for sure — in Deutschland, it's wurst uber alles (or sausage over all). Although the ketchup-smothered currywurst is currently king of the sausages (800 million are sold in Berlin each year alone), you'd be remiss not to also try the more traditional Bavarian weisswurst (minced veal and bacon) and blutwurst (blood sausage), with a side of sauerkraut and spicy (or sweet, depending on the region) mustard.
You'll Also Like:
All products are independently selected by our writers and editors. If you buy something through our links, Oyster may earn an affiliate commission.